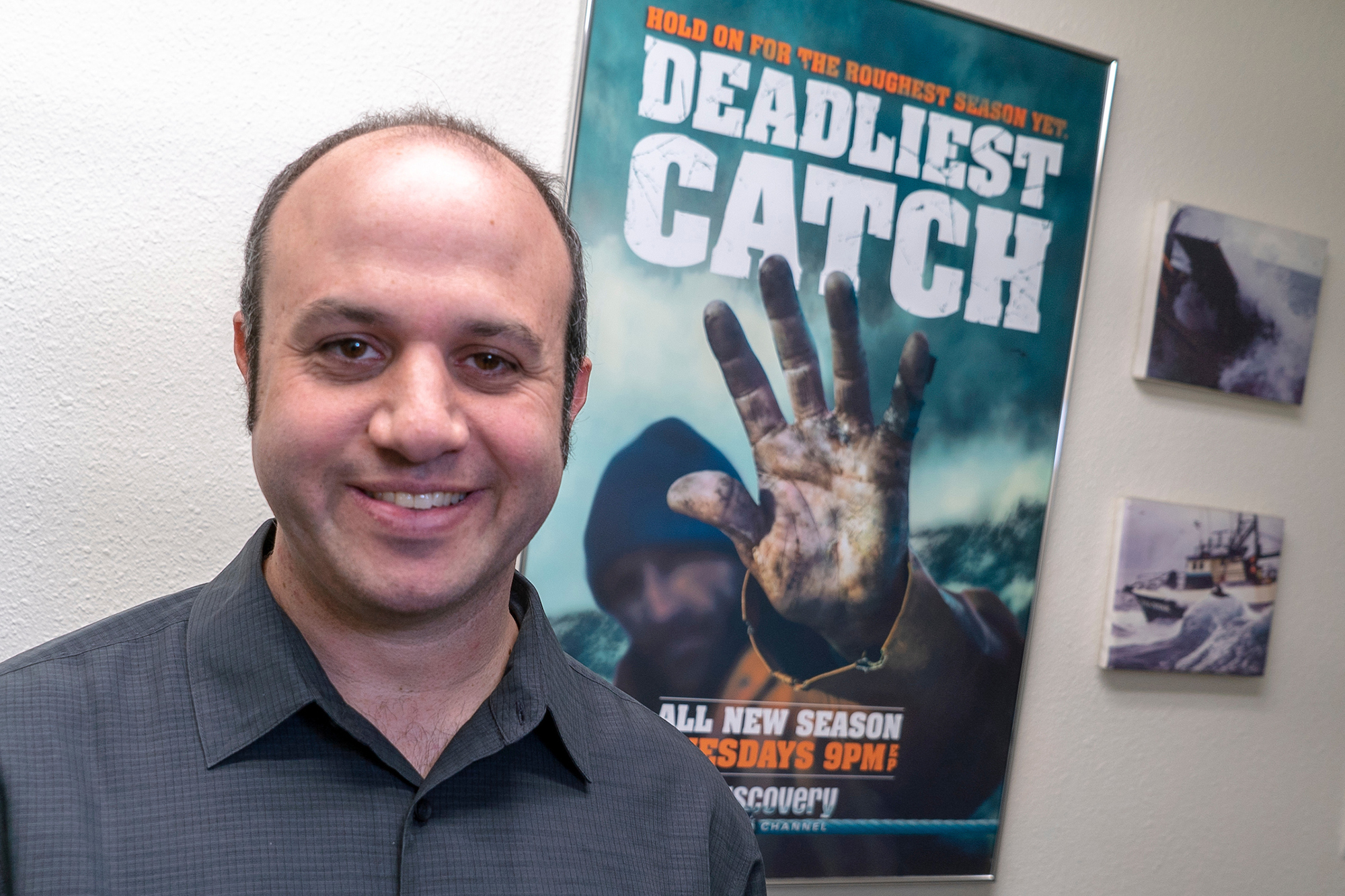 Alexander Rubinow has a talent for telling fish tales—and not those harmless embellishments passed down through generations. The University of Iowa graduate is an editor on the Discovery Channel's hit series "Deadliest Catch," and he has an Emmy to show for it.
Every season of Deadliest Catch yields roughly 37,000 hours of raw footage documenting the dangerous job of Alaskan crab fishing. Two cameramen on each of six or seven boats are supplemented by multiple stationary cameras to capture video content 24/7 for up to six months.
Converting that voluminous footage into an award-winning reality TV show on the Discovery Channel is an editing team that includes 2001 University of Iowa graduate Alexander Rubinow. The team, which ranges from six to 10 people, spends several months each year in a production office in Burbank, California, mapping out and then fine-tuning episodes before they air.
Take the first step to joining the Hawkeye family!
Iowa will prepare you, challenge you, and change you. You will change the world. We accept applications year-round, and are currently admitting new students for the following fall semester.
"It's a monumental task to boil that footage down into 20 or so hours of television per season," says Rubinow, who earned a degree in communication studies and computer science from Iowa in 2001 and has worked on the show since 2010. "We start editing the show before all the footage is even shot. That can be a challenge because there are no second chances, retakes, or do-overs. If we didn't shoot something on the boats, then we have to find another way to make a story work. We can't go back and ask somebody to fall down again or cut their finger off again or get hit on the head or take that wave. We can't control the weather or cue the ocean or tell the crabs to crawl into the pot better. What we get is what we get."
For his efforts on Deadliest Catch, Rubinow earned in 2015 an Emmy Award, one of many nabbed by the show since it premiered in 2005. As a freelance editor, Rubinow has amassed hundreds of screen credits, mostly on reality TV shows including the History Channel's Modern Marvels and the Food Network's Cake Wars. His expertise is applied at the end of the production process, and that's how he likes it. Being part of the final step, he says, is motivating.
"There's great power and responsibility in that step, and I want to do the very best job I can," says Rubinow, who is a member of the prestigious film society American Cinema Editors. "It's very satisfying once we lock in an episode and know that it's done and that millions of people will see it on TV."
"After I graduated and started in the entertainment industry, I realized I was sitting right across the hall from people who went to the most selective schools in the country, doing the same work. The education I got at Iowa prepared me just as well, if not better."
University of Iowa graduate and Emmy-winning TV editor
Growing up in suburban Chicago, Rubinow wanted to be a cartoonist or animator. That changed when his parents encouraged him to enroll in summer school classes between elementary school and junior high. A course in video production caught his eye.
"I thought, 'I get to make my own videos and I can do it the whole summer. It sounds fun.' And I loved it. That was in 1990, and from that point on I took course after course—anything I could get my hands on related to production," he says. "I went through every step of the process, from carrying the equipment to shooting the footage to acting, but I liked editing the most."
Are you a budding filmmaker?
Students in the University of Iowa's cinematic arts program receive the critical tools necessary for the theoretical and historical analysis of cinema as well as the creative skills required for the production of film, video, and digital media.
When Rubinow was looking at colleges, he admits he was drawn to the most selective film schools in the country, like the University of Southern California and New York University. But he says the University of Iowa was an attractive option close to home. 
"The UI was ranked very highly among public universities, and I was able to get into the major right away. Plus, I wanted a well-rounded liberal arts education, and you don't necessarily get that at a more specialized school," says Rubinow, who was involved in campus organizations like Film Club and Student Video Productions. "After I graduated and started in the entertainment industry, I realized I was sitting right across the hall from people who went to the most selective schools in the country, doing the same work. The education I got at Iowa prepared me just as well, if not better."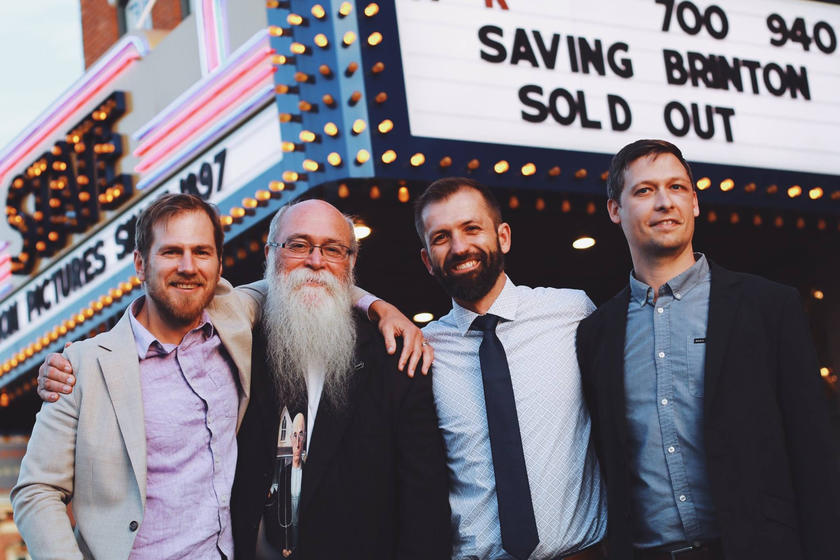 In 2018, University of Iowa graduates shattered records at the box office and, with the lauded documentary Saving Brinton, heard buzz about their work. Hawkeyes are not outsiders in Hollywood; after all, UI grads have been making an impact since the days of Willy Wonka and the Starship Enterprise.
Rubinow says he continues to draw from the foundation in film studies he received at Iowa. In particular, he recalls a class he took with Rick Altman, now a professor emeritus in the UI Department of Cinematic Arts, about director Rouben Mamoulian, who worked from the 1930s to the 1950s.
"Mamoulian is someone I never would have studied or looked into on my own, but the class was very interesting," Rubinow says. "I was exposed to so many other films, many I would never have seen had I not taken film theory courses at Iowa. It gave me this vast knowledge of films that I call back on now, images and styles I try to emulate in my work."
Additionally, a background in computer science has proven valuable in the edit bay, Rubinow says.
"Majoring in computer science has made me incredibly detail-oriented in my work. When I approach a project, for example, I start by looking through all the footage and meticulously noting and organizing it," he says. "And I feel that it's helped me troubleshoot the software I use every single day. Because of that, I don't often have to ask for help."
When not working on Deadliest Catch, Rubinow is scouting the next job opportunity. He spends a fair amount of time networking in Los Angeles, and he enjoys attending Iowa Club events in the area. He always looks forward to helping create new stories.
"It's so calming for me to do this step of the process," he says. "I lock into editing mode and make a story every single day—not in writing but in pictures and sound. I get lost in my work. I'm not looking at the clock or waiting to get out of work for the day. I just love doing it."
Produced by the UI Office of Strategic Communication
Clarity Guerra and Dana Telsrow