An innovative pivot in farming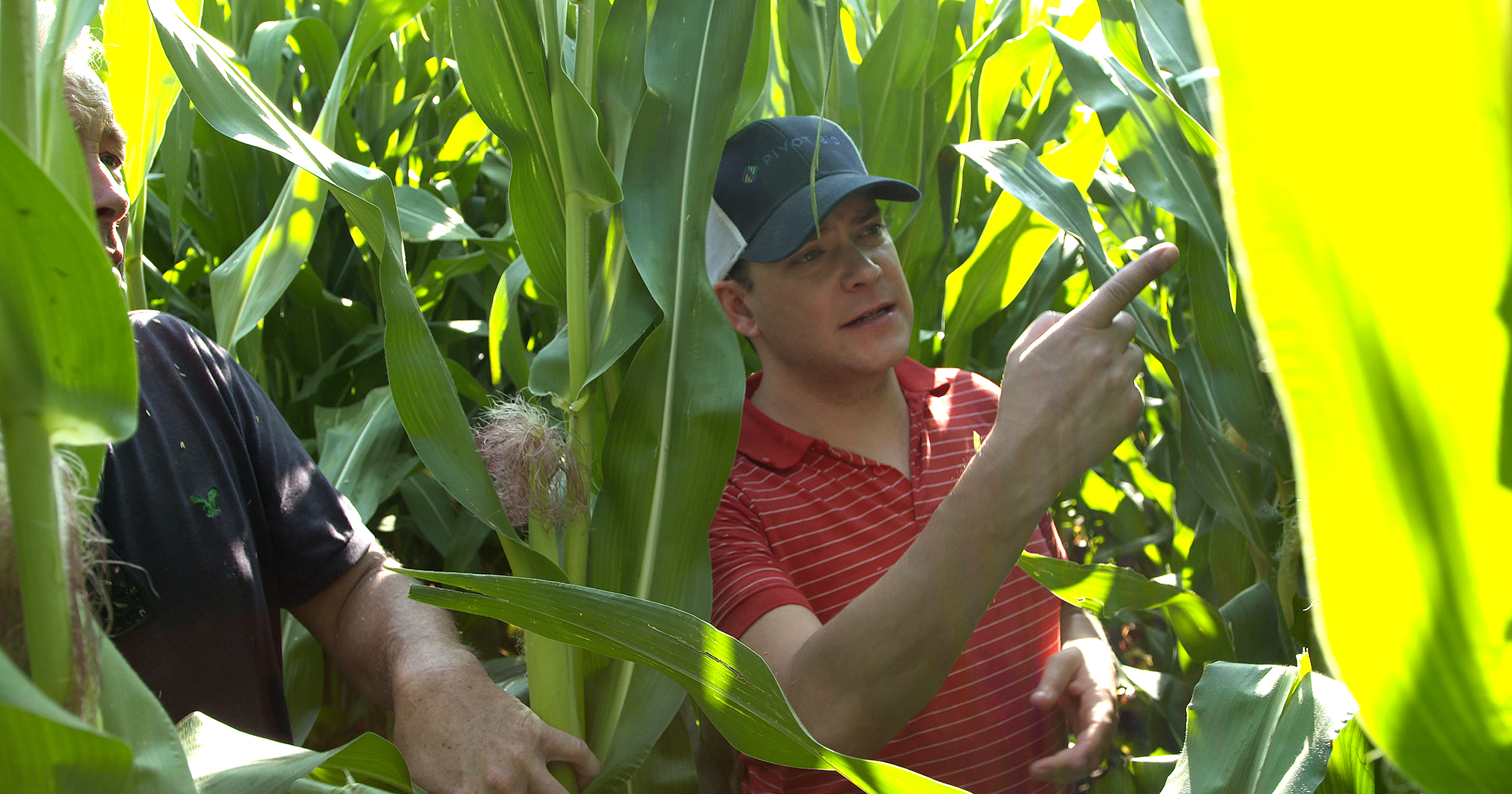 Karsten Temme, who received bachelor's and master's degrees from the UI College of Engineering, is the co-founder of Pivot Bio, a startup that is on the verge of revolutionizing agriculture by offering farmers a new crop nutrition tool for corn.
When Karsten Temme thinks back to his time at the University of Iowa, he vividly recalls the abundance of opportunities the campus offered and the excitement he felt having so many academic, cultural, and social activities to choose from.
"The number of areas where I could get involved was immense," says Temme, co-founder and CEO of Pivot Bio, a synthetic biology firm that makes an environmentally friendly alternative to synthetic nitrogen fertilizer that could upend the way nutrition is delivered to cereal crops. "There were many opportunities to participate in research and work with professors. My education at the UI is definitely the foundation that underpins my career today."
Temme's company recently announced $70 million in Series B financing, led by Breakthrough Energy Ventures (BEV), an investment fund that includes Bill Gates. BEV focuses its investments on innovation aimed at reducing greenhouse gas emissions. Pivot Bio's broad range of investors are confident that the company will drive adoption of its product with farmers to help them farm more efficiently and productively while helping improve our environment. Pivot Bio PROVEN does not leach or run off into our waterways or volatilize into the air like traditional synthetic nitrogen fertilizers do. Therefore, it does not contribute to global warming and ocean dead zones.
In October, following on-farm beta testing in Iowa and other states across the Corn Belt, Pivot Bio announced the commercial launch of the first and only nitrogen-producing microbial product for U.S. corn farmers, Pivot Bio PROVEN. The microbial product works by reactivating the long-dormant nitrogen-producing capabilities that already exist in soil microbes' DNA. These genes, when they are working, allow the microbes to convert nitrogen gas from the atmosphere into nutrition the corn needs to survive and thrive throughout the growing season.
"What we're trying to do is actually reawaken this function that the microbe has had all along," says Temme. "Applying this type of crop nutrient is better for the farm's productivity because each plant gets the optimal amount of nitrogen. Because the microbes adhere to the roots, nothing is wasted. The microbes stay put and don't wash away or evaporate eliminating the negative side-effects of synthetic fertilizer."
"He was always a special, out-of-the-box, quirky student who was engaged in a lot of things outside of regular coursework. That is what made him special; he always had an entrepreneur in him."
University of Iowa professor of mechanical and industrial engineering
Temme credits his time at the UI and in the Midwest, where he had opportunities to meet and talk with farmers, with helping him launch his first startup. While still an undergraduate, he created Xwires Communications, which provided internet service to farmers whose land was too remote to access cable. At the time, he was pursuing a bachelor's degree in biomedical engineering, but he never limited his interests to his field, something that intrigued professors and administrators at the College of Engineering.
"Karsten took a thermodynamics course with me in his sophomore year and then went on to do an honors project with me on using artificial intelligence for predicting fluid flow behavior," says H.S. Udaykumar, a professor of mechanical and industrial engineering. "This is in vogue today, but 10 years ago it was entirely pie-in-the-sky. A lot of my recent research comes out of that fledgling project that Karsten worked on with me.
"He was always a special, out-of-the-box, quirky student who was engaged in a lot of things outside of regular coursework. That is what made him special; he always had an entrepreneur in him."
Besides his engineering studies, Temme, who is originally from Casper, Wyoming, also played the trumpet in the Hawkeye Marching Band and took advantage of liberal arts courses on campus to continue his study of French. He did a research practicum at University of Iowa Hospitals & Clinics, working in the neurology department for five to 10 hours week, and helped design new parts for the Mars rover.
"At Iowa I was able to create a degree path that really worked for me and that allowed me to explore what it meant to translate new technology into products and services with commercial relevance," says Temme. "This experience helped me decide that I wanted to spend my career building new businesses and building products that have never existed before and could have an impact on our daily lives."
David Hensley, executive director of the John Pappajohn Entrepreneurial Center at the UI's Tippie College of Business, says he remembers working with Temme when he was getting his Xwire business started. Even then he says he was impressed with the young man's work ethic and leadership abilities.
"As I got to know him, I was so impressed with his technical skills and his ability to really be an innovator and see opportunities where others maybe didn't see opportunities," says Hensley, who recently visited with Temme at Pivot Bio's Berkeley, California, headquarters. "He is a very driven individual but also a team player and natural leader. He has high ethical and moral standards. He always came across to me as someone who was going to be very successful no matter what he pursued."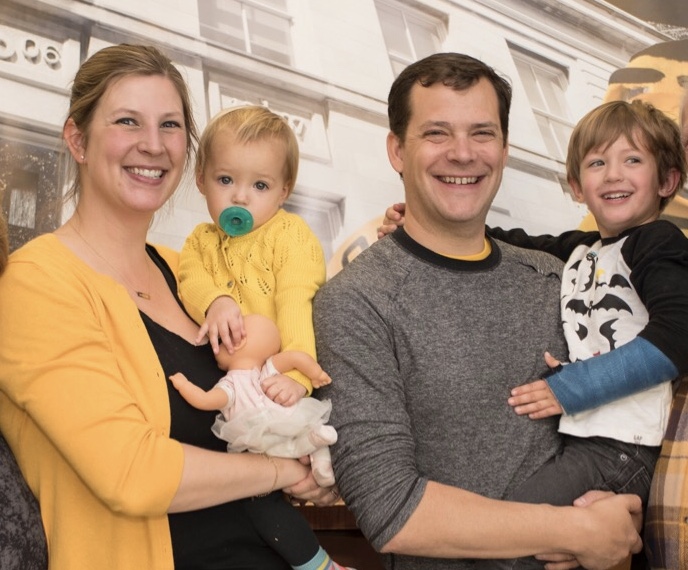 Temme, along with Lauren, his wife and fellow UI alumna, and their two young children recently visited Iowa City and the UI campus for Homecoming. Temme says they spent time at the College of Engineering's Seamans Center for the Engineering Arts and Sciences, where he visited with classmates, professors, and administrators. Temme says he is proud of his UI degrees and that he cherishes the personal connections he still has with people on campus. Temme was a presidential scholar, a member of the former UI scholarship program for students with intellectual and leadership promise. As a result, he says he was able to work on research and meet with important mentors.
"The University of Iowa made it possible for me to take some confident steps forward in my post-graduate education and in my career as an entrepreneur," says Temme, who went on to get a doctorate in bioengineering from the University of California, Berkeley. "I never felt underprepared or less than ready for the challenges that I have tackled. And for that, I am so grateful to my alma mater."
One of the reasons Temme chose the UI was because of its unique engineering education, one that stresses technical and analytical skills as well as creative and artistic ones. In the late 1990s, when Temme arrived, the UI College of Engineering was one of the few schools in the nation with a well-established biomedical engineering degree program, says Jane Dorman, director of admissions and the first-year experience at the college. Dorman still remembers meeting Temme when he came with his parents and siblings to visit campus as a high school senior.
"He took advantage of every opportunity that came his way and he found people who nourished and encouraged his curiosity and his interest in all sorts of different things," says Dorman. "The College of Engineering has a motto that says 'Where students become engineers and something more,' and that really sums up Karsten."
After he left the UI, Temme worked for a while in biomedical engineering but quickly realized that his calling was elsewhere. "When I heard about the potential of synthetic biology, of the promise of programming microbes and DNA like computers, I knew I wanted to build new products with living microbes as their building blocks," says Temme.
The first seven years of the startup process were intense, Temme says, with all of his energy going into perfecting Pivot Bio's first commercial product for the U.S. corn market. Today, with nearly 70 employees that includes the team in Pivot Bio's Berkeley, California, headquarters and remote employees who work from Iowa, Missouri, Nebraska, Colorado and Ohio. Temme can finally take a more long-term look, one that includes a much larger market presence.
"We're focused on corn now, and we're looking to move into other crops soon while also looking at new markets around the globe," says Temme. "We have a lot of exciting work in our pipeline."
Produced by the UI Office of Strategic Communication
courtesy of Pivot Bio and the UI College of Engineering