Making a deeper connection at Iowa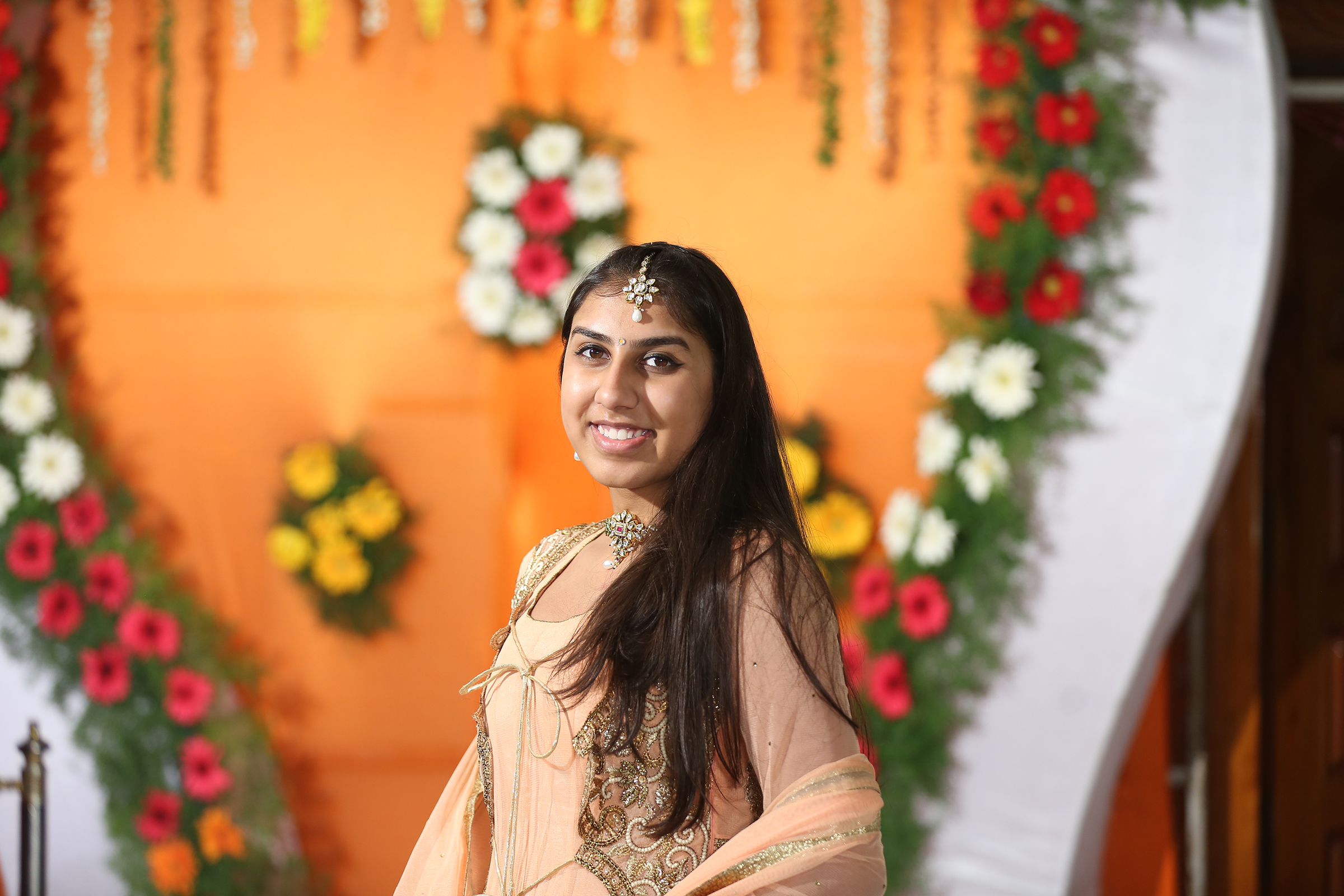 Laxmi Annapureddy grew up straddling her Indian traditions and American culture. The sophomore from Urbandale, Iowa, credits the University of Iowa with strengthening her appreciation of her ancestral roots and affirming her connection with her Indian identity.
Courtesy of Laxmi Annapureddy
The University of Iowa helped Laxmi Annapureddy truly find herself.
The sophomore from Urbandale, Iowa, grew up trying to straddle her American lifestyle and her ancestral roots in India. Annapureddy attended schools with predominantly white student populations, with few activities geared toward non-American customs. At home, her parents maintained many Indian traditions.
"A lot of Indian culture revolves around religion, and that was the routine in my house," Annapureddy says. "I really wanted to be a part of it, but it was hard to be connected to both a Western and an Indian culture, so you're kind of growing up in this gray area between the two."
Her growing connection to the latter began when she helped teach at an independent educational program her mother had started. The subject was Telugu, the language of the southern Indian state of Andhra Pradesh. Yet, Annapureddy was still unsure how her Indian ancestry should fit with her American childhood.
Then, as she was considering where to attend college, Annapureddy visited Iowa.
"I tried to participate and engage in the history and traditions growing up, but it very much felt like I had two distinct and separate identities. The University of Iowa allowed me to reconcile those into something more complementary, particularly because of the relatively diverse student body encouraging that."
University of Iowa sophomore from Urbandale, Iowa
From the moment she arrived, she heard from students with Indian ancestry—many of them family friends—about the cultural offerings on campus.
"This was kind of a turning point for me," Annapureddy says. "I realized, 'OK, I can have a place here. There's a community here, a bunch of cultural houses where I can connect with people with similar roots and who probably struggled with a lot of the same things I did growing up. I felt more at home after hearing about all that."
Annapureddy entered Iowa in 2018 on an Old Gold Scholarship, on the pre-medicine track. Her resident adviser made her aware of the breadth of cultural opportunities on campus.
"One of the first things she asked when I arrived was, 'How are your identities impacting your experience? Do you know about the cultural houses on campus? Do you feel like you fit in? How is that impacting the fact that you're on a mostly white floor?'
"This was stuff I hadn't been used to talking about before," Annapureddy continues. "The fact that she brought it up at all kind of caught me off guard, and made me want to connect with that part of myself a little bit more too."
The Asian Pacific American Cultural Center (APACC) serves as a center for Asian American and Pacific Islanders at the University of Iowa to have a space to interact with other students and to enhance their educational experience.
Annapureddy quickly took advantage of the opportunities. She's involved with the Indian Student Alliance and the South Asian Student Alliance (SASA). She visits the Asian Pacific American Cultural Center two to three times a month.
"I realized how much more involved people are with their cultures," she says. "It wasn't so much of an embarrassment or anything at that point. It was a part of you, and it was something you could embrace."
As co-director of research and development for SASA, Annapureddy learns how to accurately portray and weave other cultures into activities held by the alliance. One of her favorite events she's been part of is Mock Shaadi, staged weddings involving students that incorporate ceremonial traditions from various countries.
"It has this big spread, connecting with people who don't typically get that outside of campus," Annapureddy says. "For students like us going into our adult lives, to have a way to connect to our roots, I think that's an important message to send to little kids. They can think, 'OK, I can see myself participating in this as I grow up despite being in a Western culture.'"
Annapureddy has been a resident assistant at Hillcrest Residence Hall since last August. She likes the leadership aspect, and takes pride in helping some 50 students connect with their own identities.
"I had residents who came in as first-year students and who were scared about finding that for themselves," says Annapureddy, who is majoring in neuroscience as well as journalism and mass communication. "Being able to promote the cultural houses, my experiences with them and organizations like SASA, was a big deal to me and to the students, because they ended up enjoying their experiences as a result."
Annapureddy looks forward to becoming more familiar with her culture—and others, too.
"Growing up, I tried to participate and engage in the history and traditions, but it very much felt like I had two distinct and separate identities," she says. "Iowa allowed me to reconcile those into something more complementary, particularly because of the relatively diverse student body encouraging that."