Artist's aspirations took hold at home of black and gold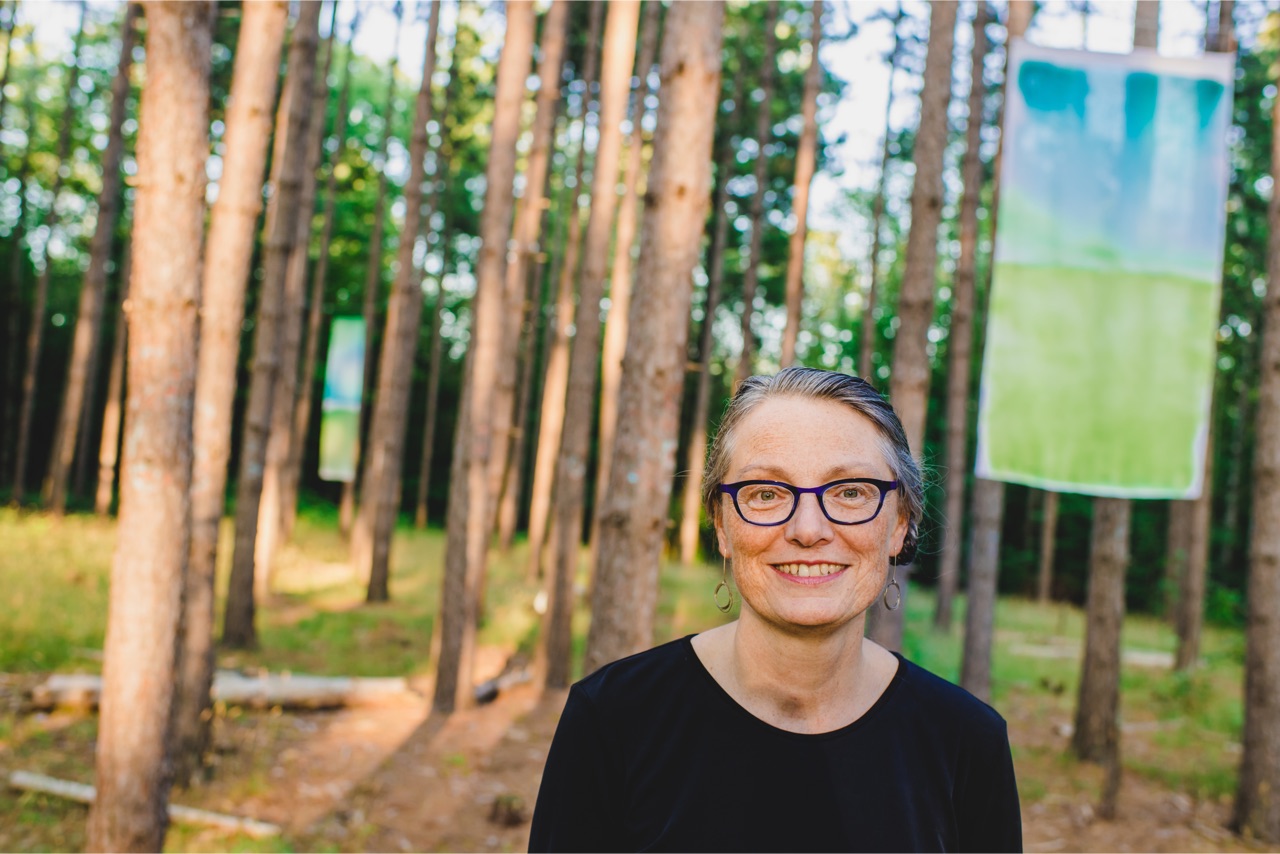 Visual artist and Iowa alumna Anne Beffel encourages more generous and empathetic interactions among neighbors and strangers through publicly engaged art performances and installations. A vibrant collection of hers now hangs at her alma mater, a place that satisfied her need for a creative and intellectual community and influenced her career path.
In the summer of 2017, Anne Beffel walked into the University of Iowa building that in the 1990s housed her graduate school art studio. She discovered the building was home to the Carl E. Seashore Psychology Clinic, where students—under the supervision of faculty and staff—provide psychological assessments and therapy to the community. Beffel knew immediately that the building would be a perfect fit for her work.
It was the weekend, but she found an open office door. Michael O'Hara, professor and Starch Faculty Fellow in the Department of Psychological and Brain Sciences, invited her in. A year later, 85 paintings from Beffel's Color of Kindness project line the walls of Stuit Hall.
Since earning her MFA in visual art from the UI in 1998, the professor of visual and performing arts at Michigan Technological University in Houghton, Michigan, has worked to encourage more generous and empathetic interactions among neighbors and strangers through publicly engaged art performances and installations. She says her time at the UI was pivotal.
"Going to Iowa was a life-transforming experience where I was given the freedom and support to discover who I was as an artist and a person in relationship to the world more broadly," Beffel says.
Joining the UI School of Art and Art History as a graduate student was a 10-year journey that started with Beffel graduating with a BFA from the University of Michigan in Ann Arbor and heading to Alaska to work in the fishing industry.
"I had been painting abstractions of whale songs, but I also knew I could make some money," Beffel says about moving to Alaska. "And it sounded like a great adventure."
She later hitchhiked down the coast and landed in Seattle, where she says she did everything from waitressing to eventually becoming an arts education curriculum consultant.
Beffel says she spent years trying to find a creative and intellectual community similar to those she imagined existing in grad school. She started critique groups and book clubs. She participated in artist residencies. But she says it became clear to her that it wasn't possible to manufacture the type of community she was seeking.
Color of Kindness art exhibition
In her Color of Kindness project, University of Iowa alumna Anne Beffel responds to the answers her neighbors and strangers gave to the question "What color comes to mind when you think of kindness?"
The 85 works will be featured for three years in Stuit Hall on the UI campus, where Beffel's studio was located during graduate school. The building is now home to the Carl E. Seashore Psychology Training Clinic.
The project is funded by Finlandia University, Syracuse University College of Visual and Performing Arts, and supported by the UI Department of Psychological and Brain Sciences and Michigan Technological University.
Opening reception: Noon to 1 p.m. Nov. 9 in Stuit Hall. Will feature light refreshments and remarks by the artist, faculty members of the Department of Psychological and Brain Sciences, and graduate students in the clinical psychology program.
A friend recommended she check out Iowa.
"I wanted a place where I could be free to let my imagination roam, where it was clear that when students completed the program that their work looked like them as opposed to like everybody else or their professors," Beffel says. "I could see that was the case when I visited."
Beffel has fond memories of Stuit Hall—then known as Old Music Building—which was built in 1915 as the university's isolation hospital, served as the home of the School of Music from 1928 to 1971, and then housed art studios until 1999, when it was closed for renovations. It was reopened and renamed for its current use in 2010.
"The old studio building was amazing," Beffel says. "Having four walls that reached floor to ceiling was great because I could create worlds of my own within my studio but still be within a community and have lots of contact with other artists."
During Beffel's time at Iowa, she began to integrate meditation into her artwork, a practice that continues to this day with Meditation Circuit. This series of meditation stations is marked by public artwork and offers mindfulness-oriented activities intended to support well-being and demonstrate the power of meditation and the value of public art. The first of these site-specific circuits appeared in Shoreline, Washington, with another planned for the Michigan Technological University's Ford Center and Forest.
"I did my first walking meditation project at Iowa. That's where it started, and it has come to fruition in a really full way in the Meditation Circuit project," Beffel says. "I was given the support and freedom to walk outside of my studio and spend time outdoors not knowing for sure when it would lead back to the studio. Faculty had enough faith in me to know that I would find my way. They helped me learn to trust myself because they trusted me as an artist."
Beffel says being a part of a larger university also allowed her to link other areas of interest to her work in the studio.
"For example, I could pair a graduate painting workshop with a class like anthropology of the body," Beffel says. "Taking these courses allows you to understand what it is that's feeding your work from perspectives grounded in disciplines like literature, science, and the arts."
"Going to Iowa was a life-transforming experience where I was given the freedom and support to discover who I was as an artist and a person in relationship to the world more broadly."
After graduating from the UI, Beffel spent a year teaching at St. John's University in Collegeville, Minnesota, then was chosen to participate in the Whitney Museum of American Art's Independent Studio Program in New York City. After the nine-month program, Beffel took a tenure-track position at Syracuse University in New York, where she stayed for 13 years.
Carrie Flaspohler, director at Finlandia University Gallery in Hancock, Michigan, invited Beffel to show her work at the gallery in 2012. That's when the Color of Kindness project was born. Beffel asked neighbors and strangers, "What color comes to mind when you think of kindness?" She took the responses and produced 85 panels with oil pastels on Gessobord, drawing her palettes from the flora in her neighborhood as well as vast land- and seascapes.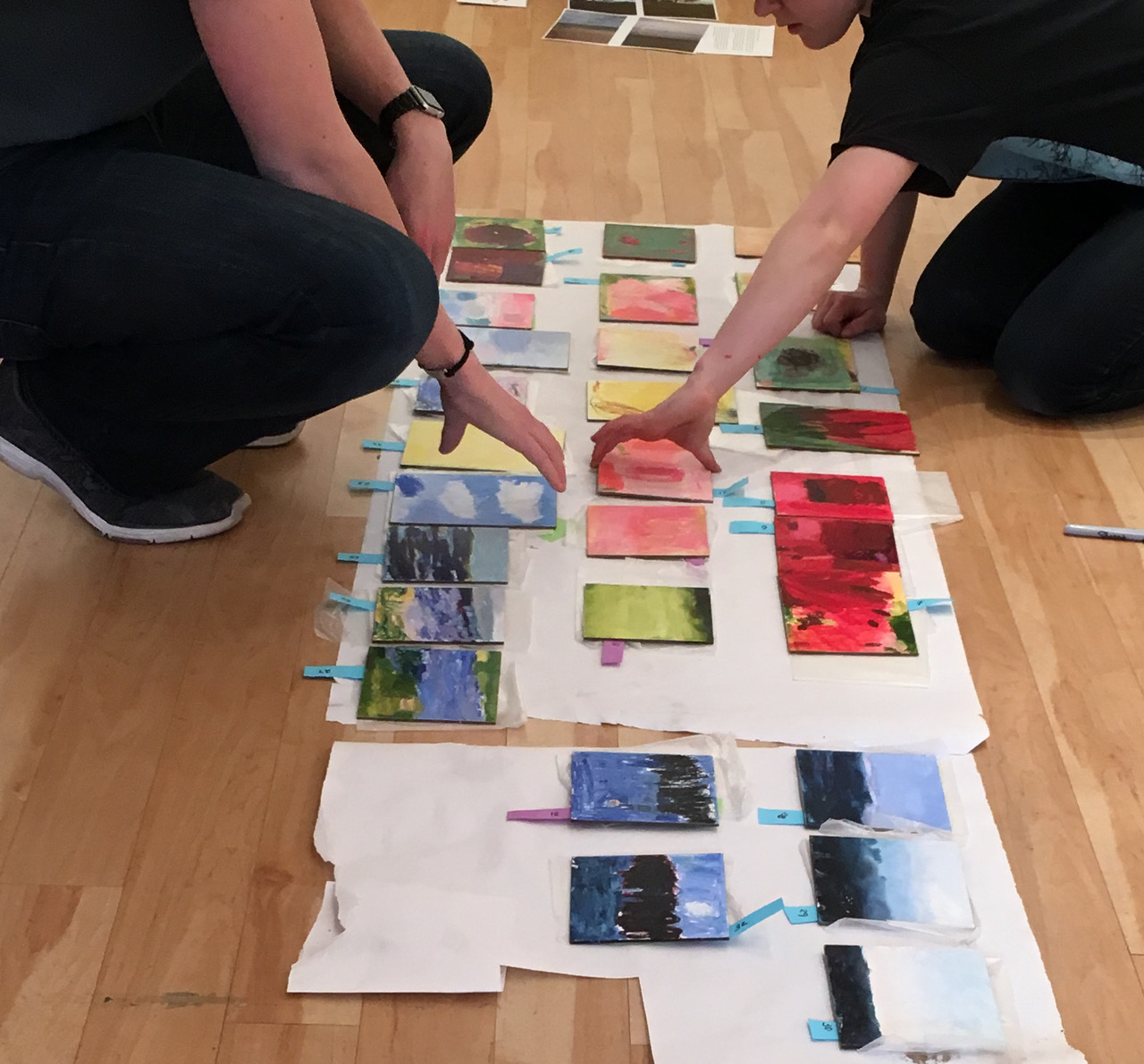 One aspect of the Anne Beffel's exhibit—on loan to the UI for three years—gave Michael O'Hara and others pause: the number of holes in the wall that would result from hanging 85 paintings.
"She came up with this very cool scheme of using magnets that are basically stickers that can be removed from the walls," O'Hara says.
Beffel also created templates to make hanging the art easy. With the help of students, she attached life-size reproductions of the artwork to four giant sheets of paper—one for each wall on which the works would hang. Then they cut holes in the paper to indicate where the magnets would go. O'Hara and his colleagues simply had to hang the templates on the walls, stick the magnets through the holes, and place the art according to the templates.
During the 2012 exhibit, Beffel learned of a job opening at Michigan Technological University, where visual art is not a major field of study, although it offers a minor. Instead of working with primarily art majors, Beffel works with students who are in science, technology, engineering, mathematics (STEM), and humanities fields.
"I took a flying leap and decided I would move my life to this beautiful, remote, northern tip of Michigan to work with students who are very different from those I worked with at Syracuse University," Beffel says. "I was really excited to work with students who are majoring in fields outside of art. I think that's in part attributed to the University of Iowa because it was that blend of liberal arts and sciences courses along with studio work that really helped me grow as an artist."
The Color of Kindness project was on Beffel's mind when she visited Iowa City in 2017.
"I had been thinking that I would like it to be exhibited in a psych clinic, and then I walked into my old studio and saw it had been turned into part of the Department of Psychological and Brain Sciences," Beffel says. "It's kind of a charmed story."
After that initial meeting in his office, O'Hara discussed the idea of exhibiting the works in Stuit Hall with his colleagues and students, who agreed it would enhance the ambience of the clinic.
"Environment is extremely important," O'Hara says. "As nice as this building is, it is a little sterile. We want it to make it as welcoming and colorful as we can because I think it helps people get in the right frame of mind and helps with the healing process."
Beffel credits another Hawkeye as being integral in providing the space necessary to make such public art projects possible. Travis Pierce (BM, music, '01) is Michigan Technological University's chief housing officer and director of housing and residential life, and Beffel says he has done a great deal in his role to allow the arts to thrive in the residence halls there, such as providing space for practice rooms, a radio station, and Studio Here and Now, a professional research lab and art studio for Beffel and resident artists.
Stuit Hall artwork honors building's past
The Color of Kindness project isn't the only artwork in Stuit Hall that's connected to Anne Beffel. On permanent display in the building are 14 paintings reflecting the history and future of Stuit Hall by John Dilg, UI professor emeritus and Beffel's MFA thesis adviser. In one, an artist's palette embedded with an all-seeing eye lists the grad students whose studios were housed in the building and the faculty who taught there.
"It was quite heartwarming to see my name," Beffel says. "It illustrated the long history of artists who flourished in that building."
The paintings in the Color of Kindness project were installed in Stuit Hall in early October, and O'Hara says students have commented on how refreshing they are.
"They're abstract, so you can read into them what you want," O'Hara says. "It's interesting, because kindness rarely enters into our discourse, so this gets us thinking about kindness. A lot of our patients experience the world as unkind, although they may not frame it that way. We want to have an environment where they feel kindness, and this art helps build on what we are trying to do."
Beffel hopes her art encourages people think about what color they associate with kindness.
"Wherever that question takes them is an opportunity to think about those two things in relationship to one another," Beffel says. "Color and kindness are not things we necessarily put together, yet color is used culturally to classify things all the time. So, whatever happens, should they ponder that question when those two things collide in their imaginations or are united in their imaginations is fine by me. I'm just curious what happens for them should they ponder the question."
Produced by the UI Office of Strategic Communication
Sarah Bird, Michigan Technological University
Additional images courtesy of Anne Beffel