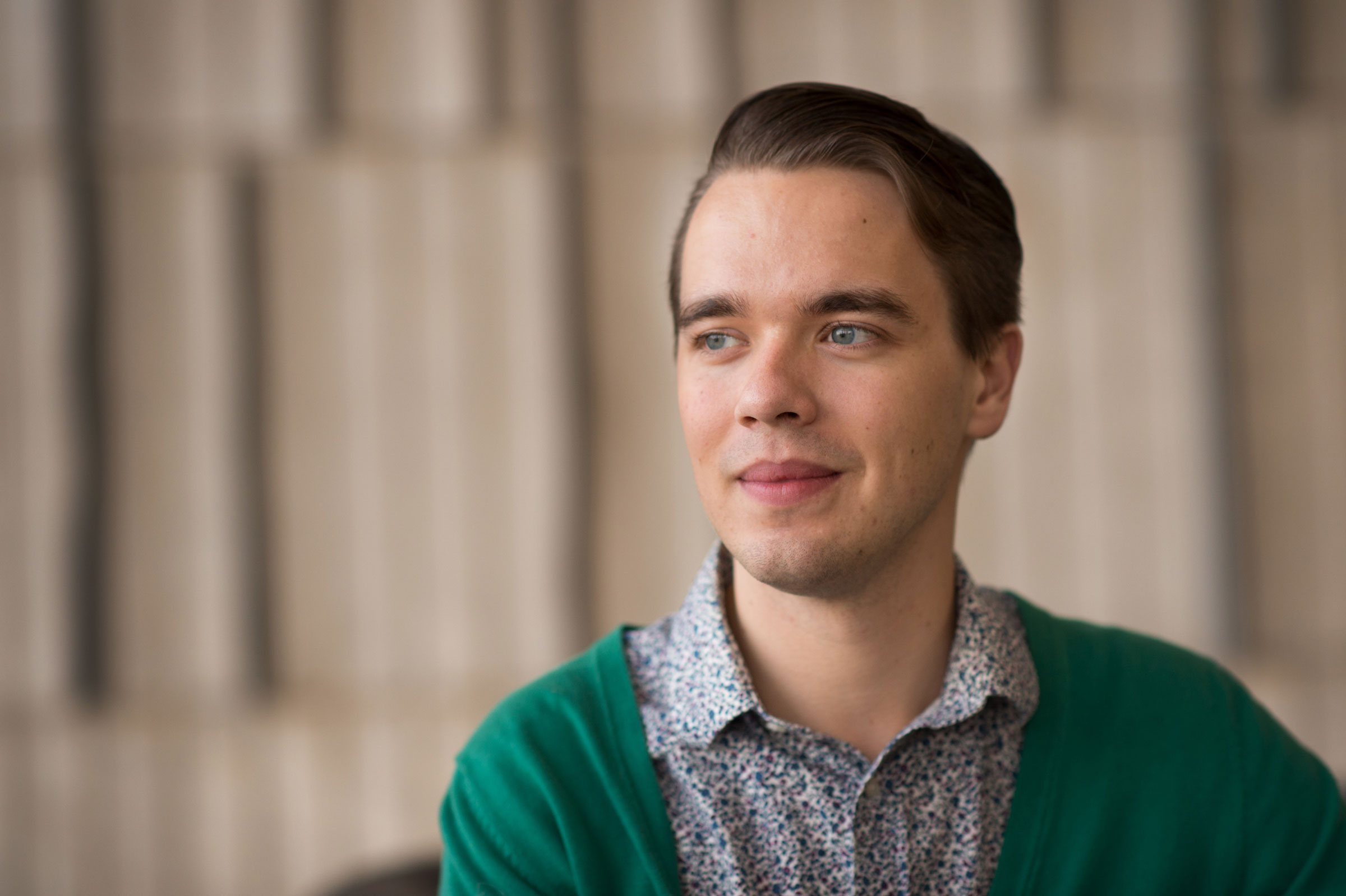 UI voice performance, music education grad sings praises of his college experience
Ben Ross came to the University of Iowa as a biology major. He'll leave with a degree in voice performance and music education after singing the national anthem for the College of Liberal Arts and Sciences graduation ceremony.
Hometown: Rockford, Illinois
Areas of study: Voice performance and music education
Graduation: December 2017
Plans after graduation: Ross will student teach in an area elementary school and high school in the spring of 2018.
Activities and honors:
Winner of a 2017 Hancher-Finkbine Undergraduate Student Medallion

Performed the national anthem for the December 2017 College of Liberal Arts and Sciences graduation ceremony

Cast in six University of Iowa operas

Delta Lambda Phi (past vice president and president)

Tutoring UI students in chemistry, biology, music theory

Teaching voice lessons to high school students

Outreach and advising for the UI Honors Program

Past member of the UI's Sustainability Charter Committee

Past member/conductor of Oakdale Prison Choir

Catering for the Office of the President
"Music has been important to me my whole life," Ross says. "My mom tells stories of me singing around the house as a kid."
He started piano lessons at age 4, sang in a children's choir from age 10 through high school, participated in musical theater and "found any way I could to be involved with music." His other great passion is science—hence the biology major. But early in his college career, Ross realized he was taking more music classes than biology classes. Being cast in a UI opera during the spring of his sophomore year sealed the deal.
"I realized this is what I want to be doing," Ross says. "I love theater and drama and classical music, and opera is the perfect marriage of these things. And shortly after that, I decided to be an educator largely because of all the fabulous educators I had previously."
Ross credits the UI with offering him many unique, formative experiences.
"Opera is such great hands-on musical experience," Ross says. "I don't think I would have grown as much as a singer, performer, and actor had I not had the opportunity to be involved. There's room for undergraduates to have these experiences here, which is awesome. I don't think you could find many other music undergrads in the country who have had the chance to be in six fully staged operas."
Bill Theisen, UI associate professor and director of opera, says Ross is a fearless performer. He remembers Ross during his first audition, after which he was cast as an older character. Theisen says it was a bit of a gamble because he didn't know Ross, but the gamble paid off.
"He has an old soul," Theisen says. "He's young and vital, but there's something about him. He's very comfortable in his own skin. He truly is a singing actor; he's not just a singer up on the stage. He's committed vocally, he's committed physically, he's committed intellectually. Ben has the talent as well as the ability to create a wonderfully three-dimensional character."
Along with opera, Ross points to his involvement with Delta Lambda Phi as one of the most influential experiences he had while at the UI. The social fraternity, which Ross joined in the spring semester of his first year, attempts to create a more inclusive space for gay, bisexual, and progressive male-identified individuals in the Greek life community.
"I was questioning my sexuality, questioning who I was as a person, and beginning to question my career path as well. It was a lot of big things coming up all at the same time," Ross says. "They offered me the support I needed at that time to become comfortable at the university, comfortable with being a queer person, and offered a safe space to explore what that means and what I want it to mean for me."
Ross joined Delta Lambda Phi during its fourth semester of existence and helped it become a sanctioned chapter of the national organization. He also served as vice president and president.
And just because Ross dropped his biology major, it doesn't mean he lost his love of research.
Ross applied for and won a Stanley Undergraduate Award for International Research, which allowed him to spend four weeks in the United Kingdom during the summer of 2017 working on his honors thesis. During his time in London and Oxford, Ross studied the original scores, letters, and diaries of British composer Gerald Finzi.
"It was surreal," Ross says. "I was interacting with stuff that he touched and wrote on and that he cared to make. Finzi did the same things I do. He went to concerts with friends and wrote letters to his mother and talked about how the service at the restaurant was bad. It makes me think of him and the other composers I study as real people with real aims and real goals and real desires."
After graduation, Ross will spend the spring of 2018 as a student teacher at elementary and high schools in the Iowa City or Cedar Rapids area. He's also not done with opera—in January 2018, he will sing with the Young Artists Chorus in Cedar Rapids Opera Theatre's production of Turandot.
Those who have worked with Ross say students will be fortunate to have someone with his dedication and insight as a teacher. Mary Cohen, associate professor in the UI School of Music and founder of the Oakdale Community Choir (composed of a group of men incarcerated at the Iowa Medical and Classification Center, as well as female and male community members), praised Ross' work as a member and guest conductor of the choir.
"He's so strong in his vocal technique," Cohen says. "There's a certain amount of informal education and learning that you get just from singing with him. And as a conductor, he was able to bring the choir to a new level."
While those around him agree he deserves every honor he gets, Ross is humble.
"It's been nice to be recognized, but that external recognition or validation is not what I'm seeking," Ross says. "The reason I've done the things I've chosen to do is because they seem like fun and what I want to do. The thing I don't like about awards is they distill people into two-dimensional images, and it's limiting. I don't want to be limited."
If Ross' time at Iowa is any indication, there's little chance of that.