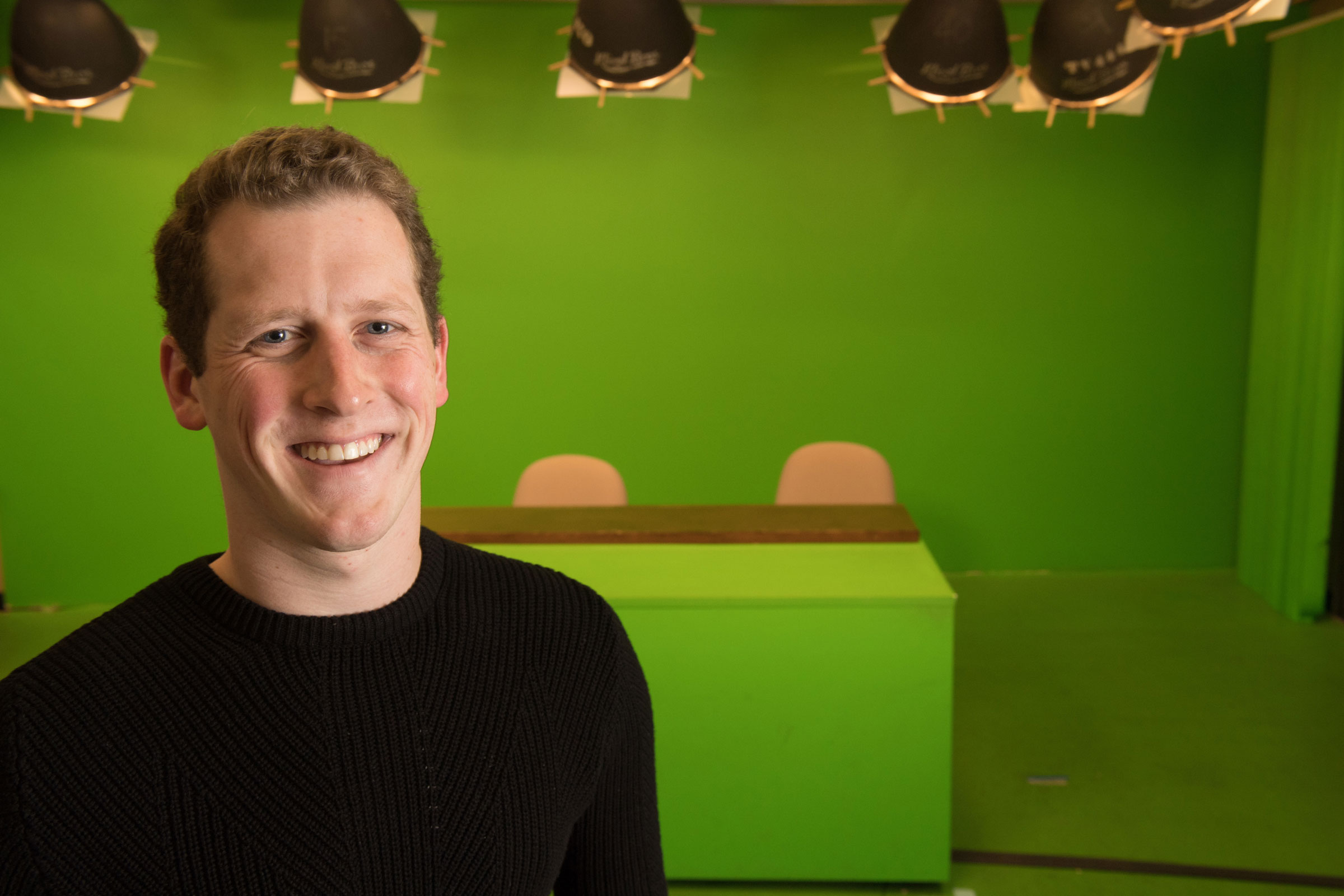 Story City native excited to start journalism career in Iowa
Since first setting foot on the University of Iowa campus, graduating senior Cole Johnson has taken every opportunity presented to him.
Hometown: Story City, IA
Areas of study:
Journalism and Mass Communication,
Political Science
Graduation: December 2017
Activities:
News director, Daily Iowan TV
Senior reporter, Daily Iowan TV
UI Spirit Squad
Ambassador, School of Journalism and Mass Communication
Internships:
KCCI TV
Town Square Media (New York City)
Iowa City Channel 4
Muscular Dystrophy Association
Whether he's in front of the camera as a senior reporter for Daily Iowan TV, working "Herky Security" on the UI's Spirit Squad, or speaking to prospective students in his role as a student ambassador for the School of Journalism and Mass Communication, Johnson is busy.
And those hands-on experiences—paired with mentorship from faculty who have helped him achieve his career aspirations—are what he credits for his being ready to graduate with a job lined up after just three-and-a-half years at the UI.
"At the UI, they throw you into your field and you are forced to learn quickly and efficiently," says Johnson, reflecting on his journalism courses and internship experiences. "I think that's why I feel so prepared for my job after graduation."
One learning moment for Johnson dates back to his first internship at KCCI TV News Channel 8, a CBS affiliate licensed in Des Moines, where he worked as a reporting intern and researcher covering everything from hard news stories that involved violent crime to a feature about a family that lost a child to a serious disease.
"People don't always want to be filmed, but that summer I learned that it is really a privilege to be able to tell people's stories and share them with the world," Johnson says. "That's where I fell in love with storytelling. Reporting is about facts, but you also have to be able to convey them in a way that is interesting, and I think that's something people forget."
Johnson also thinks back to important discussions he had with his peers in his Editing the News course taught by UI journalism professor Charles Munro.
"That class really helped build up my integrity as a journalist," Johnson says. "You need to be proud of the work you're doing and show compassion for your subjects without putting too much emphasis on clicks. I'm a big advocate for producing quality journalism that will inform an audience."
Johnson says Munro, whom he considers his mentor, also played a significant role in helping him improve his skills as a journalist.
"I was used to being academically successful before college, but I wasn't necessarily learning how to get better," Johnson says. "Charles was one of the first people who criticized my work and told me how I could improve. He always pushed me to be better and set an example for other students."
But Munro says Johnson is the master of his own success.
"The notable thing about Cole Johnson is that he is a student who has used every single opportunity the university has provided him. He is a guy who has gone for it. He is active in organizations, active with the Spirit Squad, directed DITV—he is someone who is always busy with things," Munro says. "When I was associate director of undergraduate studies for the journalism school, I always told first-year students the best thing they could be was busy while they were here. Cole is the poster child of that philosophy, and it has really benefitted him."
"There is something special about working here, and the school spirit, and being around all of these people in Iowa City who care so much about what they do. The culture at Iowa makes our grads just as competitive, if not more so, than students from other institutions."
Johnson will join KCCI TV, where he had his first internship, as a general-assignment reporter.
"It's not common to walk into a job in a market like that right out of college, but the UI prepared me for it," Johnson says. "I am feeling really nostalgic. From interviewing presidential candidates to attending the Rose Bowl, I have had so many rare opportunities as an undergraduate here. It's incredible that Iowa was able to give that to me. I'm ready to go out there and prove myself."
Aside from starting his job, Johnson says he looks forward to the day when he'll have the resources to return to the university and share all he's learned.
"I'm excited to be an alum," Johnson says. "I want to be able to provide guidance to students and show them what I have learned in the real world. I really want to help create a perspective that, when people hear about the University of Iowa, they think journalism."