"Daily Iowan" celebrates 150 years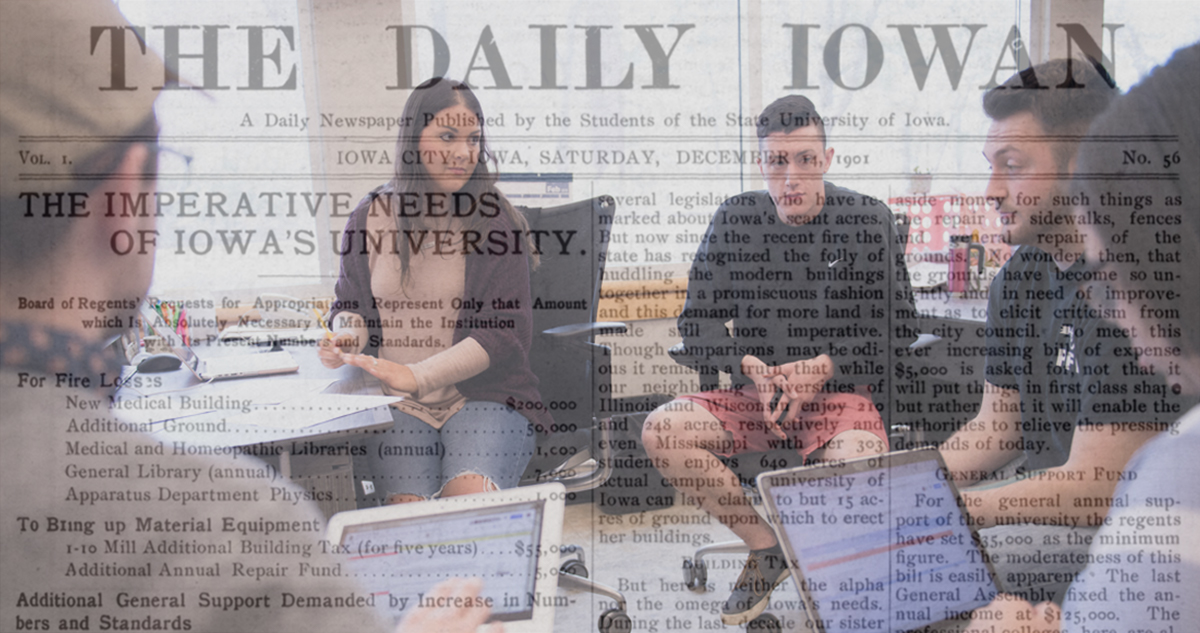 The University of Iowa campus has had a student-produced newspaper since 1868. Not only do the student staff members have opportunities many colleges can't provide, their work has earned multiple honors and awards throughout the years, placing the paper among the best in the country. 

As a reporter with The Daily Iowan, recent University of Iowa graduate Grace Pateras developed and pitched her own story ideas, completed assignments on deadline, and filed up to four articles a week. On top of that, she studied for her classes and tried to maintain a healthy social life.
When she became editor-in-chief her senior year, her responsibilities grew—as did the demands on her time. Pateras managed production of the newspaper's five-days-a-week print publication as well as its online and broadcast components, supervised a staff of more than 130, and oversaw a budget of $150,000. She also fostered a newsroom ethic of adhering to the highest standards while completing coursework for her majors in journalism and mass communication and in American studies.
"I've learned how to deal with different personalities, be patient with my staff when breaking news happens, and respect others' time…I love seeing the final pages at night and thinking to myself, 'This is a very good paper.'"
2017–18 "Daily Iowan" editor and 2018 University of Iowa graduate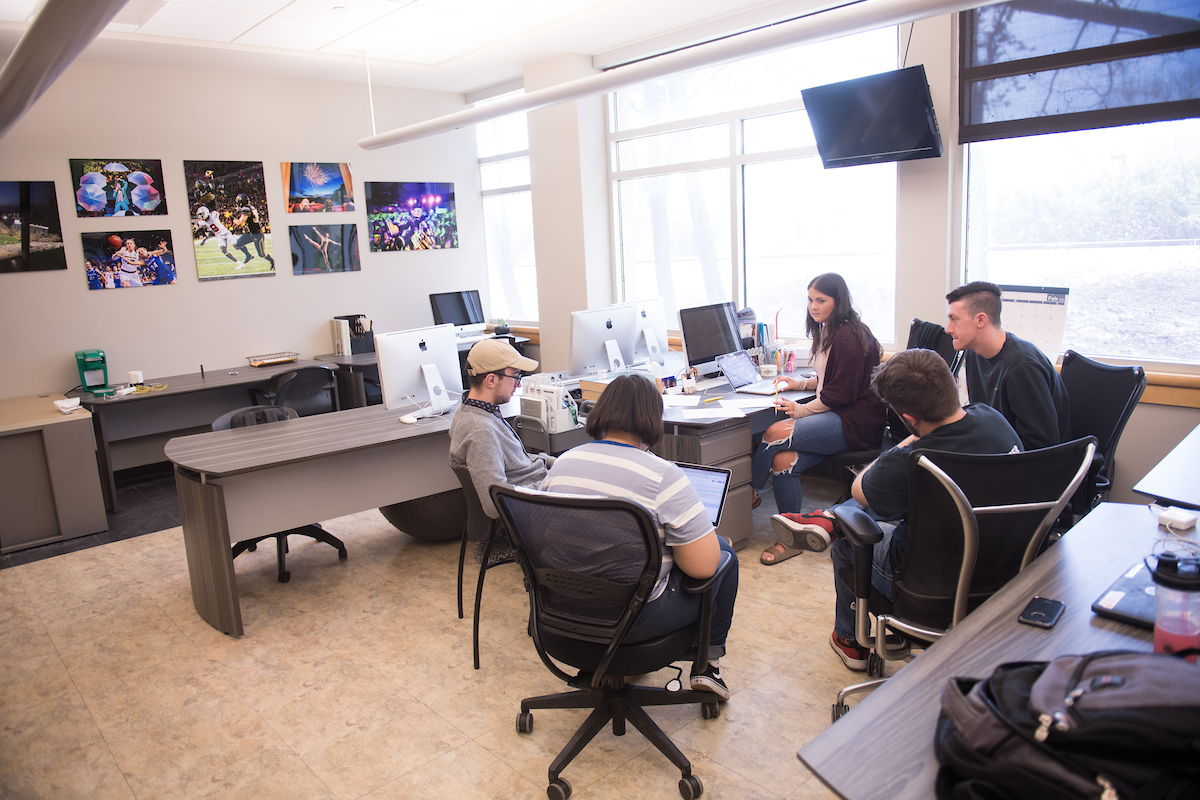 Pateras, who graduated in May 2018, is a digital producer for Gannett in Nashville, Tennessee. She credits her experience at the paper with her personal and professional development as a UI student.
"I've grown so much working at The Daily Iowan," says Pateras, who is from Buffalo Grove, Illinois. "I've learned how to deal with different personalities, be patient with my staff when breaking news happens, and respect others' time. Although at times it has been stressful, it is so good to be in this newsroom. I love seeing the final pages at night and thinking to myself, 'This is a very good paper.'"
The Daily Iowan and its predecessors on campus have been providing this experience—a laboratory of sorts—to UI students for 150 years, maintaining a reputation as one of the top college newspapers in the country and launching the careers of countless newsroom alumni. Many graduates continue in the news industry, landing jobs at top media outlets like The New York Times, CNN, The Washington Post, and ESPN. Others have applied the skills they learned in the newsroom to careers in law, medicine, politics, and the entertainment industry.
What sets The Daily Iowan apart
Unlike many other college newspapers, The Daily Iowan is an independently run publication. It is a student organization that is legally separate from the university. That means the university administration doesn't interfere with production of the newspaper—and it also isn't liable for the paper's content.
And while its newsroom is housed alongside the UI School of Journalism and Mass Communication in the Adler Journalism Building, The Daily Iowan is not produced as part of a UI class, nor is it supervised by journalism faculty. Charles Munro, an Emmy-winning TV news producer who is a lecturer in the UI journalism school, says this setup gives graduating staff members advantages in the job market.
"The responsibility for production of the newspaper is entirely in the hands of the students, and that gives them important qualities, ones I hear about from people in the profession who are making hiring decisions," he says. "The biggest one is that because our students go through the process of doing everything, they are ready to hit the ground running when they are hired. Another is that our students are good at working around problems. They don't need a lot of hand-holding. Instead of waiting for help, they just do it."
Munro remembers leaving the Adler Journalism Building the night of the 2016 presidential election. He walked away confident that things were in good hands.
"I left around 7 p.m. and turned the building over to the students," says Munro, who advises students as a coach for Daily Iowan TV, or DITV. "They did it all from there. They produced the newspaper and a live TV broadcast. That they were able to cover something that important is a testament to the planning and professionalism of the organization. They were the ones making the critical and editorial decisions."
That independence is what drew Pateras to study journalism at the University of Iowa.
"At some schools, the newspaper is produced as part of a class, but I knew the stories I would write for The Daily Iowan would be edited by my peers. To me, that feels more authentic," she says. "Here, you're taught to be a leader, rather than being watched over. You learn things in class and then come to the newsroom and apply them."
For student staff members, that can make for long days—and nights. DITV broadcasts a 15-minute news segment weekdays at 8:30 a.m. At 1 p.m., there is a meeting of newspaper section editors to determine page budgets for the next day's paper. Final drafts of articles are submitted by 4 p.m., and page layouts are finished around 9 p.m., which is when work begins on the following morning's DITV newscast. Editors then make their final passes and the files are saved, often after midnight, in an electronic drop box at The Gazette, a newspaper based in Cedar Rapids, Iowa, which prints The Daily Iowan.
'A really good boot camp'
Don McLeese, associate professor of journalism and mass communication, says producing The Daily Iowan is hard work, but it's an effort that pays off.
"It's a really good boot camp," he says. "It gives students a taste of the job. Not only are they working constantly, they're working under pressure. And they are working in a competitive environment. While most markets are one-paper markets, this is a three-paper market—and they often beat one or both of those papers on coverage."
In fact, Daily Iowan staff members earned 23 awards, including second place in general excellence, competing with professional peers at the 2018 Iowa Newspaper Association Awards. 
McLeese says students who get experience working at The Daily Iowan quickly learn news value and news judgment and how to write well under deadline—qualities that are crucial in the industry
"They are held to pretty high journalistic standards," he says. "On top of that, they have learned to shift, along with the rest of the industry, from being primarily a print product to a multi-platform news source. It's very good training for this profession."
"Daily Iowan" through the years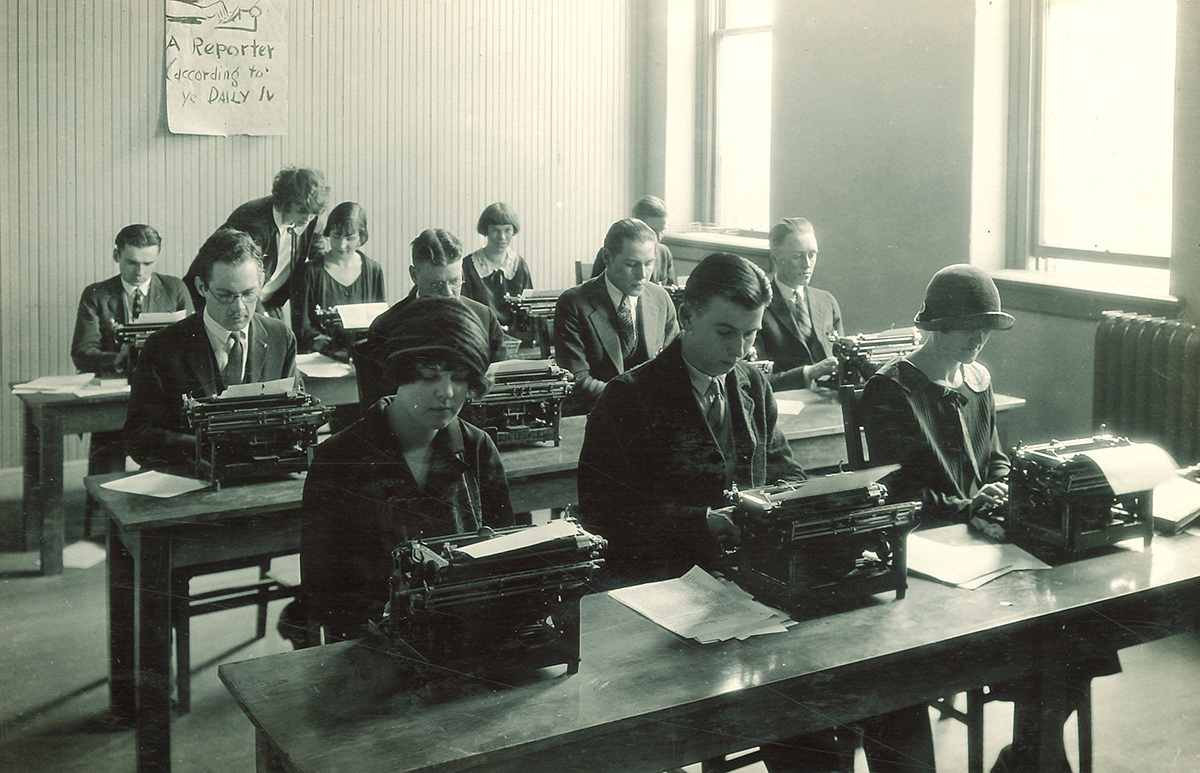 See the history of The Daily Iowan
View the full timeline.
---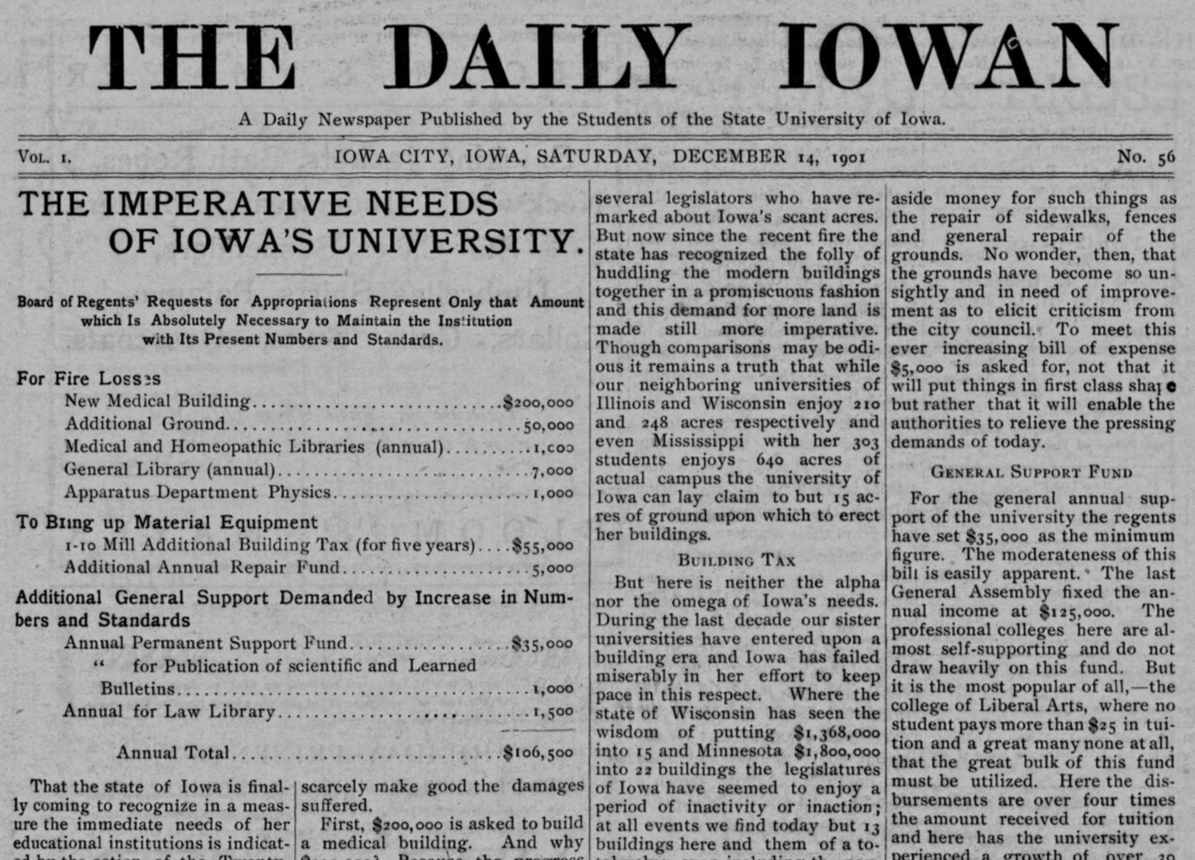 Old issues of The Daily Iowan are online
You can time travel by visiting dailyiowan.lib.uiowa.edu to review papers dating back to 1868. The archive provides access to digitized versions of The Daily Iowan and its predecessors: The University Reporter (1868–81), The Vidette (1879­–81), and The Vidette-Reporter (1881–1901). The newspaper editions are searchable, and new issues are regularly added to the site.
---
Did you know?
In 1901, the first issue of the newly titled Daily Iowan cost a nickel. It is now free.
Circulation of the print Daily Iowan is 8,500, while its website reaches 10,000 readers every day.
In addition to the print newspaper and DITV broadcasts, which began in 2005, The Daily Iowan has a website and social media feeds. In 2017, Pateras formed a digital team specifically charged with following breaking news, publishing daily content online, and managing reader inquiries.
"Who knows where print will be in five to 10 years?" she says. "Producing a print publication is very good experience, but we also need to be creative and find other ways to appeal to readers."
Keeping the daily newspaper alive
In a time when newspapers seem to be shuttering every other week, the UI student newspaper has managed to survive for 150 years. It hasn't always been easy. Difficult decisions have been made over the years—layoffs of professional staff, elimination of wire services, etc.—but longtime former publisher Bill Casey is often credited with innovations and partnerships that have kept the newsroom open.
In 1987, Casey decided to approach his newsroom staff like a basketball coach and offer tuition scholarships to top journalism prospects, working with university fundraisers at the UI Center for Advancement. The recipients, he speculated, would help recruit other excellent students to the university and then become enthusiastic alumni. To date, the program has awarded more than $1 million in scholarships—and the paper has earned five Pacemaker awards, the college newspaper equivalent of the Pulitzer Prize.
"Our mission was to bring the very best kids to campus, give them the best equipment, and then leave them alone," Casey says. "I preached responsibility—responsibility to our readers. Selling ads is important, but reporting the news is more important.
When Casey retired in 2017 after having served as publisher since 1976, Daily Iowan newsroom alumnus Jason Brummond was named his successor. As a student, Brummond had jobs as sports reporter, sports editor, and then editor-in-chief. He says the opportunities he had in those roles were formative.
"Bill saw the value in sending reporters to cover important court cases and bowl games, and that's not insignificant. Sitting in a press box with national sports writers you recognize makes you feel like you have a seat at the table. It makes you feel you can do it. It was a great learning environment," says Brummond, who earned a BA in journalism and mass communication and a BBA in 2008, then an MBA in 2014. "Working at The Daily Iowan was such a valuable, unique, and impactful experience for me. As publisher, I want to ensure that those same opportunities exist for students in the future."
"Journalism isn't dead. There is a need for good reporting and storytelling that isn't going away."
Looking forward
Many college newspapers across the country—including those at the University of Wisconsin–Madison, the University of Maryland, Cornell University, the University of North Carolina, and the University of California, Berkeley—have dropped a day or more from their printing schedules in recent years to cut expenses and refocus their efforts on content and delivery.
Not only has The Daily Iowan's print publication survived, the organization has expanded. In addition to launching DITV and maintaining an online presence, it partnered with Snapchat in 2017 to become one of 10 college news publications with featured content on the application's Discover page.
While Brummond acknowledges that reducing the print frequency of The Daily Iowan during the school year is a consideration—and indeed it will move to a weekly schedule during the summers—he says he is looking at other ways to increase efficiency. For example, delivery services were eliminated in 2018; instead, there are 65 pickup spots across campus.
"While managing the budget is a challenge, we are constantly looking at new revenue sources and fundraising opportunities," he says. "I feel confident we are taking the necessary steps to secure the future of The Daily Iowan."
Brummond says he is heartened by what some people in the news industry have called "the Trump bump," or an increase in student engagement and applications at journalism schools across the country and, in general, more discussion about what good journalism is.
"Journalism isn't dead. There is a need for good reporting and storytelling that isn't going away," he says. "While digital information and social media are great advances, they have given everyone a microphone. It's more challenging for readers to determine authenticity, to figure out what's credible and what's not. That's the role newspapers and media organizations have."
In addition to accurately reporting the news, Brummond adds, The Daily Iowan has another important function at the University of Iowa: "We're a recorder of history on campus. We capture the big stories and also reflect on what students are thinking."
Pateras says The Daily Iowan should be a point of pride for the campus community, especially for those who contribute in the newsroom.
"A lot of people go to college and then leave town. As a student working at The Daily Iowan, I felt immersed in the local community right away. It was an excuse to get out into the community, find out about its history, and meet some really great people," she says. "We also learned from each other in the newsroom. At the end of the day, it may have been my call, but it wasn't my paper. It was ours."
Produced by the UI Office of Strategic Communication
Tim Schoon and Justin Torner