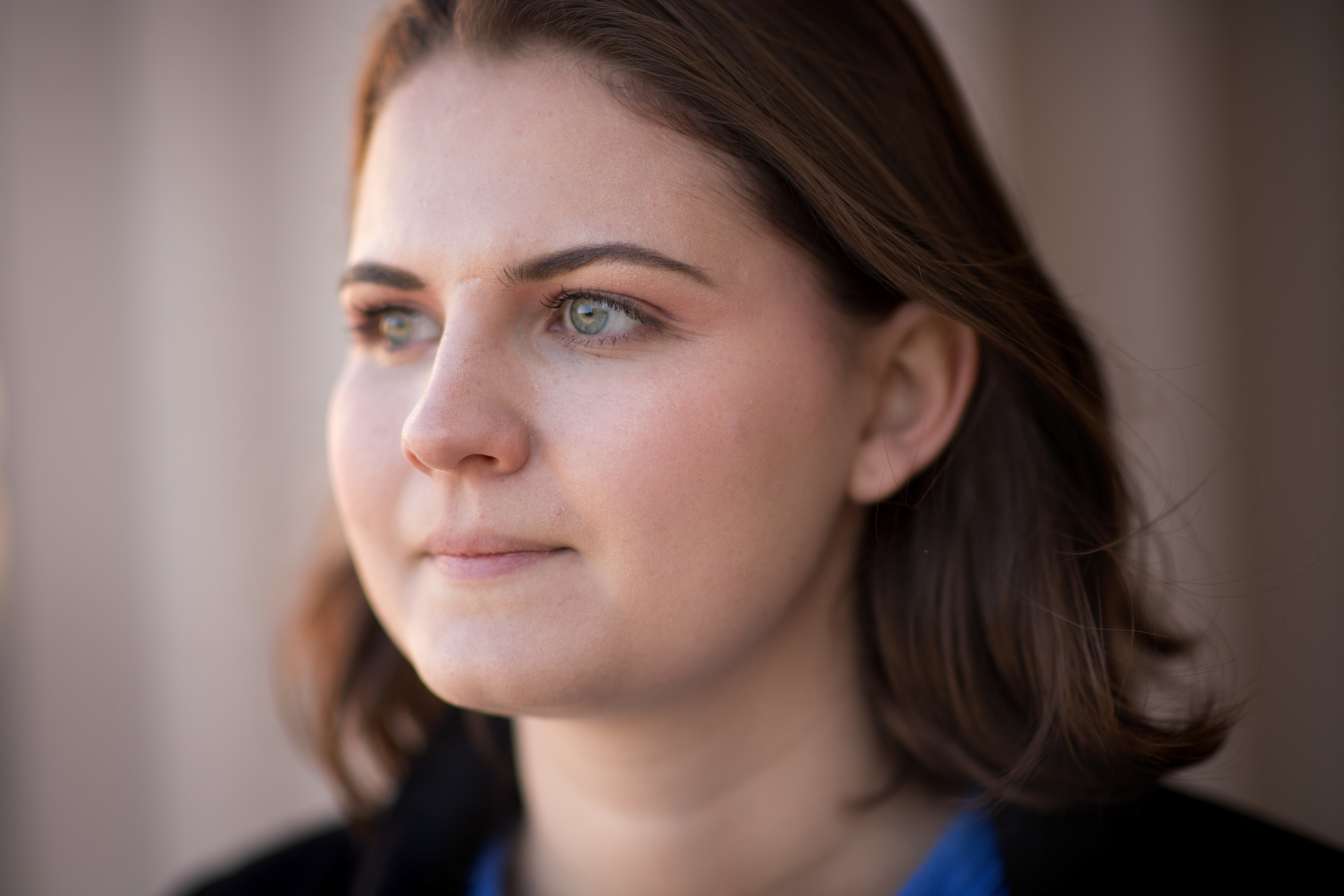 UI grad combines love of storytelling with mapmaking chops
Emma Miller-Shindelar likes to tell a good story. She likes it even better when she can tell a good story using cutting-edge mapmaking technology.
The University of Iowa senior, who will graduate in December, has created or contributed to a wealth of living-history projects, including an interactive website that catalogs the severe weather events that have taken place in Iowa since the 1850s and the first digital map highlighting sustainability features on the UI campus.
Miller-Shindelar, a double major in environmental policy planning and anthropology with a minor in economics, combines her mapmaking skills with a passion for weaving historical threads into an educational, interactive narrative.
"I've always been interested in history," says Miller-Shindelar, who is from St. Paul, Minnesota. "I've always found it interesting and important. Getting involved in local history was something I wanted to do, and it is a bonus to have it centered on a major. It really aligned with my interests."
One such project is the People's Weather Map. This interdisciplinary collaboration at the UI consolidates newspaper articles, personal stories, and other accounts in an interactive map of severe weather incidents across the state, dating back to the 1850s. Miller-Shindelar did most of the mapmaking for the site and wrote some of the stories detailing specific weather events.
She says the project gave her a feel for all the foul weather—from floods to tornadoes—that has befallen the state for nearly 170 years. But she says it also provided a lesson: Extreme weather events are on the rise, and a changing climate is a big reason why.
"We're putting it all in context," Miller-Shindelar says. "A lot of people say severe weather has happened for centuries. Yeah, that's true. But we've got to put it in context and see that the frequency of these events has increased."
"I've always found (history) interesting and important. Getting involved in local history was something I wanted to do, and it is a bonus to have it centered on a major. It really aligned with my interests."
Miller-Shindelar says her interest in history comes from her mother, Ellen, who for 23 years curated exhibits for the Minnesota Historical Society. Miller-Shindelar recalls several storytelling works her mother created, including Then Now Wow, a 2012 exhibit for children that used story-driven features to explore immigration; transportation; family life; natural environments; and Minnesota industries such as the fur trade, mining, and agriculture.
"They're just cool," Miller-Shindelar recalls of the exhibits her mother created. "She talked about them a lot. I think it instilled in me the importance of history and the importance of storytelling."
Still, Miller-Shindelar enrolled at the UI in the fall of 2014 intent on following in her father's footsteps by studying nursing.
A couple of classes in the Department of Geographical and Sustainability Sciences changed her mind.
There, she joined a student group, the Iowa Community Integrated Geography Organization (ICIGO), and began learning about the newfangled tools that are taking mapmaking to a whole new level. The technology wizardry includes Geographical Information Systems, or GIS, a computerized system central to creating the spatial maps for Google Maps to Pokémon Go. She's also gotten into LIDAR, which uses light from a laser to generate images in 3-D.
"I had never heard of them before," Miller-Shindelar says of the advanced tools. "I just started playing around with this stuff."
She was adept enough to get the attention of Adam Skibbe, GIS administrator in the geographical and sustainability sciences department. When Skibbe was approached for help with an interactive, online project for the North Grand Neighborhood Association in Des Moines, he turned to Miller-Shindelar.
"Emma is one of those students who is engaged in a way that makes her an easy standout," Skibbe says.
During the summer and fall, Miller-Shindelar created digital panels for each of the three districts that comprise the historic Des Moines neighborhood and created pop-up boxes that detail the character of homes in the neighborhood and mini-biographies of past home owners.
"She's made it so that it's not only user friendly but also fun. The information is not just sitting there in a flash drive anymore," says Colleen Kinney, a volunteer with the North Grand Neighborhood Association who's been involved in the map and storytelling project since 2010.
Miller-Shindelar presented her work at the 2017 Preserve Iowa Summit in Fort Dodge.
"I like a good story, I guess, and I think Iowa history is interesting," she says. "A lot of people may think it's boring, but we've all got stories to tell."
Miller-Shindelar also turned her time and talent to sustainability efforts at the UI. Her signature achievement was creating the first map that documents the sustainability features on campus. The online map shows the location of each bicycle rack and walking path and also includes information about where to find the UI's storm water retention efforts, from green roofs to bioswales and rain gardens.
The map has been a hit at student orientation events, Miller-Shindelar says.
"Some students want to know how walkable and bike-able our campus is," Miller-Shindelar says. "They ask, 'Is it really possible to bike everywhere?' Yes, absolutely. A lot of people worry about those things when they come here."
Sara Maples, interim director in the UI Office of Sustainability, says Miller-Shindelar's GIS and mapmaking talent added a valuable perspective to the office.
"The map is popular with our EcoHawks, and we plan to continue to expand the project after Emma graduates," Maples says.
When Miller-Shindelar receives her diploma, she will have graduated in three-and-a-half years. And she knows exactly what comes next: She will work for LakeMaster, a company based in Little Falls, Minnesota, that uses advanced spatial technology to map lakes in such fine detail that the weight of individual fish can be determined.
"They're working with real cutting-edge software, GIS software, that I can't wait to get my hands on," Miller-Shindelar says.