Studying health disparities deepened by pandemic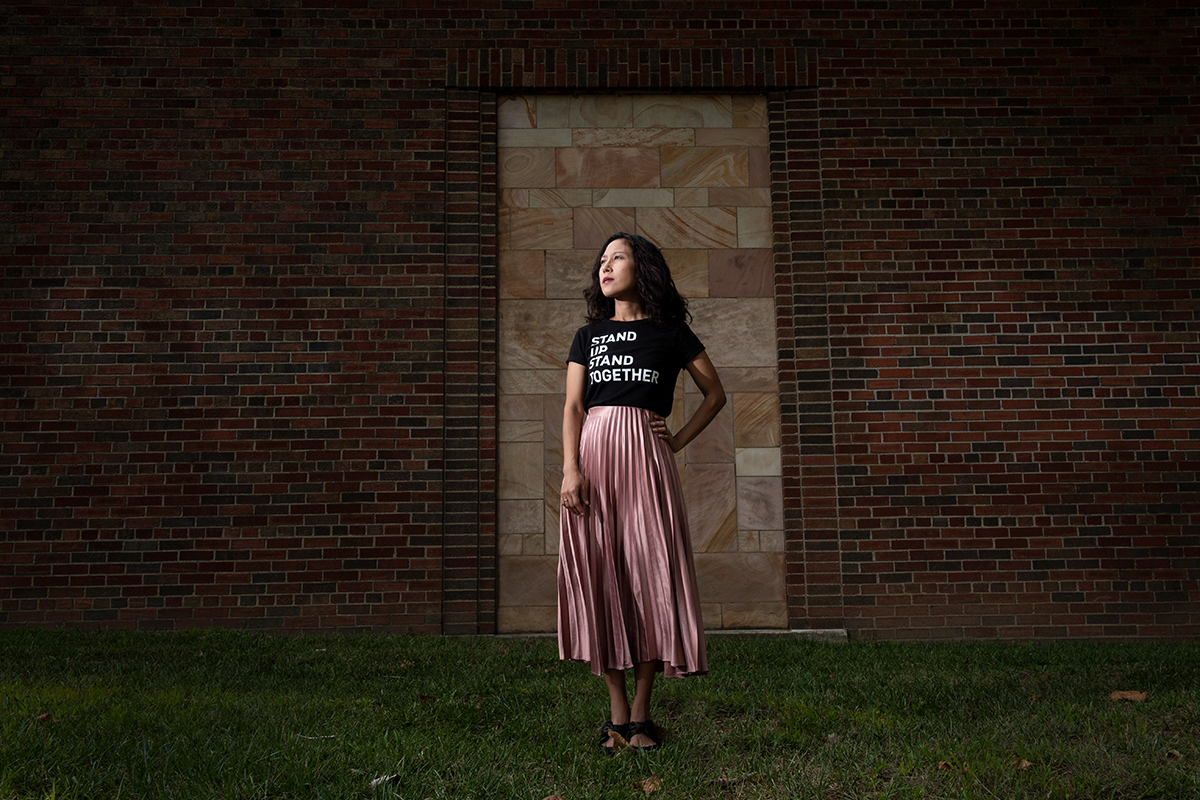 Crystal Garcia's parents were adamant about pursuing an education and giving back to others. The University of Iowa grad student is making good on those demands through her public health research.
Latinx/a/o Heritage Month resonates personally with University of Iowa graduate student Crystal Garcia.
Garcia is a second- and third-generation Mexican American from Brownsville, Texas, a city of nearly 185,000 on the border of the United States and Mexico. She remembers fondly the vibrancy of her heritage, from attending mammoth multigenerational family gatherings to learning Spanish as her first language from her grandparents and a nanny to growing up sheltered from overt racism in a city that is 94% Hispanic.
But she also observed discrimination toward people of her ancestry—as her grandparents struggled to receive basic health care, as her parents bucked societal expectations in order to attend college and earn postgraduate degrees, and how previous generations of Latino K–12 students endured heavy-handed attempts to discourage them from speaking Spanish.
The UI College of Public Health is Iowa's only accredited school of public health and is ranked among the top 10 publicly supported schools of public health in the nation. With an extensive network of community partners who support students' experiential learning and a track record of offering high-quality education, students are prepared for rewarding careers in public health practice or further academic study in public health, medicine, law, dentistry, or other graduate and professional programs.
That unique background has influenced Garcia's research in the UI College of Public Health, where she studies how racial and ethnic disparities are being exacerbated by the novel coronavirus pandemic.
"There is a need to stop seeing racial or ethnic status as a negative and take it for the positive that it is," Garcia says. "And to speak toward the resilience and the passion that comes from having this very colorful history and culture. I'm still working on that personally, how to reframe thinking so that it's less 'victim,' and how we can be agents in making it better."
Garcia's childhood is a study in extremes, from celebrations of her Mexican-American heritage to clear reminders of the discrimination that Hispanics and other ethnicities face.
One example comes from her maternal grandmother, who was diagnosed with late-stage uterine and cervical cancer. The family—Garcia, her younger sister, her parents, and her grandmother—would pile into the car once a month and make the six-hour drive to Houston so her grandmother could see a specialist. An uncle with heart problems also had to travel to Houston for surgery. Indeed, more than one of her uncles regularly traveled to Mexico for routine medical and dental care because they couldn't get full coverage in the U.S.
"I saw family members struggling to get adequate care, or not finding a Spanish-speaking physician, or having to travel for specialists or medical appointments," recalls Garcia, who believes her grandmother would have had a better chance of surviving had her cancer been diagnosed sooner. "That definitely hit home."
While Garcia first learned Spanish as child, she and her family spoke English in the home. There was a reason for this, she says.
"(My parents) were really pushed and punished for speaking Spanish in or around school," Garcia says. "That was another heavy driver to switch to English in the household. I suspect it's something that my parents regret, losing some of that familiarity. That was one of those tough losses of heritage, I'd say."
Despite those headwinds, her parents made sure Garcia and her sister remained in close touch with their ancestral roots. The centerpiece of that cultural anchoring was a giant family reunion that took place every few years around the Fourth of July holiday. There, up to 300 members of her dad's side of the family would gather, listen to live Tejano music, trade stories, and feast on traditional Mexican and American cuisine. (BBQ brisket was a favorite, Garcia recalls.)
"I remember being annoyed as a child, but as I got older, my sister and I grew to appreciate it. It was like this chance to feel a connection," Garcia says. "It almost felt like a wedding without the wedding."
"There is a need to stop seeing racial or ethnic status as a negative and take it for the positive that it is. And to speak toward the resilience and the passion that comes from having this very colorful history and culture. I'm still working on that personally, how to reframe thinking so that it's less 'victim,' and how we can be agents in making it better."
graduate student at the University of Iowa and second- and third-generation Mexican American
Garcia's parents stressed the value of an education as passionately as they celebrated their heritage. Her mother grew up in a migrant family, traveling with her parents and brothers each summer as far as Michigan to pick strawberries, cucumbers, blueberries, and cherries. When Garcia's mother was 18, she announced she was going to college; her father resisted the idea so much the two didn't talk for years.
After obtaining an associate's degree at a community college, Garcia's mother earned a bachelor's degree, and then a master's in business administration—becoming the first in her family to earn a postgraduate degree. She worked for the University of Texas at Brownsville, helping migrant and farm workers get their GEDs and apply to college, and most recently, in admissions and recruitment.
"She didn't want to be a migrant worker for the rest of her life and didn't want a job laboring in the fields. I think it was as simple as that," Garcia says. "It was such a big move. Most of her brothers followed suit and went to a local community college or to a university after she did."
Her father's story is similar: He helped his dad, as free labor, with bricklaying and cement work. The experience motivated Garcia's father to attend college, where he earned an MBA from UT-Brownsville. Trained as a civil engineer, he runs his own civil engineering firm and has diversified into land development.
"They preached that pursuing an education was a means to a better life," Garcia says. "They were definitely adamant about that."
They also were adamant about giving back. Garcia, a second-year graduate student who chose Iowa in large part for its interdisciplinary nature and the collaborative culture of its faculty, is trying to make good on that demand through her research into how structural racism is playing out during the coronavirus pandemic.
"I'm just thinking through those issues, such as people who are essential workers are mostly brown and black and they can't really social distance, so their rates of transmission will be higher—their rates of hospitalization are shown to be higher," Garcia says. "What that means for long-term outcomes remains to be seen. But one might hypothesize that these risks and exposures will have an effect years down the line."
Her academic adviser, Elizabeth Chrischilles, professor and chair of the Department of Epidemiology in the College of Public Health, says there is a huge need to study disparities across races in public health.
"Crystal has an authentic interest in this," Chrischilles says. "Her research questions will come not only from reading the literature but from knowing how this is playing out for her own family, friends, and community. I think she'll make good use of that."
Certainly, a history and tradition that are highlighted by Latinx/a/o Heritage Month.
"One is just my personal history and family experiences that I heard about growing up or saw regarding access to care, having to travel multiple miles, or living in close quarters with a bunch of people," Garcia says. "But I think a part of it too is trying to be more mindful, as a researcher of color, to ground the questions in what are the community priorities, what is important to someone, where change can actually be made."