Learning how to effect change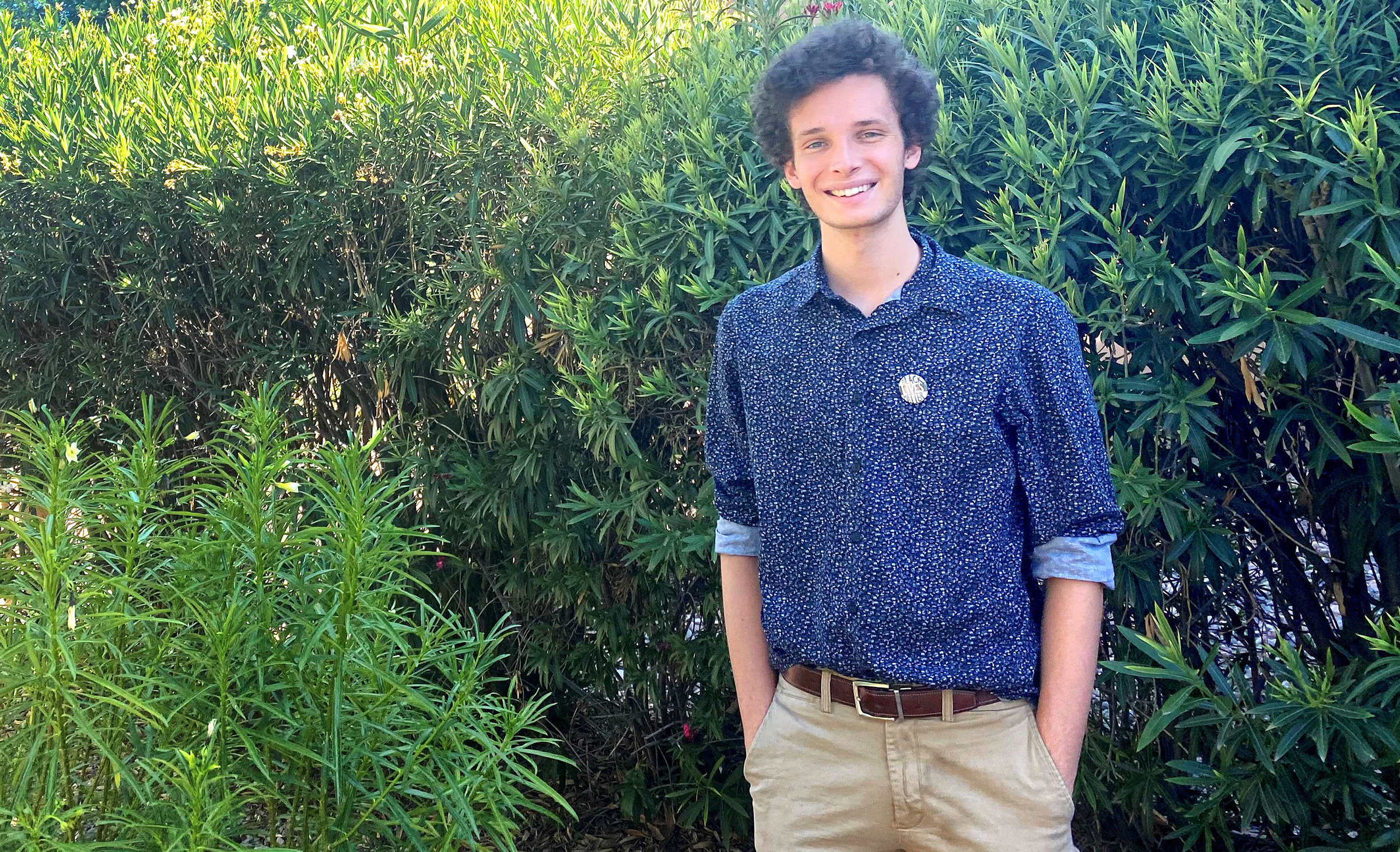 Inside and outside the classroom, University of Iowa junior Joseph Haggerty is combining his interests in the environment and issues facing the LGBTQ community while developing skills for a successful career in advocacy.
Courtesy of Joseph Haggerty
Shortly after he first arrived on the University of Iowa campus, Joseph Haggerty navigated an upper-floor hallway of the Iowa Memorial Union (IMU) looking for the semester's first meeting of Spectrum, the school's LGBTQ student organization. What he encountered there surprised him.
The meeting room was overflowing with people.
"I showed up with a friend I had just met two weeks earlier—along with 60 or more other people—to a room meant for 12," says Haggerty, now a junior majoring in environmental policy and planning and international relations and the president of Spectrum. "We went outside and sat on the IMU Terrace instead, and we experienced community and solidarity. It's my favorite memory here so far."
As an undergraduate, Haggerty is developing skills in advocacy both inside and outside the classroom. Although his family moved to Johnston, Iowa, when he was in high school, he grew up in Boise, Idaho, and that's where he first became interested in politics and debate, especially regarding environmental and LGBTQ issues.
"I chose Iowa not only because it was close to home and was affordable, but also because it offered academic programs that were a close fit with my interests," says Haggerty, who is minoring in environmental science and working toward a certificate in sustainability. "Protecting the environment is a heavy topic. It's very current and at times scary, but I am excited to learn how to work for the causes I believe in. I'm studying international relations too because I'm interested in diplomacy and one day I'd like to work for a nongovernmental organization or nonprofit."
Haggerty wasted no time getting involved in extracurricular activities. He served as an at-large senator in University of Iowa Student Government (UISG) his second year while also heading its sustainability committee. For the 2020–21 term, he is the LGBTQ constituency senator and a member of the presidential charter committee that advises UI President Bruce Harreld on sustainability. He also was involved in the recent student-led effort to make Iowa the first certified fair-trade university in the Big Ten.
"I showed up with a friend I had just met two weeks earlier—along with 60 or more other people—to a room meant for 12. We went outside and sat on the IMU Terrace instead, and we experienced community and solidarity. It's my favorite memory here so far."
University of Iowa undergraduate on attending his first meeting of Iowa's LGBTQ student organization
"It's been interesting to see how policy shifts over time—and to realize how ingrained unsustainability has become in our minds," says Haggerty, who coauthored a UISG resolution that was passed in 2019 declaring a climate change call to action. "We're making progress, but we need to do so much more. So, while I sense there is a movement, I know there's a possibility for university administration to think we've done enough for now. The most difficult part of advocacy, whether it's environmental, queer, or racial, is stagnation."
Stratis Giannakouros, director of the UI Office of Sustainability and the Environment, says Haggerty has been instrumental in getting important sustainability legislation passed on campus.
"When Joseph speaks at a meeting, you know that he understands the issue, has chosen his words carefully, and comes armed with a strong moral compass. His animating principle is using his power to speak for those who might otherwise go unnoticed," Giannakouros says, adding that the primary function of his office is to provide students like Haggerty with opportunities to make a difference in solving sustainability challenges.
Two of the biggest lessons Haggerty says he has learned at Iowa are that education is a top priority when trying to effect change and that "every problem is the result of an interlocking system. For example, you can't solve issues of homelessness if you don't understand its root causes."
As the leader of Spectrum, Haggerty is looking to make progress for the campus LGBTQ community, and he says that means assessing the campus climate for other cultural groups as well.
The University of Iowa was the first public university to officially recognize an LGBTQ student organization. The Gay Liberation Front, now known as Spectrum, was founded in 1970. The group meets weekly throughout the academic year and hosts a number of events. "Sometimes we talk about individual issues people are having," says Spectrum president Joseph Haggerty. "But we also discuss queer history and culture in general, such as LGBTQ cinema or drag etiquette."
"It's intersectionality. You can't assess the current climate for the LGBTQ community without doing so for immigrant, black, or indigenous communities," he says. "The University of Iowa and Iowa City have a great reputation as being a safe haven for the queer community in the Midwest, but there is a lot more that can be done, especially for people of color and our trans siblings."
Emma Welch, coordinator of the Pride Alliance Center on campus, says Haggerty will do well as UISG's LGBTQ constituency senator.
"Joseph is a strong and unifying leader," Welch says. "He critically examines where the needs are within the UI community and takes actionable steps to get things done. I have learned more about the importance of student advocacy by working with Joseph."
Haggerty says the students at his high school in Idaho were not allowed to have a gay-straight alliance, or GSA. In stark contrast, he got a tour of the Pride Alliance Center during On Iowa! before his UI classes started. He is proud to be president of the oldest LGBTQ student organization recognized by a state university, and says Pride Month is the perfect time to reflect on hard-fought victories at home and around the world.
"Despite how society tries to mitigate it, Pride Month has always been about protest and riots, beginning with the Stonewall riots more than 50 years ago," he says. "It's a time to remember how far we've come but also how far we have to go."