Designing a safe, artful bus stop for Iowa schoolchildren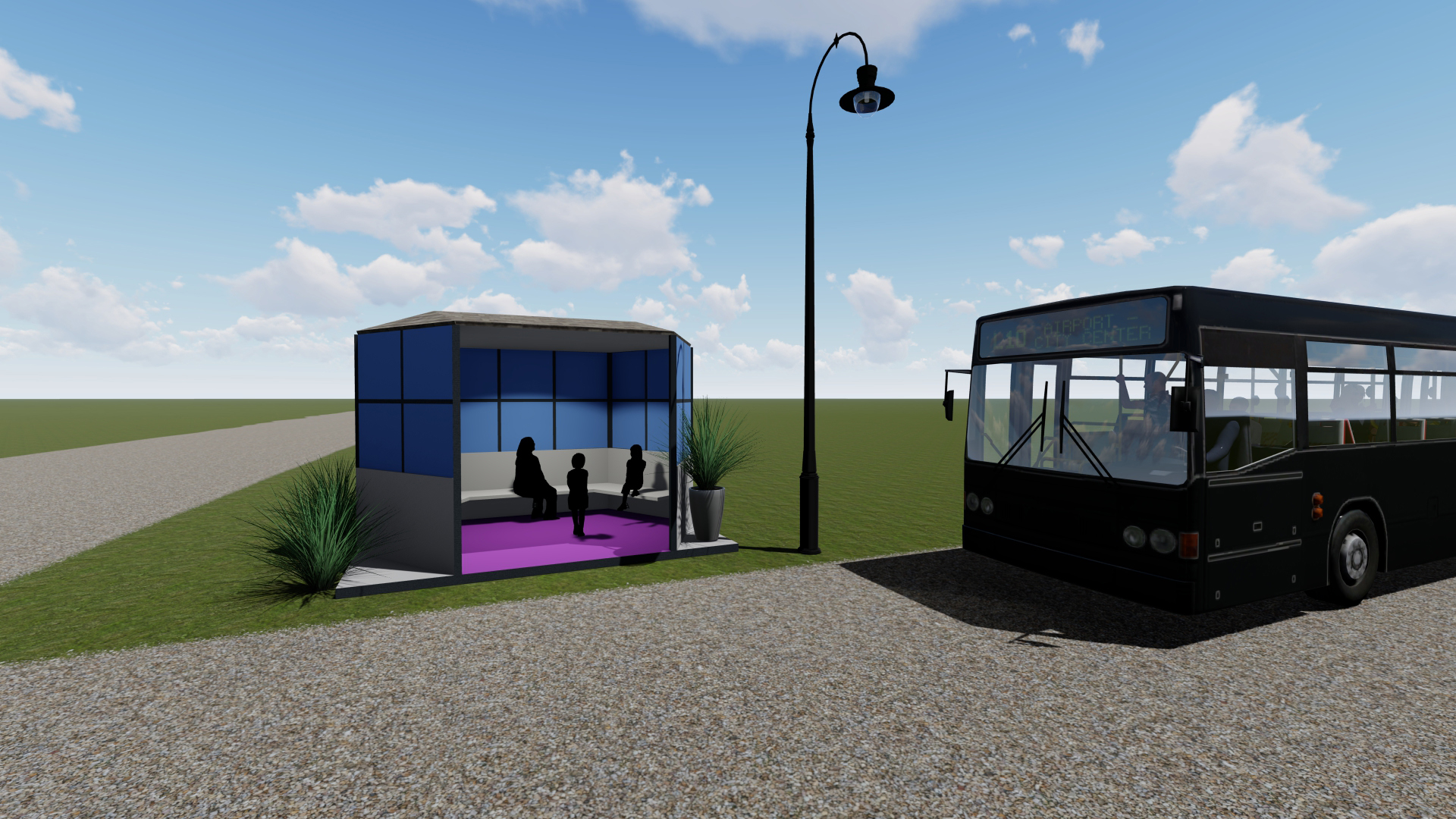 Plymouth, Iowa, serves as a hub for buses ferrying nearly 70 students between their homes and schools in neighboring towns. There is currently no shelter where they wait, and many riders now huddle in the nearby post office during inclement weather. University of Iowa students are working to change that.
Students in Plymouth, Iowa, will soon be warmer, drier, and safer—as well as have their devices fully charged—while waiting for their buses thanks to a grant through the Iowa Arts Council and a partnership with the University of Iowa.
CG Public Health received a $10,000 Arts Build Communities Grant to design a bus stop for students in Plymouth attending Central Springs School District (composed of Plymouth, Manly, Nora Spring, and Rock Falls communities). Three Iowa graduate students in engineering and art have worked together this summer to design a stop that is unique, functional, and appeals to the students who will use it.
The Iowa Arts Council awards the grants to fund arts projects that address civic challenges or issues facing communities.
Arts Build Communities Grant
This biennial program is a collaboration between the Iowa Arts Council and the University of Iowa's Office of Community Engagement, the Iowa State University College of Design, and the University of Northern Iowa. It is designed to provide support to initiatives that uniquely address civic challenges and community issues through the arts. Participants will receive financial and technical assistance as well as faculty and student resources to carry out project activities.
FY2020 Arts Build Communities Grant projects
The Cerro Gordo County Department of Public Health is working with the University of Iowa to make school bus stops safer and more visible on a busy road in Plymouth.
The city of Fort Dodge is partnering with Iowa State University to consider new ways to handle garbage and recycling in downtown Fort Dodge.
The Boys

&

Girls Club of Central Iowa is partnering with the University of Northern Iowa to develop a safe outdoor interactive space for the entire community to enjoy.
"We chose to work with Plymouth because we were intrigued by the project, and it's not something you would immediately think had an arts component to it," says Leslie Finer, director of arts and humanities in the UI Office of Community Engagement (formerly the Office of Outreach and Engagement). "Bus stops are rarely interesting, but why not make them interesting? Especially for that age group. It's a cool project."
The bus stop in Plymouth serves as a hub for buses bringing nearly 70 students to and from schools in neighboring towns. There is currently no shelter, and many now wait in the nearby post office during inclement weather.
The stop is also located at a busy four-way intersection. Kelli Gerdes, health promotion manager for CG Public Health, says parents have been concerned about drivers in the area speeding and not always coming to a full stop.
"The thought was if we could build something more structured for students to use as a bus stop, number one, it would be a visual cue to make people slow down and recognize that there may be children in the area," Gerdes says. "Two, it would bring an additional aesthetic appeal to the community, and that's where the arts grant idea came in."
Richard Fosse, professor of practice in the UI Department of Civil and Environmental Engineering, was tapped as the project's faculty mentor. He asked two College of Engineering students Ali Hval, who graduated in May 2019 with an MFA in painting and drawing from the UI School of Art and Art History, to join the project.
"One of the key things we did in this project was bring in the artist at the front end of the design process instead of the tail end," Fosse says. "This allows the art to become an integral part of the project rather than what we call 'plop art,' where you kind of plop art on something that's already been designed. Getting the artist involved early is an emerging trend that we're seeing more and more."
Hval, who has painted a half-dozen murals in communities across Iowa over the last few years, says she was intrigued by the project.
"I wanted to try something new, something three-dimensional," Hval says. "You learn from every project you do, but this was a chance to work with different materials and with people from other disciplines."
New name, same commitment
The UI Office of Community Engagement offers training, workshops, and best practices for faculty, staff, and students interested in community-engaged teaching and learning and community-engaged research. It also supports partnership development between faculty, staff, students, and community groups.
One of the first orders of business was to ask the middle school students what they wanted in their bus stop, which will accommodate 15 to 20 students at a time.
"They had some elaborate, fun visions," says Breanna Jensen, a Sioux City, Iowa, native working toward her master's degree in engineering.
While some students asked for straightforward items such as benches and artwork featuring Central Springs Panther pride, others dreamed bigger, asking for a pool and taco stand.
The Iowa group knew they wanted to make a few of the most common responses a reality, including charging stations and heating.
Fosse visited Plymouth in June to see the bus stop's location. The Iowa students then created some general mockups. Hval says they decided early that they wanted to venture away from the regular rectangular bus stop—instead going with a hexagonal shape.
The group researched components such as heating devices, solar panels to power the chargers, and transparent building materials that would allow students inside to see approaching buses and people outside to see inside.
"The materials and fabrication process can be a challenge," Fosse says. "If they don't build it with volunteer labor, they'll certainly want to use local contractors. If you're trying to create something unusual, you need to be careful not to design something that's going to require a specialty contractor from far away that will cause the price to go through the ceiling."
"Bus stops are rarely interesting, but why not make them interesting? Especially for that age group. It's a cool project."
director of arts and humanities in the UI Office of Community Engagement
Gerdes says there are a few local contractors who, depending on the materials and design, are interested in donating labor to build the bus stop. Students in the high school's industrial tech program regularly build structures such as yard sheds and also may help if the design can accommodate it.
A group of students, school board and staff members, and Plymouth city officials met Aug. 27 to review the initial design and provide feedback. Gerdes says the group was excited by what they saw and to move the project forward. A few ideas passed back to the Iowa group included looking into the possibility of adding lighting at night or when it's dark out; arranging the entrance walls to block wind, rain, or snow; and adding frosted artwork to the walls that wouldn't interfere too much with the ability to see in or out of the shelter.
The Iowa students now will revise and refine the plan. Once it's finalized, materials will be purchased and construction can begin. Gerdes says the bus stop may be ready to use in spring 2020, but for sure will be done by the town's 150th celebration in June 2020.
Hval and Jensen both say that projects like this one also allow them to learn from each other's expertise.
"Having the opportunity to work with people in other disciplines helps you in future projects," Jensen says. "Next time I work with someone in that same field, I'll have somewhat of a background to know what they are doing so I can better work with them."