Hawkeyes enhancing Hollywood legacy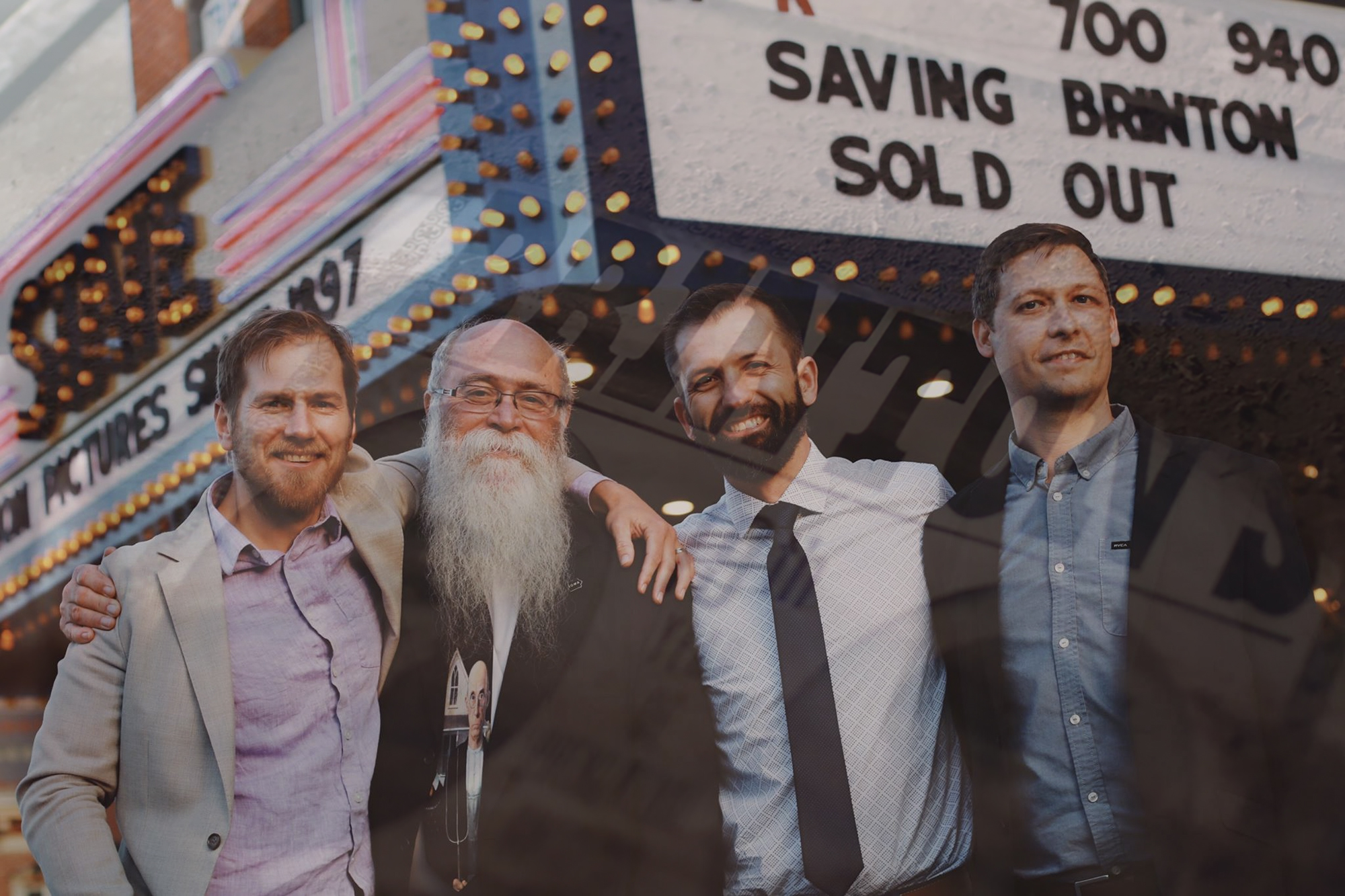 In 2018, University of Iowa graduates shattered records at the box office and, with the lauded documentary "Saving Brinton," heard plenty of buzz during awards season. Hawkeyes are not outsiders in Hollywood; after all, UI grads have been making an impact since the days of Willy Wonka and the Starship Enterprise.
Explore Iowa's impact on entertainment: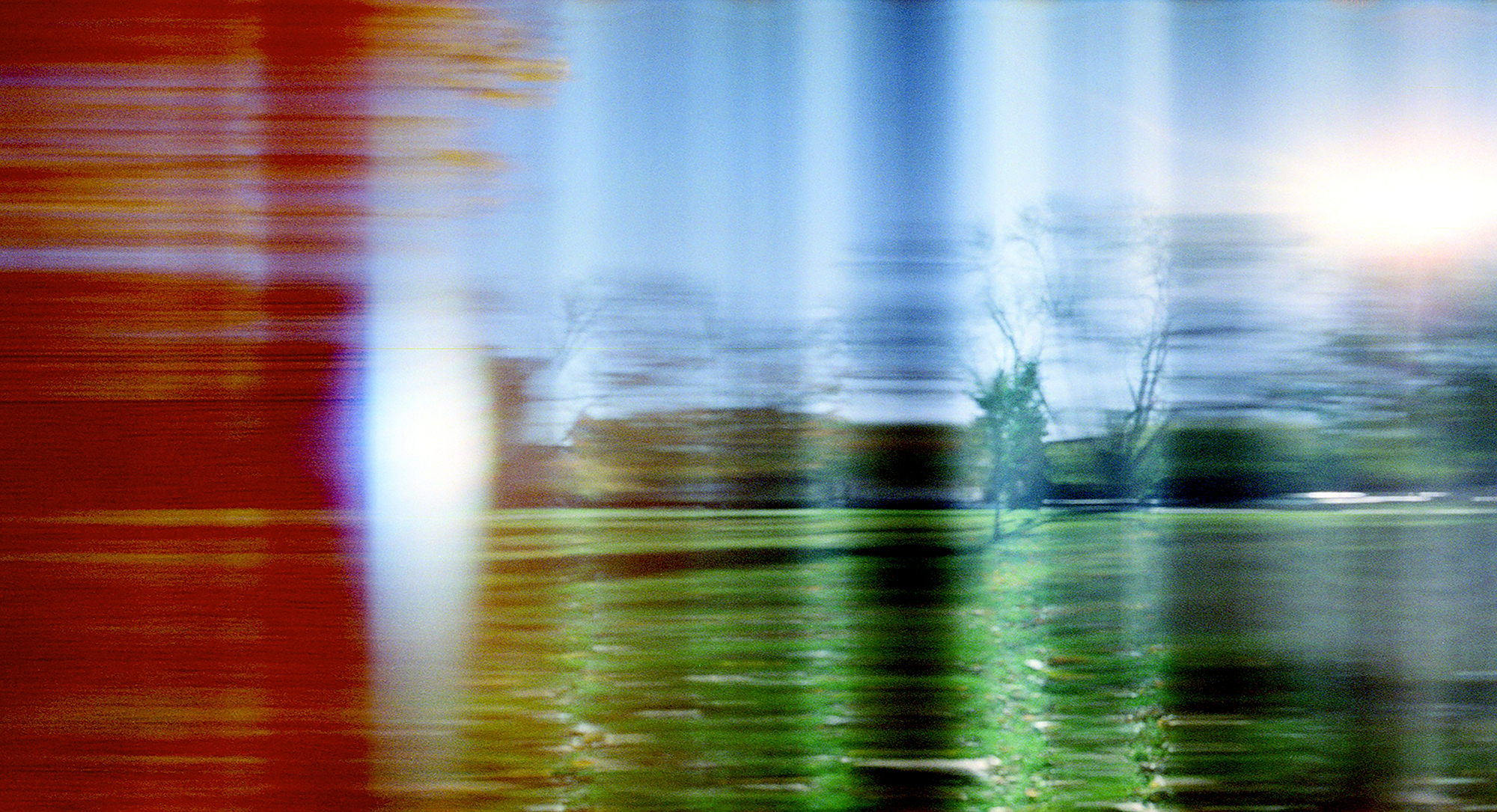 Michael Gibisser, assistant professor in the University of Iowa Department of Cinematic Arts, shot Slow Volumes using a custom-built 35mm camera that uses slit scan photography technique. "This mechanism really disorients how we think about the stability of photography in representing an area of space in time. Slow Volumes was an attempt to play around with this alternative way of making imagery."
Prestigious film fest puts spotlight on Hawkeye's work
Among the 333 films screened during the 11-day run of the 2019 Toronto International Film Festival (TIFF) was the world premiere of Slow Volumes, a short film by Michael Gibisser, assistant professor in the University of Iowa Department of Cinematic Arts.
The four minute, 40 second film shot using a custom-built 35mm camera was part of TIFF's avant-garde showcase, Wavelengths. According to the festival program, Slow Volumes "pushes familiar spaces into abstraction in a Michael Snow-esque experiment that bends cinematic space and time."
"I was thrilled," Gibisser says of being invited to the festival, one of the largest and most prestigious in the world. "The Wavelengths program was really thoughtfully curated. All of the films in the Wavelengths 1 shorts program dealt with breaking binaries of various forms, and in my film, this had to do with stillness and movement. Each film brought out the themes of others. And the festival as a whole was great. It has a fair-like atmosphere in that it takes over downtown and shuts down King Street."
Gibisser has been making films in one form or another since high school, when he says he and his friends realized they could make videos for assignments instead of writing papers.
"It probably ended up taking up more effort, but at the time, it was preferable to writing," Gibisser says. "And it stuck."
---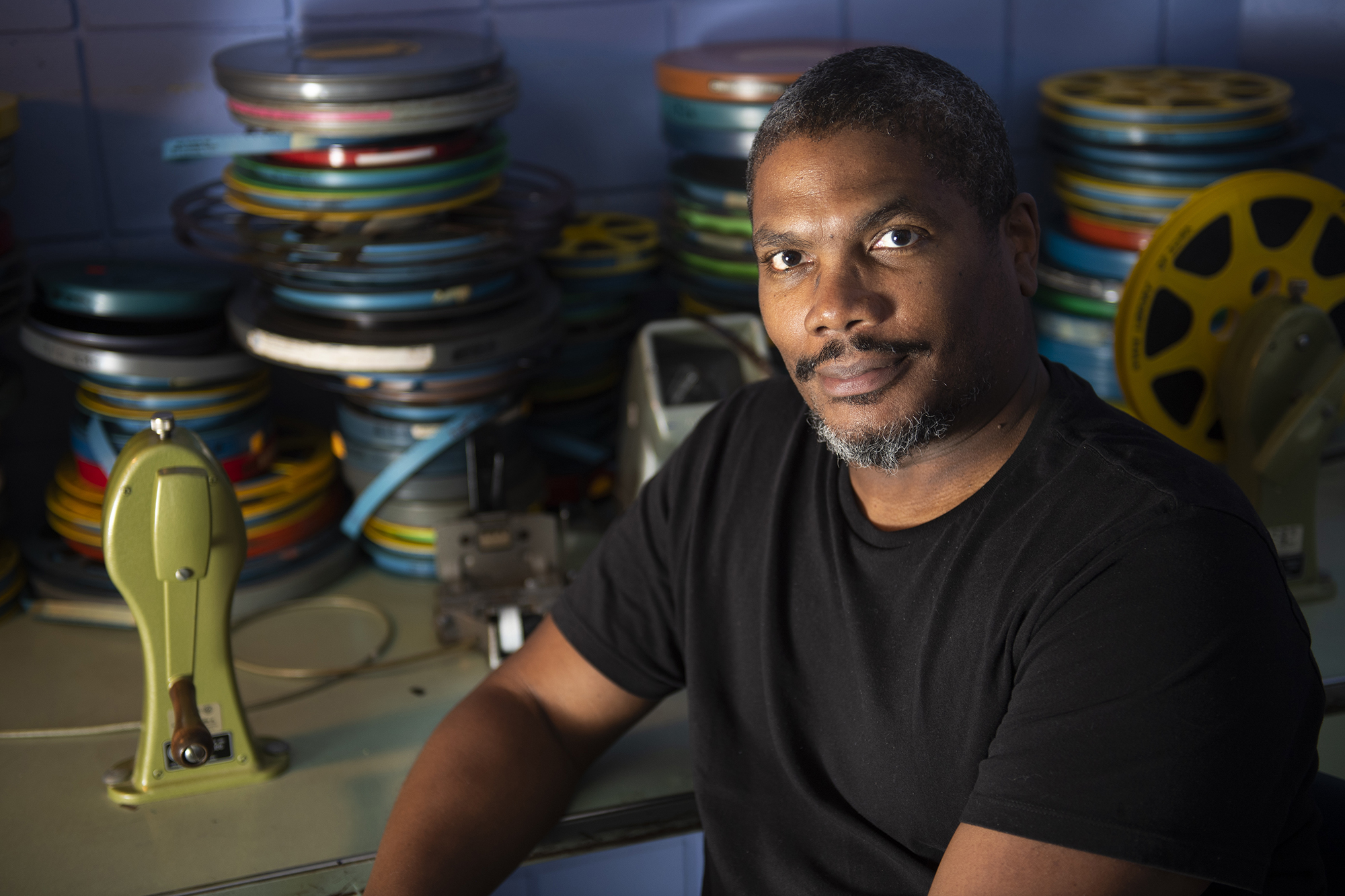 Iowa professor leaves mark on global film scene
Oscar Micheaux, Ousmane Sembène, Jean Rouch, Charles Burnett, Spike Lee, Julie Dash. Among this list of prestigious filmmakers who have explored the complexity of black experience since the birth of cinema is a Hawkeye.
"When I saw the list of films and filmmakers, I was stunned," says Christopher Harris, University of Iowa associate professor and head of film and video production in the Department of Cinematic Arts. "It was people I had admired deeply for years. Some of the canonical films and filmmakers of cinema are on that list, and I'm right there with them. The analogy I gave somebody was, you have Warhol and Picasso and Pollock, the greats of 20th century painting, and then there's me, and I'm right there hanging on the wall with them. It was a real honor."
The films were screened in August as part of a retrospective at the Locarno International Film Festival in Switzerland. According to the festival, the Black Light Retrospective aimed to provide "an extensive overview of black filmmaking, beyond all borders." 
"The curator, Greg de Cuir Jr., said—and I'm paraphrasing—'This is a retrospective, not the retrospective,'" Harris says. "He wanted to put different types of films from different eras and regions of the globe in conversation with each other. He wanted to show the diversity and multiplicity of black cinema. There are black cinemas, not a black cinema."
The films spanned from 1919 (Micheaux's Within Our Gates) to 2000 (Harris' still/here). 
"It was an honor to be the summation of 20th century black cinema," Harris says. "It's the highest-profile screening I've ever been in."
---
Saving Brinton filmmakers reflect on journey, Iowa connections as Oscar run-up begins
W. Frank Brinton and his wife, Indiana, dazzled audiences from Minnesota to Texas at the turn of the 20th century with the miracle of moving pictures. More than a hundred years later, the Brintons have again captivated audiences around the world, this time through a documentary featuring items left over from their once-thriving film business—and the man who saved them from being lost forever.
University of Iowa graduates Tommy Haines (BA cinema and comparative literature, '05) and John Richard (BS environmental science, '04), along with Iowa City filmmaker Andrew Sherburne, have spent the past 18 months screening their documentary, Saving Brinton, at film festivals and theaters across Iowa and around the world.
"We heard about this amazing collection of films in Washington, Iowa. Some of the first movies in the world, films from George Méliès and Thomas Edison and the Lumière brothers," Sherburne says. "We went to check them out because we heard about a treasure trove of films, and we found Mike Zahs. He was the real treasure."
As the theatrical tour winds down and the film moves to streaming, DVD, and Blu-ray, the team is gearing up for a run at the Academy Awards. While smaller than some of the competition, Saving Brinton isn't going unnoticed, being named a Best Documentary Feature Oscar contender by The Hollywood Reporter.
A Quiet Place screenwriters reflect on influential time at UI
University of Iowa alumni Scott Beck (BA '07, communication studies) and Bryan Woods (BA '07, communication studies)—both natives of Bettendorf, Iowa—can add a blockbuster opening weekend to their résumés. The duo co-wrote A Quiet Place, which they conceived while they were students at the UI. The movie, starring John Krasinski and Emily Blunt, topped the box office in its opening weekend, setting a record for original films released in April.
In the interview above, shot at FilmScene in Iowa City, Beck and Woods discuss their moments of inspiration while at the University of Iowa, and the supportive network of UI alumni they've encountered during their filmmaking endeavors.
Avengers: Infinity War director receives superhero's welcome at alma mater
Only days after Avengers: Infinity War debuted with the biggest box office opening weekend in cinematic history, Joe Russo—who co-directed the Marvel blockbuster with his brother, Anthony—returned to the University of Iowa campus, where his passionate pursuit of storytelling first took flight.
Who knew how vital Jay Holstein, the popular UI religious studies professor, would be to the blockbuster film?
"Fifty years at the University of Iowa—60,000 students have gone through his classes. You wouldn't have Infinity War without him," Russo said at a public event hosted by the UI Lecture Committee and FilmScene. "A lot of his teachings have found their way into our storytelling at Marvel. He understands the human narrative and mythology, and he inspired me to start telling my own stories."

---
Hawkeyes are no strangers to success on the stage
A play on words: Iowa professor's book about line between fact and fiction receives star-studded Broadway adaptation
When John D'Agata and co-author Jim Fingal released their book, The Lifespan of a Fact, five years earlier, its reception was, "suffice it to say, challenging," as D'Agata puts it.
The book was intended as farce—an over-the-top recounting of how D'Agata and his fact-checker, Fingal, butted heads for years over a magazine article and, ultimately, the complicated nature of truth. Some got it. (Slate put it among its 10 best books of 2012.) Others didn't. (The New York Times called D'Agata "a wolf in journalist's clothing.") Where D'Agata had aimed for humor in his antagonistic back-and-forths with Fingal, some read it as an actual account of their fact-checking process.
Now that the book was being adapted as a Broadway play, D'Agata worried that on stage, the author character would be the incorrigible villain.
Instead, watching the first read-through of the script that day, D'Agata found that the adaptation masterfully captured the central question of the book: whether a literary essayist should be granted leeway with the facts to achieve a greater truth through his storytelling.
"The great thing about the play is that it's funny, frustrating, and tender all at once, and so are all of its characters," D'Agata says. "At various points during the show you find yourself agreeing and disagreeing with everyone in it, even though its characters spend the play arguing with each other. So no one comes out of it looking heroic or villainous. They look human."
University of Iowa alumni have made their mark on the stage—as far back as playwright Tennessee Williams (The Glass Menagerie, Cat on a Hot Tin Roof, A Streetcar Named Desire).
More than 40 Pulitzer Prize winners. Seven U.S. Poets Laureate. Countless award-winning playwrights, novelists, journalists, and poets. The University of Iowa's writing programs shape the landscape of American literature.
From the storied Iowa Writers' Workshop to a new undergraduate creative writing program, the craft of writing is deeply woven into the fabric of the UI.
It began in the late 19th century with literary societies and writing clubs. Before creative writing was taught at the University of Iowa, students took it upon themselves to gather, recite poetry, discuss their craft, and lay the foundation for a program that would one day become world renowned for the strength of its teaching and the quality of writers it turns out.
Since those informal beginnings, the craft of writing has become deeply ingrained in the UI, Iowa City, and the state of Iowa. Writers working in a multitude of genres enroll at the university to learn from award-winning faculty, hone their skills, and craft some of their most important and influential works.
UI writing programs claim U.S. poets laureate and winners of the Pulitzer Prize, the National Book Award, MacArthur Foundation fellowships—as well as other major honors—among their alumni and faculty.
Far from the Hollywood Hills and the bright lights of Broadway, the entertainment industry has found an unexpected hotbed for storytelling in the heart of the Midwest. Ever since the Iowa Writers' Workshop introduced the nation to the academic study of creative writing more than 80 years ago, the University of Iowa has proven to be a magnet for some of the world's most gifted wordsmiths. The university's abundance of high-ranking programs in the liberal arts has similarly attracted actors, directors, and other artists—all seeking to hone their craft in a flourishing creative community.
"No matter where you are, people are people and talent is talent," says Alan MacVey, professor and chair of the theatre arts department and director of the UI Division of Performing Arts, "and we're so fortunate to have a lot of it here because Iowa is known for its writing."