Hawkeyes partner with Keokuk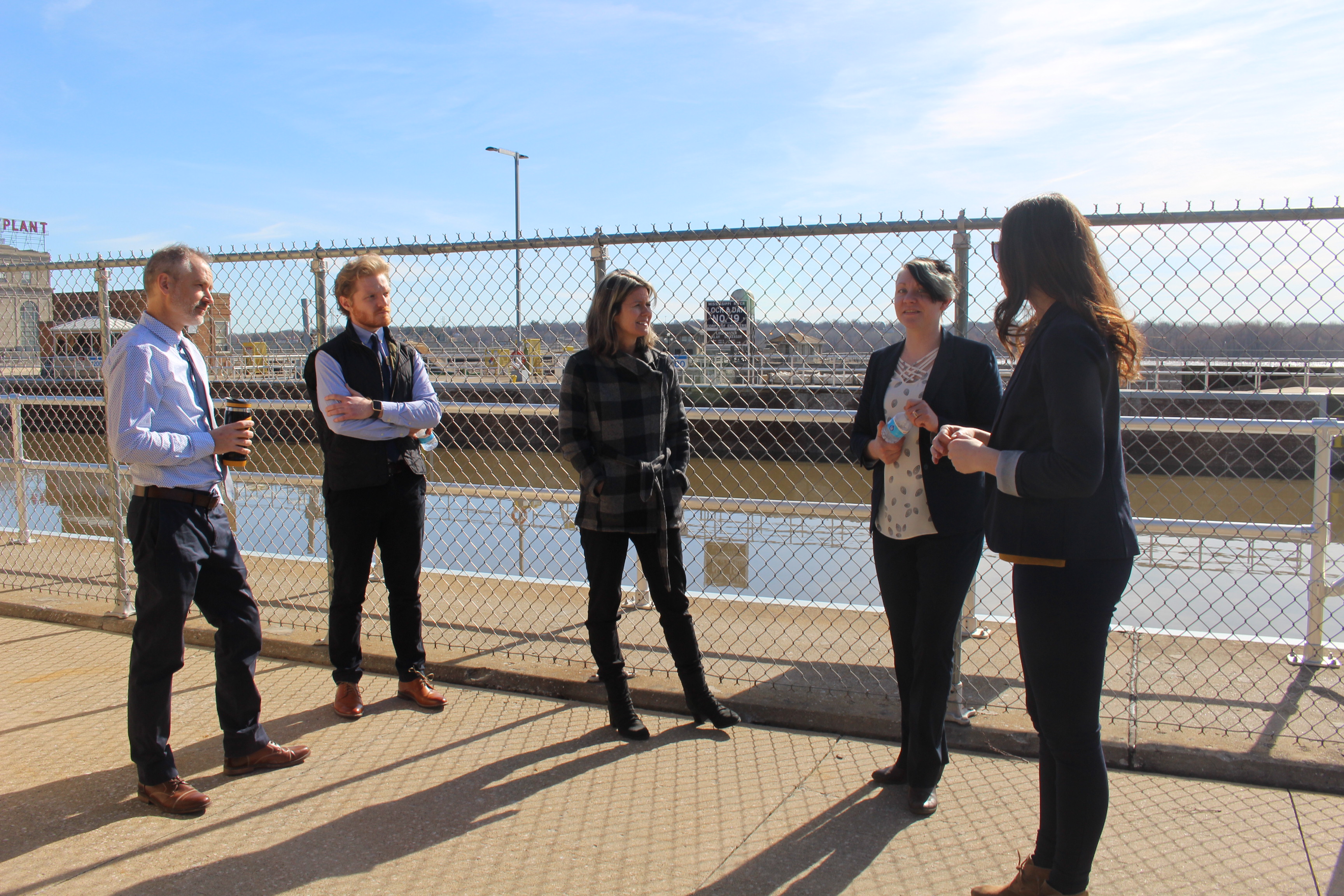 After finishing an award-winning comprehensive plan, Keokuk will become the 2019–20 community partner of the Iowa Initiative for Sustainable Communities. The partnership with the University of Iowa organization will help with community revitalization efforts and offer Iowa students real-world learning experiences.
Courtesy of the University of Iowa Office of Community Engagement
As thousands of cyclists finish RAGBRAI 2019 by dipping their tires in the Mississippi River, they'll do so in a town that's taking bold, innovative steps to tackle challenges facing many Iowa communities, including a rapidly changing economic climate and declining population.
Guided and inspired by an award-winning comprehensive plan finished in 2018, Keokuk is working to usher in a renewed era of progress and vitality—and it's enlisting the help of University of Iowa faculty and students to do so.
"Keokuk is an important city within the southeast Iowa region and the state," says Travis Kraus, director of the Iowa Initiative for Sustainable Communities (IISC). "It's a place that has its challenges, but also has leaders who are trying to make things happen. That's a key component for any town to be successful."
Shelley Oltmans, executive director of the Keokuk Area Chamber of Commerce, says Keokuk applied to be an IISC partner because the city was ready to start the implementation phase of the new comprehensive plan, which provides a vision for city priorities and public investments for the next 15 to 20 years.
The IISC, a program in the UI Office of Community Engagement (formerly the Office of Outreach and Engagement), is a campuswide effort to enhance the capacity of Iowa communities to address the environmental, economic, and cultural issues they face today and help them plan for a sustainable future. By taking students out of the classroom and into communities to complete real-world projects, the IISC also is able to help transform learning and teaching at the UI.
Kraus says the quality and diversity of the projects that Keokuk proposed was impressive. Faculty, staff, and students in at least 11 UI colleges or departments will work with Keokuk on more than 20 projects throughout the next academic year.
"We are proud of the fact that the types and amounts of projects are diverse and touch all sectors and populations of the community," Oltmans says. "We have high quality projects and community leaders that are ready to utilize the skills and talents of UI faculty and students. Projects range from community-development efforts related to the quality of place amenities like community art and recreation to economic development projects related to infrastructure to redevelopment plans for targeted areas. We also plan to work with students on research projects to learn more about the extent of wicked issues within our community related to poverty and housing insecurity."
To kick off the year, the Keokuk-Hamilton Dam Museum will work with Ali Hval to design and complete a mural in the community. Hval, a Birmingham, Alabama, native who graduated from Iowa in May 2019 with an MFA in painting and drawing, has designed murals in five other Iowa communities during her time in the state so far.
UI colleges, schools, and departments that will work in Keokuk through the IISC partnership
Note: More departments may be included as projects continue to expand and evolve over the year.
One project that Kraus says will be a first for the IISC involves a community pathway plan, including research into the feasibility and design of neighborhood greenways. Graduate students in Iowa's School of Urban and Regional Planning will analyze the benefits of converting streets that are underused and need extensive maintenance or have multiple empty lots to neighborhood greenways. Greenways would include infrastructure for pedestrian or bicycle traffic and recreation area or common space for the neighborhood. Greenways also may alleviate issues and identify economical solutions related to EPA-mandated sewer separation in many aging river towns.
In another project, civil and environmental engineering students will design an outdoor fitness trail plan connecting the campuses of Keokuk Hawthorne Elementary School, Southeastern Community College, and Keokuk Catholic Schools. Meanwhile, sport and recreation management students will design exercise stations to be placed along the trail.
Students in the School of Social Work will spend the year studying housing insecurity in Keokuk.
"Keokuk may not have a visible homeless population, but no doubt there is housing insecurity," Kraus says. "We want to understand the scope of the problem and think about the impact that has, particularly on young people in the community in terms of student outcomes. It's hard to focus on school when you may not have a bed to sleep in."
These are just a few of the many projects Keokuk and the UI will focus on during the year, and more may be added as the partnership and projects develop.
Oltmans says the ability to have focused attention by faculty and students on specific projects is paramount to kicking off many of the strategies in the comprehensive plan.
"Students and faculty can also bring new and experimental ideas to the table that as a community we may not have known about," Oltmans says. "At the same time, faculty may have years of experience in best practices and what has and hasn't worked and why."
Kraus says the partnership is a win-win-win for Keokuk residents, Iowa students, and Iowa faculty.
"Communities are getting high quality products, and students are getting a unique educational experience," Kraus says.
"As one of the public higher education institutions in Iowa, we have a responsibility to provide a service to communities across the state, and one of the ways we can do that is to help communities accomplish projects they might not otherwise have the means to do on their own."
Director, Iowa Initiative for Sustainable Communities