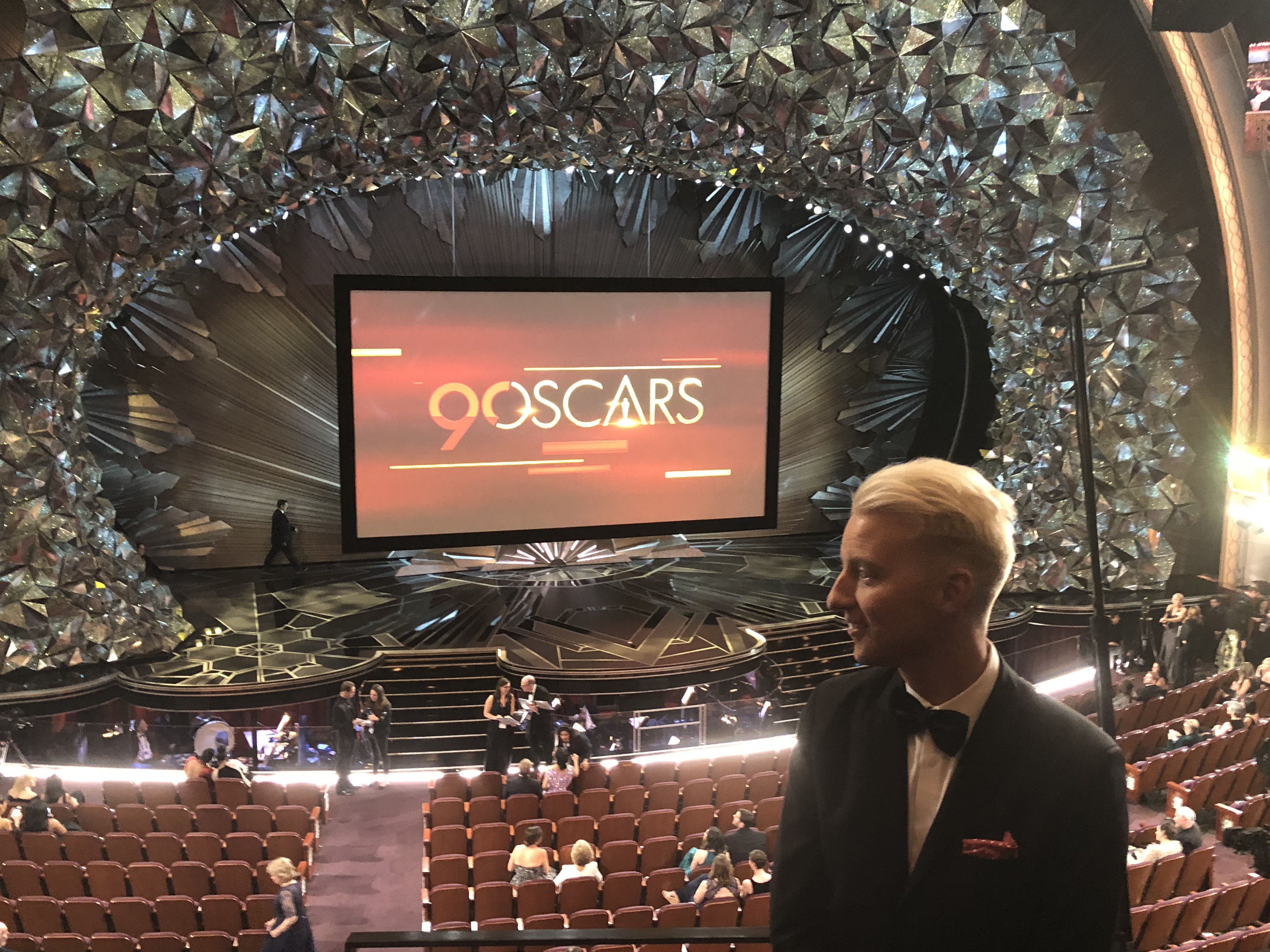 As a staff writer for "The Hollywood Reporter," Chris Gardner gets to interact on the red carpet with some of today's biggest stars. Were it not for his years learning and practicing journalism at the University of Iowa, he says he wouldn't have a career covering the entertainment industry.

In early 2018 University of Iowa graduate Chris Gardner moderated a discussion with hip-hop superstar Kanye West, live-tweeted the Oscars from inside Hollywood's Dolby Theatre, and interviewed pop icon Madonna—all within a few weeks.
The prime assignments were part of Gardner's work as a senior staff writer for The Hollywood Reporter, where he covers culture and events and pens his own column titled "Rambling Reporter." He says that every day he appreciates the training he received at the University of Iowa, where he earned a BA in journalism and mass communication in 1999, and in the Daily Iowan newsroom, where he started working as a reporter during his first week on campus.
"It was great having the opportunity to write stories right out of the gate," says Gardner, an Iowa native who was born in Marshalltown and raised in Ankeny. "I really got to know the university, covering student events, clubs, and other aspects of university life that I was unfamiliar with. I learned that I don't know everything and that it's OK to ask silly questions. Tackling stories should be an educational process—for both the reporter and the reader."
Learning how to handle diverse assignments while at The Daily Iowan and figuring out how to manage his time are skills that continue to serve him, Gardner says.
"I learned how to balance my life as a student with my job and I learned about the profession, from something as simple as how to call the police for information to determining which questions to ask," he says. "Tradition and ethics were very strong at The Daily Iowan and at the university. The editors were tough on us—we didn't run a story without three sources, for example. But that environment formed the bedrock of my work today, and I am so grateful for it."
"Iowa City remains a very special place to me. The university is recognized around the world for writing, medicine, business, and law, and the town has such a rich cultural and social landscape. It exposed me to different viewpoints, cultures, and walks of life."
Senior staff writer for "The Hollywood Reporter"
The summer after he graduated, Gardner packed his bags and headed west. He says he knew two things at the time—that he wanted to be a journalist and that he wanted to live in Los Angeles, where he had visited a family member when he was barely a teen. He was hired as an editorial assistant by The Hollywood Reporter, which ultimately promoted him to film reporter and within months sent him to the Sundance Film Festival, the Cannes Film Festival, and the Academy Awards. Although he has had stints over the years freelancing and working for People and Daily Variety, most of his professional career has been at The Hollywood Reporter.
"I love the diversity of the job. I don't always know what I'll be writing about when I come into the office. It might be a profile or it might be industry gossip—it's a healthy mix of assignments," he says. "Profiles are my favorite, though. I love to sit down with people and dig into their life and career, and then translate that into a story. It's fascinating."
Gardner's work for The Hollywood Reporter has been lauded, most recently for a series of stories that he says was at once challenging and rewarding. He was granted exclusive interviews with longtime Hollywood publicist Nanci Ryder, who was diagnosed in 2014 with the neurodegenerative disorder ALS, commonly known as Lou Gehrig's disease. He wrote nearly a dozen stories about the disease, the decline of her health, and the outreach work of Ryder's fervent support network, which includes actors Renée Zellweger, Courteney Cox, and Reese Witherspoon.
"Nanci has a really powerful story and she picked me to tell it," Gardner says. "It was a humbling experience."
For that work, he and The Hollywood Reporter earned the ALS Essey Spotlight Award from the ALS Association's Golden West Chapter.
Hollywood Reporter editorial director Matthew Belloni praised Gardner in the publication's coverage of the award: "There's a very small subset of journalists that are great reporters, who write well and have a true compassion for the subjects they are covering and the people that they are writing about. Chris is absolutely that kind of journalist."
Gardner says he is grateful for his high school journalism teacher, Robin Fields, who encouraged him to apply to the University of Iowa—and for a job at The Daily Iowan, which she touted as one of the top college newspapers.
"Not only did I get a great education at the UI, I was exposed in the newsroom to good journalists and brilliant editors who were my peers and now are my friends," Gardner says. "Iowa City remains a very special place to me. The university is recognized around the world for writing, medicine, business, and law, and the town has such a rich cultural and social landscape. It exposed me to different viewpoints, cultures, and walks of life."
Produced by the UI Office of Strategic Communication
Courtesy of Chris Gardner