Iowa grad sets the scene for the biggest events and TV shows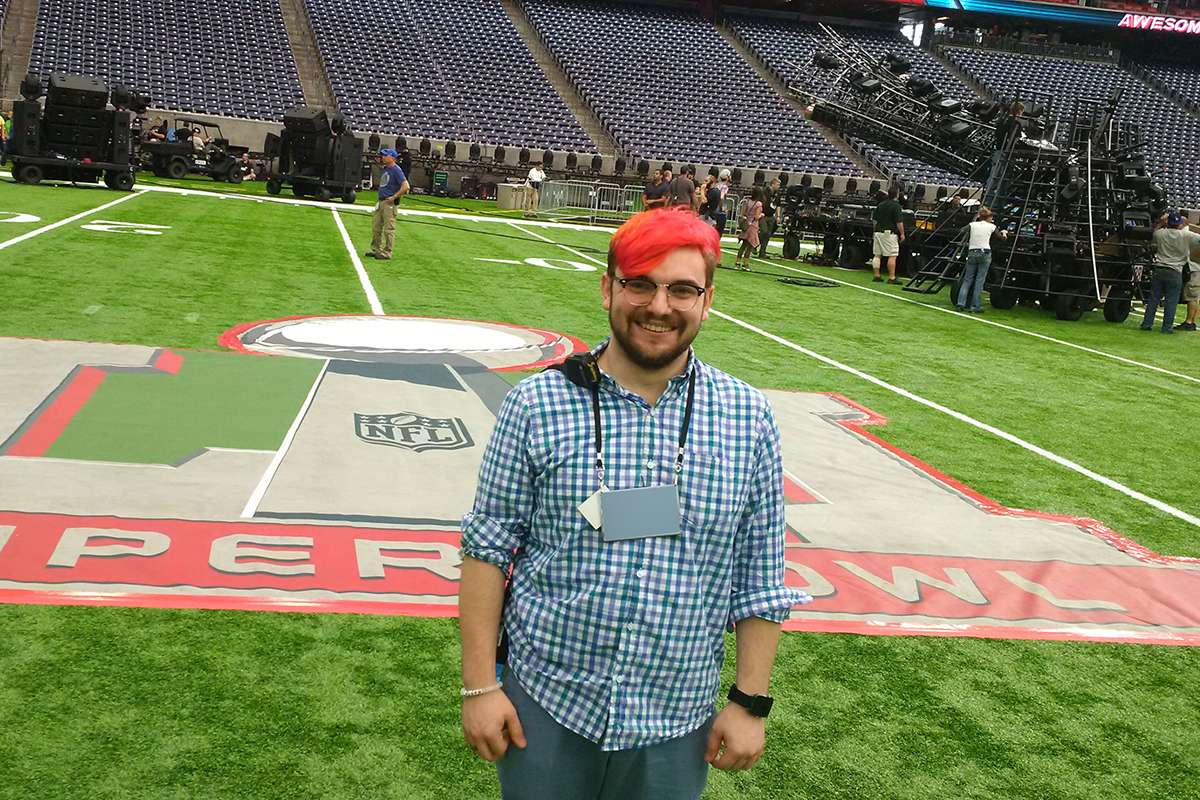 Millions of people have seen art director Lucas Ingram's work at marquee events such as the Tony Awards, MTV Video Music Awards, and four Super Bowl halftime shows—and most recently on a new television series.
Lucas Ingram missed his spring 2016 commencement ceremony, but he had a good reason: he was already working at his dream job. After two years of interning at the Tony Awards, he was the assistant art director for Broadway's biggest night.
"I started out really fast and really strong," Ingram says. "When people ask me about my dream job, I say I sort of did it four years ago. Now I'm going from there and seeing what happens."
The New York City resident has amassed an impressive résumé since earning an MFA in design from the University of Iowa Department of Theatre Arts, working on the Democratic National Convention, MTV Video Music Awards, four Super Bowl halftime shows, and most recently the new CW television series Katy Keene and an upcoming Michelle Buteau comedy special for Netflix.
"Iowa just felt like such a family, like a place I could learn and grow at."
University of Iowa theatre arts alumnus
Ingram grew up in Philadelphia and New York. After graduating with an undergraduate degree in theater, he attended a University Resident Theatre Association (URTA) recruiting event, during which he had interviews with 15 schools in one day. He says they all started to blur together, but one in particular stood out.
"I remembered how easy it was to talk to Bryon Winn (professor and director of theatre at Iowa) and how much I felt like I could learn from him," Ingram says. "I visited two schools. Iowa just felt like such a family, like a place I could learn and grow at."
Ingram says he appreciated the variety of experiences he got at Iowa, including working on new plays, which he hadn't had the opportunity to do before. He worked on 24 shows in his three years at Iowa.
"I drove myself kind of insane, but it was great because I got to learn and try new things," Ingram says.
One show that really stands out as a learning experience was 2015's Good Kids, directed by Alan MacVey, professor of directing and action and director of the UI Division of Performing Arts.
"It was on that show that I really cemented my ability to talk through my choices and justify my decisions," Ingram says. "And I felt I really had to elevate myself to work with someone who is so experienced and respected in the theater community. He helped me grow in ways that I hadn't known I needed to grow."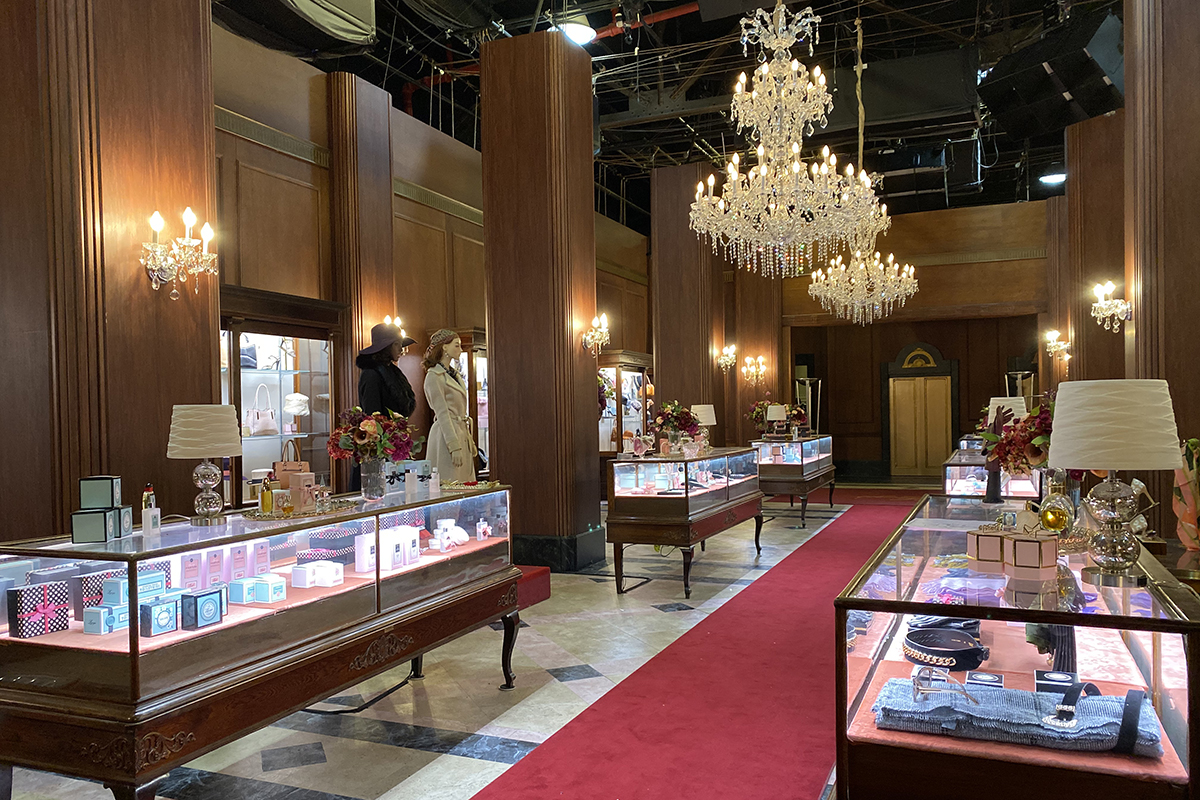 All that experience showed up in Ingram's portfolio. He says Iowa's design program puts large focus on portfolios and finding the best way for students to present their work, including one to two portfolio reviews each semester.
Ingram joined a design union for the entertainment industry about five months after graduation. He says it takes most people a couple of years.
"I used the portfolio skills I had built at Iowa to build what I've been told is one of the larger portfolios they'd seen, and it's because I was able to create so much documentation and explanation," Ingram says.
After graduation and moving to New York, Ingram followed up his work on the Tony Awards with a position as assistant art director for the 2016 Democratic National Convention.
He then jumped to the MTV Video Music Awards, drawing scenery for performances by musicians such as Beyoncé and Ariana Grande.
"It was fun to work with a lot of huge-name artists, especially being right out of grad school," Ingram says.
The University of Iowa Department of Theatre Arts' MFA in design is an intensive three-year program dedicated to the education of students who are adept at techniques and methods for creating new works and who aspire to be the artistic visionaries of the future. Whatever a student's background—theater, art, architecture, fashion, or other fields—the program aims to develop artists who will work as professional designers for the performing arts.
Over the years, he has worked on, among other things, the Kennedy Center Honors, CMA Country Christmas, and Good Morning America.
Ingram also has worked on the Super Bowl halftime show for the past four years. As assistant art director, he is responsible for scenery that moves on the field during the show. This year, that included the cages in which children, including Jennifer Lopez's daughter Emme Maribel Muñiz, sang "Let's Get Loud" and "Born in the USA."
"I was responsible for making those pieces look great as they moved into place and was ready for them to be on camera," Ingram says. "It's a lot of on-the-ground running. Periodically during that show, I had to run the length of the football field. It's my most athletic week of the year. But it's a lot of fun and a great experience."
During the fall of 2019, Ingram started work on the new CW television series Katy Keene.
"It's a new direction I'm trying to take: more calm and consistent work instead of six to eight weeks on a live event," Ingram says.
During six months of work on the first season, Ingram says he drew about a third of the scenery for the show. He quickly realized some differences in working on a television show vs. a one-time event.
"For a lot of one-off events, you draw something, it appears, and that's it," Ingram says. "This was spending six months with the set I drew in the first week or so. Pretty much every week there was something we had to change or add or fix or solve. There was a lot of time spent refining the little details, the little intricacies."
Take the first step to joining the Hawkeye family!
Iowa will prepare you, challenge you, and change you. You will change the world. We accept applications year-round, and are currently admitting new students for the following fall semester.
Ingram started college as an engineering major, and he was able to put some of those early skills to use.
"I spent a lot of time figuring out interesting engineering problems," Ingram says. "We had to have a working revolving door built into the set, so we worked with a revolving door company to get one to us and figure out how to install it. It was slightly different from what I normally do, which is draw the idea and send it to someone else to figure out how to build it."
Ingram is set to get to work on the second season of Katy Keene this summer, and while many people who go into TV move to Los Angeles, Ingram has no plans to do that.
"I'm in love with New York," Ingram says. "Also, New York has had a growing television world in the last five to 10 years, and it's only going to grow from here."
His significant other is also based in New York: Hayley Ryan graduated from Iowa with an MFA in theater design in 2018 and works in costume design for Broadway and television. She also recently finished working on the film version of In the Heights with Cathy Parrott, who graduated with a bachelor of arts from Iowa in 2001.
Ingram urges students thinking about theater design to try everything and take advantage of the variety of classes that Iowa offers.
"Do every program that strikes your fancy," Ingram says. "My focus in undergrad and grad school was lighting design. But scenic design was something I was always interested in, so I tried to learn everything I could. And it's now what my entire career is. Always take learning opportunities in other realms because you never know where it's going to take you.
"I never really thought about television before I came to Iowa," Ingram says. "I had really been thinking about only theater and doing things on a much smaller scale than I do now, so this is my wildest hopes and dreams come true."