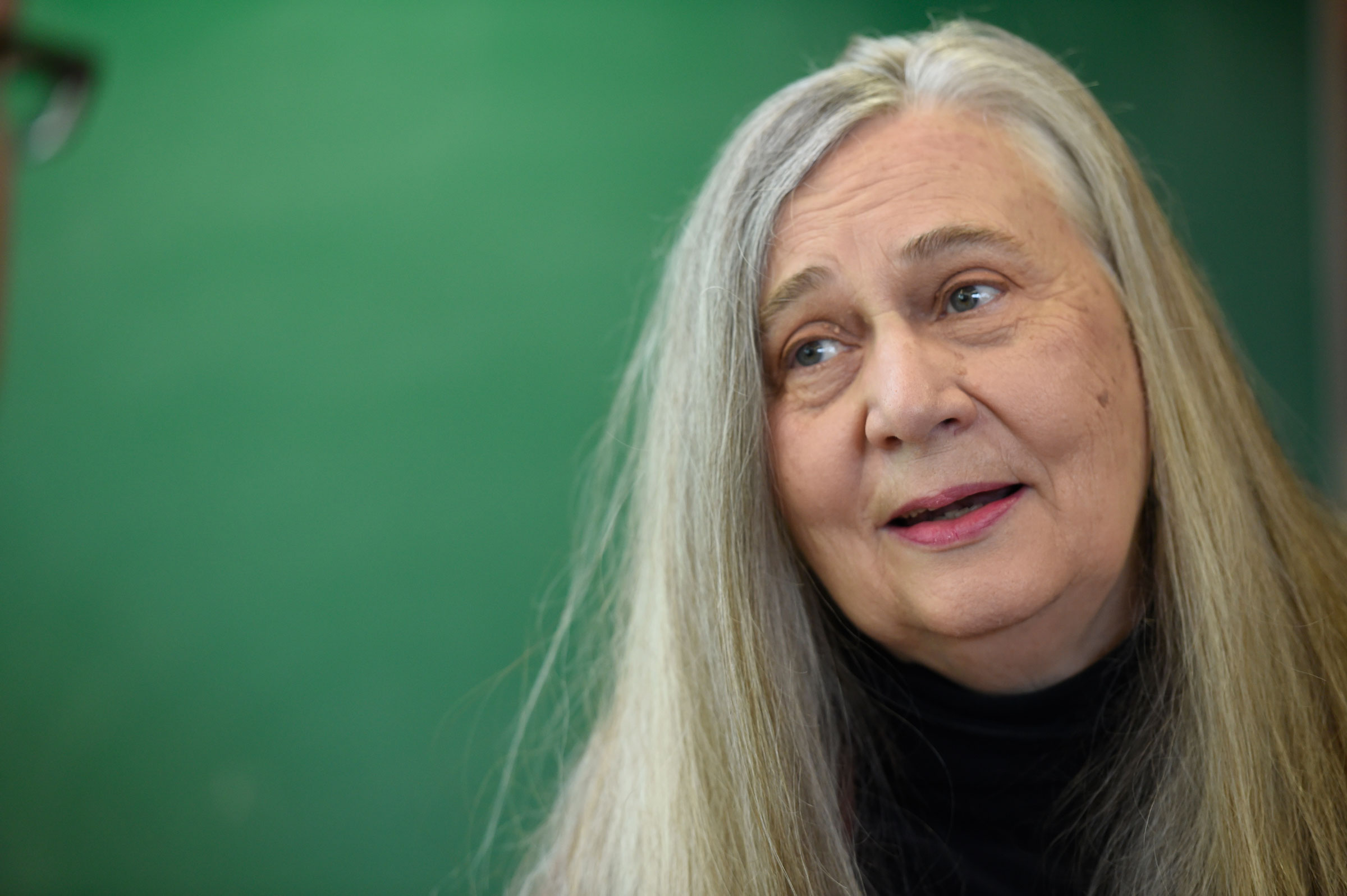 UI professor emerita to receive honorary degree
Former University of Iowa faculty member and Pulitzer Prize–winning author Marilynne Robinson will receive an Honorary Doctor of Humane Letters degree from the UI on Saturday, Dec. 16. The degree will be conferred during the College of Liberal Arts and Sciences ceremony at 9 a.m. in Carver-Hawkeye Arena.
Marilynne Robinson will receive the 36th honorary degree awarded by UI since 1962. Past recipients include: 
 
Earl Warren, chief justice of the United States, 1962 
Richard E. Shope, the physician who discovered the virus associated with the 1918 influenza pandemic, 1963
Lewis L. Strauss, an American financier and chair of the Atomic Energy Commission, 1963
W. Willard Wirtz, U.S. secretary of labor, 1965
Walter P. Reuther, American labor union leader, 1966
George H. Gallup, American public opinion statistician and originator of the Gallup poll, 1967
Edward H. Levi, U.S. attorney general, 1968
Marquis W. Childs, American journalist and Pulitzer Prize winner, 1969
Willard "Sandy" Boyd, president emeritus of the University of Iowa and professor of law, 1981
Ignacio Ponseti, UI orthopedic surgeon renowned for his treatment of clubfoot, 2007
Marvin Pomerantz, philanthropist, 
2007
Robert M. Solow, winner of the Nobel Prize for economics, 2008
Orhan Pamuk, winner of the Nobel Prize for literature, 2008
Himie Voxman, clarinet legend and former director of the UI School of Music, 2008
Johan Hultin, noted pathologist known for discovering tissues containing traces of the 1918 influenza virus that killed millions worldwide, 2009
Henry B. Tippie, businessman and UI benefactor, 2009
John Pappajohn, entrepreneur and UI benefactor, 2010 
Gregs Thomopulos, CEO and chairman of the board of directors of Stanley Consultants, Inc., 2010
C. Vivian Stringer, former UI women's basketball coach, 2010
Robert Hass, Pulitzer Prize winner and former U.S. poet laureate, 2010
Tom Brokaw, television journalist and author, 2010
Arthur Neu, former Iowa state senator, 2010
Gene Wilder, actor, 2011
Richard Myers, former member of the Iowa House of Representatives, 2011
Jerre Stead, UI benefactor, 2011
Stanley F. Redeker, former president of the Board of Regents, State of Iowa, 2012
Robert Osterhaus, former member of the Iowa House of Representatives, 2012
Robert D. Ray, former governor of Iowa, 2012
Mary Louise Petersen, former president of the Board of Regents, State of Iowa, 2013
John W. Colloton, former CEO of UI Hospitals and Clinics, 2013
Manny Villifana, biomedical device developer, 2014
Leonard Hadley, former CEO and chair of Maytag, 2014
Bill Bryson, author, 2016
Ted Waitt, co-founder of Gateway 2000, 2017
Martín-José Sepúlveda, former IBM executive, 2017
Among the most important living writers in America, Robinson was a faculty member in the acclaimed Iowa Writers' Workshop and the UI Department of English for 25 years until her retirement in June 2016. Robinson was the F. Wendell Miller Professor of English and Creative Writing and upon retirement assumed the title of professor emerita. 
Robinson is the author of four novels: Lila (2014), winner of the National Book Critics Circle Award; Home (2008), winner of the Orange Prize (U.K.) and the Los Angeles Times Book Prize; Gilead (2004), winner of the Pulitzer Prize and the National Book Critics Circle Award; and Housekeeping (1980), winner of PEN/Hemingway Award for Debut Fiction. Her five nonfiction books include The Givenness of Things: Essays (2015) and The Death of Adam: Essays on Modern Thought (1998).
In 2016, she was awarded the Library of Congress Prize for American Fiction. Time magazine named her to its list of 100 most influential people.
"Iowa and Iowa City, this university, and this town and state have been very important to my life as a writer," Robinson says. "There are literally hundreds of poets and novelists in this country and throughout the world who would and do say exactly the same thing. So the honor the university offers me for my books and my years at the Workshop redounds directly to the university itself, and to the community that surrounds and supports it."
Robinson was nominated for the degree by Lan Samantha Chang, director of the Iowa Writers' Workshop; Christopher Merrill, director of the UI's International Writing Program; Jim Leach, UI chair of public affairs and interim director of the UI Museum of Art; and Jonathan Galassi, president and publisher of Farrar, Straus and Giroux, a publishing company in New York City.
"The awards that Marilynne has won do not begin to gauge the depth and fineness of her work," Chang says in her nomination letter. "She is a novelist and essayist of towering intelligence and originality. Every sentence of her writing bears the distinction of prose that could not have been written by anyone else."
"She is indeed a national treasure, who has brought unparalleled distinction to the University of Iowa," Merrill says in his nomination letter. "Fierce in her beliefs, extraordinarily rigorous in her thinking, and blessed with the ability to connect things near and far, Marilynne reminds us at every turn of the true stakes involved in any intellectual enterprise. That she is also very funny adds immeasurably to the pleasure of any encounter with her, on the page, in the classroom, in the church where she serves as a deacon, or in the street."
Former President Barack Obama frequently mentioned Gilead as one of his favorite books, and he honored Robinson twice: in 2012, at the White House ceremony where she received the National Humanities Medal—the highest honor in the humanities that the U.S. government offers—and in the fall of 2015, when he requested the opportunity to interview her for what became a two-part piece for The New York Review of Books.
Born and raised in Sandpoint, Idaho, Robinson received a PhD in English from the University of Washington in 1977. Three years later, she released her first novel, Housekeeping, to immediate critical acclaim; the book was nominated for the Pulitzer Prize. Robinson began teaching at the Writers' Workshop in 1991 and soon became one of the most influential instructors in the program and a nationally respected figure. 
"Marilynne is an American writer in the tradition of Hawthorne, Dickinson and Melville, one of those extremely rare authors whose work will be read generations into the future," Chang says in her letter.
"What good luck to be alive at a time defined at its best by the writings and presence of Marilynne Robinson," Merrill says in his letter.