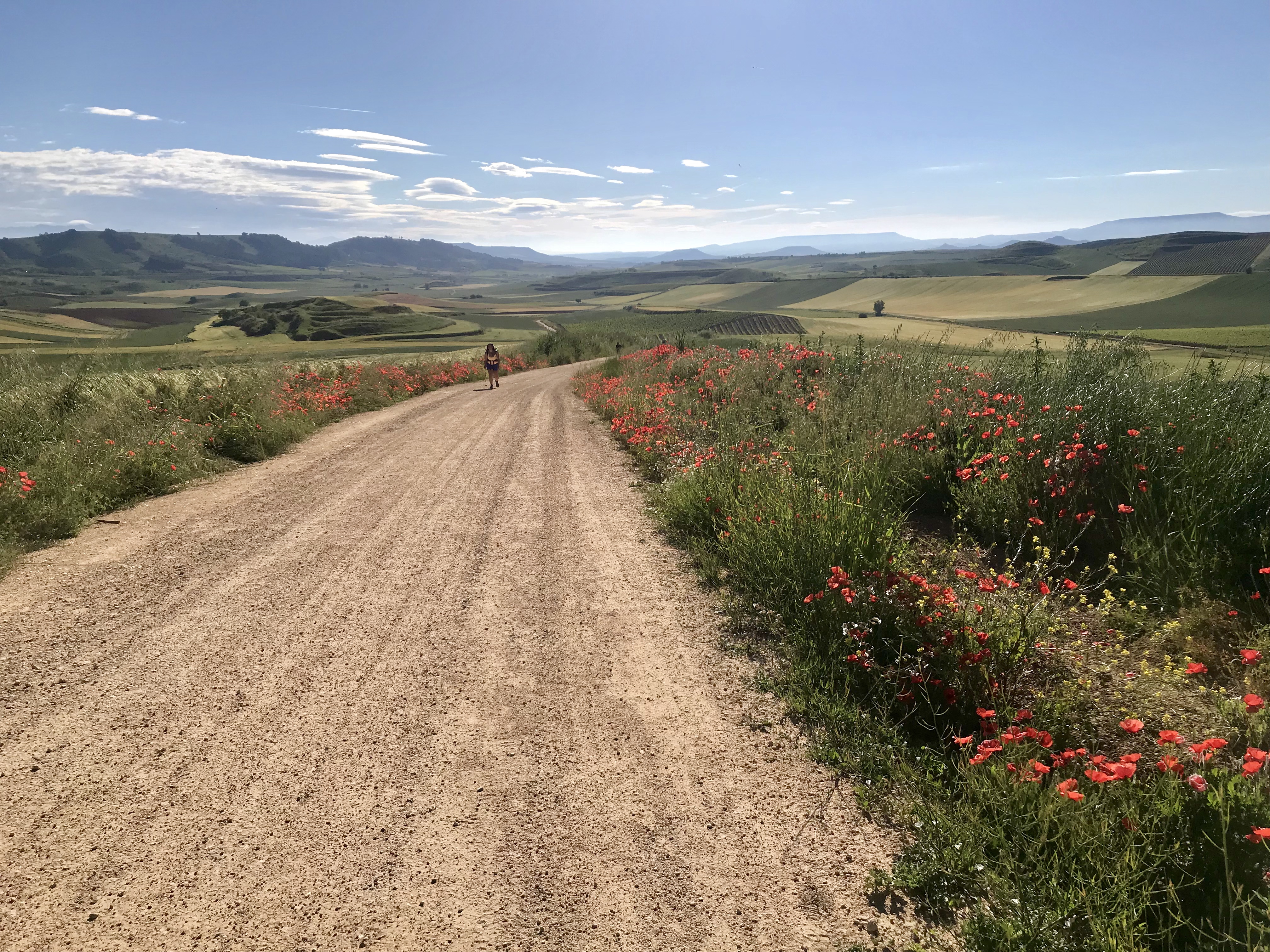 Iowa graduate student Melissa Airy explores how to translate pilgrimage experiences to a secular world through art.
Hometown: Cedar Rapids, Iowa
Area of study: MFA candidate studying intermedia art 
Summer research plans: Visiting three Catholic pilgrimage sites: Rome, Italy; Lourdes, France; El Camino de Santiago in Spain.
Funding:
Student Impact Grant (UI Office of the President and UI Center for Advancement Student Advancement Network)
Pilgrims have been walking El Camino de Santiago in Spain since the first century. More than 6 million visitors every year descend on Lourdes, France, to bathe in the waters and visit the site where the Virgin Mary is said to have appeared to a peasant girl in 1858. And believers fill St. Peter's Basilica in Vatican City every day. 
Among those joining the pilgrimages was Melissa Airy, who is entering her second year as an MFA candidate studying intermedia art in the University of Iowa School of Art and Art History. 
"My research is focused on what happens to me as a pilgrim, my personal experiences and the lessons I learn, as well as exploring how I can translate that through my art to a more secular world," Airy says. "But I also want to be an outside observer, if possible, and learn why people from all over the world go on these journeys. So, I'm looking at it from two perspectives."
The Cedar Rapids, Iowa, native started her trip by traveling around Italy and spending a week in Rome. She then stayed a few days in Lourdes, France.
"I was curious about why people come from all over to this tiny little town," Airy says. "What is it like as all these people flock together?"
The bulk of Airy's time in Europe was spent in Spain, where over the course of 35 days she walked El Camino de Santiago (the Way of Saint James). The 500-mile route leads to the Cathedral of Santiago de Compostela in northwest Spain, where it's said that the remains of the apostle St. James the Great are buried.
This was Airy's second time completing El Camino de Santiago. In fact, it was on the trail two years ago that she decided to apply for graduate school. Airy had been working as an art educator at a middle school and high school in Waterloo, Iowa, and one of her former students accompanied her on the trek this summer.
Airy says the journey on the Camino this year was entirely new, yet refreshingly familiar.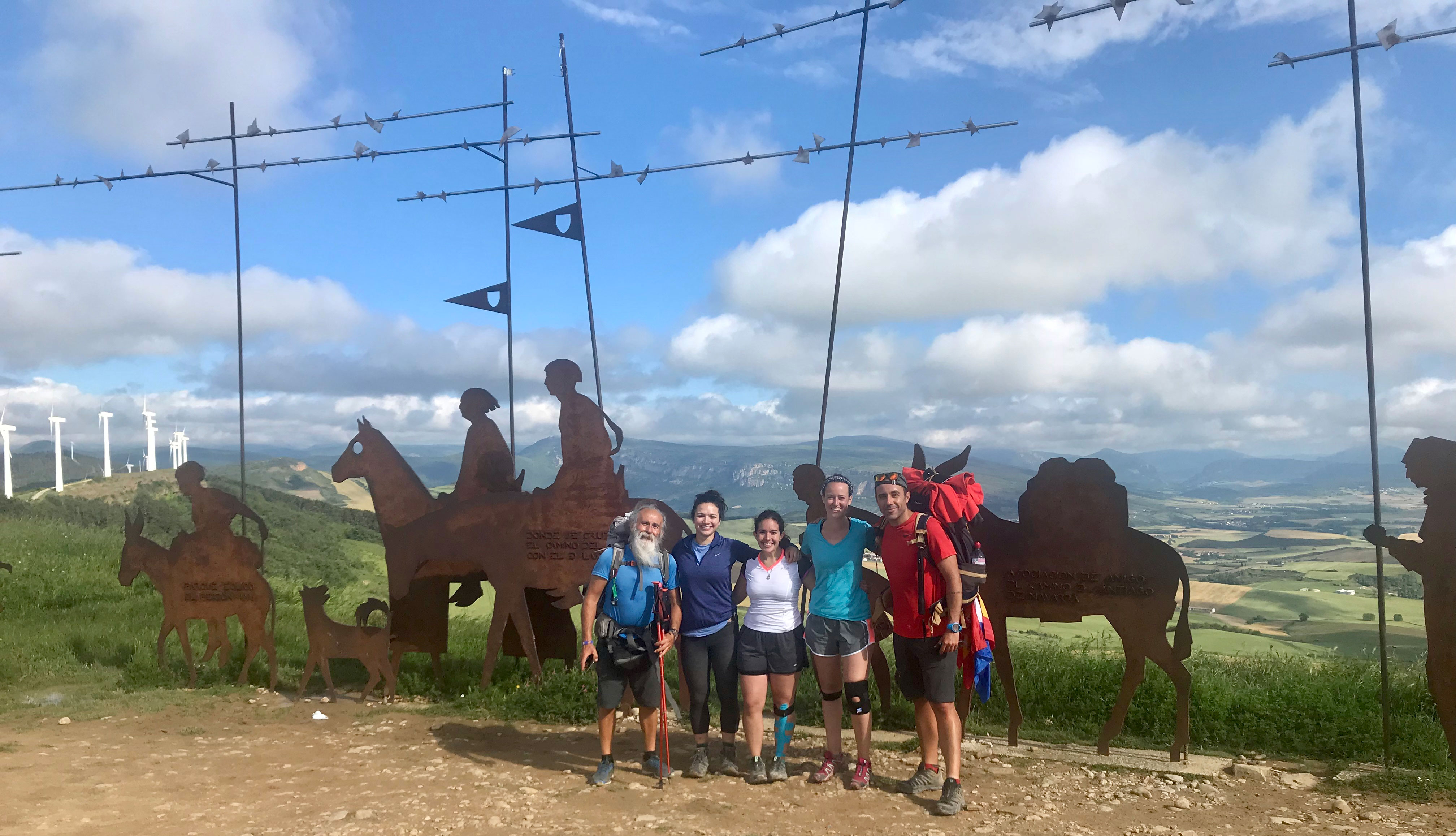 "I was blown away by the sense of community that exists in people who journey together, even for a short amount of time," Airy says. "Even though I was constantly surrounded by new people, I felt at home just as I did walking two years ago. I was continually surprised by how overpowering pilgrimage can be."
One aspect that struck her as particularly significant this summer was the landscape.
"I was able to recognize patterns in behavior largely inspired by our location," Airy says. "For example, a portion of large, flat, open fields known as the Meseta allows for the vastness to overtake you and your thoughts. During this time, pilgrims are ready to dig deep within themselves and ask the hard questions and process their life, all while sharing it with others."
Airy went into these pilgrimages with little to no idea what art might be inspired from them.
"People in some other fields go into research knowing exactly what they are working on," Airy says. "For me, there is no end goal. Art research needs to be open-minded, because if it starts to close in, that's when your art doesn't become beneficial or fresh. We have to keep it open and continue to push forward. I'm hopeful it will provide fruitful art-making experiences; I just don't know what those are yet." 
That doesn't mean she's not a bit nervous.
"It can be terrifying," Airy says. "When I went last time, I knew it was inspirational but it took about a year and a half to really start making work about my experience. I'm hopeful it will be a quicker turnaround this time because I'm only in grad school these few years and I want to make the most of it. I'm trusting it will all happen the way it needs to, but it's still nerve-racking."
Airy says she is grateful that Iowa supports arts research such as hers.
"I was hopeful these opportunities would be available when I came to the UI, and I've been continuously amazed by them," Airy says. "I'm just very thankful the university has been supportive in the mission of what I'm doing, including financially."
Airy didn't rule out making art while on her trip.
"My background is in performance art, which uses your body to create an experience," Airy says. "So, it's nice for me because I don't have to carry paint or other materials. But it's such a heightened experience that it's so hard to take yourself outside of it and process it while you're there. I often need time to process before I make something."
She says she originally planned to record conversations while sharing dinner with other pilgrims, but quickly realized the conversations worth sharing happened during the day while walking; dinner was a time of sharing in companionship rather than challenging conversation. Instead, she took short video clips that she hopes to use in some way.
"I have been capturing one-minute moving images of times that reflect holiness, no matter how mundane it may be," Airy says. "For example, I have video clips of cutting bread, flocks of sheep, and burning candles."
Journaling also will hopefully inspire future work.
"My collections of data feel immense, and I'm eager to start putting it together when I return to my studio," Airy says.