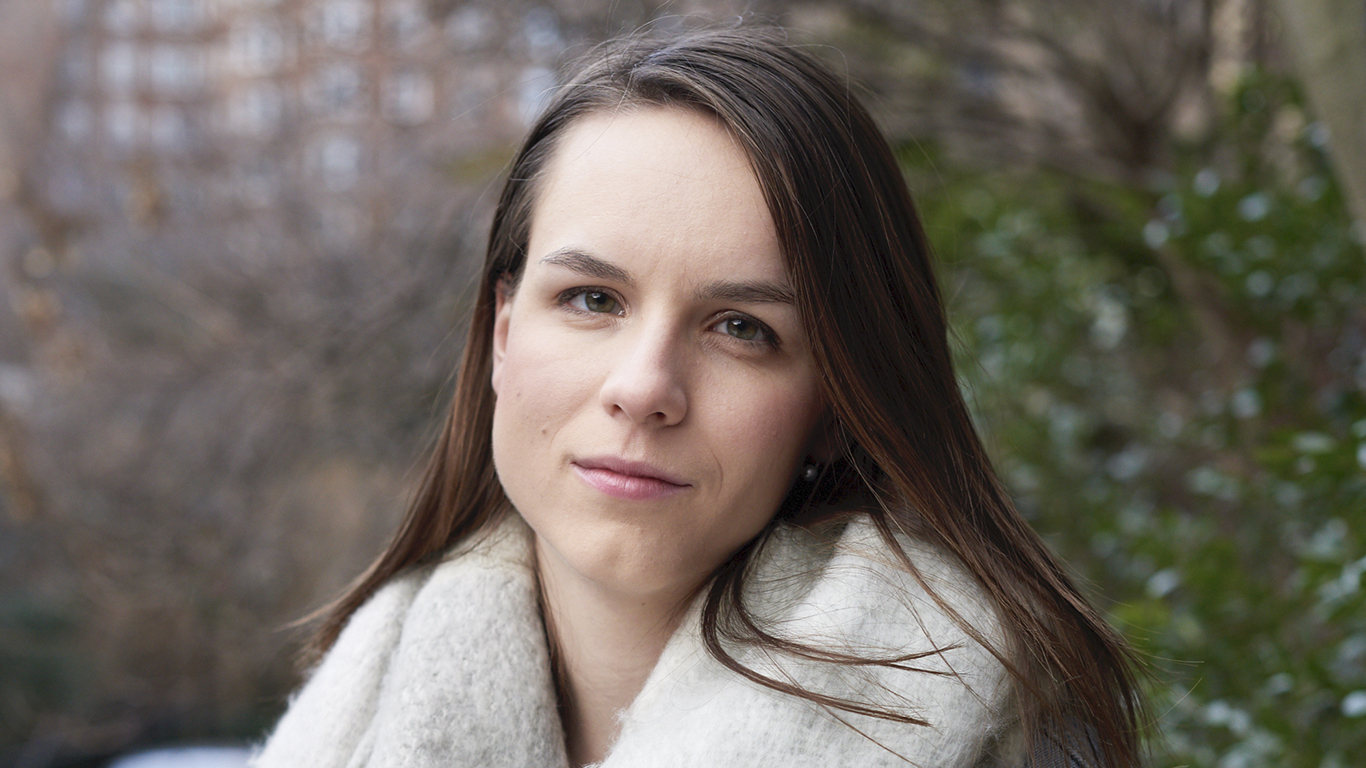 Abigail Carney came to the Iowa Writers' Workshop to write a novel. As she prepares to graduate, she has not only finished her novel but also is developing a television series with an acclaimed UI alumnus.
As Abigail Carney drove from Los Angeles to Iowa City to join the Iowa Writers' Workshop, she stopped in Montana to visit a friend. She was introduced to a man who had recently returned home to his family's cattle ranch.
Carney was captivated by his story, along with the landscape of eastern Montana. However, the writing MFA student didn't give any thought of putting it to page. She had another story on her mind.
"I was leaving the entertainment world to burrow in and focus on my novel," Carney says.
As Carney prepares to graduate this spring, she's not only leaving the University of Iowa with a finished novel but returning to LA with a television series that focuses on a woman returning to her family's ranch in Montana.
The University of Iowa Writers' Workshop was the first creative writing degree program in the United States, and since its founding in 1936, the program has been home to thousands of remarkable writers. The program claims among its graduates winners of virtually every major literary award, including seventeen winners of the Pulitzer Prize, six recent U.S. poets laureate, and numerous winners of the National Book Award, MacArthur Foundation fellowships, and other major honors.
The Grafton, Ohio, native studied writing as an undergrad and knew she wanted to pursue an MFA. Her college mentor had gone to the University of Iowa, and recommended she go out into the world for a bit first. He suggested that the film and television industry might be a good fit.
After moving to LA and starting as an assistant at a talent agency, Carney moved on to work for a film production company, where she read books, looked for new projects, and gave notes for movies in development.
After a couple of years, she decided she was ready to go for her MFA.
"I had a few people ask why I was giving up on my dreams to go to Iowa," Carney says. "I would reply, 'No, I'm actually going to Iowa to pursue my dreams.'"
Her first semester, Carney took a Writing for Television course through the Department of Theatre Arts taught by UI alumni Robin Green and Mitchell Burgess—the Emmy Award-winning duo behind Northern Exposure, The Sopranos, and Blue Bloods. Tasked with writing a pilot for a one-hour drama, Carney thought about her trip to Montana.
"The story of the guy I met got me thinking about what it might be like for a woman coming home," Carney says. "There are female ranchers, but the industry is predominately male. When most people think of ranchers, they picture a dude on a horse in a cowboy hat."
She crafted a story around a woman who has spent years in California and returns home to Montana for her father's funeral. It's then she discovers she has inherited half of the family ranch. The script also examines the dynamic between the native communities and white ranchers in the area of northeastern Montana where the show is set.
Carney says after the class ended, she put the script in a drawer.
"I only saw it as a writing sample so if and when I moved back to LA and wanted to write on someone else's TV show, this would be my sample to prove that I can write a television episode," Carney says. "I was not thinking of it as something to actually make."
"The workshop does such an excellent job bringing in people who are diverse in terms of backgrounds, what they were doing before they came here, how old they are, their aesthetic sensibilities, what subject matter they are pursuing, what career they want to have. It's just an amazing mix of people, and everyone is so generous and talented."
Green and Burgess thought it was more than just a sample and passed it along to fellow Hawkeye and Academy Award-winning producer Mark Johnson. For the past year, Carney has been working with Johnson to develop the first season.
"We were in a great position because we were in no rush to send this to a network or Netflix," Carney says. "I was in the first year of the program, and I didn't want to leave Iowa if we were lucky enough to be picked up. So, we have taken time with drafts, and I went back to Montana for research. We now have a draft we're all really happy with and are in the process of sending it out to potential directors."
Carney says she has learned a lot throughout the process.
"I'm not entirely new to this business, but I've only worked in film, not TV," Carney says. "It's also my first time going through it as a writer. I've given notes to writers, but it's definitely different when you're on the other side of the table and it's your own project."
Investing in the next generation of film and TV professionals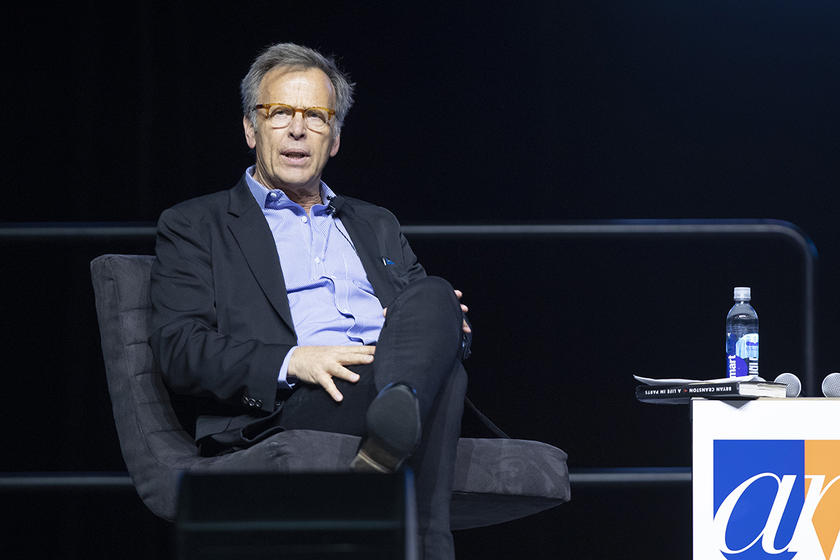 Mark Johnson has won the most prestigious awards in film and television and worked with the biggest names in Hollywood. But the University of Iowa alumnus also is committed to championing the work of numerous up-and-comers—including many Hawkeyes.
She learned a lot about the writing process as well.
"On the first set of notes they gave me, they wrote at the bottom, 'Please feel free to use what you agree with, and line a birdcage with what you don't.'," Carney says. "But it's Mark Johnson and he's been in this business a lot longer than me, so I'm going to listen to every thought he has. And then the second draft of the script got worse. I should have known from my time in the workshop you can't take every note. And it's not because Mark's aren't brilliant; it's because as a writer it's not your job to take every note. It's your job to take the ones that are actually true to the heart of the script. And sometimes you have to see around the notes to find the core problem."
Johnson says one of the things he looks for in projects he's involved with is strong characters, and he says Carney has created phenomenal ones.
"She's a wonderfully talented writer with a unique voice, and I hope to be working with her both on this current project and future projects," Johnson says.
Carney says she deeply appreciates the support and advice Johnson continues to give her.
"One thing I admire about Mark is that he doesn't just see me as a young writer who needs his help. He sees me as a writer," Carney says. "I think what is so special about him as a mentor is that even though he has decades more experience than me, he respects where I'm coming from."
With the COVID-19 pandemic sending classes online for the remainder of the semester, Carney has moved back to Los Angeles. She says she'll miss the community she found in Iowa City.
"I really adore all the fiction writers who I get to workshop with and with whom I've developed both working, collaborative relationships as well as friendships," Carney says. "The workshop does such an excellent job bringing in a diverse group of people who were working in a range of fields, who have distinct aesthetic sensibilities, and who are focusing on a wide variety of subjects in their writing. It's just an amazing mix of people, and everyone is so generous and talented. It's special."
Carney didn't forget about her novel while working on the television script. She recently partnered with an agent and is revising a full draft now. The novel opens with Sarah Moretti found dead in a pond on the morning of her 17th birthday. The story follows the three characters closest to Sarah as they grapple with their grief and unearth the secret underbelly of their family and small rural community.
She also sees more TV scripts in her future, and as she continues in the film and television business, she'll have plenty of Hawkeye company. Carney says she has been surprised by the number of Iowa alumni she has met in LA.
"It was a benefit of the program that I didn't fully realize when I got accepted," Carney says. "It's a good network out here."
Carney urges people who want to apply to the Iowa Writers' Workshop or to become a screenwriter to read and to write every day.
"If you want to write great stories or novels, read great stories and novels. If you want to be a screenwriter, read great screenplays, but keep reading novels and poetry and plays too," Carney says. "All the connections and industry knowledge in the world won't do much for your career if you aren't writing on your own first."