Undergrads go to 'rocket school'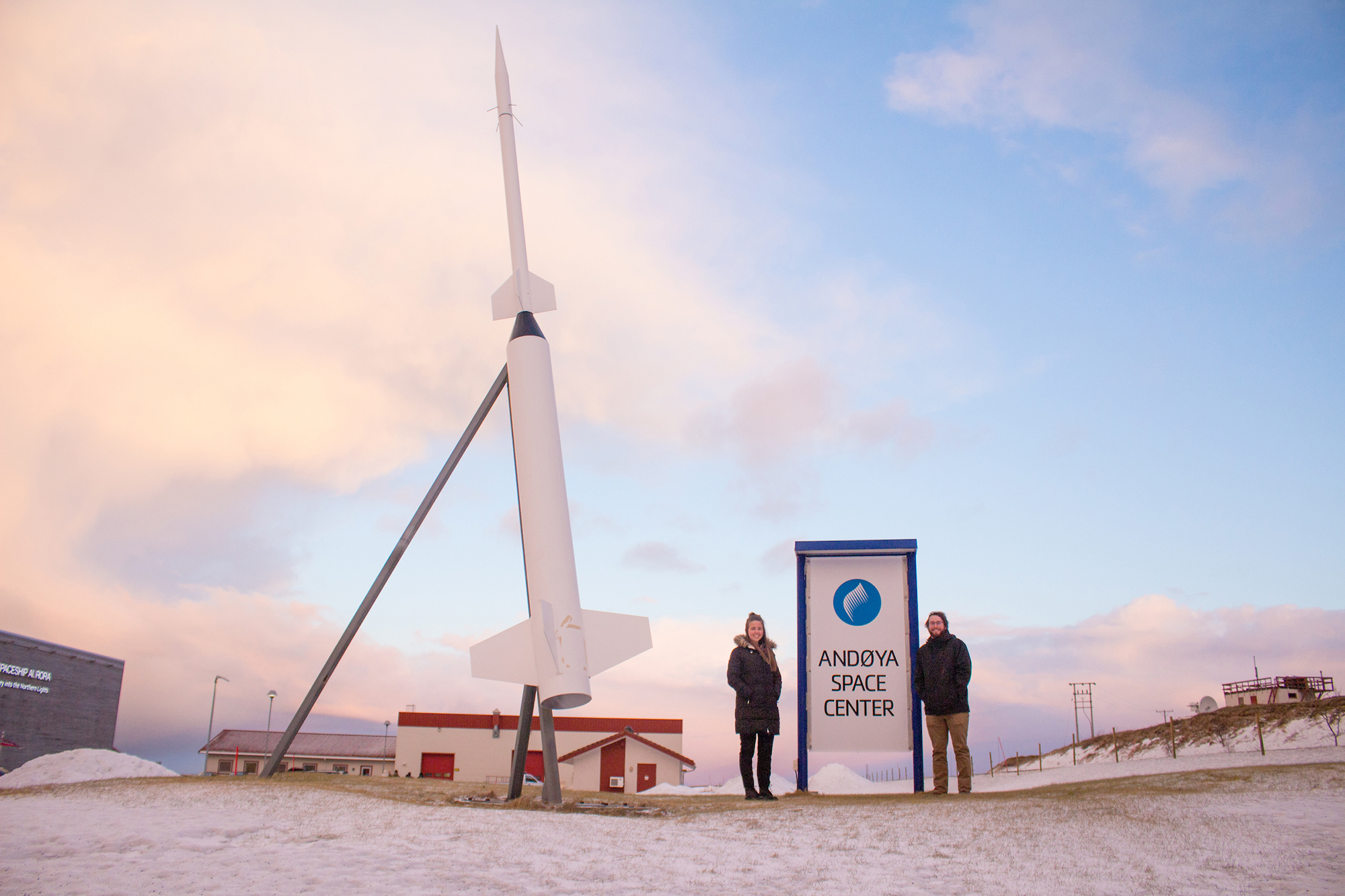 University of Iowa undergraduates Hannah Gulick and Josh Larson took part in an intensive, international science program to design, build, and fly a sounding rocket.

Josh Larson couldn't help but be nervous as he examined data being relayed from the rocket as it shot toward space.
Though the 9-foot rocket launched without incident, some of the data he was receiving from the instrument was garbled. Suddenly, a crucial aspect of the experiment—gathering data and interpreting the results—appeared in jeopardy.
"At first glance, the data looked like nonsense," Larson, a University of Iowa senior from Mount Pleasant, Iowa, says. "We knew we were in for a trying exercise to get something useful."
Larson and fellow undergraduate Hannah Gulick, a sophomore from Spirit Lake, Iowa, traveled to Norway earlier this month as the first UI students—and the first Americans—to participate in an intensive, four-and-a-half-day international program to design, build, and fly a sounding rocket toward the atmosphere's outer boundaries.
The Canada-Norway Student Sounding Rocket (CaNoRock) exchange program is a partnership among higher-education institutions and space agencies in Canada and Norway. In its sixth year, the program introduces undergraduates to the nuts and bolts of conceiving and successfully executing a near-Earth mission.
"We give them a hands-on chance to put together a complete rocket mission, which might take five or six years to do in the scientific sense, but we compress it to a week," says David Miles, assistant professor in the UI Department of Physics and Astronomy who selected Gulick and Larson from a pool of applicants.
"We hope the students learn all the steps involved in this sort of high-tech space mission, learn all the different roles and all the different skills," says Miles, who says he plans to seek a federal grant to cement the UI's annual participation. "Ultimately, they learn what they need to do if they want to do this in industry or if they want to do this in graduate school."
Miles, who is Canadian, took part in the school as a graduate student at the University of Alberta. After joining the UI in fall 2017, he wanted to include the university—especially because the rocket school program mimics the early missions led by UI space pioneers such as James Van Allen, discoverer of the radiation belts that encircle Earth.
"It's the same style of rocket, same style of science," Miles says. "So, this is going back to exactly the same sort of experimental techniques that Van Allen used."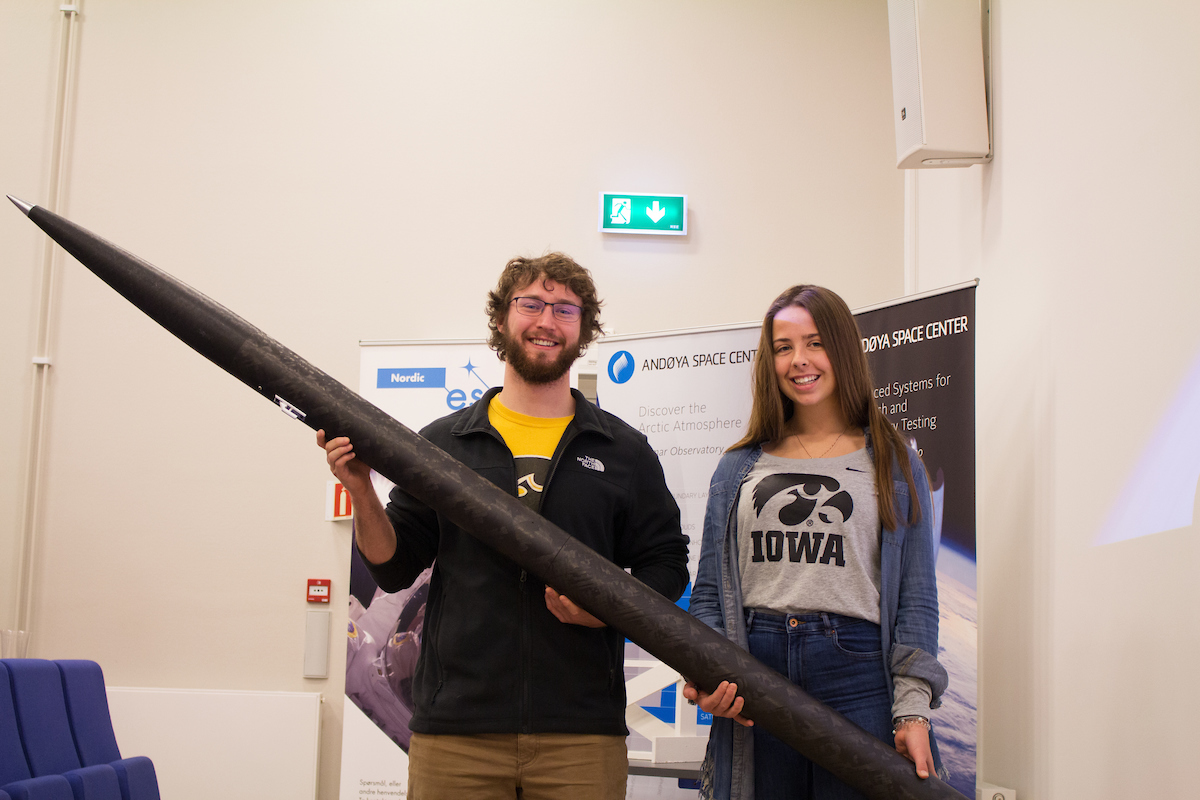 The 19 students who attended the program were separated into five groups, each studying a particular facet of the operation, from instrument design to data analysis. Larson and Gulick were on the team in charge of simulating the rocket's flight and the forces, such as drag, that would affect it.
On their second day at the Andoya Space Center in Norway, the group released a weather balloon to gain information on atmospheric conditions before launch, such as changes in wind speed at different elevations.
"It was essentially to find out the physics that would dictate how the rocket was supposed to fly," says Larson.
The work involved theoretical calculations. That was mostly new territory to Gulick, who's primarily interested in space instrumentation.
"I never saw myself doing theory, which is more the mathematical sense of looking at something," Gulick says. "So, being able to experience that really opened me up to at least being interested in the realm of theory and knowing that I am capable of doing math at that level."
The students also gathered data from instruments on the rocket, including an accelerometer, magnetometer, pressure sensor, light sensor, and two temperature sensors.
The launch happened so quickly that Larson almost missed it.
"If you blink, you miss it," Larson says. "I was sitting there fiddling with my phone trying to record, and the next thing I know, it took off."
As the rocket zoomed toward the highest point in its flight, nearly six miles above the Earth's surface, Larson and Gulick noticed a data glitch. After some scrambling, the group figured out the garbled bits were coming from on-the-ground antennas that had had trouble tracking the rocket. The rest of the data was sound.
Even so, it underscored the notion that any mission—no matter how elementary in concept—can be challenging.
"It really adds to my perspective that taking data from a rocket is really messy," says Larson, whose primary interest is space plasma physics, "and if I hope to take more data from rockets in the future, that's something that I'll have to get used to."
Produced by the UI Office of Strategic Communication
The UI Office of Admissions offers a wealth of information for school counselors.