College of Engineering graduate Matt Finley plans to continue his education at Iowa and then head into space.
Matt Finley is aiming for the stars.
The electrical and computer engineering major, who will earn a Bachelor of Science in December, dreams of designing rockets for SpaceX, the aerospace manufacturing company founded by Elon Musk to facilitate space travel.
Hometown: Cedar Rapids, Iowa
Degree: Bachelor of Science in Engineering, electrical and computer engineering
Graduation: December 2018
Plans after graduation: Work at Rockwell Collins in Cedar Rapids, Iowa, over the summer and continue in a UI master's program
Fun fact: His grandfather was a wedding photographer, and Finley inherited his old film cameras. He was able to explore his interest in photography at Iowa by joining the staff of The Daily Iowan.
Finley is nothing if not confident about this possible career trajectory. The University of Iowa, he says, prepared him to be successful. In addition to offering access to top-notch professors and opportunities to teach and conduct research, the campus boasts extracurricular activities that he says broadened his thinking and boosted his résumé.
"I knew from the get-go that I wanted to study engineering," says Finley, who grew up Cedar Rapids, Iowa. "In the College of Engineering they emphasize internships and co-ops and working with people outside your area of expertise. That makes us more competitive in job searches."
Not only did Finley complete a co-op with avionics leader Rockwell Collins, he explored his creative side as a photographer with The Daily Iowan, the campus newspaper, and learned lessons in endurance by competing in powerlifting through UI Recreational Services.
One of the most valuable aspects of his engineering education, Finley says, is the size of the college.
"The College of Engineering is not is a huge school," he says. "I know everyone in my classes and have been able to develop solid friendships. It's fantastic for networking. I'm going to miss it when I leave."
For now, though, Finley is content to stay at Iowa and continue his education. He is enrolled in the College of Engineering's joint BS/MS program, and will earn a master's degree after one more year of study. He says a doctorate in aerospace engineering also may be in his future.
"He [Matt] is goal-oriented and hardworking, and I sincerely believe he will be successful in whatever career he chooses." 
professor of electrical and computer engineering
Although he grew up only one county away from Iowa City, Finley admits he never made a campus visit, even though his older brother attended the UI. He says he enrolled sight unseen because Iowa offered him the most attractive scholarship package.
Finley has no regrets. In fact, he lights up when talking about his mentor, Anton Kruger, professor of electrical and computer engineering.
"He's the best professor I've ever had, and working with him as a teaching assistant over three semesters has been inspiring," Finley says. "The lengths he goes to for his students—like holding office hours on a Sunday—influence how I approach learning and how I interact with students."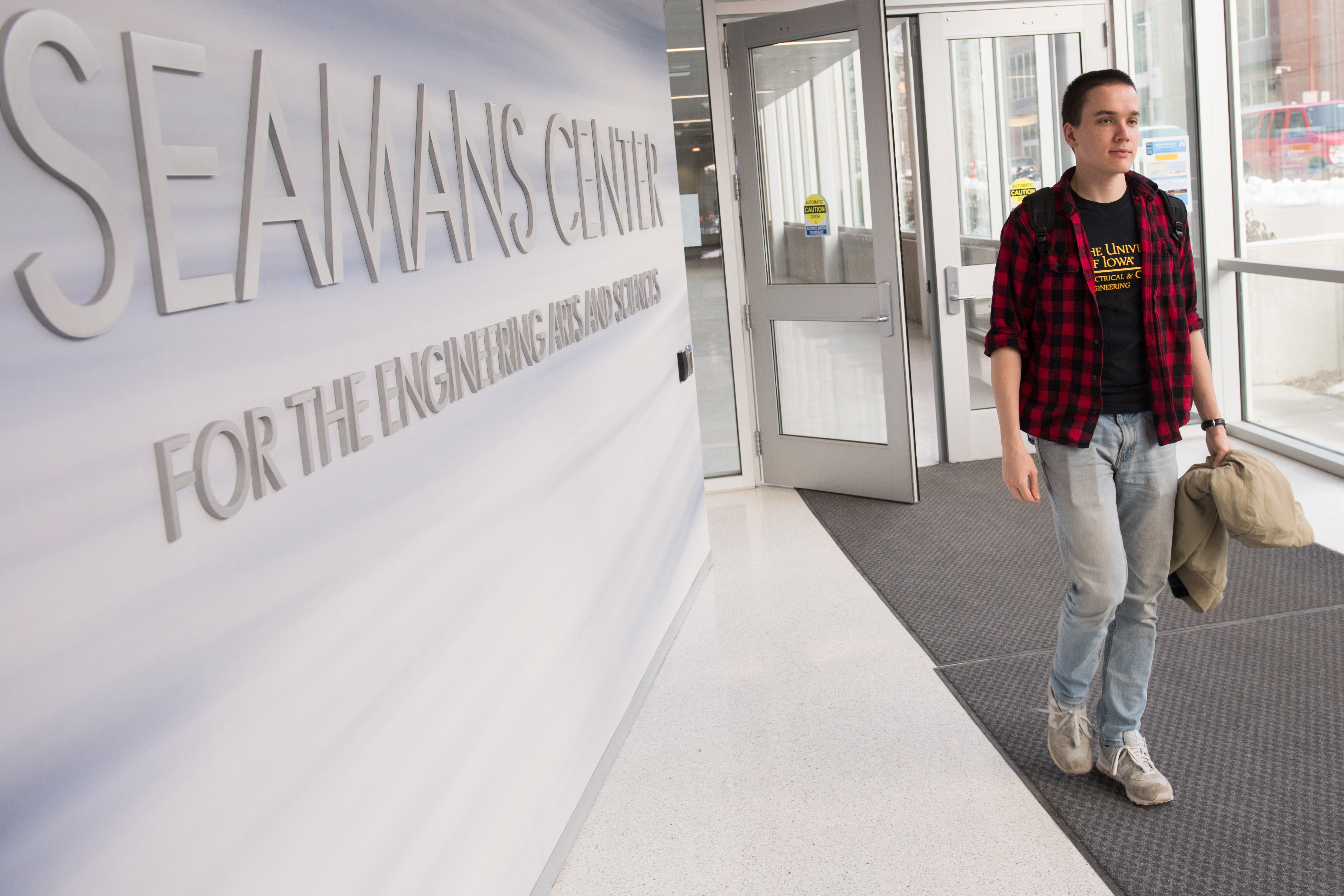 Kruger is equally impressed with Finley, whom he says is enthusiastic, focused, and well-rounded.
"For Matt, it is not about the grades—although he does very well in his classes—it's about learning as much as he can. And he is clearly on a mission at the University of Iowa to do just that," says Kruger, relaying a story about Finley wowing him by building a fully functional digital clock on his own time. "My main challenge as his academic adviser has been to stop him from taking too many courses each semester. He is goal-oriented and hardworking, and I sincerely believe he will be successful in whatever career he chooses." 
With Kruger, Finley was able to get experience working on a collaborative research project with the UI College of Public Health, which was designing a technological system to assess the impact of heavy farm equipment on roadways. Learning how to communicate engineering concepts to non-engineers was invaluable, Finley says.
"Working with people outside your area of expertise is an important job skill, a life skill, really," he says. "When I get a job, I'm going to be talking with people every day who didn't study electrical engineering—or any kind of engineering—and I'm going to have to communicate important information. Learning how to do that well will make me a better engineer."
If all goes according to plan, that phone call from Elon Musk just may be coming sooner than later.