Hawkeye dentists provide vital care, gain experience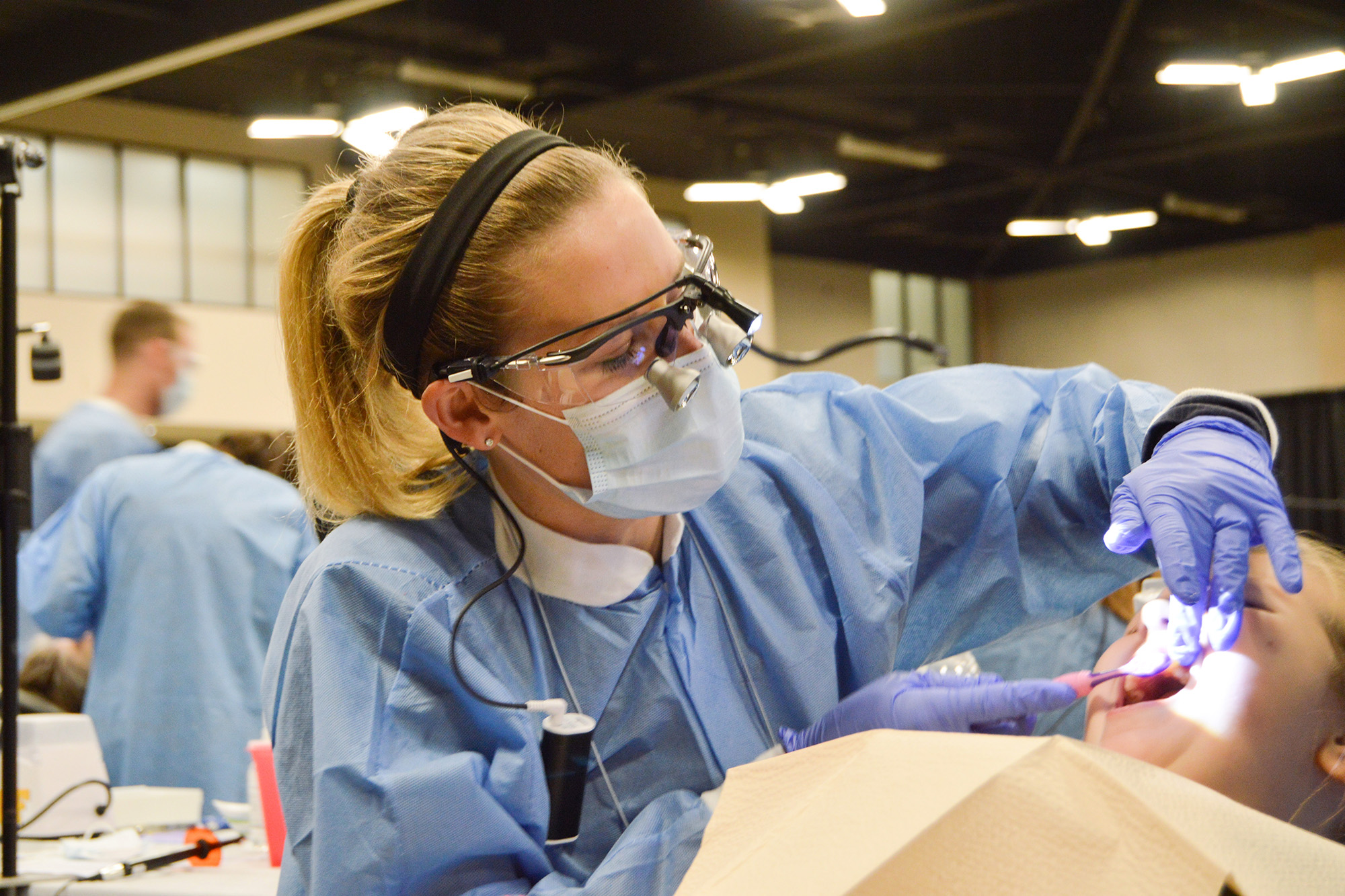 About 200 University of Iowa College of Dentistry students, faculty, and alumni participated in the Iowa Mission of Mercy dental clinic in Davenport, providing free care to people without dental insurance. The event provides Iowa students with the sort of experience they can't always get in a collegiate clinic.
The little boy had never heard of the tooth fairy, so Kelsey Edwards thought she'd fill him in.
"The boy was Amish," says Edwards, a second-year dental student in the UI College of Dentistry who had helped pull a tooth that needed extracting. "I held it up to him, but he'd never heard of the tooth fairy. I told him the story about when I was a little girl and I'd leave a note to the tooth fairy on the kitchen table and hope for a quarter in the morning."
Edwards helped treat the boy while participating in the Iowa Mission of Mercy (IMOM) dental clinic in Davenport Sept. 21. IMOM is an annual free dental clinic where dental professionals volunteer their time to provide free oral health care to people who cannot otherwise afford it or who don't have dental insurance. About 200 students and faculty from the College of Dentistry spent the day in Davenport providing free care to anyone who needed it, including many Amish families like the boy's.
UI co-sponsors the clinic each year and has sent teams of volunteers to every one that's been held since 2008, providing more than 14,000 patients with dental care worth more than $9.4 million. The two-day clinic overseen by the Iowa Dental Association rotates around the state each year and UI volunteers work at each, including recent clinics in Dubuque, Waterloo, Sioux City, Cedar Rapids, and Council Bluffs.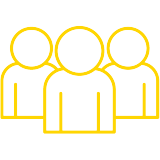 patients served by Iowa Mission of Mercy since 2008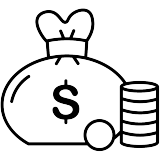 in dental care provided by Iowa Mission of Mercy since 2008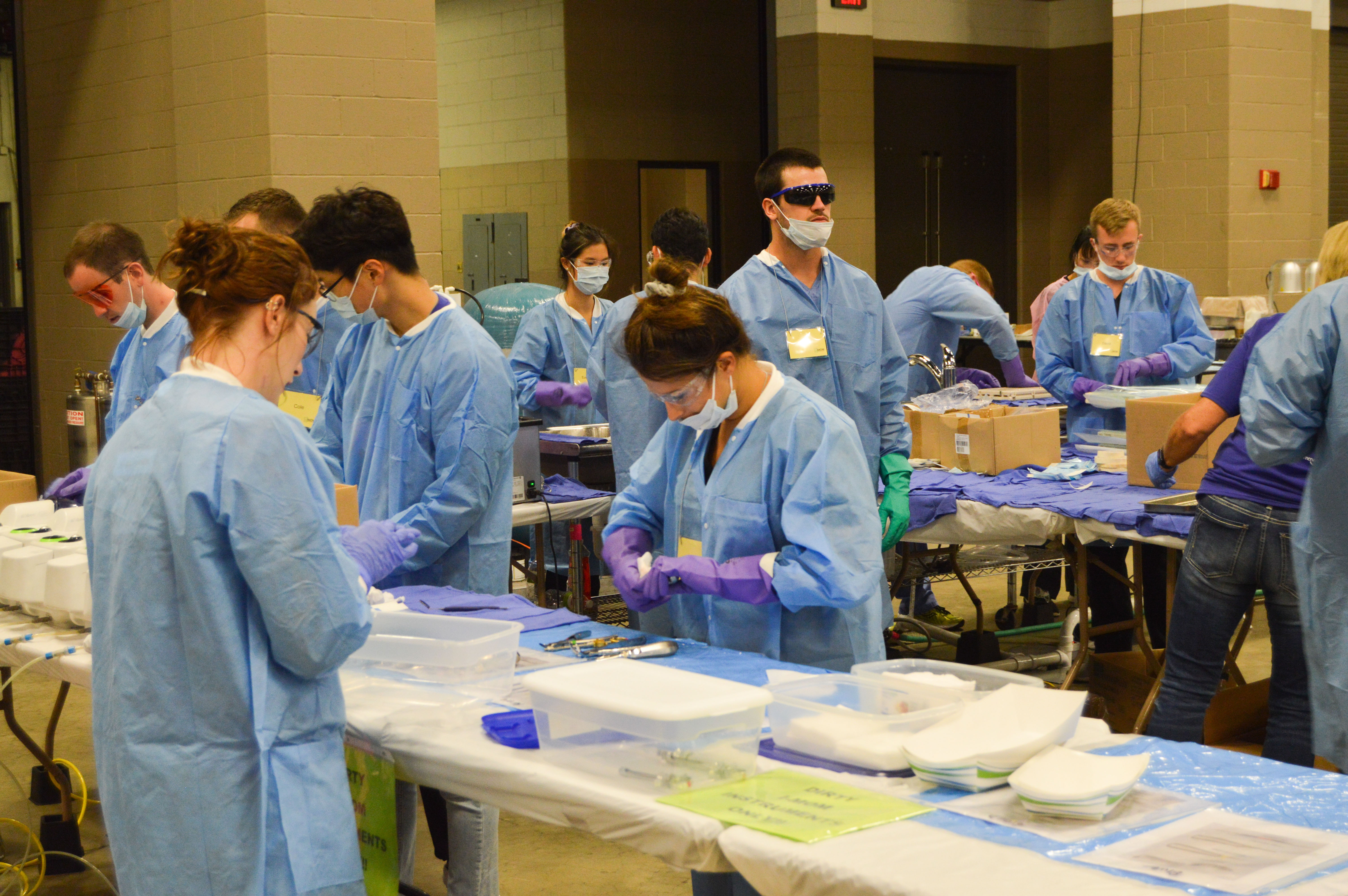 The UI contingent was by far the largest of the many private practitioners that filled Davenport's sprawling RiverCenter convention hall on the second day of the clinic. The room might have appeared chaotic, but the many parts came together like a well-oiled machine, as hundreds of people waited patiently for services from hundreds more dentists, hygienists, assistants, and students waiting at rows of dental chairs.
Carrie McKnight, a College of Dentistry faculty member who's participated in five IMOM clinics and now organizes the college's participation, says the setting is an important part of the learning experience for the students. It requires them to focus on their patients amid the distractions, while treating oral health issues many of them haven't seen before.
Interested in a career in dentistry?
For more than 125 years, the College of Dentistry has been an integral part of The University of Iowa and a resource to the state of Iowa. The great majority of Iowa dentists are alumni of the College of Dentistry. The strength of our relationships with the university, the state, the profession, and with academic colleagues, alumni, practitioners, and industry, has enabled us to become one of the top dental schools in the United States.
"It's a way for the students to get a lot of experience that they can't get in the college's clinic, and they love it," says McKnight, assistant clinical professor, noting that for many, it's the first chance ever to actually work in a patient's mouth. "They learn through activities like this that outreach is part of what we do as dentists."
It's also a chance to mingle with dentists from across the state, building a network and learning new techniques and methods.
"They get to work outside the four walls of the college and interact with the next generation of dental leadership in the state," says Kecia Leary, clinical associate professor of pediatric dentistry.
But more than anything else, participants say the clinic is a chance to provide a public service that helps improves peoples' health who may not otherwise have access to it.
"We're all working together for the sake of the patients," says Leary.
Many of the patients come from low-income families; others are immigrants or Amish. Most come because they have a persistent, often painful dental issue they can't afford to take care of. They're not here for a checkup and a cleaning, says Alison Christensen, a second-year resident. They're here because they have a serious problem that needs attention.
"It's a way for the students to get a lot of experience that they can't get in the college's clinic, and they love it. They learn through activities like this that outreach is part of what we do as dentists."
assistant clinical professor, University of Iowa College of Dentistry
"This is a great opportunity to provide care to underserved populations and give something back to the community," says Christensen, a Waterloo native and IMOM veteran. "It also gives us an opportunity to visit parts of the state that the college doesn't always get to visit."
Edwards has been participating in the clinics for five years, since she was a sophomore as a University of Iowa undergrad, starting as a volunteer and working her way up through an assistant role to now, as a student, someone who can actually provide services. She has stories from each year where she was able to help improve a person's life with her dental skills. Not only did she brighten a child's life with a story about the tooth fairy that morning, but she made another patient cry with joy when she realized she'd be able to smile again, thanks to the partial denture she received to replace a lost tooth.
"It's the first time she'll be able to smile in months," Edwards says. "It's very gratifying and makes it worth spending a Saturday here."