Hawkeyes create the coolest stuff
University of Iowa grads are no strangers to Hollywood. Alumni of the Writing University have put their stamp on the entertainment world, delivering critical and commercial successes to screens big and small.
Box-office bonanzas? Hawkeyes have made those. Game-changing serialized television series? Don't stop believin'—Hawkeyes have done those, too. The movie that made you acutely aware of the popcorn being consumed by you and everyone else in the room? That quiet place took shape here as well.
The recent examples are plentiful—but if we want to point back to Willy Wonka (Iowa alum/actor Gene Wilder) or the Starship Enterprise (Iowa alum/director Nicholas Meyer), we could do that, too.
Can we possibly fit our entire portfolio into a 30-second halftime commercial? No, but our spot, which you can watch below, does feature an impressive sampling.
The clips included in that video have larger stories behind them—and we have even more success stories that didn't fit within the confines of the commercial. Keep scrolling to learn more about some of the creative endeavors that were made (be they written, produced, or conceived) by Hawkeyes.
Written by Hawkeyes: Castle Rock
Summary: A psychological-horror series set in the Stephen King multiverse, Castle Rock combines the mythological scale and intimate character storytelling of King's best-loved works, weaving an epic saga of darkness and light, played out on a few square miles of Maine woodland.
The University of Iowa connection: Sam Shaw (MFA, 2004), co-creator/executive producer/writer; Lila Byock (MFA, 2004), writer/co-producer; Mark Lafferty (MFA, 2004), executive producer/writer; Vinnie Wilhelm (MFA, 2004), writer/co-producer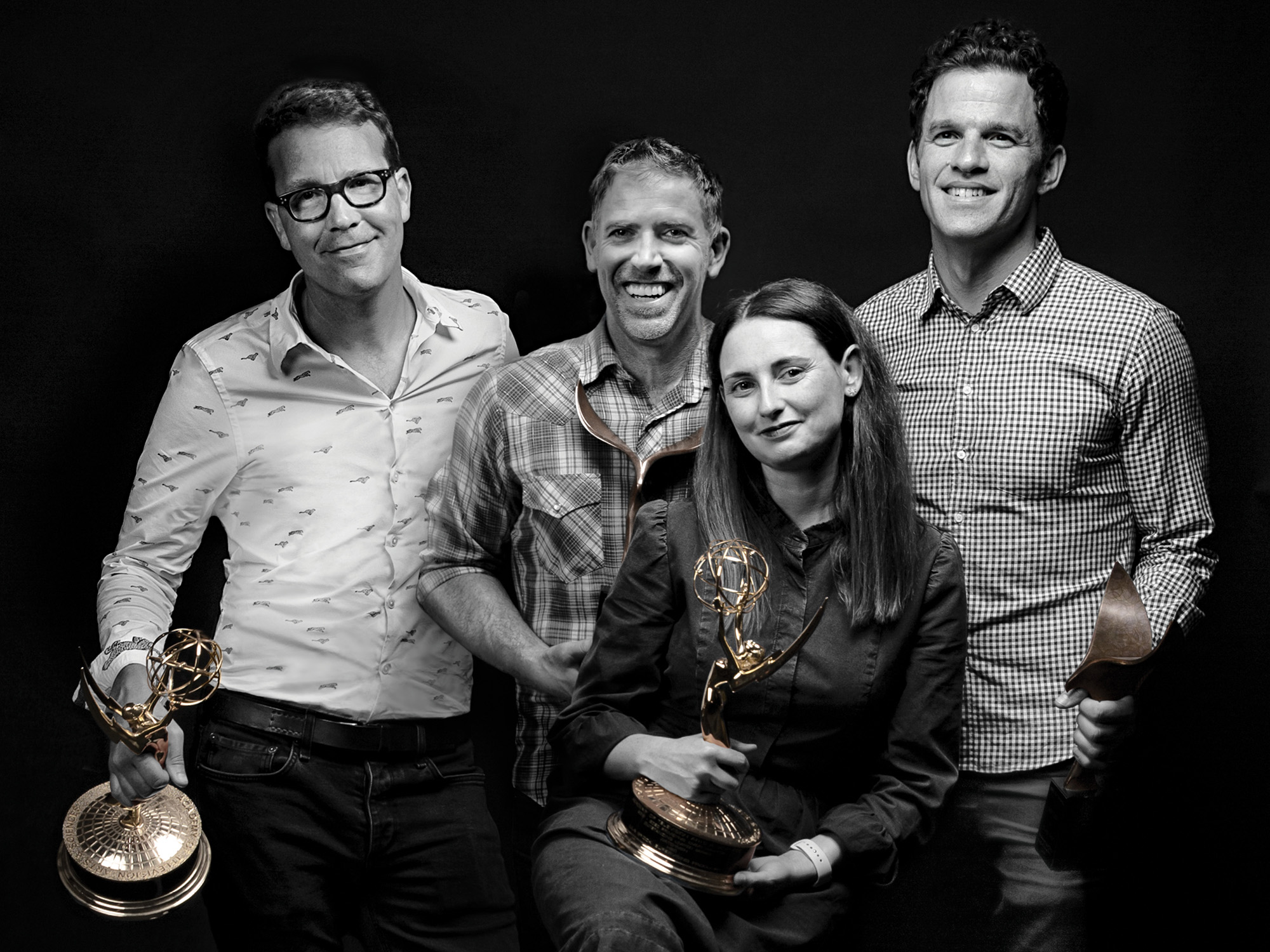 Go deeper: Shaw, Byock, Lafferty, and Wilhelm, a group of charismatic, hilarious, and whip-smart writers who arrived at the Iowa Writers' Workshop in 2002 and quickly became lifelong friends, have created, written, and produced award-winning television in Hollywood, using the lessons in storytelling and collaboration they honed at the University of Iowa. 
Inside the writers room: Iowa screenwriters make a scene in Hollywood
---
Written by Hawkeyes: The Sopranos
Summary: Tony Soprano is a mob boss whose troubles are wrapped up in his two families. These days, it's getting tougher and tougher to make a killing in the killing business. Just because you're "made" doesn't mean you've got it made.
The University of Iowa connection: Robin Green (MFA, 1977) and Mitchell Burgess (BA, 1978), executive producers/writers
---
Directed by Hawkeyes: Avengers: Endgame 
Summary: The grave course of events set in motion by Thanos that wiped out half the universe and fractured the Avengers ranks compels the remaining Avengers to take one final stand in Marvel Studios' grand conclusion to 22 films.
The University of Iowa connection: Joe Russo (BA, 1992), director—he directed the Infinity War chapter as well, among other things
Related content: Avengers: Infinity War director receives superhero's welcome at alma mater
---
Written by Hawkeyes: A Quiet Place
---
Created by Hawkeyes: Game of Thrones
Summary: Adapted from George R.R. Martin's epic fantasy novel series, A Song of Ice and Fire, this series is about a fantasy world where royal houses battle for the Iron Throne. (And you see dragons and an undead army and deaths aplenty.)
The University of Iowa connection: D.B. Weiss (MFA, 1998), director/writer/producer
---
Written by Hawkeyes: Mad Men
Summary: New York, the 1960s. The men and women who work at Sterling Cooper are some of the top names in the advertising industry. Master manipulator and leading ad man Don Draper is at the top of his game, but there are those who want to see him topple down.
The University of Iowa connection: Rick Cleveland (MFA, 1995) and Keith Huff (MFA, 1994), writers/producers
---
Directed by Hawkeyes: Big Hero 6
Summary: Robotics prodigy Hiro Hamada learns to harness his genius, thanks to his brilliant brother Tadashi and their like-minded friends. When a devastating turn of events catapults them into the midst of a dangerous plot unfolding in the streets of San Fransokyo, Hiro turns to his closest companion—a robot named Baymax—and transforms the group into a band of high-tech heroes determined to solve the mystery.
The University of Iowa connection: Don Hall (MFA, 1991), director/story artist
Go deeper: After 20 years of creating happy endings for Disney animated characters, Don Hall finally received his turn at a magical evening. Hall accepted his first Academy Award in 2015 as co-director of Big Hero 6. The superhero movie about a robotics genius and his inflatable robot grossed more than $546 million at the box office and earned the trophy for best animated feature. More recently, the Iowa alumnus was co-director of the film Raya and the Last Dragon (and before that, Moana). 
Big Hero Won: Hall wins Academy Award
Academy Award-winning director Don Hall directs Raya and the Last Dragon
---
Written by Hawkeyes: Watchmen
Summary: Set in an alternate history where "superheroes" are treated as outlaws, this drama series embraces the nostalgia of the original groundbreaking graphic novel of the same name while attempting to break new ground of its own.
The University of Iowa connection: Lila Byock (MFA, 2004), writer/producer
Accolades: In 2020, Lila Byock won an Emmy in the category of Outstanding Limited Series for her work on Watchmen.
---
Created by Hawkeyes: Deadwood
Summary: Set in 1876, when the richest gold strike in U.S. history drew a throng of restless misfits to an outlaw settlement in the Black Hills of South Dakota, Deadwood features a cast of surly inhabitants.
The University of Iowa connection: David Milch (MFA, 1970), writer/executive producer
---
Written by Hawkeyes: Six Feet Under
Summary: Family is complicated—especially when you own (and live in) a funeral home with them. Experience the highs and lows of life and death with the Fisher family.
The University of Iowa connection: Rick Cleveland (MFA, 1995), writer/executive producer
---
Written by Hawkeyes: House of Cards
Summary: The U.S. remake of the 1990s British political miniseries moves the shenanigans to Washington, D.C. After learning he won't be appointed to a coveted Cabinet position, House Majority Whip Francis Underwood and his wife Claire plan revenge on the administration he helped elect.
The University of Iowa connection: Rick Cleveland (MFA, 1995) and Keith Huff (MFA, 1994), writers/producers