'22: Another banner year for UI writers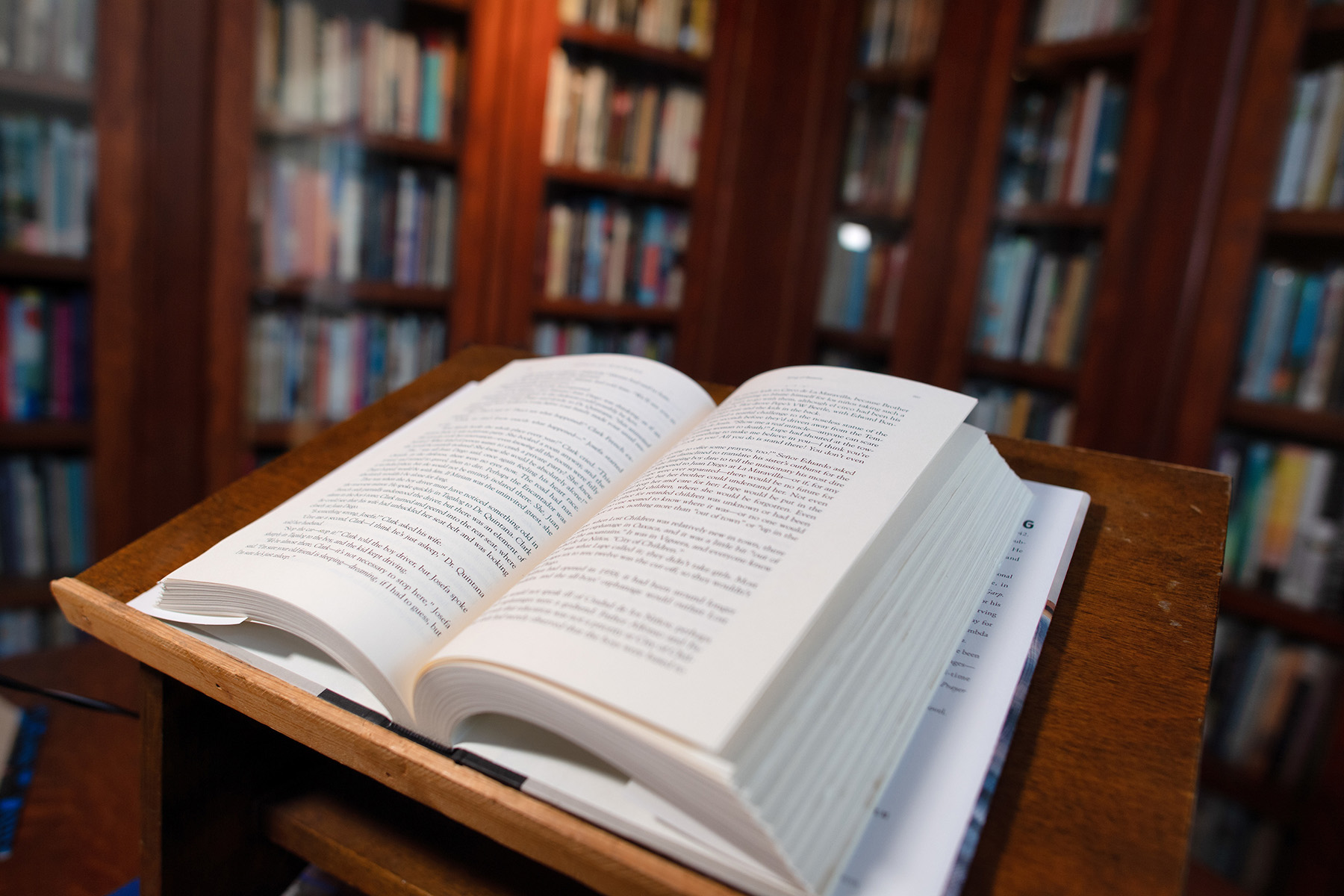 Another year, another bounty of books from University of Iowa writers. Enjoy this cross section of titles published in 2022, all written by artists with ties to the Iowa Writers' Workshop.
The Family Chao
Author: Lan Samantha Chang
Summary: The residents of Haven, Wisconsin, have dined on the Fine Chao restaurant's delicious Americanized Chinese food for 35 years, content to ignore any unsavory whispers about the family owners. Whether or not Big Leo Chao is honest, or his wife, Winnie, is happy, their food tastes good and their three sons earned scholarships to respectable colleges. But when the brothers reunite in Haven, the Chao family's secrets and simmering resentments erupt at last. Before long, brash, charismatic, and tyrannical patriarch Leo is found dead—presumed murdered—and his sons find they've drawn the exacting gaze of the entire town.
UI connection: Chang, who was named one of eight women writers "helping to make the world a better place" by Oprah Daily and was a 2021–22 Berlin Prize fellow, graduated from the Iowa Writers' Workshop in 1993 and has been its director since 2006.
---
Groundskeeping
Author: Lee Cole
Summary: In the run-up to the 2016 election, aspiring writer Owen Callahan moves back to Kentucky to live with his Trump-supporting uncle and grandfather. He takes a job as a groundskeeper at a small local college, in exchange for which he is permitted to take a writing course. Here he meets Alma Hazdic, a writer in residence who seems to have everything that Owen lacks—a prestigious position, an Ivy League education, success as a writer. As they grow closer, Alma—who comes from a liberal family of Bosnian immigrants—struggles to understand Owen's fraught relationship with family and home.
UI connection: Cole is a 2019 graduate of the Iowa Writers' Workshop, where he was a Maytag Fellow in Fiction.
---
The Haunting of Hajji Hotak and Other Stories
Author: Jamil Jan Kochai
Summary: The stories in this collection—which was a finalist for the 2022 National Book Award for Fiction—feature intriguing topics. A young man's video game experience turning into a surreal exploration on his own father's memories of war and occupation; two married doctors are driven by guilt to leave the U.S. and care for their fellow Afghans, even when their own son disappears; a government surveillance worker becomes entrenched in an immigrant family's life.
UI connection: Kochai, an O. Henry Award recipient, was a Truman Capote Fellow at the Iowa Writers' Workshop, where he was awarded the Henfield Prize for Fiction.
---
The Hero of This Book
Author: Elizabeth McCracken
Summary: Ten months after her mother's death, the narrator takes a trip to London. The city was a favorite of her mother's, and as the narrator wanders the streets, she finds herself reflecting on her mother's life and their relationship. The woman, a writer, recalls all that made her complicated mother extraordinary—her brilliant wit, her generosity, her unbelievable obstinacy, her sheer will in seizing life despite physical difficulties—and finds herself wondering how her mother had endured. Even though she wants to respect her mother's nearly pathological sense of privacy, the woman must come to terms with whether making a chronicle of this remarkable life constitutes an act of love or betrayal.
The Hero of This Book was named a "Best Book of the Year" by The Washington Post, Kirkus Reviews, The New Yorker, the Chicago Public Library, NPR, Oprah Daily, and the Philadelphia Enquirer.
UI connection: A recipient of the PEN New England Award, McCracken received an MFA from the Iowa Writers' Workshop, where she also taught.
---
The Hotel Nantucket
Author: Elin Hilderbrand
Summary: When Lizbet Keaton is named the new general manager of the Hotel Nantucket, a once Gilded Age gem turned abandoned eyesore, she hopes that her local expertise and charismatic staff can win the favor of their new London billionaire owner and that of a wildly popular Instagram tastemaker who can help put them back on the map. And while the Hotel Nantucket appears to be a blissful paradise, complete with a celebrity chef-run restaurant and an idyllic wellness center, there's a lot of drama behind closed doors.
UI connection: Hilderbrand, whose 2019 novel, Summer of '69, debuted at No. 1 on the New York Times bestseller list, attended the University of Iowa Writers' Workshop, receiving an MFA in 1998.
---
Mercy Street
Author: Jennifer Haigh
Summary: This tense story about the disparate lives that intersect at a women's clinic in Boston centers around Claudia, who for almost a decade has counseled patients. The work is consuming, filled with unending dramas of women in crisis. Claudia deals with anxieties fueled by frequent anonymous threats and daily demonstrations; her efforts to manage her stress have her crossing paths with a random assortment of characters. Among them is Anthony, a lost soul who spends most of his life online, chatting with the mysterious Excelsior11—the screen name of Victor, an anti-abortion crusader who has set his sights on Mercy Street and is ready to risk it all for his beliefs.
UI connection: Haigh, a Guggenheim Foundation Fellow who has won a Literature Award from the American Academy of Arts and Letters, attended the Iowa Writers' Workshop, graduating in 2002.
---
A Peculiar People
Author: Steven Willis
Summary: In this collection of poems, Willis examines his life experience—the pain of being Black and facing systemic racism. Willis crafts a cast of characters, showcasing their struggles, identities, and underlying emotions. He weaves pop-culture and screenwriting elements to allow the reader to view this social commentary with a fresh lens. 
UI connection: Willis received an MFA in theatre arts in 2021 and is a current student of the Iowa Writers' Workshop.
Related content: "Marrying love of performance with poetry"
---
Quarry's Blood
Author: Max Allan Collins
Summary: The hit-man hero known as Quarry returns for his final act. The clandestine assassin has put killing behind him—but after a writer of true-crime bestsellers drops by to announce he's the subject of her next book, killers descend to give him some of his own deadly medicine. As a result, Quarry embarks on a journey into his bloody past to find some answers—and settle old scores. This final installment brings the 45-year saga right up to the present day.
UI connection: Collins, who won the Shamus Award for outstanding achievement in private eye fiction in 1984 and 1992, attended the University of Iowa Writers' Workshop, receiving an MFA in 1972.
---
Unsinkable: Five Men and the Indomitable Run of the USS Plunkett
Author: James Sullivan
Summary: Unsinkable traces the individual journeys of five men on one ship from Casablanca in North Africa, to Sicily and Salerno in Italy, and then on to Plunkett's defining moment at Anzio, where a dozen-odd German bombers bore down on the ship in an assault so savage, so prolonged, and so deadly that one Navy commander was hard-pressed to think of another destroyer that had endured what Plunkett had. After a three-month overhaul and with a reputation rising as the "fightin'est ship" in the Navy, Plunkett (DD-431) plunged back into the war at Omaha Beach on D-Day, and again into battle during the invasion of Southern France—perhaps the only Navy ship to participate in every Allied invasion in the European theater.
UI connection: Sullivan, who has written for The New York Times and National Geographic, attended the University of Iowa Writers' Workshop, receiving an MFA in 1992.
---
You Have a Friend in 10A
Author: Maggie Shipstead
Summary: Some of the storylines in Shipstead's first short story collection: A love triangle plays out over decades on a Montana dude ranch. Mistakes and mysteries weave an intangible web around an old man's deathbed in Paris, connecting disparate destinies. A hurdler and a gymnast spend a single night together in the Olympic village. On the slopes of an unfinished ski resort, a young woman searches for her vanished lover. A couple's Romanian honeymoon goes ominously awry. A former child actress breaks with her life in a Hollywood cult.
UI connection: Shipstead, the winner of the Dylan Thomas Prize and the L.A. Times Book Prize for First Fiction, attended the University of Iowa Writers' Workshop, receiving an MFA in 2008.
The Iowa Writers' Workshop website features these books and others written by workshop-affiliated authors. The list stretches back to 2014—find your next read!