Meet Kid Captain Cooper Estenson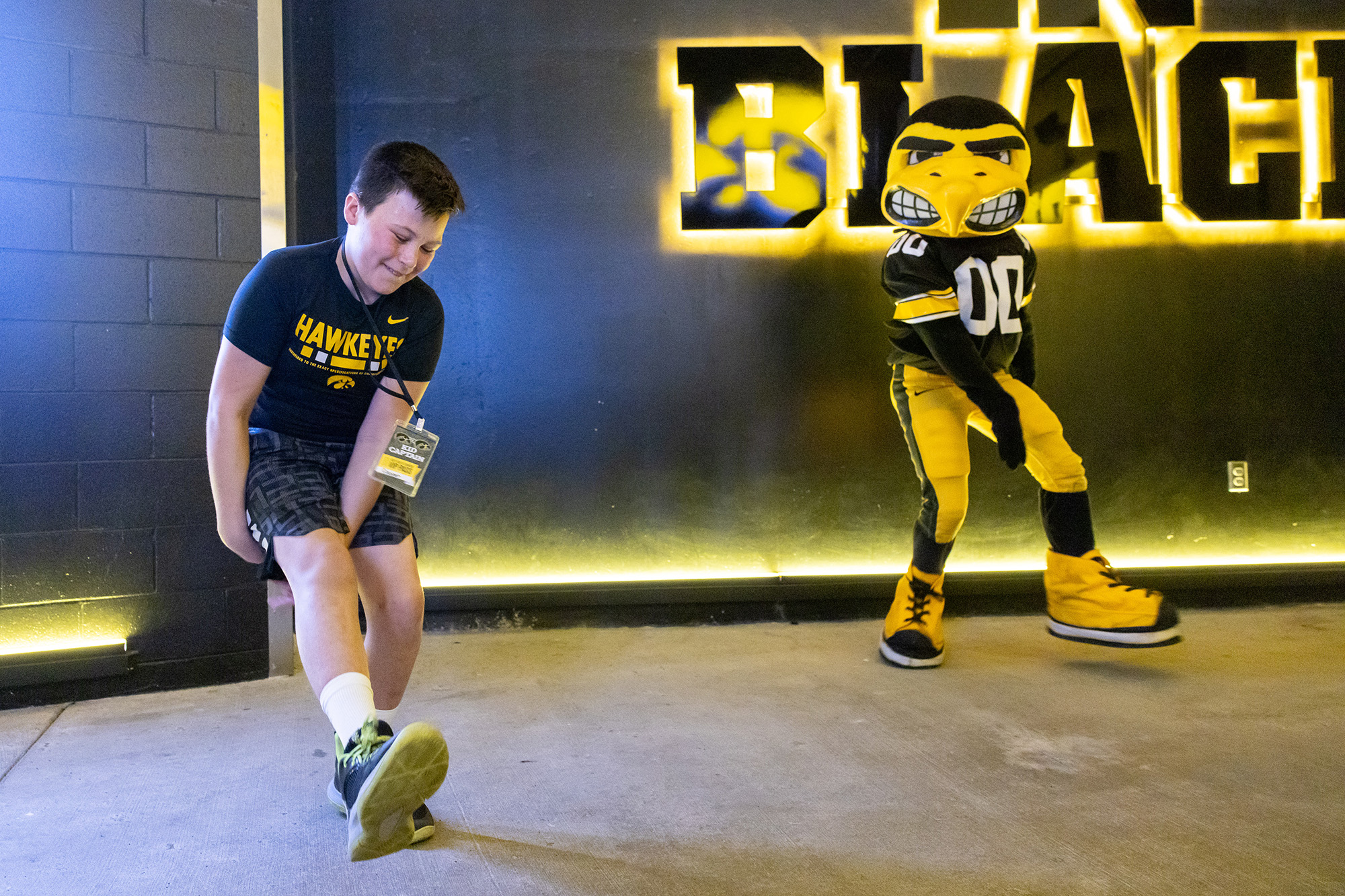 After he was diagnosed with leukemia, Cooper worried he would never be able to leave the hospital. His care team at UI Stead Family Children's Hospital made sure the North Liberty, Iowa, boy's fears did not become reality.
UI Health Care Marketing and Communications
In November 2021, Cooper Estenson became plagued with unusual nausea, frequent headaches, extreme fatigue, a pale complexion, and bruising on his body.
"I just wanted to lie on the couch and sleep," Cooper adds. "I didn't really have an appetite."
The lack of appetite was particularly unusual and concerning for the parents of the active youngster, who had just finished a successful season of modified flag football.
"He was just very off, not himself and very pale," remembers his mother, Kim Pederson.
"We knew something wasn't quite right, but we were having trouble pinpointing what it was," says Cooper's dad, Mike Estenson.
The No. 1 children's hospital in Iowa
University of Iowa Stead Family Children's Hospital is Iowa's only nationally ranked children's hospital, offering all pediatric subspecialties and caring for kids from all 99 counties in Iowa. We provide world-class pediatric care that families trust—and kids deserve.
Cooper underwent testing at University of Iowa Stead Family Children's Hospital in early December 2021. He was soon admitted and began treatment for T-cell acute lymphoblastic leukemia (T-ALL), a type of blood cancer that begins in the bone marrow and can spread to other organs.
'In good hands'
Kim, who lost a childhood friend to leukemia, says the research into treatments has been "phenomenal," giving her hope and faith in the hospital's oncology team. 
"Cooper looked me in the eyes and asked, 'I am never going to get out of here, am I?'" Kim recalls. "He was sick. Very sick. I couldn't lie because I didn't know what the future held. I replied, 'I don't know, baby. But we are in good hands.'"
Treatment started with high-dose steroids and Cooper was hospitalized for two weeks after his diagnosis. While the steroids attack the leukemia, they can also stress the kidneys and liver and can even lead to kidney failure.
Cooper's kidneys and liver struggled with the treatment, requiring him to complete a short round of dialysis.
"This was a really concerning time for us," Mike says. "We were in the PICU [Pediatric Intensive Care Unit] and Cooper was under frequent monitoring, including complete bloodwork counts every four hours. The dialysis definitely helped his body catch up and afterward we were able to transfer out of the PICU."
Despite being worried about the timing in December, Cooper was released a week after dialysis ended to be home for Christmas, wanting to see the family who couldn't visit him in the hospital because of COVID-19.
"We went home with a whole slew of different medications, and it was really hard because he was throwing up all the time," Kim says, creating a concern that his body wasn't absorbing the medications.
"Steroids do an amazing job short-term, but long-term, they're pretty hard on the body," Mike says, adding that Cooper became very weak and couldn't even get out of bed that January.
Thankfully, Cooper's care team re-evaluated and changed his treatment plan. But Cooper would be admitted to the hospital several times after his first admission, including a time in August 2022 for a serious bacterial infection that could have led to emergent surgeries to remove areas affected by the infection. Thankfully, his parents said, no emergent surgeries were needed and Cooper's immune system finally recovered enough to fight off the infections.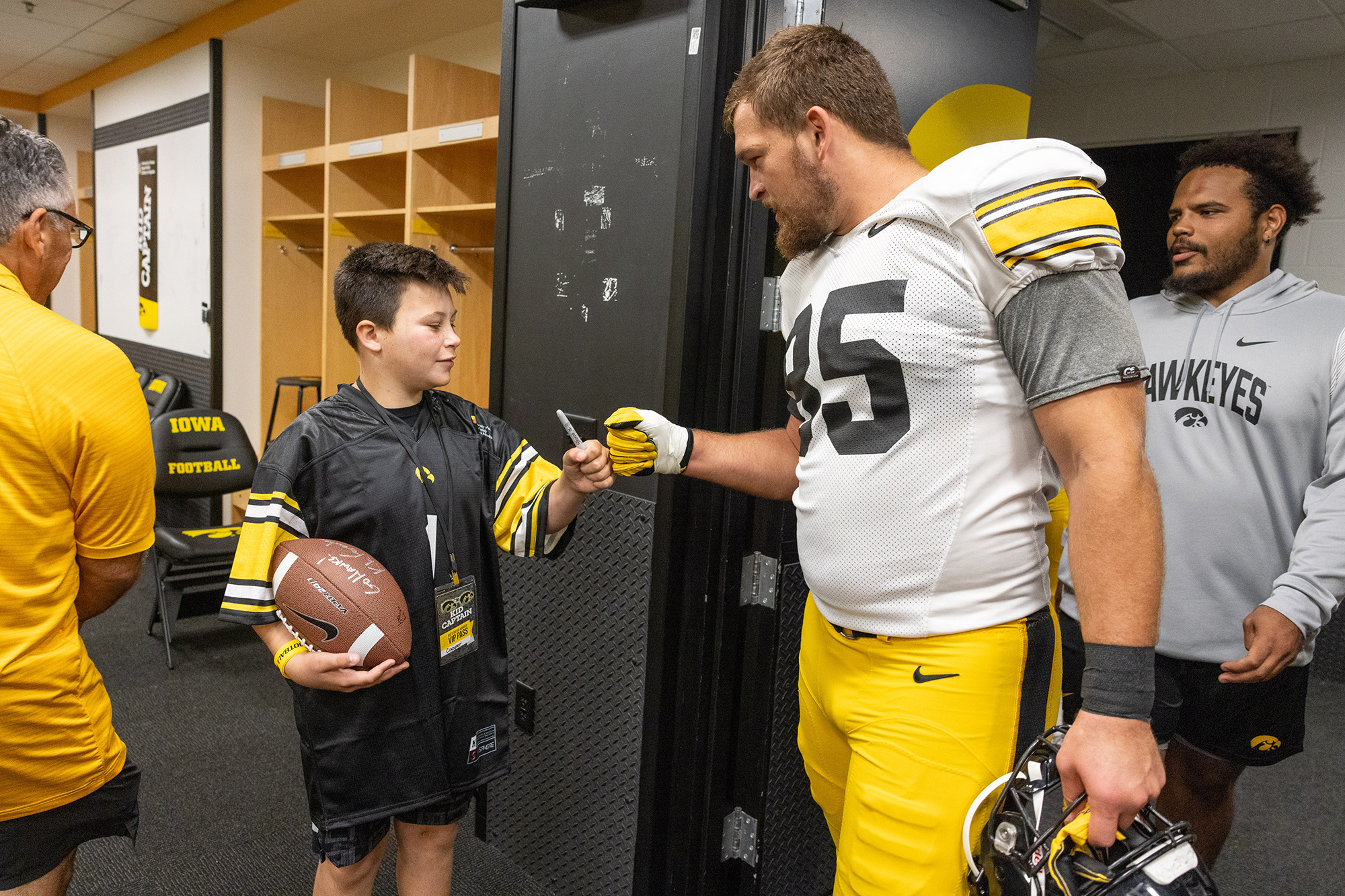 "We could not have hand-picked a better team and group of professionals to trust our child's life with. From Day 1, the staff have been our angels."
mother of UI Stead Family Children's Hospital patient Cooper Estenson
The miracle in their own 'backyard'
Kim, who previously worked in the PICU, says she has a greater appreciation for what is essentially in their "backyard."
"We now have a very different perspective about just how amazing this hospital is," she says. "They always had the time to sit in the room and answer questions we've had. They knew how overwhelmed we felt as parents, and how overwhelmed Cooper was."
"They're not just doing their job," Mike adds. "You can tell that they care."
Cooper continues chemotherapy infusions nearly two years later and takes other medications at home, including oral chemo. Treatments are expected to continue into 2024.
If your child has been diagnosed with leukemia or lymphoma, you want answers, hope, and an expert team who will be by your side. University of Iowa Stead Family Children's Hospital provides that comprehensive support to families like yours.
When diagnosing childhood cancers and blood disorders such as leukemia and lymphoma, we use the latest technologies to precisely identify and understand the behavior of the disease. Then we work to aggressively attack the cancer cells and prevent them from spreading.
Every aspect of our care and our environment is designed to serve the needs of children and their families.
Waving back
Throughout treatment, Cooper has maintained a positive attitude. Through painful procedures and time lost being a "normal" child, his parents say Cooper's amazing sense of humor has never wavered. An avid Hawkeye football fan, Cooper's favorite part of the game is "the Wave," so his family organized a wave prior to his discharge in December 2021, including multiple businesses, family, friends, and first responders from Johnson County, armed with glow sticks, music, and signs.
"It was tear-jerking," Kim says, recalling people with flashlights waving back from windows in the hospital. "We had an amazing turnout. It made Cooper and a lot of other kids smile."
Now 11, the North Liberty fifth grader enjoys art, basketball, swimming, hunting, fishing, golf, and playing with his family dogs. Cooper also is a big fan of the Minnesota Vikings, and his favorite player is Justin Jefferson.
"We could not have hand-picked a better team and group of professionals to trust our child's life with," Kim says. "From Day 1, the staff have been our angels. From our amazing doctors and nurses, to housekeeping, the teachers that allowed him to not fall back in school, psychologists, and others, this hospital has been our lifesaving miracle."
"We would like to recognize and thank all the medical professionals who have helped to care for Cooper," Mike says. "Special shout-out goes to his main team of doctors!"