Meet Kid Captain Lincoln Veach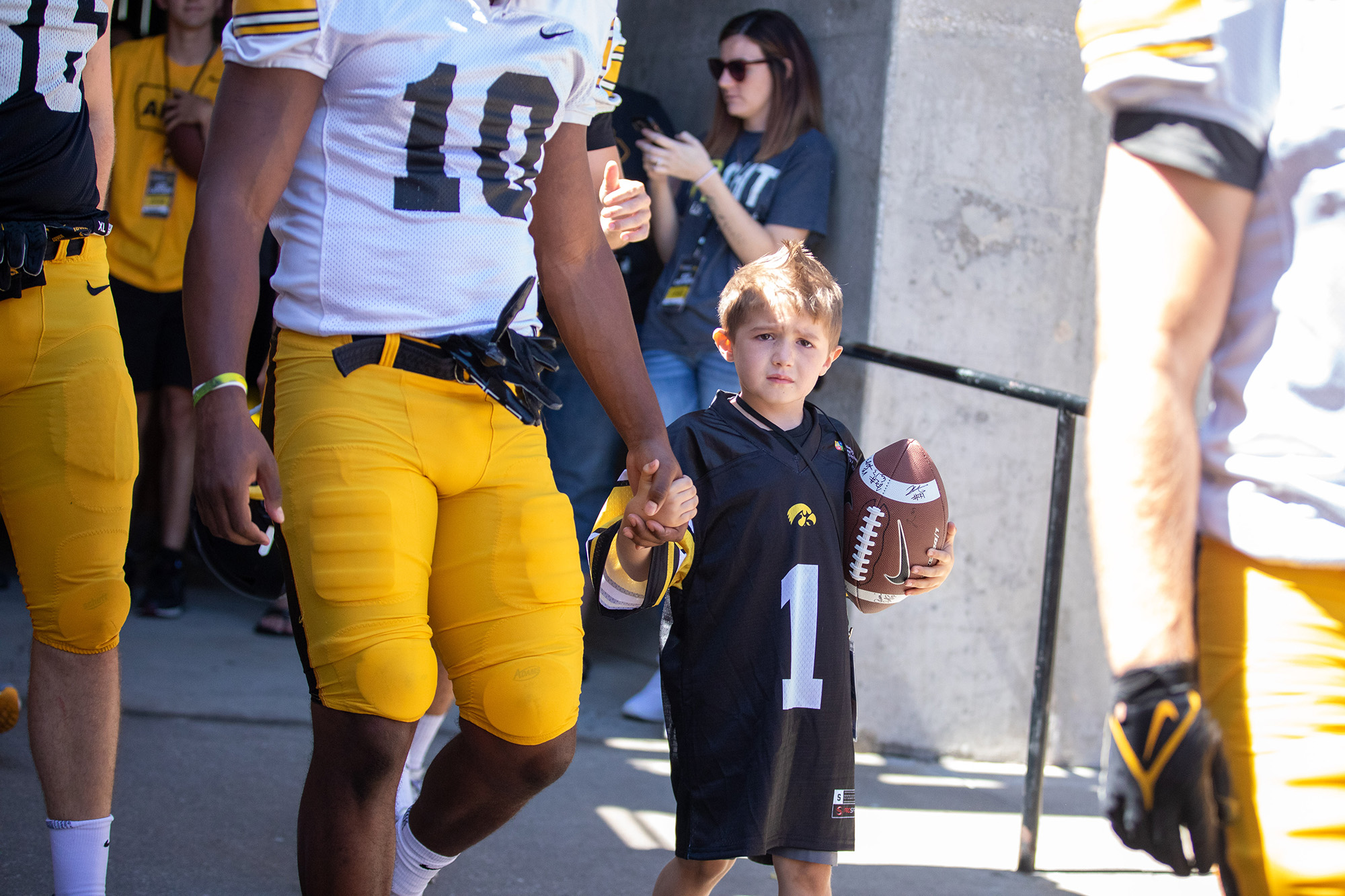 On the heels of a leukemia diagnosis, the young boy from Maquoketa, Iowa, faced the grim prospect of a flesh-eating disease. UI Health Care providers put Lincoln on the road to recovery and supported his entire family through it all.
UI Health Care Marketing and Communications
Lincoln Veach and his family have been through the ringer the past two years. From the shock of a leukemia diagnosis to a life-threatening disease, the young boy spent 112 days at University of Iowa Stead Family Children's Hospital.
It all began around Lincoln's fourth birthday, when he fell ill and became increasingly tired.
"He had been fairly normal and active up until that time," his mother, Courtney, remembers.
He was diagnosed with an ear infection and was given an antibiotic, but his condition didn't improve. Soon, his stomach became distended, as his spleen and liver enlarged. Lincoln's pediatrician then ordered tests, including an X-ray of his abdomen. The tests indicated leukemia, and the family was referred to UI Stead Family Children's Hospital.
The No. 1 children's hospital in Iowa
University of Iowa Stead Family Children's Hospital is Iowa's only nationally ranked children's hospital, offering all pediatric subspecialties and caring for kids from all 99 counties in Iowa. We provide world-class pediatric care that families trust—and kids deserve.
Care plans evolve with shocking disease
Courtney and her husband, Joe, drove Lincoln to the hospital, where they confirmed the diagnosis of B-cell acute lymphoblastic leukemia, a cancer that affects B lymphocytes, which are white blood cells that grow within bone marrow.
"It was a shock," says Courtney, who was pregnant with the couple's fourth child at the time. "He had been so healthy up until then."
The night staff was waiting for the family when they arrived at the hospital around midnight and ran more tests before developing a course of treatment for Lincoln. The initial plan called for a two-week stay, which included chemotherapy.
About a week later, however, Lincoln began spiking fevers and his right leg was in severe pain. Doctors determined he had necrotizing fasciitis—commonly known as flesh-eating disease—a sudden bacterial infection that can be fatal.
Lincoln's parents faced a heart-wrenching situation: allow a risky surgery to try to remove the infection, or simply keep him comfortable—knowing he would not survive.
"We decided to go forward with surgery," Courtney says, recalling the choice in tears.
Searching for hope 
During multiple surgeries to remove the infection, the surgeons at one point considered amputating Lincoln's right leg, but his parents saw a sign of hope. 
"When he was in the ICU, we saw his foot moving and it just didn't make sense," Courtney says. 
Though they understood the risks involved, his parents decided against the amputation, and surgeons eventually were able to take skin from his left leg to repair the wound on his right leg.   
Lincoln was hospitalized from October 2020 to February 2021; during that time, the couple's fourth child was born in December. After surgery, he resumed cancer treatment and was finally discharged after 112 days.
"During some of the scariest moments of our life, UI Stead Family Children's Hospital was there for us the entire time, offering support not only to our child but to our entire family. They did everything to take away any additional stress."
mother of UI Stead Family Children's Hospital patient Lincoln Veach
Meet Lincoln today
Today, Lincoln continues oral chemotherapy at home and still visits UI Stead Family Children's Hospital for checkups, along with physical therapy twice a week. After being in bed for such a long time, he had lost all muscle strength, his parents noted.
"When we started the year, he was in a wheelchair," Joe recalls. "Now he's running around and jumping on a trampoline. It's quite an improvement."
Now 6 and in kindergarten, the rural Maquoketa, Iowa, boy enjoys school, T-ball, and playing outdoors.
"He doesn't seem to let anything bother him," Courtney says. "He just interacts with his friends and wants to do all those things that his friends are doing."
If your child has been diagnosed with leukemia or lymphoma, you want answers, hope, and an expert team who will be by your side. University of Iowa Stead Family Children's Hospital provides that comprehensive support to families like yours.
When diagnosing childhood cancers and blood disorders such as leukemia and lymphoma, we use the latest technologies to precisely identify and understand the behavior of the disease. Then we work to aggressively attack the cancer cells and prevent them from spreading.
Every aspect of our care and our environment is designed to serve the needs of children and their families.
'Miracles do happen'
As Lincoln continues to grow, doctors will monitor his growth plates because he had so much work done to his right leg. The plastic surgery team informed Lincoln's parents that he will need a future surgery to release the tight scar tissue in his leg.
"Throughout Lincoln's lengthy hospital stay, I really appreciated that they always made sure we were involved, and they always listened to what we were saying," Courtney says.
Joe recalls that one hospital housekeeper brought Lincoln some of his favorite food when he was having a bad day.
"During some of the scariest moments of our life, UI Stead Family Children's Hospital was there for us the entire time, offering support not only to our child but to our entire family," Courtney says. "They did everything to take away any additional stress."
His parents say Lincoln is evidence that "miracles do happen."
"He is proof that you can overcome anything, and he has maintained his sweet smile through it all," Courtney says. "While the journey is not over yet, we are blessed to have him home."