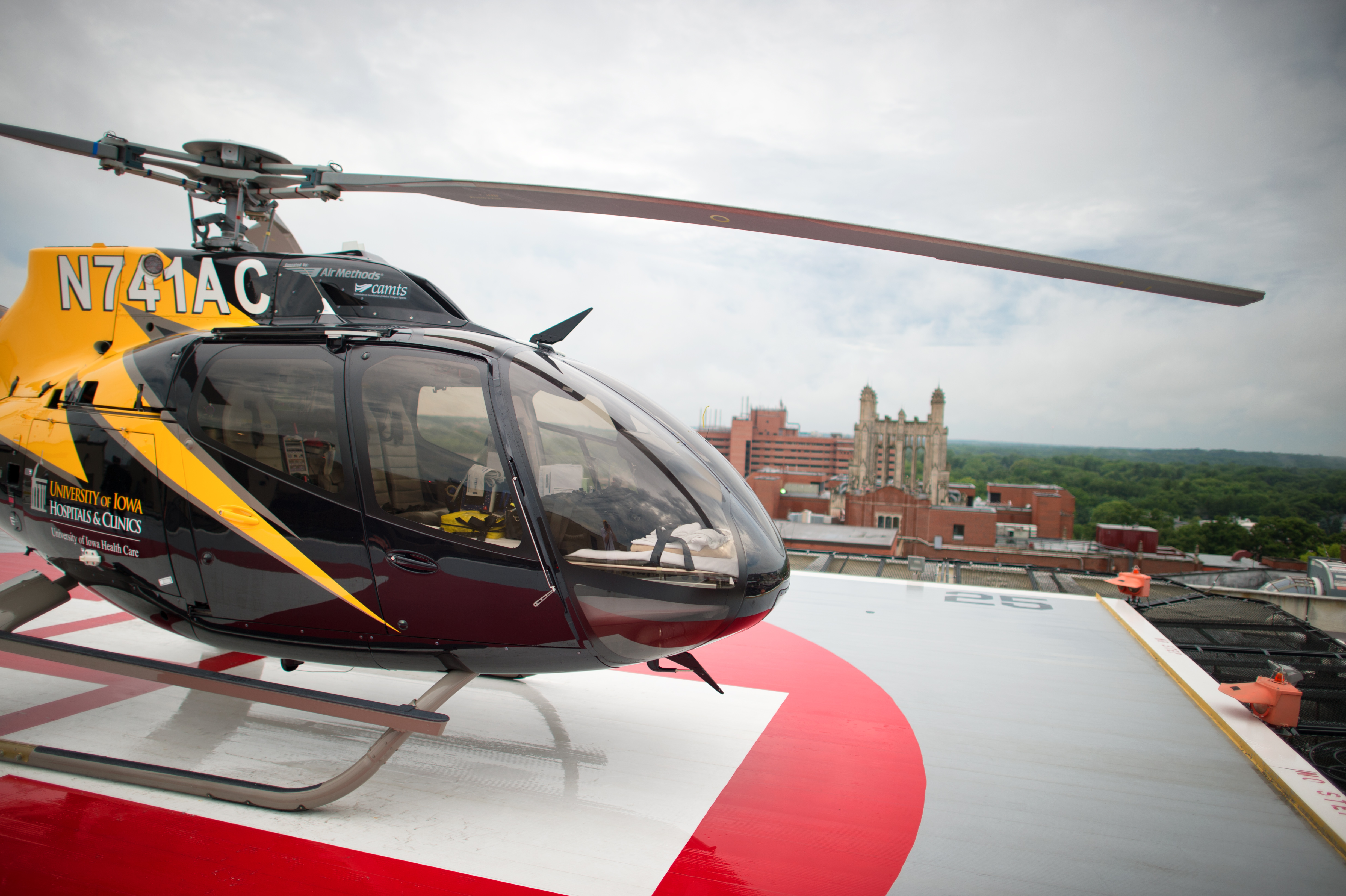 A train accident in small-town Iowa easily could have taken a young father's life in 2018, but a quick response from a University of Iowa medical helicopter gave him a fighting chance. He is one of thousands who have been treated by the AirCare team since 1979.
The last thing Eddie Ortiz remembers after the skid loader he was in was hit by a train was reaching out to grip the hand of a coworker and saying, "Tell Melissa and the kids that I love them."
And then he blacked out.
The West Liberty, Iowa, resident was gushing blood. He had a lacerated liver, a split diaphragm, a broken collarbone, and a severed tendon. One knee and multiple vertebrae were fractured. Lacerations covered the left side of his face. A local volunteer firefighter who worked with Ortiz heard the emergency call come through and rushed across the small eastern Iowa town to the scene of the accident. He urged the first responders to request air transport immediately.
Within minutes, an AirCare helicopter team, part of the University of Iowa's emergency air transport service, arrived to stabilize Ortiz and take him to UI Hospitals & Clinics 30 miles away. Ortiz has lost track of the number of surgeries he has had since that fateful day in August 2018—he thinks it's nine or 10—and he continues to manage anxiety and PTSD related to the accident.
Eddie Ortiz survived a collision involving the skid loader he was operating and a train. An AirCare helicopter team, part of the University of Iowa's emergency air transport service, arrived to stabilize Ortiz and take him to UI Hospitals & Clinics. "I am so thankful to be here still, to be able to watch my kids grow up and maybe enjoy grandkids," Ortiz says.
But Ortiz lived to return home to his fiancée and two young children and to his job in West Liberty's public works department. Another 10 minutes at the scene, and the outcome could have been very different. The sooner critical care begins after a traumatic injury, the higher the likelihood of survival—a concept known in medicine as "the golden hour."
"I am so thankful to be here still, to be able to watch my kids grow up and maybe enjoy grandkids," Ortiz says. "Now, every time I see an AirCare helicopter overhead, I make a sign of the cross and say a prayer."
To expedite medical treatment for trauma patients like Ortiz and others in the region with time-sensitive or complex conditions, AirCare maintains helicopter teams 24/7 at three bases: Iowa City, Dubuque, and Waterloo, each operating with a 125-mile radius.
What AirCare offers, however, is more than a quick lift to the hospital, says the service's medical director Sven Steen. It also brings the high-level critical care that the University of Iowa is known for to patients in Iowa and surrounding states who might not otherwise have access to it.
"It's not just the time that's important but also the skills, expertise, and capabilities of our response teams," says Steen, who earned an MD from Iowa in 2014. "In addition to needing a strong clinical base to perform procedures that stabilize a patient for flight, including advanced airway management and the administration of medications, crew members have to think critically and independently with limited resources. Some of our staff members have been on more than 3,000 flights—that experience is invaluable."
How AirCare works
Each base is staffed with University of Iowa paramedics, nurses, and neonatal/pediatric nurses, who alternate shifts to provide 24-hour coverage; flight physicians, including Steen and a cohort of physicians training in certain subspecialties at Iowa, also may join AirCare response teams. Pilots, who are employed by the privately owned helicopter service Air Methods Corp. but work in tandem with UI Health Care providers, regularly monitor the weather and other safety conditions.
Requests for transport come through a dispatch center in Omaha. When a flight is approved and cleared by the pilot for takeoff, team members kick into action. Nick Nedza, a flight paramedic based at UI Hospitals & Clinics, says the shift crew can be spread out across the hospital, assisting with other medical procedures, when a message comes through alerting them to an impending flight. But they move quickly with razor-sharp focus: A patient needs their help.
"As soon as we get the notice, we develop tunnel vision and take a dedicated elevator to the ninth floor. We grab our helmets, medicine, and blood supply and head to the helipad on the roof of the hospital," Nedza says. "The goal is about nine minutes to liftoff."
Space inside the helicopters is tight—approximately the size of a minivan's interior—with room generally for the pilot, a nurse, a paramedic, the patient, and limited supplies.
Being a flight paramedic is a dream job for Nedza, one he started in 2011 and one he plans to retire from.
Get additional details about University of Iowa's AirCare, including a history of the service, activation criteria, and response times, on its website.
"Every patient is different and of the highest acuity, and every day I get to be a part of the team to help," he says. "Almost everything we do is life-changing. If you're lucky enough to get a job here, you don't ever leave."
As one of the state's two Level I trauma centers—and the state's only Level I pediatric trauma center—UI Hospitals & Clinics provides the highest level of care for trauma patients. Many AirCare calls are related to vehicle accidents, falls, explosions, or gunshot wounds. Other conditions that warrant air transport include acute neurological deficit, heart attack, sepsis, and anything involving critically ill newborns and children. There is always a flight nurse with neonatal/pediatric specialty on the AirCare schedule.
The bases average one or two flights a day. Nedza might not fly at all during a 12-hour shift—or he may go up six times. The most common calls, he says, are for patients with stroke or trauma: "The University of Iowa is the place to come for any medical conditions inside your skull or anything time-sensitive."
A common misconception, says AirCare nurse manager Diane Lamb, is that the providers perform surgery in the air.
"We don't do a lot of intervention in the helicopters. And we don't cut cars apart to extract patients," she says. "Our goal is to get the patient off the scene very quickly and provide the most high-quality and efficient care we can in a timely manner, monitoring them and providing blood and medications as needed."
And though many patients are brought to UI Hospitals & Clinics for treatment, AirCare will take patients to whatever facility is most appropriate. Once back at the base, Nedza explains, the team prepares a medical report, cleans the equipment, and restocks for the next call, which could come any minute.
"With AirCare, we are able to bring University of Iowa expertise to the bedsides and roadsides of Iowa. That's vital to the state in terms of patient survival."
Service has wartime roots
Emergency air transport dates back more than 100 years to World War I, when militaries first began airlifting injured soldiers to hospitals. By the time of the Korean War in the 1950s, the U.S. Army was regularly using helicopters to evacuate the wounded from the battlefields, as depicted in the popular TV show M*A*S*H. Air transport showed improved outcomes for evacuated patients, so the service ramped up during the Vietnam War.
Shortly thereafter, air transport operations for civilian patients began popping up in the U.S., and in 1979 the University of Iowa established the first hospital-based emergency helicopter service in Iowa—and the 11th in the nation. A second helicopter base was added in Waterloo in 1988, and a third was established in Dubuque in 2016.
When the AirCare emergency helicopter service at the University of Iowa Hospitals & Clinics made its first flight in 1979, it was the first hospital-based emergency air medical program in Iowa and the 11th program in the nation.
"With AirCare, we are able to bring University of Iowa expertise to the bedsides and roadsides of Iowa" Lamb says. "That's vital to the state in terms of patient survival."
AirCare now flies some 800 patients annually, and the UI Hospitals & Clinics base is the busiest helipad in the state. More often than not, AirCare is called for interfacility transport—for example, moving a patient from one hospital to another, better-equipped hospital—with scene responses like Eddie Ortiz's accounting for about 15%.
A crew conditioned for critical care
No matter the nature of the emergency—and AirCare staff often know very little as they board the aircraft—patients can count on receiving high-quality care from a committed team on what could very well be the worst day of their lives.
Patrick Doser has been with AirCare since 1991 and is one of the staff members who has logged more than 3,000 flights. The flight nurse quietly reached the milestone in April 2019, taking pride in it but not sharing it with his colleagues until a week or so later.
"It's not about me," says Doser, a 1985 UI College of Nursing graduate. "It's about patient care."
A painful experience in college led him to the job. On a visit to his hometown of Stanwood, Iowa, Doser happened to be the first person on the scene of a fatal accident involving a former high school classmate. He had been the one to inform the woman's parents of her death, and the experience left a mark. He wanted to learn how to help, so he added an emergency medical technician class to his nursing course load and signed on for an internship in the emergency room. When he had the opportunity during the internship to hop an AirCare helicopter for a refueling flight, he found it thrilling—and he discovered his calling. 
"I truly believe that it's the people, not just the sharp-looking helicopter they fly, that puts AirCare in a class of its own when it comes to air medical transport."
emergency medical services fellow at the University of Iowa
But flight nurse is not an entry-level job. It requires that key medical decisions be made on the spot, with little guidance. Strong clinical skills and self-confidence are crucial. Experience is a must. So Doser spent several years working at UI Hospitals & Clinics in the intensive care unit and then in the emergency room, interpreting lab results, managing medication, and learning about diagnoses, before getting a job as a flight nurse with St. Luke's Hospital in Cedar Rapids, Iowa.
When a position opened up with AirCare 18 months later, Doser jumped at the chance to work for the University of Iowa.
"I knew from the outset that I wanted to work for AirCare. Iowa is a tertiary care center, and that made me want to be a part of it," he says. "All complicated patients come here when the facility they are at can no longer care for them due to their acuity."
Nedza also knew early on that he wanted to work for AirCare. He had been exposed to the service and its crew while completing paramedic training through the University of Iowa.
"The amount of experience on the AirCare staff is staggering," he says. "When I got the job offer, it was exciting and terrifying at the same time, but I knew I'd be flying with people who'd been doing it for decades. Working with them has accelerated my learning."
Doser says he learns things every day through the complex cases referred to UI Hospitals & Clinics.
"We deal with a lot of 'one in a million' cases at the UI," he says. "We debrief when we get back from a call and discuss what went well and what didn't. I often research a patient diagnosis after a flight so I know more the next time I encounter it."
---
---
Beyond patient care
The learning associated with AirCare extends even further—to physicians-in-training and the general public.
Growing up in the western Iowa town of Glenwood, physician Shaila Coffey knew people in her community who would travel across the state to receive care at UI Hospitals & Clinics, and that reputation was one thing that drew her to the University of Iowa as she was considering institutions for specialty training in emergency medical services (EMS). Being able to fly with AirCare was another.
As Iowa's EMS fellow for 2019–20, Coffey works two 12-hour shifts with AirCare each month—an experience she says has been invaluable.
"I have learned more from the AirCare providers than they have from me," says Coffey, who became an emergency medical technician when she was 18 and fell in love with the pace of emergency medicine. "They must predict an impending airway failure before it presents itself, exchange medication drips to syringe drips and calculate the drip rate in a split second, and provide critical care medicine to every patient. It is a very specialized job, and I truly believe that it's the people, not just the sharp-looking helicopter they fly, that puts AirCare in a class of its own when it comes to air medical transport."
Coffey says the nurses and paramedics on board work well in tandem, and as a flight physician she serves as the on-scene medical control.
"The two providers know exactly what the other is doing, and it's almost a dance as they work together to provide care," says Coffey, who went to medical school at the University of Nebraska and also completed a residency there. "I am there to help as needed."
Third-year resident physicians training in emergency medicine at Iowa also have the opportunity to serve as flight physicians. In fact, AirCare is the only flight program in the state affiliated with an emergency medicine residency program.
Steen says exposure to air transport is important for emergency medicine resident physicians even if they don't pursue a career in flight medicine.
"All of them will continue to interface with EMS in various emergency departments," he says. "Our residents also participate in education and quality improvement and learn about various aspects of medical oversight that are essential for a high-functioning transport team."
Nedza says being based at an academic medical center like the University of Iowa is beneficial for AirCare staff as well.
Nearly half of Iowa's paramedics and emergency medical technicians receive training through the University of Iowa Emergency Medical Services Learning Resources Center, which has been offering initial and continuing education courses since 1978. AirCare staff work with the center to provide and tailor educational programs to members of the emergency medical services (EMS) community, with topics ranging from hazmat to gunshot wounds to stroke.
"We have this extraordinary institution from which to learn," he says. "Our team has the opportunity to help in the hospital's emergency department, and when we do our clinical rotations, they are in the highest-level intensive care unit in the state. On top of that, we also get to be part of cutting-edge research and employ new techniques and treatments before others do."
Another element of AirCare's mission is public relations, and the helicopters make regular appearances at school events and safety fairs—they are "like supermodels," Lamb says of the aircraft.
In June 2019, the hospital held an open house to celebrate AirCare's 40 years of service. Eddie Ortiz arrived with his family in tow and saw for the first time several members of the crew who had flown him to the hospital. That team included Patrick Doser.
"It was quite emotional," Ortiz says. "I got to thank them and introduce them to my family."
'Such amazing care'
Just before Ortiz left his work site on that fateful day—and ultimately crossed the railroad tracks where no alarms were sounding nor lights flashing—he paused to observe a butterfly that had landed on the skid loader's windshield wiper. It was the same kind that had landed on his uncle's hand at the funeral of Ortiz's grandmother. Both insects, he was sure, were signs from his departed family member.
"I stopped to say, 'Hi, Grandma.' That 10-second delay saved my life. It was like she was telling me that something bad was going to happen and that she'd be with me," says Ortiz, explaining that an attachment to the skid loader took the brunt of the impact. "And I am so grateful for all of the doctors and nurses at the University of Iowa who gave me such amazing care, and for AirCare, which has made a huge difference by saving so many lives."