Alumna donates kidney to fellow Hawkeye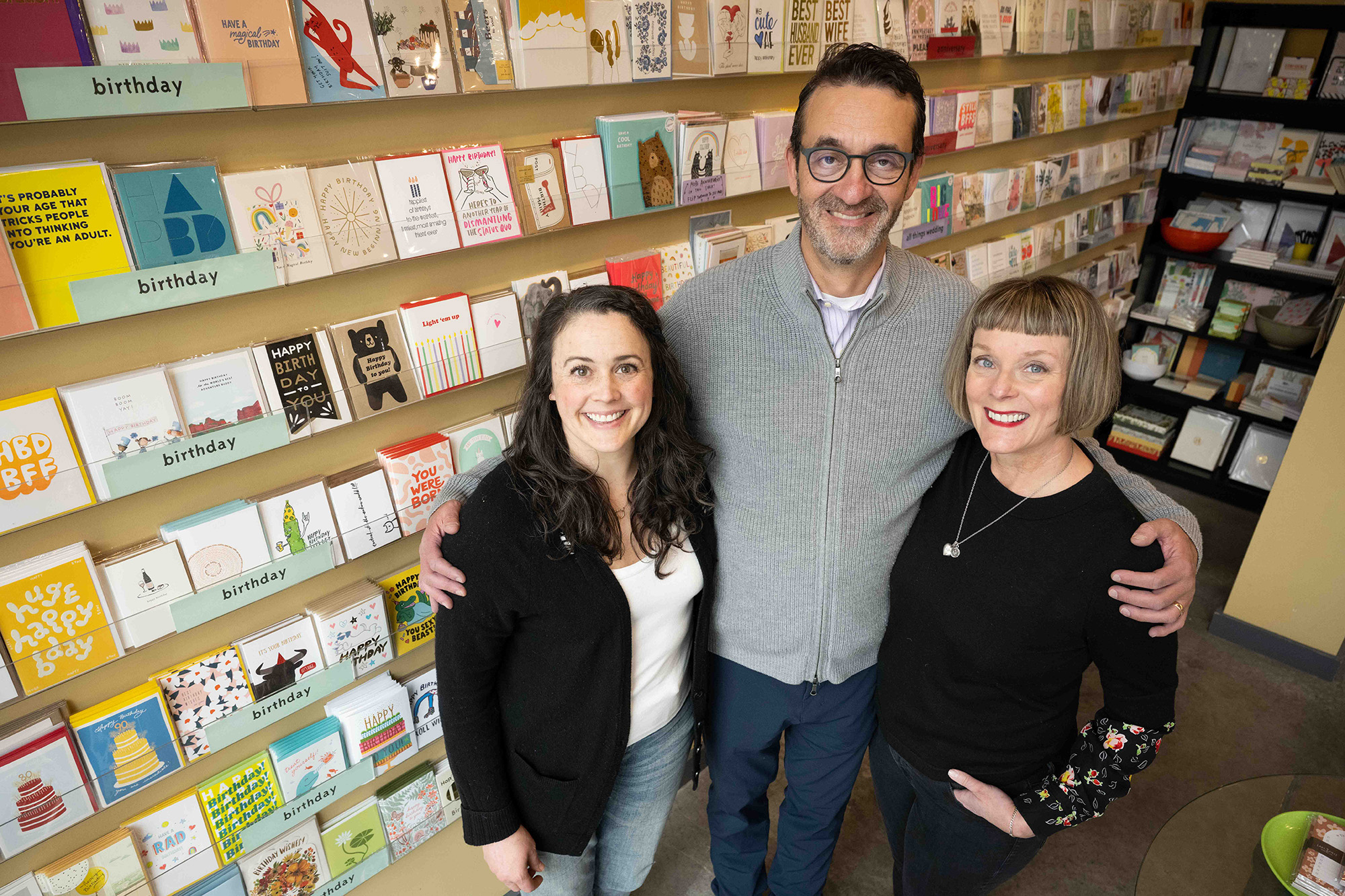 Serendipity led Christine Hayes to become a living organ donor to her Iowa City neighbor with polycystic kidney disease. More than a year after the transplant surgery occurred at University of Iowa Hospitals & Clinics, both are doing well.
Tricia Brown and Sara Epstein Moninger
If Christine Hayes were looking for the perfect birthday card to send to her acquaintance Ron Neems, it might say something like this:
     "Roses are red,
     Violets are blue,
     We share the same birthday,
     How about a kidney, too?"
That might seem like a stretch, but it's not for a University of Iowa graduate known for her drive to help others. Hayes, who earned a BM in 2001, a JD in 2007, and an MA in 2008, works as director of development and communications at Shelter House, an Iowa City nonprofit that helps people overcome homelessness.
Christine Hayes (left) stands with Ron and Niki Neems inside r.s.v.p. in downtown Iowa City. It was in this shop, of which Niki is the proprietor, where the idea of Christine donating a kidney to Ron took shape. 
In the fall of 2021, Hayes stopped by a favorite local shop, r.s.v.p., a greeting card and paper store, and was chatting with proprietor Niki Neems, who was lamenting being called for jury duty. Neems said she didn't feel comfortable being in large groups due to COVID-19 because her husband, Ron, was immunocompromised due to polycystic kidney disease. Ron had been on the transplant list since 2018 and the couple, who met in an undergraduate literature class at Iowa, remained hopeful for a potential donor.
"As Niki continued describing the situation and said Ron's blood type was A, I told her mine was A-negative and if that's compatible, he could have one of mine," says Hayes, who lives in the same neighborhood as the Neemses and knew them just well enough to know that she and Ron have the same birthday.
Hayes bought her cards and went home, but when she later realized she had lost an earring, she reached out via Instagram to the places she had been, including r.s.v.p. She ended her message to Niki with this: "I know I said that flippantly, but I meant it," referring to her kidney.
Niki was stunned. Her husband had been diagnosed 20 years earlier, but his health had begun to decline in recent years as his kidney function decreased. He couldn't tolerate many foods—potassium was bad for his kidneys—and dehydration put the brakes on his active lifestyle.
"Many times, people had reacted in the moment to Ron's story by expressing interest in donation, but no one had contacted us later," Niki says. "I assumed this was Christine's empathetic reaction, and truthfully was glad for her kindness, but did not expect her to follow up."
But follow up she did, and four months later, in January 2022, after clearing the screening process and being deemed a match, Hayes checked in to UI Hospitals & Clinics, and the transplant surgery took place. The operation lasted a couple of hours, and the new kidney, dubbed "Ronstine" by Niki, began working immediately.
"Christine's kidney was perfect—it worked like a champ," Ron says. "I was told that once they 'plugged' it in, it started making urine."
Register as an organ donor—it's easy
Every nine minutes a new person is added to the national organ transplant waiting list, with kidneys topping the list of needed organs in Iowa and across the nation. There are currently more than 100,000 people in the U.S. on the transplant waiting list, including some 600 Iowans.
How you can help:
Register at IowaDonorNetwork.org. A person of any age may register as a donor.
Declare your intention when receiving or renewing your driver's license or when purchasing a hunting, fishing, or fur harvester license.
Tell your family of your wishes.
Learn more about becoming an organ donor, including a living kidney donor, on the UI Hospitals & Clinics website.
---
The University of Iowa Organ Transplant Center is the state's most experienced living kidney donor program, having performed more than 700 living kidney donor transplants since 1990. A living donation is when a living person donates an organ (most often a kidney) for transplantation to another person. UI surgeons perform minimally invasive laparoscopic kidney donor surgery, which allows the donor to be discharged within two days and return to work usually within two weeks. Learn more.
Alan Reed, director of the UI Organ Transplant Center and head of transplant and hepatobiliary surgery, performed the transplant surgery on Ron. Success rates for kidney transplantation, he says, are near 98%, and even higher if from a living donor such as Hayes. Kidneys from living donors can last 20 to 30 years—some even longer.
UI Hospitals & Clinics performs about 100 transplant surgeries a year, Reed estimates, with about 30% of those organs coming from living donors.
"We're the only multiorgan transplant program in the state, meaning we do kidneys, liver, pancreas, heart, and lung transplants," says Reed, who completed an MBA at Iowa in 2012. "We have the expertise—and I don't mean just the technical aspects of the transplant. While that's critically important, I think far more important is the support of an incredible team of intensive care unit doctors, anesthesiologists, nephrologists, hepatologists, cardiologists, and pulmonologists, as well as nurse coordinators, financial counselors, social workers, administrators, and clinical psychologists—a cadre of people working together so that our patients can be successful from beginning to end."
Reed says people would be surprised to learn how commonplace transplant surgery is—and how beneficial it is.
"Not only does transplantation improve somebody's quality of life and allow them to be more successful in school or getting a job or raising a family, but it can also allow them to live longer, live better, and be more productive members of society," he says. "It's cheaper in the long run than staying on dialysis, so it's better for the patient and the patient's family, and it's better for society."
The transplant surgery went well, and both Hayes and Ron were discharged shortly after. "I spent one night in the hospital, and my wounds healed really well," says Hayes. "The hardest part of recovery was keeping the cats from jumping on me."
Hayes attributes the success of her donation to luck—there's a 1 in 100,000 chance that two unrelated people will match—but she also feels it was destiny.
"So much of my life and my growth has been marked by death," says Hayes, who lost her father in March 2014, both grandmothers during the same week in December 2015, and her brother in an accident in December 2016. "I was sitting on my couch one day and it occurred to me that life-giving can be part of my story. So, donating my kidney was not an entirely selfless endeavor—it helped me find my path in a messy world. It was a gift not just to Ron but also to me. Little things, like Ron texting me that he was eating a banana for the first time in years or his daughter thanking me because she couldn't remember the last time her dad had stayed up late, are so meaningful. It's opened up a whole new world of wonder and gratitude."