Avery Bang is building more than bridges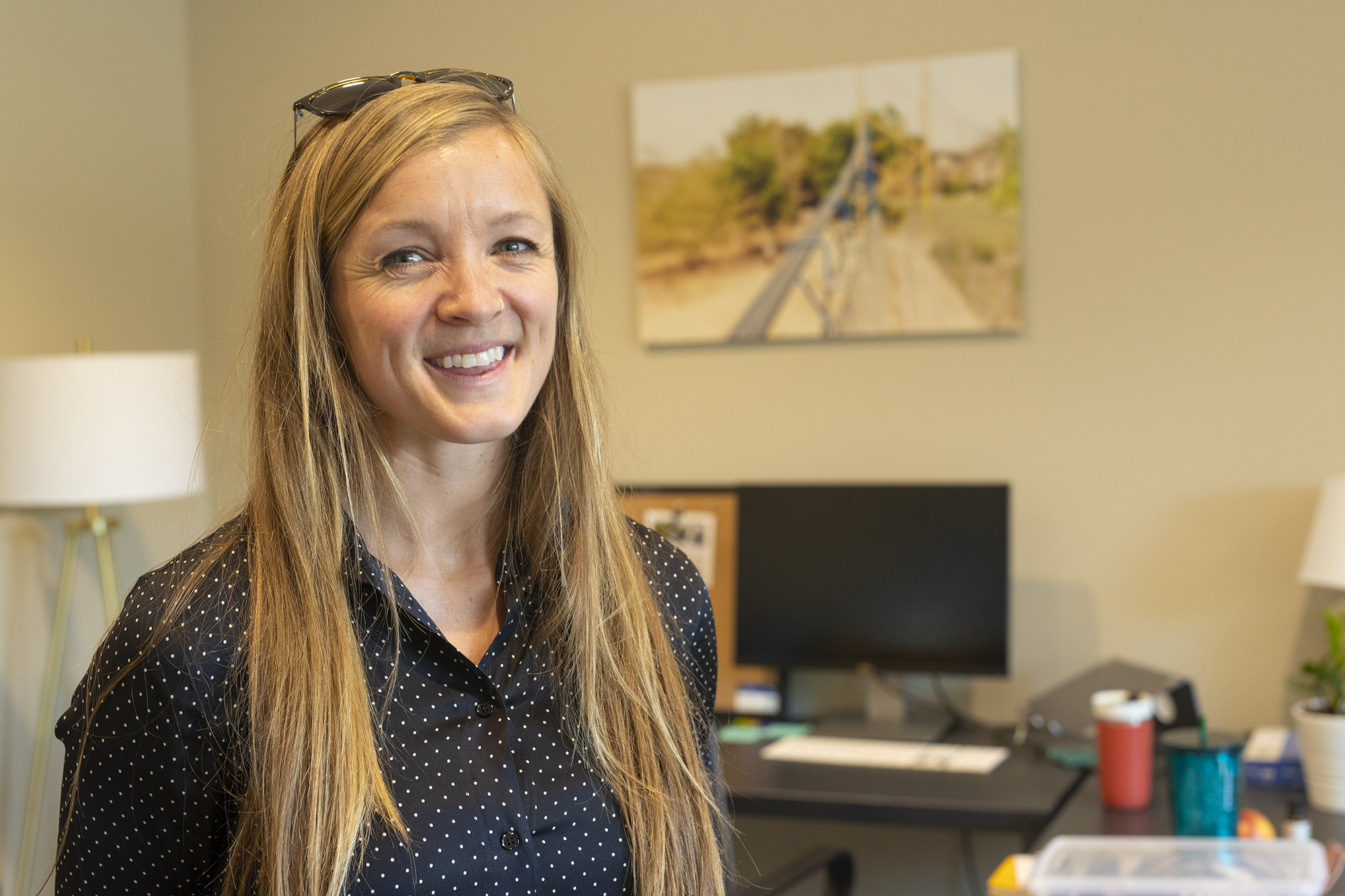 Through the nonprofit organization she leads, the 2007 University of Iowa engineering graduate is connecting people in isolated communities across the globe to opportunity and prosperity.
In the United States, we cross bridges every day, in cars and trains and on foot. So much so that we rarely give it a second thought. If a bridge is closed, it's an inconvenience that often costs us time. At worst, we don't go to work or school or complete our errands that day.
But for many people around the world, the absence of a bridge can have dire consequences. Avery Bang saw firsthand how this lack of access can impact a population when she was a University of Iowa undergraduate studying abroad in Fiji—and she has since committed her career to eliminating these barriers.
In Suva, the island country's capital, Bang volunteered with a breast cancer foundation. At the time, the average diagnosis of the disease on the South Pacific islands occurred at stage four, and one of her tasks was to help distribute pamphlets about early detection among the more rural communities.
Take the first step to joining the Hawkeye family!
Iowa will prepare you, challenge you, and change you. You will change the world. We accept applications year-round, and are currently admitting new students for the following fall semester.
"I'd tag along with a little group of mainly Fijian women with our packet of materials in hand and walk and walk and walk until we came to a river. Our ability to reach the women on the other side—to be able to do something as simple as preventative health care—was decided by how high the river was that day," she says. "I remember thinking how unjust it was that they were not able to have the same service as someone on the other side. And then I started thinking about how their kids couldn't get to school and the farmers couldn't get to market. It's kind of analogous to being born on the wrong side of the tracks. But instead of having those tracks just be an inconvenience, you literally could die on your way across."
Bang, who was studying civil and environmental engineering and studio arts at Iowa, returned to campus determined to find or start an organization building pedestrian bridges in remote areas, and a search led her to Bridges to Prosperity, a small nonprofit in Virginia doing just that. As part of an Iowa honors project in engineering, she rallied a small group of peers to join her in raising funds and building a bridge in Peru and convinced the organization's leader to partner with them.
Long story short: They turned their textbook lessons into a tangible bridge. And, more than a decade later, Bang is president and CEO of Bridges to Prosperity, where she has standardized a footbridge design and overseen tremendous growth. To date, the nonprofit, now based in Denver, has built 310 bridges serving some 1.1 million people over 20 countries in Africa, Central America, and South America.
That sense of purpose Bang discovered as a UI undergraduate remains strong.
"The classroom taught me to be open and curious—I asked myself, 'How can I take this expertise in engineering or this creativity coming from art and blend that with local expertise in countries all around the world?' My experience at Iowa helped me build that humility and perspective, which have been invaluable in my career."
president and CEO of Bridges to Prosperity and University of Iowa graduate
Iowa City native Avery Bang was recruited by the University of Iowa to play soccer. In fact, the minute she received a scholarship offer from Iowa, she knew she was going to be a Hawkeye—and she says her athletic experience has served her well as the CEO and president of Bridges to Prosperity: "Being a Division I athlete at the University of Iowa, I learned very quickly that you have to be accountable to everyone around you. And that has been really important as I've built this global team of people trying to solve poverty in the rural last mile."
"I wake up every day really excited that I have the opportunity to do this," says Bang, who graduated from Iowa in 2007 and fine-tuned a footbridge design as a graduate student in geotechnical engineering at the University of Colorado Boulder. "Oftentimes for people who don't have safe drinking water, are not able to pursue secondary education, or are not receiving proper health care benefits, it is because of a lack of access. One in seven people walk everywhere. If people can't get to where they need to go, all of the money in the world will not solve the education problem or the water problem. To me, transportation infrastructure, and specifically bridges, is at the very foundation of how we can create economic prosperity for people."
Research bears that out. Economists from the University of Notre Dame found in 2014–16 that rural footbridges built in Nicaragua by Bridges to Prosperity boosted farmer profits by 75% and labor market income by 30%—with nearly twice the benefit for women, who previously stayed home when it rained.
Government leaders and philanthropists are starting to take notice, Bang says. In June 2019, Bridges to Prosperity signed an agreement with Rwandan officials to build 355 bridges in that country over the next five years. In addition to maintaining a team in Rwanda, Bridges to Prosperity employs staff in Bolivia, Liberia, and Uganda.
Hear University of Iowa graduate Avery Bang discuss how building footbridges changes lives in this archived 2017 TED Talk.
Building a bridge, Bang explains, is a methodical process that involves collaboration with local governments and partnerships with local industries and can take up to several years. Once a bridge site is selected, a Bridges to Prosperity team mobilizes community members to organize labor and trains them to maintain the structure after completion. Construction usually takes a couple of months.
Seeing the looks on the faces of residents when a bridge is finally complete is inspiring, Bang says.
"Despite all of the photos and schematics you share with them beforehand, hauling rocks and digging holes every day is challenging work," she says. "So to see people convert that effort into 'That's how my kid's going to go to school' is really touching. It's a big part of what motivates me every single day."
Having an international experience, whether part of a UI course, a study abroad program, or a student initiative like Bang's, is becoming increasingly important as U.S. engineering firms step up international work, says Craig Just, associate professor of civil and environmental engineering at Iowa.
Engineers…and something more
In addition to earning an engineering degree, Avery Bang completed a separate degree in studio art. The University of Iowa College of Engineering encourages its students to pursue interests outside the college. To learn more, see the college's website.
"Experiences like Avery's are transformative," says Just, who has led students in water sustainability projects in places like Mexico, Nicaragua, and India. "At the College of Engineering, we strive to give students global experiences, not just as tourists but working with a community on a project. With the population on the planet projected to grow by 2 billion between now and 2050—95% of that in developing countries—college graduates without some global perspective are at a market disadvantage."
Bang says her life-changing honors project in Peru wouldn't have happened without the education and encouragement she received from the University of Iowa. Not only did she learn cement-to-water ratios optimal for durability, for example, she also gained that global perspective.
"I think because of Iowa's geographic isolation, the faculty are really invested in producing global citizens," says Bang, who later earned an MBA from the University of Oxford. "I started to really understand my role coming from a place of relative privilege. I knew I could create profound change, but only when I had a listener-and-learner's mentality. The classroom taught me to be open and curious—I asked myself, 'How can I take this expertise in engineering or this creativity coming from art and blend that with local expertise in countries all around the world?' My experience at Iowa helped me build that humility and perspective, which have been invaluable in my career."
Produced by the University of Iowa Office of Strategic Communication
David Scrivner and courtesy of Bridges to Prosperity