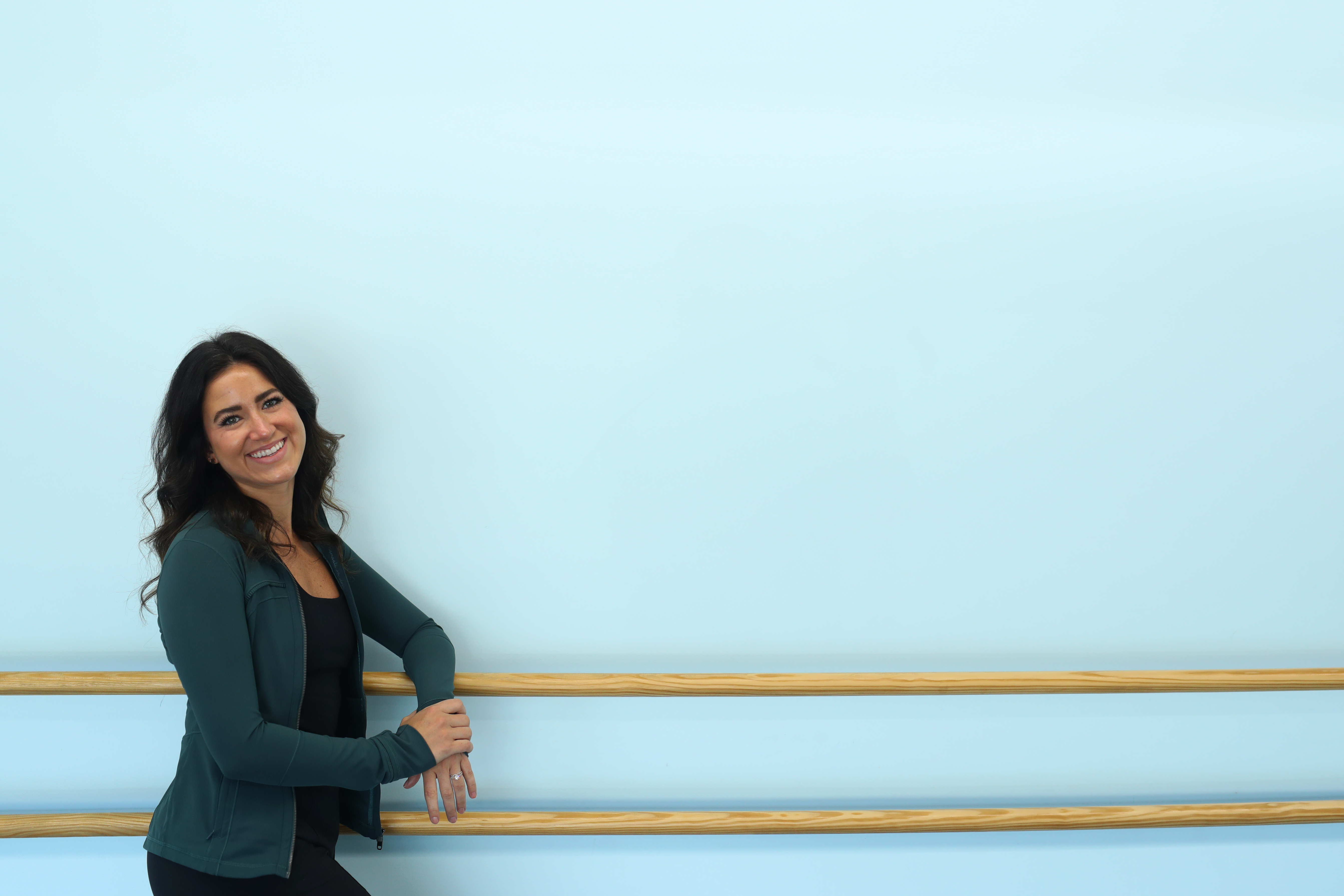 In her work as a dancer, choreographer, and teacher, University of Iowa graduate Kimberly Chmielewski finds that movement brings people together.
Kimberly Chmielewski has danced and choreographed all over the globe, including in Russia and Vietnam, and has received accolades for her work. But the University of Iowa graduate says her favorite performance was at a juvenile corrections facility in Colorado.
It was part of an outreach event led by Denver's Hannah Kahn Dance Company, where Chmielewski has been a dancer since 2013.
"The kids came into the performance area with a chip on their shoulder, like they were thinking, 'Ugh. I have to watch a dance,'" she says. "But we did a lot of collaborative and interactive things with them, like asking them to help choreograph a dance by showing us a move. They'd get a chuckle out of seeing us make a dance with their moves. In fact, it was so empowering to them that, by the end, they were smiling and asking us to come back. Movement has such a power and it has such a healing ability. You can take pride in it because it's something your body created."
In addition to offering comprehensive training in dance technique, performance, choreography, and theoretical studies at the BA, BFA, and MFA levels, the University of Iowa Department of Dance allows nonmajors to take classes—something 1,000 students take advantage of each semester.
Making dance accessible to everyone is her goal, says Chmielewski, who earned a Bachelor of Fine Arts from Iowa in 2012 with a major in dance and a minor in sociology. She is a choreographer, dances with multiple companies as well as independently, and teaches some 80 dance students ages 10–20.
"I feel that some dance is unapproachable, unattainable, that there is no point of connection. For an audience member, you may feel like you're on the outside looking in," she says. "I think I've had success because I like it to be fun. I also do a lot of site-specific work, such as in a park where you don't have to spend $50 on a ticket."
In fact, Chmielewski says, an undergraduate internship with the university's Hancher Auditorium has proved invaluable. At the time, the venue didn't have a permanent home due to flooding, something that forced Chmielewski to think outside the box when considering how to present the performing arts.
"Not having that mainstage theater taught me to be creative about booking events and finding venues," she says. "As a professional dancer, I've performed at art museums because I couldn't afford to rent out a theater. Now I'm planning a performance at a brewery because Denver has a big craft beer scene and I think people will come see dance and have a beer."
Chmielewski hadn't planned on attending college at all. The Chicago native was a serious ballet student by the time she was 7 and attended summer intensives at the renowned Hubbard Street Dance Chicago and the American Ballet Theatre (ABT). She was told she wouldn't have a career in dance if she didn't enter a professional dance company right out of high school.
That's when an invitation from a dance professor at Iowa inspired Chmielewski to rethink her options. George de la Peña, a former dancer with the ABT whom she met through the company's summer intensive, encouraged her to visit Iowa City and consider studying dance at Iowa. She took him up on it and immediately fell in love with the campus and the program.
"Iowa not only cultivates intelligent dancers but also encourages dancers to pursue other interests. Dance can be a short-lived career, so having something I knew I could fall back on was really nice security for me."
professional dancer and choreographer and University of Iowa alumna
Iowa is one of few institutions in the nation offering a liberal arts and dance curriculum at the BA level as well as a more rigorous technical curriculum at the BFA level. Chmielewski says she received conservatory-like training at Iowa and was a member of the dance department's touring ensemble Dancers in Company (now named UI Dance Company). But she also took classes in dance theory, history, and pedagogy as well as in sociology and Spanish—subjects that have informed her work as a choreographer and teacher.
"Iowa not only cultivates intelligent dancers but also encourages dancers to pursue other interests. Dance can be a short-lived career, so having something I knew I could fall back on was really nice security for me," she says, adding that her professors continue to mentor her and that de la Peña recently officiated her wedding. "The UI faculty invest so much in their students and in building those relationships, and that has impacted the way that I treat my students."
Dance students at Iowa have multiple opportunities to perform and choreograph throughout the year. UI Dance Company, the dance department's touring company, is a group of approximately 12 undergraduate and graduate students that tours Iowa and the Midwest offering live concerts, workshops, and demonstrations for audiences of all ages. 
In addition to the Hannah Kahn Dance Company, Chmielewski performs with Nu-World Contemporary Danse Theatre, Moraporvida Contemporary Dance, and Choreographers Collective. She is an instructor and the resident choreographer at the Rocky Mountain Ballet Academy and has taught master classes in the Denver metro area, Chicago, New York City, and Russia, as well as at the University of Iowa.
She was named an outstanding choreographer at the 2018 Youth American Grand Prix, the world's largest student ballet competition, for a piece she choreographed based on people's reactions when they are inconvenienced or annoyed.
"It was a slapstick, vaudevillian composition. People could laugh at it because it was relatable, humanistic, and truthful," she says. "I'm fascinated by basic human movement—nervous tics, embraces, gestures—and how that can be crafted into choreographed movement. We are all on this journey together, so making art that is relatable and comments on our humanity reassures people that they aren't alone."
Rebekah Kowal, associate professor of dance and chair of the department, says she is proud that Chmielewski is an Iowa dance alumna.
"Kim was a standout in terms of the preprofessional training she'd received prior to coming to Iowa, but she had a lot of humility and was open to personal growth as an artist and as a person, and she has done tremendous work since graduating," she says. "It's very exciting that she is traveling the world and is seen as an expert. That reflects on the faculty here—they are a diverse group at the top of their field."
Chmielewski says she continues to draw on her Iowa education and the confidence it instilled in her: "I know that if I want to create a dance about something specific, I have to do the research for it and understand the history of the subject. Iowa gave me the tools to go into situations where I may feel uncomfortable or don't have the knowledge and ask the right questions. I learned how to approach new situations and to not be afraid of the unknown."