Shaping NFL teams' digital playbook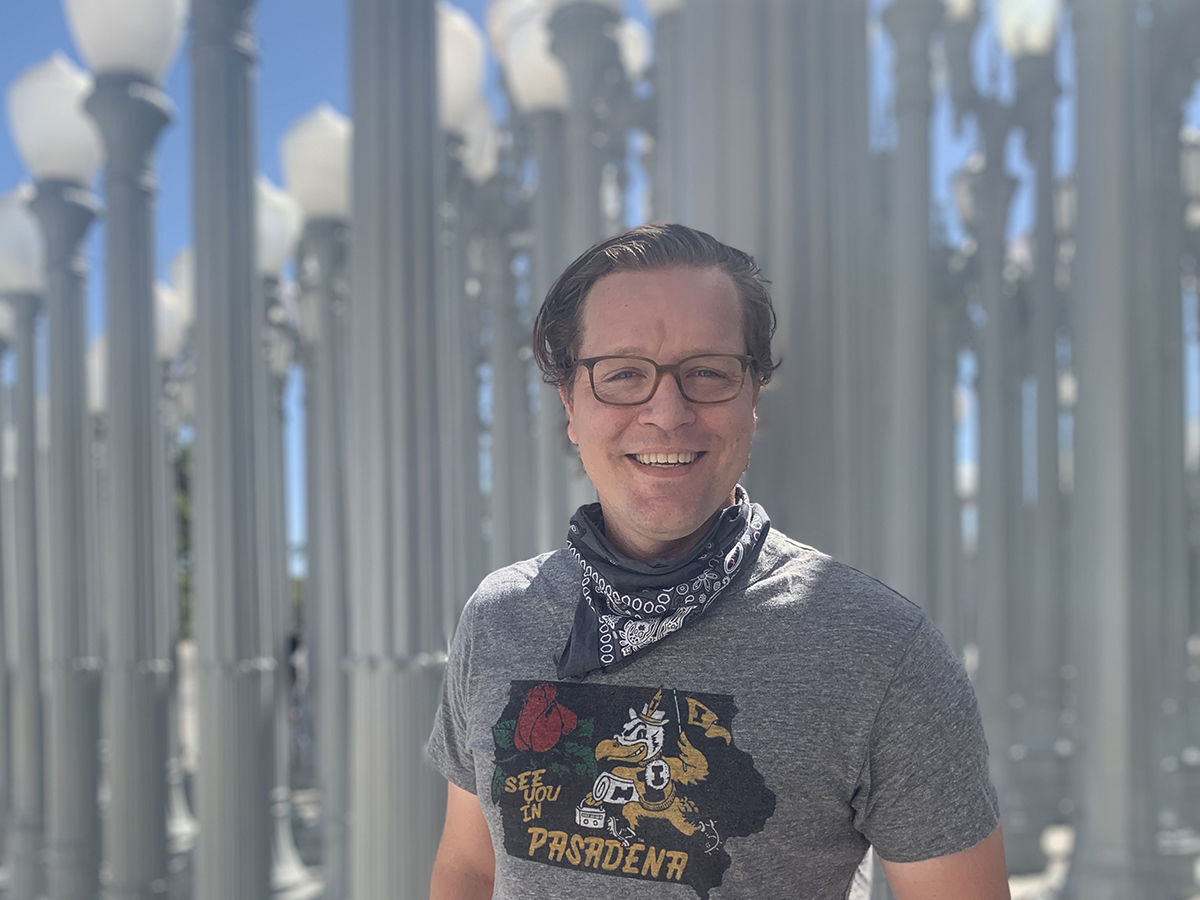 University of Iowa graduate Michael Wiebler uses his cinema arts and marketing degrees to help NFL teams improve their digital storytelling.
courtesy of Michael Wiebler
Michael Wiebler's Hollywood story is like those that have been told a thousand times before, of an unknown Midwesterner arriving in Los Angeles with nothing but a few bucks in his pocket and with hard work, perseverance, and a little bit of luck making a name for himself.
But Wiebler's story isn't about someone who becomes a big screen star, like the plot of an old black-and-white potboiler TCM shows in the middle of the afternoon. His story takes us from the front offices of motion picture studios to the NFL, where today Wiebler is the director of content strategy in the league's Club Media Group. A 14-year Angeleno now, Wiebler feels comfortable in L.A. But when he first arrived, as an Iowan surrounded by the glitz and glamor of Hollywood, he didn't feel completely in his element.
"I was hesitant about the fact I was from Iowa," says Wiebler, a Davenport native who graduated in 2006 with Bachelor of Arts and Bachelor of Business Administration degrees in cinema arts and marketing, respectively. "I was working with people who graduated from Ivy League universities and Hollywood blue-blood families that were in the industry for generations. I wasn't sure what they would think about someone from the Midwest.
"But after a while, I wore it on my sleeve because I realized it was an asset," he says. "People saw I was from the Midwest and they know that meant I'd work hard. I was really passionate about my job and I wasn't interested in just being seen."
Take the first step to joining the Hawkeye family!
Iowa will prepare you, challenge you, and change you. You will change the world. We accept applications year-round.
Wiebler grew up loving movies and football, hoping that he could make a career in one of them. But after playing a season at St. Ambrose University, he knew football wasn't going to happen and he shifted his focus to show business. He transferred to Iowa and majored in cinema arts, indulging his love for football with season tickets to the Hawkeyes, and even rushing the field after the win over Wisconsin that clinched the 2004 Big Ten title.
He also knew that two languages were needed to succeed in Hollywood—creativity and money—so he later added a second major in marketing to be fluent in both.
"I was passionate about movies and entertainment, but I also liked the business aspect, and this was a way to study the convergence of commerce and art," he says. "Marketing gave me the business education that prepared me for my career while cinema taught me how to think critically about texts and writing. They're two different schools of thought, in business and the liberal arts, and two different languages. Knowing both has helped me a lot."
The two people he says were most influential during his education were David Collins, the legendary now-retired marketing faculty member in the Tippie College of Business, and Bret Gothe, assistant to the associate dean in the Division of Student Life. Collins provided him no-nonsense counsel as president of the Tippie student chapter of the American Marketing Association, and he took two of his classes. Gothe was Wiebler's supervisor when he was a student worker in the IMU Marketing and Design department.
"He helped me apply what I learned in the classroom to what we were doing on the job, and he helped me sort through my thinking about a summer internship I was offered at Paramount and my subsequent move to L.A. after graduation," he says. "He was a great champion of mine."
Gothe says he saw Wiebler's work ethic often while he worked at IMU Marketing.
"Mike was such a generous person," says Gothe, who was creative coordinator at the time he supervised Wiebler. "He's really thoughtful about other people, and really driven to do the best work he can. He has a way of getting things done. He wasn't deterred by anything, and when he would finish, he said, 'I'm done. I need something else to do.'"
After graduating, Wiebler landed his first job in Hollywood within a few months of arriving, as assistant to the chairman of Universal Pictures. Working so closely with the chairman gave him an up-close look at the picture-making process and introduced him to hundreds of show business players. He later moved on to marketing and media strategy positions at three other production studios, including Illumination Entertainment and Sony Pictures, and also produced his own independent feature film, The Grace of Jake, which was released in 2016.
"It was a passion project for me and something I felt I needed to do," he says of the three-year process of getting the picture made. It earned decent reviews and was selected for several film festivals around the country, including two in Iowa. It's currently streaming on Starz for anyone who wants to watch it.
"Marketing gave me the business education that prepared me for my career while cinema taught me how to think critically about texts and writing. They're two different schools of thought, in business and the liberal arts, and two different languages. Knowing both has helped me a lot."
Iowa alumnus and director of content strategy in the NFL's Club Media Group
Wiebler finally brought his love of movies and football together when he landed with the NFL in September 2019, as director of content strategy in the league's Club Media Group at the NFL Network facility in L.A. There, he oversees an in-house consulting firm of sorts, working with all 32 NFL teams to develop better content for their digital platforms.
"Each team has different goals for their digital media and we work to support each of them, tailoring our guidance depending on their specific needs," Wiebler says. For instance, he says the Los Angeles Chargers are working to establish themselves in a new market, having just relocated from San Diego two years ago, and are opening a new stadium this season. Wiebler's team has been working closely with the Chargers' production team to produce and distribute content to generate new fans.
"We advise them on how to shape their content and push it out through wider distribution," he says. That partnership takes the form of a Chargers livestreamed post-show following the team's appearance on this season's hit HBO series Hard Knocks.
But for the Pittsburgh Steelers, a legacy team with deep roots in its community, their goal is reinforcing and rewarding their fans' intense loyalty. They've found success by uploading to YouTube classic games from the team's decades of success, with add-ons that give fans something new to watch. A recent rebroadcast of the team's Super Bowl XLII win over the Arizona Cardinals, for instance, included commentary from several Steeler stars who played in the game.
This season, of course, has been tricky, as the COVID-19 pandemic has thrown all plans into disarray. Wiebler was part of the team that televised the annual draft, which was scheduled to take place on the Las Vegas strip, that was instead conducted in team officials' living rooms or kitchens or wherever they could fit a camera.
"It was a historic challenge," he admits, adding that the upcoming season will be even more so, given all the factors that will have to be considered to keep the players safe during the game.
Though he's an Angeleno now, Wiebler continues to support Iowa from afar. He's a member of the Los Angeles I Club, generously talks with Iowa students looking for tips on careers in the entertainment industry, and supports FilmScene, the Iowa City independent cinema that hosts the university's Bijou student film club.
"I've always been a big University of Iowa fan and always will be," he says.