Making movies and saving the surf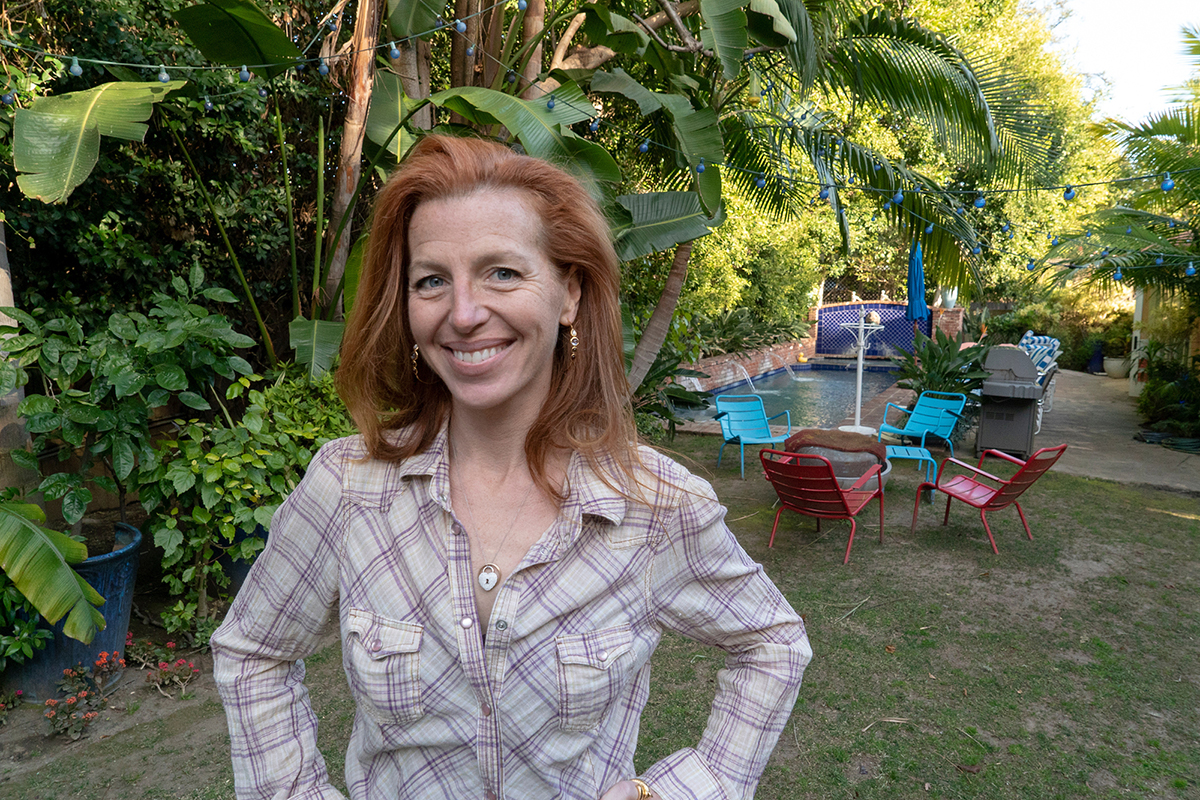 Actress and environmentalist Tanna Frederick headed to Hollywood with much more than a suitcase and her ambitions. She kicked off her career in Los Angeles with the confidence to pursue projects she is passionate about, both on and off screen, thanks to her education at the University of Iowa.
When Tanna Frederick was an aspiring actress growing up in Mason City, Iowa, she was ready to pack her bags after high school graduation and pursue her dream in New York or Los Angeles. But her parents insisted she go to college first.
Are you an aspiring actor, director, or playwright?
The University of Iowa Department of Theatre Arts is one of the oldest and most respected theatre programs in the country. Earn a Bachelor of Arts, or pursue a Master of Fine Arts with an emphasis in acting, directing, design, playwriting, dramaturgy, or stage management. Learn more about the program, which presents some 25 stage productions a year, at theatre.uiowa.edu.
Frederick reluctantly agreed and landed a theatre scholarship to attend the University of Iowa. By the time she graduated in 1999, she not only had earned a degree in theatre arts and political science, she had gained significant experience in acting, playwriting, producing, and even tae kwon do—skills that have led her to dozens of film and stage credits.
"I am so happy and thankful that I went to the University of Iowa. I saw a whole world of possibility there. The material the theatre department picked was very cutting-edge, and I was introduced to so many different playwrights," says Frederick, who now lives in Santa Monica, California. "By the time I got out to L.A., there were no doubts in my head about what I could do. I was able to jump right in and start auditioning because I'd had the support of some of the best playwrights in the country. I felt like I had a coat of arms behind me."
One of her first stage projects in Los Angeles came from fellow UI graduate and playwright Levy Lee Simon, with whom she has continued to collaborate. Frederick has acted in numerous stage productions in Santa Monica, and her film career took off when she began working with writer-director Henry Jaglom. For his 2006 film Hollywood Dreams, Frederick won best actress at the 2008 Fargo Film Festival.
Other films on Frederick's résumé include Queen of the Lot with Noah Wyle in 2010, Just 45 Minutes from Broadway with Judd Nelson in 2012, and The M Word with Michael Imperioli and Corey Feldman in 2014, among others. She co-wrote, produced, and acted in the forthcoming film Two Ways Home and recently acted in and co-produced a virtual reality drama series called Defrost. The latter is about a woman who is cryogenically frozen and wakes up in the middle of a hospital's plot to run the world.
"Watching Defrost is like being in a theater-in-the-round. As the viewer, you are the protagonist, looking around at everybody else and watching the plot unfold around you," Frederick says. "At first, I was a bit wary to get involved in an innovative project like this, but then that 'I can do anything' attitude I developed on campus kicked in, and I thought, 'I'm going to try this.' We ended up taking our pilot episode to the Sundance Film Festival."
Alan MacVey, chair of the UI Department of Theatre Arts, says the University of Iowa was the perfect place for Frederick to thrive. A departmental focus on presenting new works, especially by students, allows those in the program to build skills in all areas of production.
"When you come to Iowa to study theatre arts, you are introduced to everything—acting, writing, directing, producing—in a liberal arts setting where you also take classes, for example, in science, engineering, foreign language, or English," MacVey says. "You engage with professors interested in a wide variety of subjects, and that helps young actors bring more to their work. And it's beneficial later if they pursue a career outside of theatre."
"I was taught at the University of Iowa to be really brave. I was taught to think big and take risks. I want to tackle issues that are prevalent in our society and do it in a very caring way. I want to continue to do that for the rest of my life—and to make people from Iowa proud."
University of Iowa alumna and actress/environmentalist
Outside of her work on stage and screen, Frederick co-founded an organization that aims to improve the health of the planet: Project Save Our Surf, a nonprofit dedicated to ocean conservation and clean drinking water. It grew out of her passion for tae kwon do, which she learned and excelled at in an elective course at Iowa.
"I didn't expect to get into sports, but I took tae kwon do and found that I was good at it," says Frederick, who has run multiple marathons. "When I moved out to L.A., I thought, 'How can I continue this extreme sports thing?' So I tried surfing and I loved it. I started going every morning."
Out on the water, Frederick quickly took notice of things that didn't belong there: plastic bags, rubber bands, needles, condoms. She also observed other surfers stashing bits of trash in their wetsuits to discard back on shore.
"It was such an admirable thing for them to do," she says. "As an Iowan, I was taught that you take care of your backyard. My backyard is now Santa Monica, so I started to organize beach cleanups, and I involved surfers since they are natural stewards of the ocean."
In additional to hosting monthly beach cleanups, Project Save Our Surf sponsors a variety of educational programming, ranging from surf camps for children with autism to nature hikes for disadvantaged students to international mission trips to install water filters in communities that need them.
Although she loves life on the West Coast, Frederick has not forgotten her Iowa roots or her alma mater. She started the Iowa Independent Film Festival in Mason City and established a theatre arts scholarship on the UI campus. In 2012, the university recognized her acting and environmental achievements with a Distinguished Young Alumni Award.
Frederick's latest project, Two Ways Home, was shot in Iowa. The film, which premieres in June 2019, is about a woman with bipolar disorder trying to reunite with her estranged daughter. Frederick says it is her biggest accomplishment.
"The movie is the culmination of what I have done so far and what I want to continue to do: create projects about strong women," she says. "I was taught at the University of Iowa to be really brave. I was taught to think big and take risks. I want to tackle issues that are prevalent in our society and do it in a very caring way. I want to continue to do that for the rest of my life—and to make people from Iowa proud. They are the people I want to inspire because they are the ones who have inspired me."
Produced by the UI Office of Strategic Communication