Marrying music and art for a magical career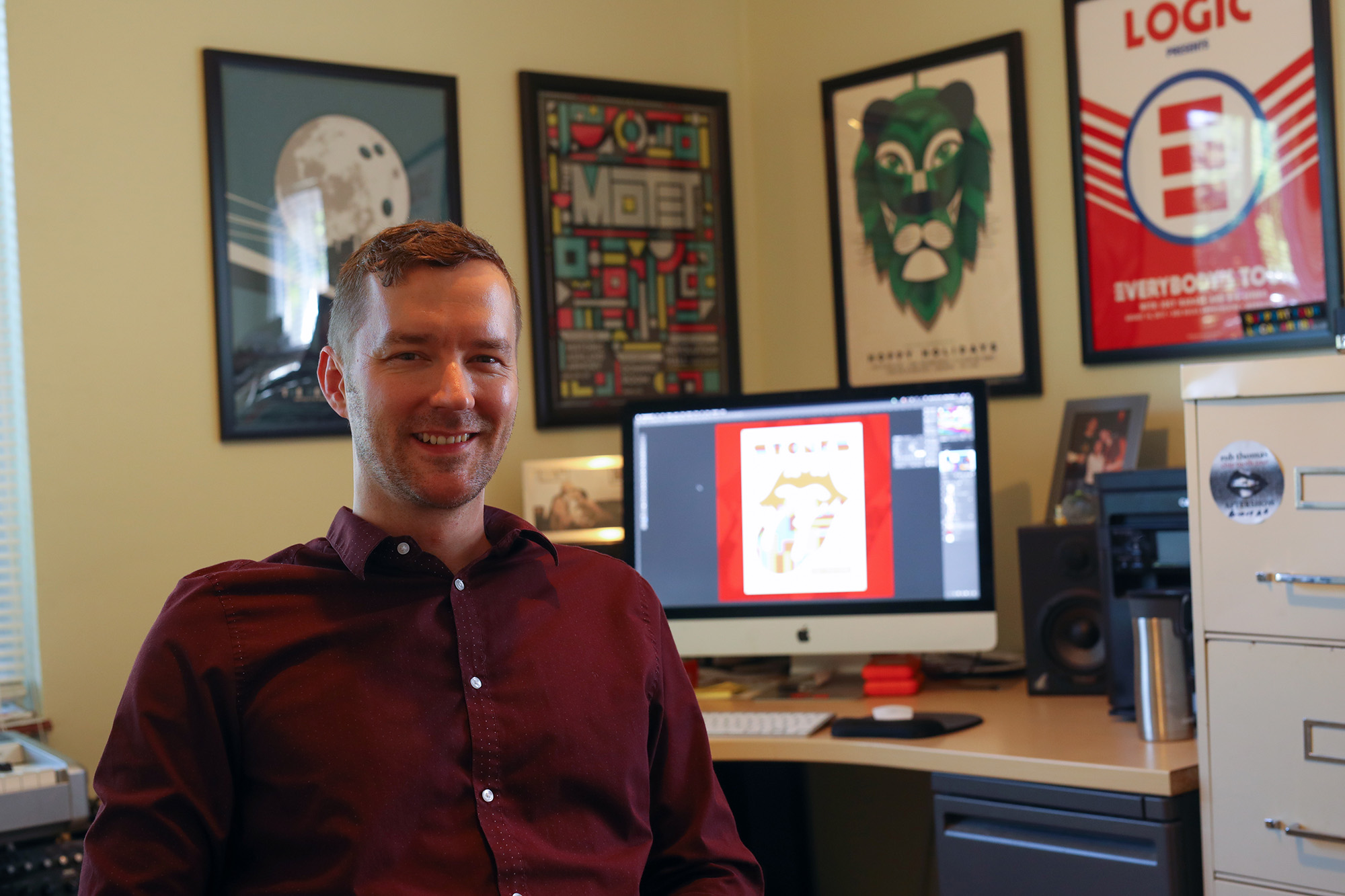 After discovering passions for art and music during childhood, Mike Tallman was able to develop skills in graphic design at the University of Iowa while also performing with his popular band Eufórquestra.
Photography and videography
What do the Rolling Stones, Garth Brooks, and Lizzo have in common? Besides being top-selling recording artists, they've all had a poster designed for them by University of Iowa graduate Mike Tallman.
Tallman, who earned a BFA in graphic design from Iowa in 2006, operates his own creative shop, Add Noise Studios, in Denver, where he works primarily with clients in the music industry, designing posters and album covers. When country star Brooks performed at the Denver Broncos' stadium in June 2019, Tallman was hired to create a commemorative poster. The resulting design incorporated the venue, a cowboy hat, and Brooks' belt buckle.
"The commission was a little different from a standard poster print, in that it was not a piece of merchandise to be sold to the public. They wanted to create something special as a gift for the artist and the band and the whole touring crew," Tallman says. "The process went really smoothly, and when I delivered the posters, I said, 'Hey, I know you have the Rolling Stones coming in soon, so you know who to call.' And sure enough, some time went by and I got the call. They wanted to do the same kind of thing. The Stones are arguably the biggest band in the world, so it was really special to be able to do something on that scale."
Though Tallman didn't get to meet the artists, he did get positive feedback—and a photo of Brooks holding the framed poster. It was a thrill for Tallman, who also is a musician. In addition to playing guitar and singing with Eufórquestra, a funk-rock band that he formed with high school friends in Des Moines and brought with him to the University of Iowa, he also serves as creative director for a record label and recording studio he co-founded in Denver in 2018 called Color Red.
University of Iowa BFA graduate Mike Tallman was the art director on the Grammy-nominated album Elevate, a recording by the funk band Lettuce that is a 2020 nominee for Best Contemporary Instrumental Album.
His work marries his passions, Tallman says.
"I never had aspirations to be a big pop star or anything—I just wanted to create music and art and to sustain myself from it," says Tallman, who returns to Iowa with Eufórquestra every July for the band's Camp Euforia music festival near Lone Tree and every December for a pair of "Home for the Holidays" shows in Iowa City and Des Moines. "I love what I do, and I encourage anybody who feels like that's the right path for them to do it. It might surprise people to know how attainable that can be. I have found that the art-and-entertainment industry is very connection driven. If you do a good job for someone, they will refer you to someone else. That's how it has gone for me."
Being active in two creative fields has benefits, Tallman says.
"Sometimes if I'm struggling with a project on the visual arts side, I find that shifting gears and focusing on music for a while can help bring me out of a rut. And vice versa," says Tallman, who works out of his home office in East Denver just a few minutes away from the recording studio.
Being a student at Iowa nurtured his creative spirit, Tallman says. Not only did he enjoy his classes in drawing and art history, he frequented the university's art museum before it was closed due to flooding. One piece, in particular, provided inspiration: "I could go sit in front of Jackson Pollock's giant Mural for hours. Sometimes I'd just stare at it and sometimes it would lead to me sketching for a project that was coming up."
When he wasn't in class, on stage, or at the museum, Tallman was at the Iowa Memorial Union picking up job skills as a student designer with Student Life Marketing and Design—an opportunity he says was momentous.
Student Life Marketing and Design provides opportunities for University of Iowa students to get hands-on experience in a professional-level marketing agency that serves the Division of Student Life. Positions include graphic designer, marketing representative, videographer, photographer, web developer/designer, and social media producer.
"I had no experience using design software when I applied. I brought in a stack of hand-drawn posters that I had done for my band and for my friends' bands, and they hired me based on the potential they saw," says Tallman, who has done design work for the String Cheese Incident, Leftover Salmon, G. Love, and Anderson .Paak, among others. "We designed all the marketing materials for the River Room and the bookstore down in the IMU. Getting that real-world experience and working with clients was a huge advantage for me."
Ben Lewis, associate director for digital media at Student Life Marketing and Design, says his office has been a learning lab for students like Tallman for more than 20 years.
"Mike knew he wanted to make art for a living, and that's where Marketing and Design came in. We help students like him build and refine their skills so they're ready to apply them after graduation. We provide training, tools, and relationships, and the students provide the energy, talent, creativity, and insight," Lewis says. "Of our alumni, one redesigned the Google logo and another is a world-renowned skateboarding photographer. I also recently learned that one of our alums ran Hillary Clinton's digital campaign in 2016. Mike is right up there with the best of them."
"I always felt encouragement and support around me—from friends and other University of Iowa students but also from the teachers and staff in the art program. They were amazing, and I wouldn't be the same person without that experience."
graphic designer, musician, and University of Iowa graduate
Tallman also found in Iowa City a robust live music scene—one that allowed him to perform frequently with Eufórquestra and one that exposed him to a range of musical genres.
"Being a musician in Iowa City was really special," he says. "It's such a cool place that fosters creativity, and there's so much fun stuff that happens during the summer, like the Friday Night Concert Series and the Iowa Arts Festival."
In fact, one of his professional endeavors took off after attending an Iowa City Jazz Festival performance by the Stanton Moore Trio. The ensemble's guitar player couldn't be there, so Eddie Roberts of the British funk band the New Mastersounds filled in. Tallman bumped into Roberts after the set and introduced himself. The two now run Color Red together and aim to make it a hub for new musical collaborations.
"Denver is really fertile for musicians right now," Tallman says. "Musicians are moving here all the time, and our label is set up as a place where these different people from different bands can collaborate on unique projects."
Pursuing a degree at the University of Iowa in a city that has been dubbed "the Athens of the Midwest," Tallman says, was the perfect launching pad for a productive and satisfying career.
"Iowa City was a great place to get my feet wet as an artist," he says. "I always felt encouragement and support around me—from friends and other University of Iowa students but also from the teachers and staff in the art program. They were amazing, and I wouldn't be the same person without that experience."