From the Field House to the Flatirons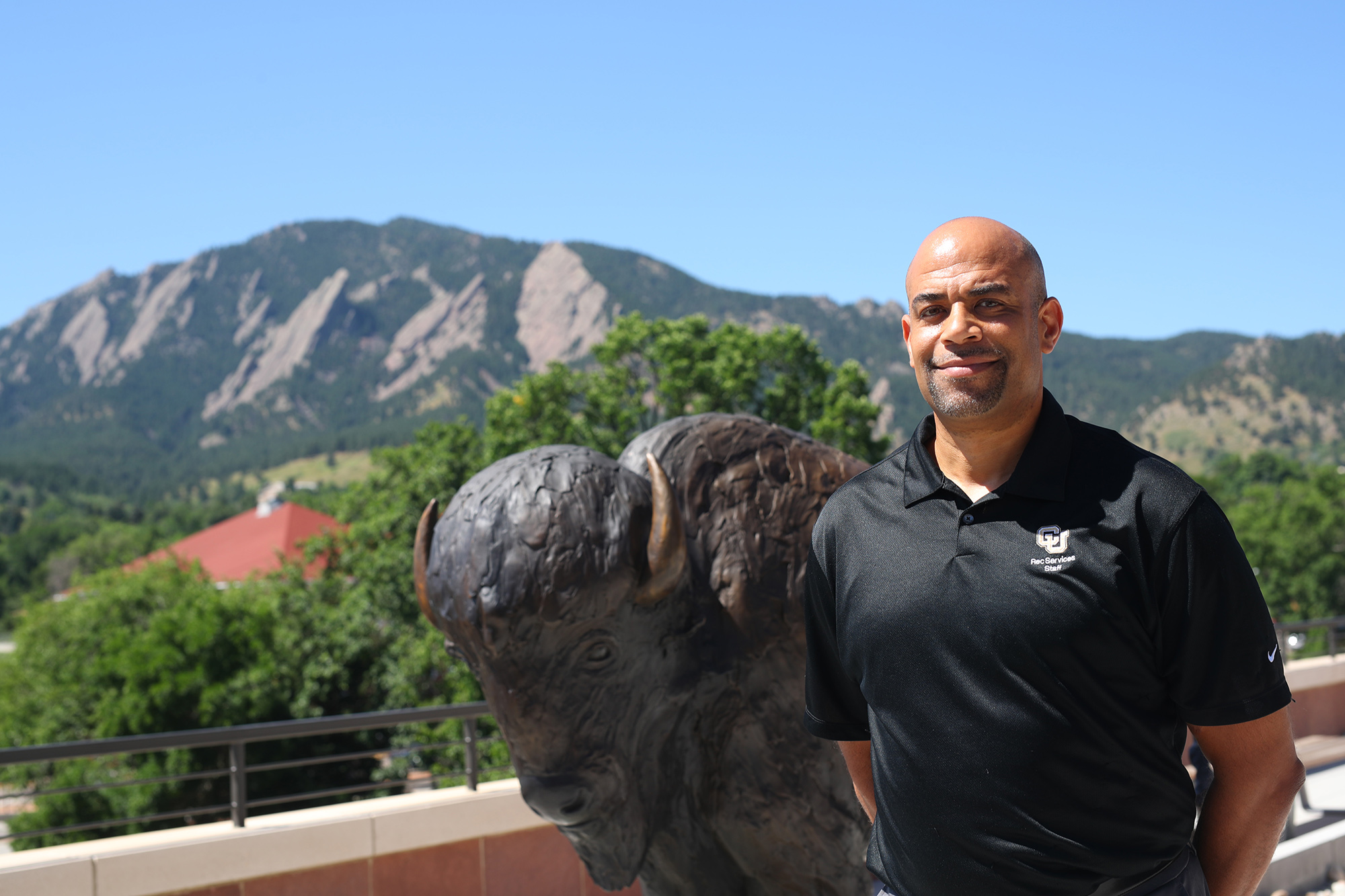 After devoting a chunk of his childhood to playing inside a campus recreation facility, University of Iowa graduate Tony Price now leads recreation services at the University of Colorado Boulder.
When Tony Price was growing up in Iowa City, he spent so much time shooting hoops at the University of Iowa Field House that the recreation services staff eventually put him to work keeping scores, selling concessions, or doing whatever odd jobs needed doing.
Little did he know that they were helping him set the course for a successful career in campus recreation.
Years later, as a business major at the University of Colorado Boulder, Price would periodically return home to Iowa City—and to the Field House—during school breaks. The UI staff welcomed him back, providing him with summer employment and encouraging him to consider a graduate program at Iowa in sport and recreation management, one that aligned with a graduate assistantship with the Department of Recreational Services. He took their advice, earned an MA from Iowa in 1997, and now oversees recreation, fitness, and wellness services at CU Boulder, home to one of the largest rec centers of its kind.
"I was super passionate about the game of basketball when I was a kid, so the Field House was a natural place for me to hone my skills. It was my second home. While there, I created connections with staff members that developed into more formalized opportunities as I grew older. That was critical in determining what I wanted to do in my career and in seeing the kind of impact that collegiate rec programs have on student success," says Price, who directed campus recreation at Metropolitan State University of Denver before heading to CU Boulder in 2017. "It was at the University of Iowa that I had a 'light-bulb moment' and realized I could have a career that I was excited about as well as passionate about."
Price says he is now serving in his dream job: "I worked at the CU rec center as a student employee, and to lead it now is pretty powerful for me."
At the heart of CU Boulder's recreation offerings—aside from the adjacent terrain of the Flatirons leading up into the Rocky Mountains—is a 300,000-square-foot, LEED platinum–certified recreation center, simply called "the Rec." It boasts multiple rock-climbing walls, an ice rink, indoor and outdoor pools and basketball courts, fitness equipment and cardio machines, indoor turf fields, and much more.
"We have a number of programs that support student success, from our outdoor program where our staff takes students into the Rocky Mountains for backpacking trips, hiking, rock climbing, and rafting, to our vibrant sports program that includes intramural sports and sport clubs," Price says. "These activities provide an opportunity for students who were high school athletes to still compete—and for all students to create connections and make friends."
"It was at the University of Iowa that I had a 'light-bulb moment' and realized I could have a career that I was excited about as well as passionate about."
University of Iowa graduate and director of recreation services at the University of Colorado Boulder
Recreation services on college campuses is more than simply fun and games, Price says. In fact, he considers himself a student affairs practitioner.
"The emphasis now is more on holistic well-being," he says, noting a national trend in collegiate recreation services. "Traditionally, campus rec departments were known for their sports—basketball, flag football, soccer—and also for providing strength and conditioning. Now we have a wider variety of offerings. For example, we have group fitness, mind-body classes, indoor cycling, and as many as 10 different types of yoga classes. We create spaces for students to reduce stress and make friends. We create a connection to the university and support their success in the classroom. And we get a lot of feedback from prospective students and their families about how our rec center played a role in them choosing to attend CU Boulder."
Price says Iowa not only prepared him well to run a collegiate recreation department, the UI sport and recreation management faculty compelled students to examine the role of sport in underserved and underrepresented populations—something that has remained with him.
UI rec center among nation's best
The University of Iowa's Campus Recreation and Wellness Center continues to score big in national rankings since opening in 2010:
No. 3, most amazing student recreation centers (Best College Reviews)
No. 4, college rec centers so awesome they will make you want to work out (College Raptor)
No. 7, most luxurious student recreation centers (College Rank)
No. 10, great college gymnasiums and recreation centers for 2019 (Great Value Colleges)
No. 17, best campus recreation centers (College Consensus)
Among top 20 most impressive college gyms and student rec centers (Best Value Schools)
"A lot of the curriculum at Iowa looked at gender and sport, race and ethnicity within sport, and examined the impact of socioeconomic status," says Price, who provides leadership and support for an inclusive sports summit at CU Boulder that encourages a dialogue in the industry about embracing differences. "An important theme in higher education is creating more inclusive and welcoming environments. How do we encourage diversity: diversity in our population and diversity in thought? Iowa faculty set the tone with leadership on the importance of race, class, gender, and socioeconomic status as it relates to sport. I really appreciated taking a deeper dive in those areas."
Price continues to focus on those populations—both on and off the job. He likes to ski, bike, and hang out with his family, but he also serves on the boards of two area nonprofits: the Colorado I Have a Dream Foundation and Cleo Parker Robinson Dance.
"I get excited when I can support students who may not have access and opportunity like I had," says Price, whose parents worked in education. "The Colorado I Have a Dream Foundation provides mentorship and wraparound services to underserved students from kindergarten all the way through higher education, and I've employed them as summer interns at the Rec. Cleo Parker Robinson Dance is one of the top black dance ensembles in the country, but they also provide afterschool arts and education programming in more than 70 schools in the Denver metro area and are involved in a number of STEAM programs to get students involved in theater production. Helping connect the dots for these students is important to me."
Although Price says he loves working for CU Boulder, he insists that Iowa is always in his heart.
"The UI is part of who I am," he says. "I am a Hawkeye first, followed by my CU Buffaloes."
Produced by the UI Office of Strategic Communication