An Rx for a satisfying career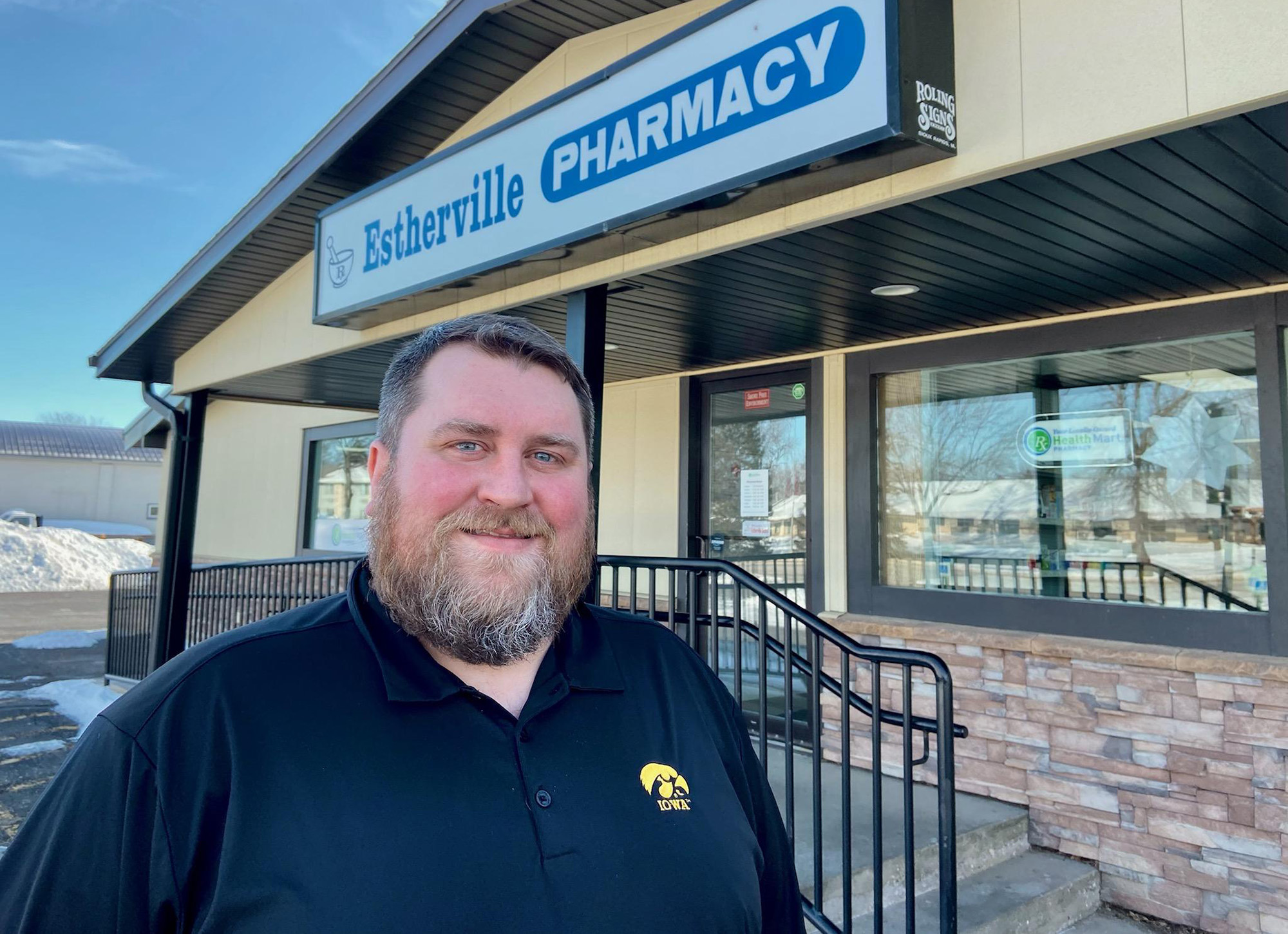 When a love of chemistry led Andy Spurgin to study pharmacy, the PharmD program at the University of Iowa introduced him to a world of career possibilities. Practicing in his small Iowa hometown, however, turned out to be his calling.
courtesy of Andrew Spurgin
Andy Spurgin didn't plan to settle in northwest Iowa, let alone remain in the state. But the chance to do what he loves in his hometown of Estherville, a tightknit community of 5,800 near the Minnesota border, was too good to pass up.
The 2013 University of Iowa College of Pharmacy graduate was completing a residency at a children's hospital in Kansas City when a friend alerted him to an opening at Estherville Drug, where Spurgin had shadowed a pharmacist years earlier. He decided to apply, and the independent pharmacy, which had been in operation for nearly a century, hired him. A year later, however, the owner decided to close the business—and Spurgin saw an opportunity.
"While Estherville is a small community, we're too big to only have one pharmacy," he says, noting that Hy Vee operates a pharmacy in the area. "I felt like there was definitely a need for a non-chain pharmacy."
Spurgin met with the owner of an independent pharmacy in Atlantic, Iowa, and the two decided to partner on a business plan for a new pharmacy in Estherville. Within 26 days, they raised $600,000, and in 2020 they started Estherville Pharmacy. A year and a half later, business is good, with expansion on the horizon.
The University of Iowa College of Pharmacy is ranked No. 18 in the country by U.S. News & World Report. In a state-of-the-art building that opened in 2020, students gain a strong foundation in science and research, collaborate with providers at UI Hospitals & Clinics and other health science students, explore a variety of careers, and develop leadership skills.
"Opening my own pharmacy from scratch has been a really humbling experience," Spurgin says. "The deep will and desire of the community to stay local has been one of the coolest things ever. A lot of patients could save money going through mail order, for example, but they want their money to stay here. They want to be able to walk in and have someone they trust—someone who knows them and their particular story—be able to give them guidance on their medication and their medical care. Being a pharmacist is being the most available health care professional that anyone could have. My customers know that from 9 a.m. to 6 p.m., I'm going to be here and so is my staff."
Besides filling prescriptions, helping customers select over-the-counter medications, and offering routine vaccinations, Spurgin and his colleagues operate a twice-weekly COVID-19 vaccine booster clinic, inoculating 30 to 40 people each day. Areas of potential expansion, he says, include selling more durable medical equipment like diabetic shoes and dispatching staff to rural areas to administer drugs like long-acting injectable antipsychotic medications.
Spurgin has loved reconnecting with people he's known since childhood and meeting customers from many of the surrounding farming communities. His father served as Estherville's parks and recreation director and his mother was a real estate agent in the area. He left town to study chemistry at St. Olaf College in Minnesota, but it wasn't until his undergraduate adviser suggested he consider clinical pharmacy that he pursued the job shadow at Estherville Drug. He enjoyed it so much that he began researching doctoral programs in the region.
"I knew the University of Iowa's reputation in medicine, but I didn't realize that it was in the top tier in the nation for pharmacy schools," says Spurgin, who also looked at Creighton University, the University of Minnesota, and South Dakota State University. "At my Iowa admission interview, Dean Donald Letendre and [former associate dean] Michael Kelly both showed up. I knew they were very busy guys with a ton to do but there they were talking to people who wanted to get into the school and answering any silly questions we might have. It struck me as a very homey environment. They made us feel so welcome."
"The faculty at Iowa were always looking for ways to get you more in the fold and help push you in whatever direction you were interested in exploring. If you wanted an introduction to someone—if you wanted anything—they'd help. That willingness to do the extras demonstrates the dedication they have to helping young professionals achieve their dreams."
2013 University of Iowa College of Pharmacy graduate
Spurgin admits that he once thought pharmacists simply counted pills and filled bottles. As a PharmD student at Iowa, he was exposed to a variety of practice areas, from community pharmacy to academic pharmacy to nuclear pharmacy. Because he enjoyed working with children—he had been a Special Olympics coach and a longtime employee at his hometown aquatic center—he jumped at the chance to volunteer with a pediatric pulmonary-allergy clinic at UI Hospitals & Clinics. He worked with a team of providers to provide information and training on inhalers and EpiPens to patients and their families. He also helped operate a flu shot clinic during a rotation at a pharmacy in Des Moines. He learned that he really enjoyed working with a medical team and providing direct patient care.
"We did hundreds of flu shots for different employers and I was able to just sit and chat with people all day answering their questions. I absolutely loved that," he says. "The faculty at Iowa were always looking for ways to get you more in the fold and help push you in whatever direction you were interested in exploring. If you wanted an introduction to someone—if you wanted anything—they'd help. That willingness to do the extras demonstrates the dedication they have to helping young professionals achieve their dreams."
Spurgin also participated in research while at Iowa, completing a postdoctoral fellowship with Gary Milavetz, UI professor of pharmacy practice and science and executive associate dean. The two conducted a study on the effect of cannabis on driving at the National Advanced Driving Simulator on the Iowa campus.
Exposure to the discovery process, even for students who don't pursue careers in academia or research, builds critical thinking skills that help pharmacists serve their patients no matter where they practice, Milavetz says.
"They learn to look at medical and pharmacy literature and evaluate whether a study is well conducted: Did the investigators ask the right questions? Did they have a methodology that would answer the questions? Did they interpret the results correctly? Having that knowledge of how to do research and what it means informs pharmacists everywhere," says Milavetz, who holds weekly journal clubs in which his pharmacy students evaluate a paper and determine whether they could apply its findings to a patient in their clinic. "At Iowa, we really try to make our students critical thinkers and problems solvers. They know the top 200 drugs in and out, but they also develop these important skills."
Being drawn back to his hometown to practice community pharmacy has been a blessing, Spurgin says. He is happy to live without traffic jams and takes advantage of recreational opportunities in the nearby Iowa Great Lakes region.
"I felt that city living was not for me," says Spurgin, who is involved in the Estherville Area Chamber of Commerce and the Emmet County Board of Health. "Anonymity is nice—I could get my grocery shopping done a lot faster—but I didn't get to have 16 conversations with people and find out how my neighbors' dogs were doing. I thrive on that, on being part of a village, part of my community."