Bringing queer history to life on stage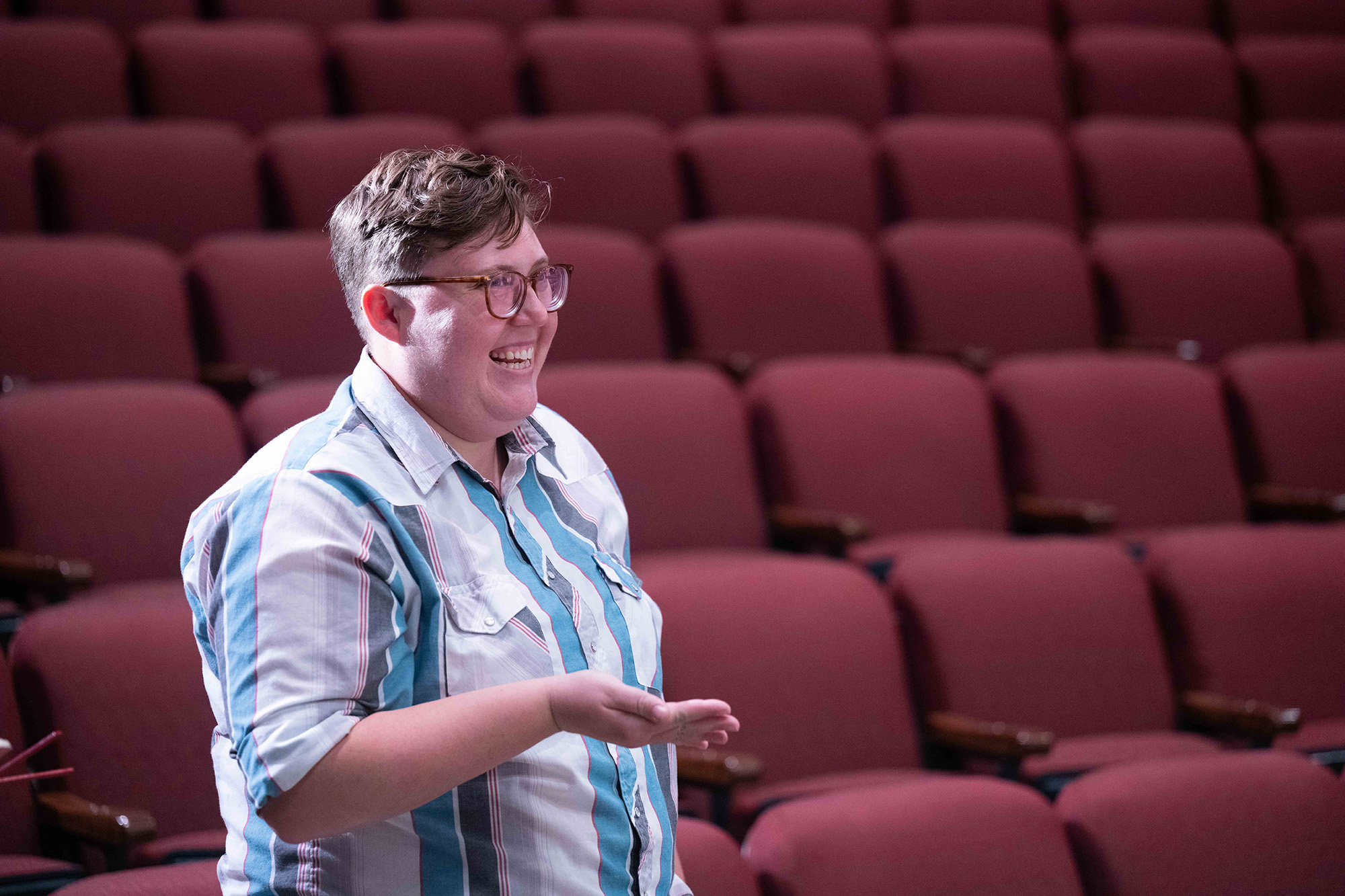 Ann Kreitman found community at the LGBTQ Iowa Archives and Library, as well as a wealth of stories to tell in her work in the theater.
Ann Kreitman loves falling in love.
"I had a great collaboration last spring with a playwright, Jeremy Geragotelis, who said to me, 'Ann, if you can't fall in love with the people you're working with, what is the point of doing it at all?'" the University of Iowa MFA in directing student says. "That says it all. That is the joy of doing this. Being able to have these really romantic friendships that are completely platonic but involve the heart and vulnerability and effort, that's what I want to spend my life doing: falling in love with my collaborators."
Kreitman has found a wealth of collaborators to fall in love with during her time at Iowa, both within the Department of Theatre Arts and through her work with the LGBTQ Iowa Archives and Library.
While she says she took a strange path to Iowa, her journey to theater was much more straightforward.
"I got into plays and musicals when I was in elementary school and I just never stopped," Kreitman says.
The 1934 play The Children's Hour by Lillian Hellman follows two schoolteachers who are accused by a student of being in a lesbian relationship, upending their person and professional lives.
Ann Kreitman—who will direct a production of The Children's Hour Oct. 7-15 in E.C. Mabie Theatre—says the play's premise is, unfortunately, still relevant.
"I chose this play because I had a similar experience in high school where I was accused of being a lesbian and the whole school was told," Kreitman says. "I went through some really dark times of trauma with that, and so I see myself in the play. You know, there's a million stories of how, even now, people are trying to keep queerness out of the classroom."
Kreitman says the production will be more traditional than much of her work—but not too traditional.
"It gives us a chance to ask, 'Why are we still doing this play?'" Kreitman says. "It's not a positive message. It's not fun to inhabit as queer people. It brings out some really dark and awful things. So, what we're doing is asking, 'How do we spend time with our traumatic history? How does shame move through us? How do we hold this and know this and choose a way forward?'"
She discovered directing in high school in Libertyville, Illinois, going on to get a BA in directing from Webster University's Sargent Conservatory of Theatre Arts.
Kreitman grew up playing sports, and says she directs plays like she coaches a softball team: "It is just kind of a natural instinct for me to see the big picture, to see what lies ahead, and to guide people to work together in the best way that they can."
After college, Kreitman worked in Chicago for seven years, eventually running a theater company called (re)discover theatre, which focused on immersive theater, performing new works in old churches and rundown houses.
She says when the COVID-19 pandemic began and theater artists had to reimagine what they were doing, she felt she had a head start thanks to her experience with (re)discover theatre.
"It turned us all into really interesting artists because we really had to think about our audience," Kreitman says. "What is our audience's path through this? What is our audience's connection to the material? Rather than just assuming that they would come down and sit in the seats in the dark and be quiet."
Kreitman was living in Philadelphia and working in New York City when COVID began, and she decided to apply for grad school. She was loving living on the East Coast and had no intention of moving back to the Midwest.
While attending an Undergraduate Resident Theatre Association (URTA) recruiting event, Kreitman met Mary Beth Easley, associate professor, head of directing, and chair of the UI Department of Theatre Arts.
"Ann is a theater-maker who knows the stories she wants to tell; who knows why it is important to tell these stories; and who has the capacity and courage to tell these stories in a way that leaves an indelible mark on those who experience them," Easley says.
Kreitman says the two spent the meeting laughing and cracking jokes.
"I left and thought, 'Wait a minute, I think I just sat down with a new friend,'" Kreitman says.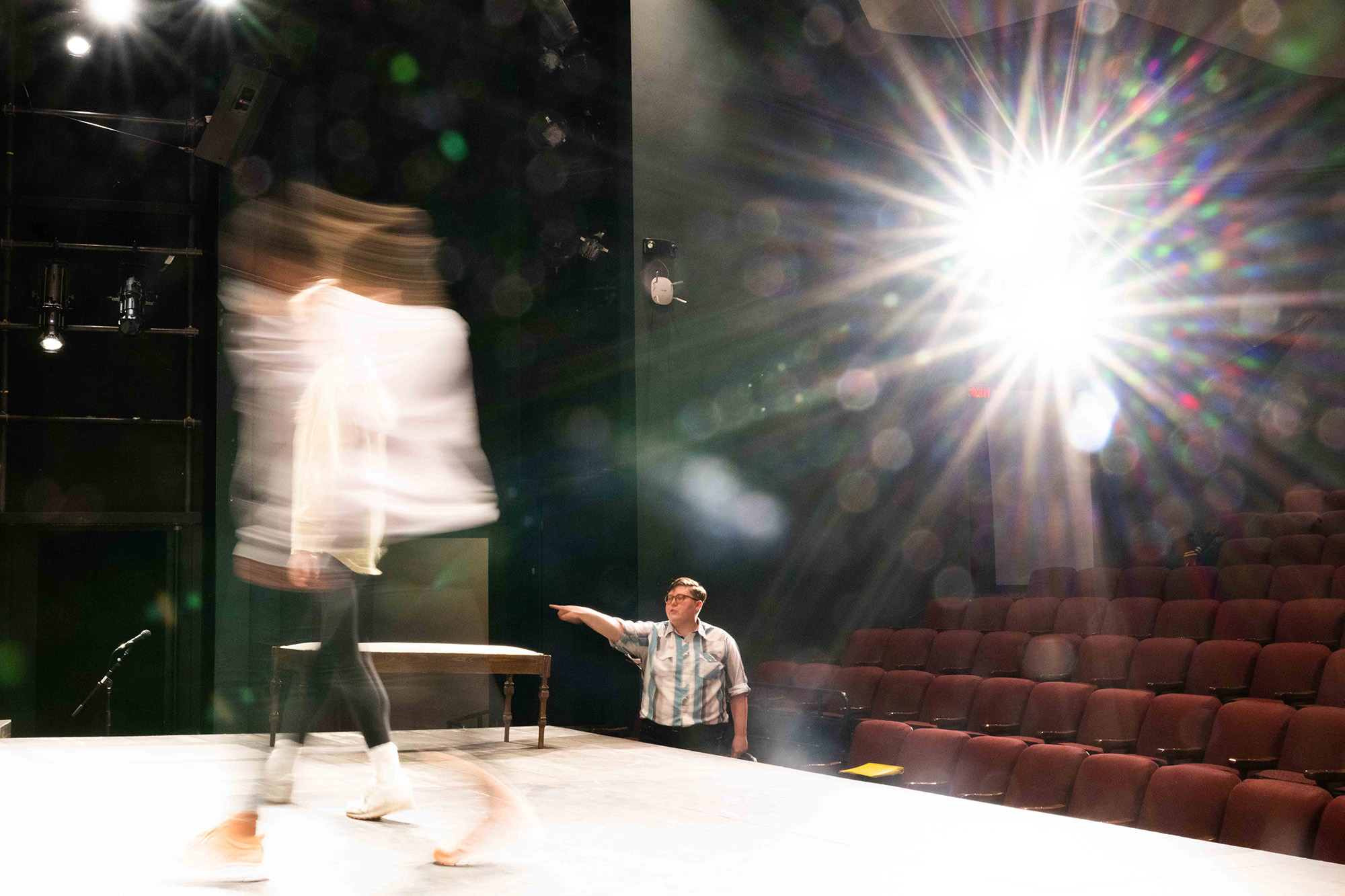 "I really see my work in the theater as bringing the archives to life. Theater gives you the opportunity to spend time in the room with manifestations of these people. The historians can tell you exactly what happened. I can tell you how it felt to be there and we can share that together in a room."
third-year University of Iowa student working toward an MFA in directing
Easley invited Kreitman to visit campus, where she met Paul Kalina, associate professor and head of acting.
"Paul Kalina is in a weird way my clown grandfather in that some of the people he taught in Chicago were my own clown mentors," Kreitman says. "So, I knew they were doing really interesting stuff if they were working from that perspective and that kind of athletic collaboration. And that, combined with the Playwrights Workshop and just the huge amount of new work and new collaboration that was coming out of the program, made me think I could find a home here."
Starting grad school while still in the midst of a pandemic made finding community more difficult than normal. Kreitman says it was an Instagram post about the LGBTQ Iowa Archives and Library that led to her initial sense of belonging in Iowa City.
She messaged asking if they needed volunteers and was told to come on down.
"I was expecting a group of like 15 scholars or something. But it was just one guy, Aiden Bettine, and we built the place together. That day, we got paint and I sanded walls and filled holes," Kreitman says. "It was kind of another weird love story, really. We bonded over knowing that this was a space that we both needed, and it turns out many, many people in Iowa City needed."
Kreitman says so much attention is paid to San Francisco, Chicago, and New York City as hubs of queer life that it's easy to forget how much queer history is to be found in places like Iowa.
"My favorite moments are finding new stories and talking to people who lived through different timelines than I have," Kreitman says.
Her work with the LGBTQ Iowa Archives and Library has influenced the work she does in the theater.
"I really see my work in the theater as bringing the archives to life," Kreitman says. "Theater gives you the opportunity to spend time in the room with manifestations of these people. The historians can tell you exactly what happened. I can tell you how it felt to be there, and we can share that together in a room."
LGBTQ+ History Month is a monthlong celebration that occurs in October to observe lesbian, gay, bisexual, transgender, and queer history, as well as honor the history of gay rights.
Ann Kreitman says she thinks the month is an opportunity to look back and ask, "Where have I come from and who is sitting at this table with me?
"Queerness is weird in that we don't have a bloodline immediately given to us," Kreitman says. "Once you understand yourself and your identity, then you have to look backward. I hope this month is an invitation to people to find those stories and to find what's interesting to them. Going on that search for yourself is, I think, worthwhile.
"LGBTQ+ History Month also is about understanding how queer people survive, because we come up with the most creative, fabulous things. We don't just survive, we put on a show."
See how the University of Iowa is celebrating LGBTQ+ History Month here.
In fact, a recent audio theater experience she created titled I'm Writing to You Today shares LGBTQ+ love letters—including some from Iowa—throughout history. She also wrote and directed England's Splendid Daughters, based on the memoirs of lesbians who drove ambulances during World War I.
Among all the collaborators Kreitman has found at Iowa, she says she especially appreciates her fellow directing students.
"We are four wildly different people artistically and personally, but we really come together in a great way and expand each other's view of the world," Kreitman says. "Every one of them challenges me in some way and makes me think differently in a way that's not competitive or judgmental. And you don't always get in a group of directors who all have control issues!"
Meanwhile, Easley says Kreitman's fellow students relish the opportunity to take creative journeys with her.
"She not only enhances our department as a student and developing artist, but as a citizen she has graced the UI campus and the greater Iowa City community through her passionate commitment to social justice and change," Easley says. "Ann knows what she wants to accomplish. She is unapologetically herself, and that kind of authenticity is glorious to be around."
Kreitman says she's also grateful for the mentors she has found at Iowa: "Getting to spend good quality time with people who care about you and care about your growth is huge."
Along with Easley and Kalina, Kreitman says she is especially fortunate to have met Kim Marra, who is now professor emeritus after retiring in 2021 as professor of theater and performance history.
"I had never met anyone who looked like me or felt like me in these kinds of spaces," Kreitman says. "I've kind of navigated the world as myself without anyone to look to for what my future could look like. The connection I've been able to develop with her—talking about ourselves, talking about our art, talking about how we present to the world—has been such an enormous gift to me."
Kreitman plans to move to New York City when she graduates in May 2023.
"I want to take my queer history theater on the road," Kreitman says. "I write my own plays as well as direct, so I'm hoping to find a home where I can continue to do that and not have to just choose one thing."