Iowa experts help boy learn to breathe on his own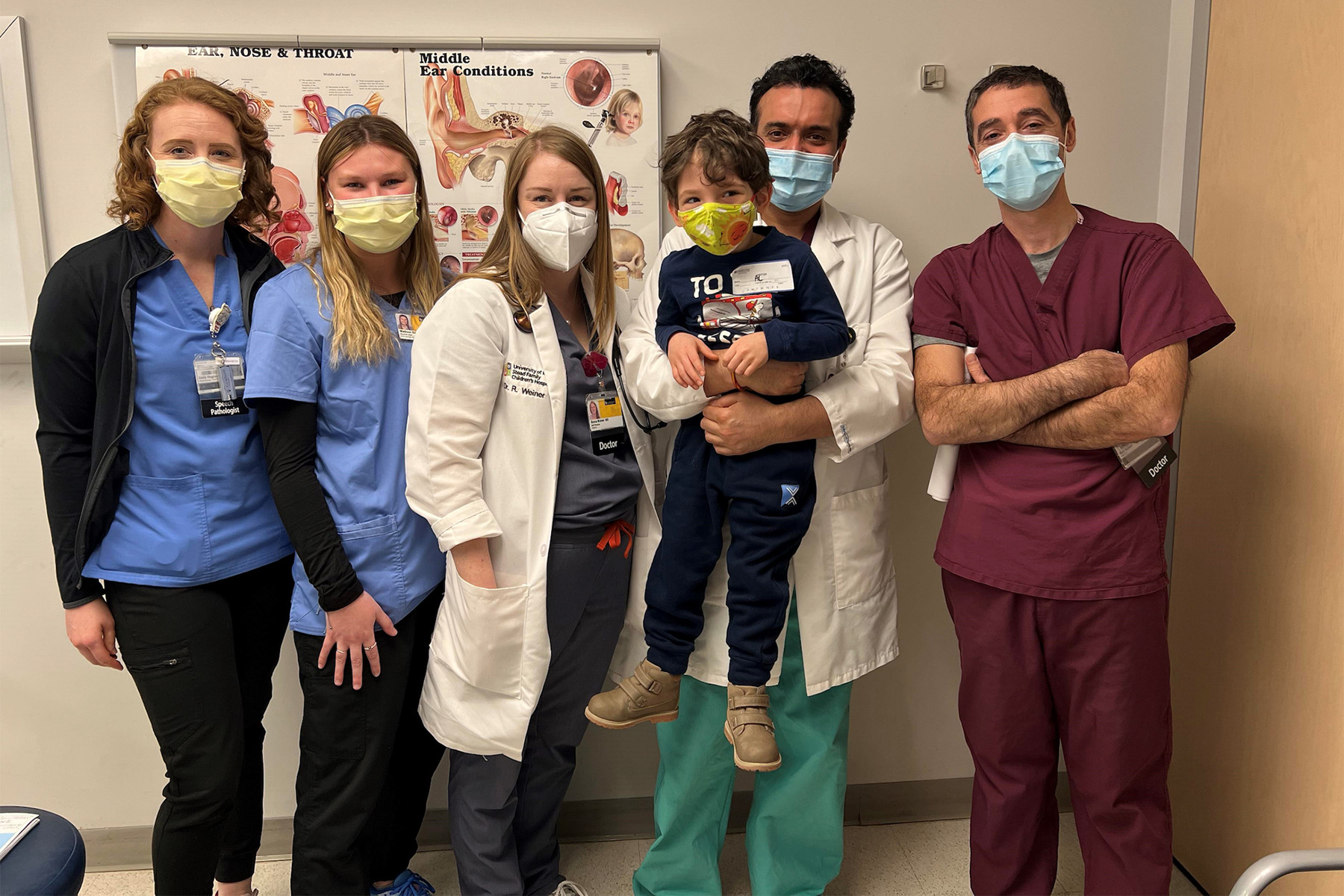 These days, Malcolm Wallace enjoys a more typical 4-year-old's lifestyle, thanks to the collaborative, multidisciplinary approach taken by the Aerodigestive and Tracheostomy Clinic at UI Stead Family Children's Hospital.
UI Health Care Marketing and Communications
Before 4-year-old Malcolm Wallace had his tracheostomy removed, he didn't know how to breathe without a tube. Born prematurely with underdeveloped lungs, Malcolm faced a number of challenges: swallowing issues, speech issues, and chronic lung disease.
Life with a trach was stressful. His family lived in a perpetual state of anxiety, constantly checking that the trach site was healthy. They had to be prepared to react if the tube came out unexpectedly.
"We'd have to consider all of the worst-case scenarios every time we went to the grocery store, and we couldn't leave the house without a bag of emergency supplies," says his mother, Krista Wallace, of Bettendorf, Iowa. "We couldn't walk around the block without an extra trach in our back pocket, ready to jump in with emergency procedures."
After Malcolm's first visit to the Aerodigestive and Tracheostomy Clinic at University of Iowa Stead Family Children's Hospital in 2019, the Wallace family could rest a bit easier knowing multiple local specialists had eyes on his plan of care. Several years later, Malcolm's physicians were able to successfully remove the trach tube that he had for most of his life, and now he is breathing on his own.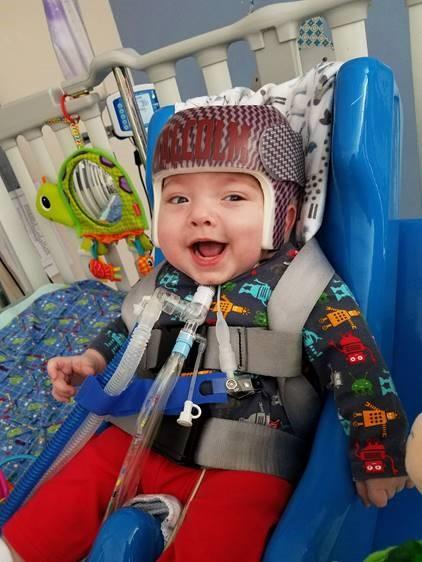 A multidisciplinary clinic for kids with complex airway care needs
Malcolm's journey would not have been possible without the Aerodigestive and Tracheostomy Clinic, the only multidisciplinary clinic in the state of Iowa catering to children with tracheostomy and other complex airway, swallowing, and voice issues.
"The children who visit our clinic have very complex needs that require a multidisciplinary approach, and Malcolm is no exception," says Sohit Kanotra, MD, director of the Complex Pediatric Airway Program and a member of Malcolm's care team.
Most patients who visit the clinic need all four services: gastroenterology, otolaryngology, pulmonology, and speech-language pathology.
"On the family's first visit, each of these specialties come together to set goals for the care of the child," says Kanotra. "This combined evaluation by different specialists has been shown to improve surgical outcomes and reduce length of time to diagnosis and management. It is also more convenient for the family to get all the child's care in one stop."
The benefits of collaborative care
Rebecca Weiner, MD, a pediatric pulmonologist who works in the clinic, also believes there are significant benefits to this multidisciplinary approach.
"Having multiple specialties within the Aerodigestive and Tracheostomy Clinic benefits both patients and providers alike," says Weiner. "As physicians, we most often see patients in our own separate clinics, and don't discuss the patient's care until after they have left. This can make it hard to coordinate care or focus on the same goals. The ability to see patients together and have a real-time discussion is beneficial and educational for everyone in the room."
Aerodigestive and Tracheostomy Clinic
The UI Stead Family Children's Hospital Aerodigestive and Tracheostomy Clinic focuses on a holistic, individualized approach when caring for your child. The clinic provides comprehensive evaluation and management of complex airway and swallowing disorders. For children with tracheostomy, the goal is to provide a pathway for decannulation—the removal of the tracheostomy tube.
Collaboration at the clinic is not confined to the physicians; the patient's family is involved in the process. Often, the family arrives in the clinic with a list of goals for their child, which the clinic also takes into consideration.
"We work with the family to agree on what the highest priority is for this patient," says Riad Rahhal, MD, MS, a gastroenterologist in the clinic. "We listen to what they think they want to achieve and make sure it is achievable. Then we help the family map out the plan to get to where they need to be. This is exactly what we did for Malcolm's family."
Working together to help Malcolm breathe again
In addition to collaborating on the patient's overall care plan, the specialists in the Aerodigestive and Tracheostomy Clinic also work together in the operating room. In Malcolm's case, medical providers worked together to evaluate his airway in one triple endoscopy, instead of making him undergo anesthesia for multiple, individual scopes.
"Whenever possible, we work together to do a triple endoscopy, saving the child from having to undergo multiple procedures and anesthesia," says Kanotra. "So, it's an excellent way to get a full overview of the patient and then plan accordingly."
After evaluating his airway, Malcolm's care team developed a plan to tighten the floppy tissue around his voice box and reconstruct his airway in a single stage with removal of his tracheostomy at the same time as the surgical procedure.
From there, Malcolm and his care team were tasked with the difficult challenge of helping him learn to breathe, speak, swallow, and eat on his own.
"He didn't know any other way to breathe than through a tube," says Kanotra. "Removing it was an entirely different world for him. He needed to learn how to breathe through his nose; he needed to learn how to clear up his lungs, or cough. So, that's a significant life change for him and the family."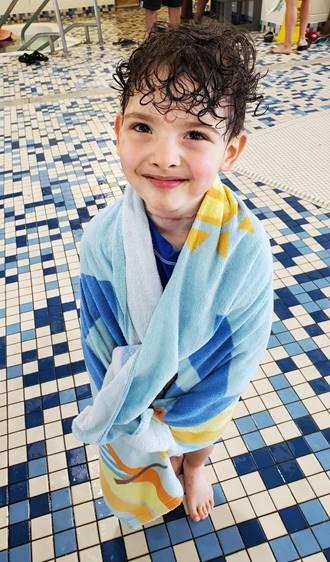 After the trach is removed, a patient doesn't immediately start talking. They begin a long journey of learning how to coordinate breathing, use their vocal cords, and use their articulators in order to produce speech sounds and verbally communicate wants and needs.
"It is incredibly rewarding to be present when a child produces their very first sound and to watch them grow as a verbal communicator," says Brandon Viet, MA, a speech-language pathologist for the clinic. "You get to watch them become independent and not have to rely on others to anticipate their needs. It has been wonderful to watch Malcolm progress from not being able to verbally communicate to being fully able to create voice and communicate with sounds as he learns to talk."
Breathing beautifully on his own
Today, Malcolm now has a more typical lifestyle for a 4-year-old. He had his first swim lessons over the summer, Krista says, and recently began preschool.
"He tells everyone, 'Dr. Kanotra took my trach out,'" she says. "Since his tracheostomy has been removed his breathing has gotten easier, and he has more stamina for physical activity now."
As for Kanotra, his goal is to help more children like Malcolm who come to the clinic with aerodigestive issues. If they are eligible, Kanotra hopes to remove their tracheostomies so they, too, have the chance to breathe beautifully on their own.