Take a bow, 2022 Kid Captains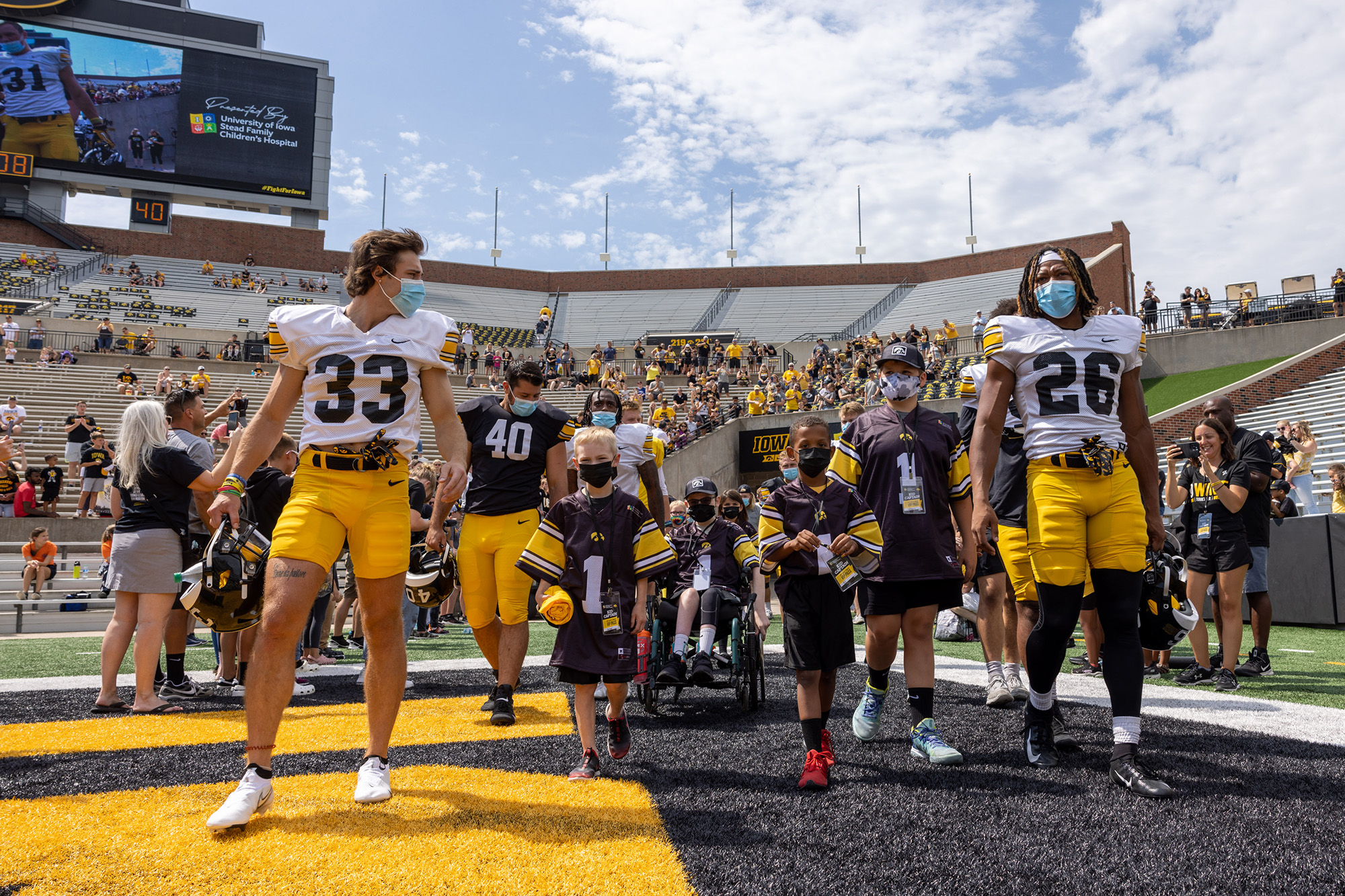 Current and former University of Iowa Stead Family Children's Hospital patients took the spotlight as the Kid Captain program returned for the 2022 Iowa Hawkeye football season.
This year marked the 13th season of the Kid Captain program, which started in 2009 as a partnership between UI Stead Family Children's Hospital and the Iowa Hawkeyes to honor pediatric patients and celebrate their incredible stories.
The 2022 Kid Captains all hail from Iowa communities. Below you'll find their incredible stories of courage:
Eli Belser, 7, Elkader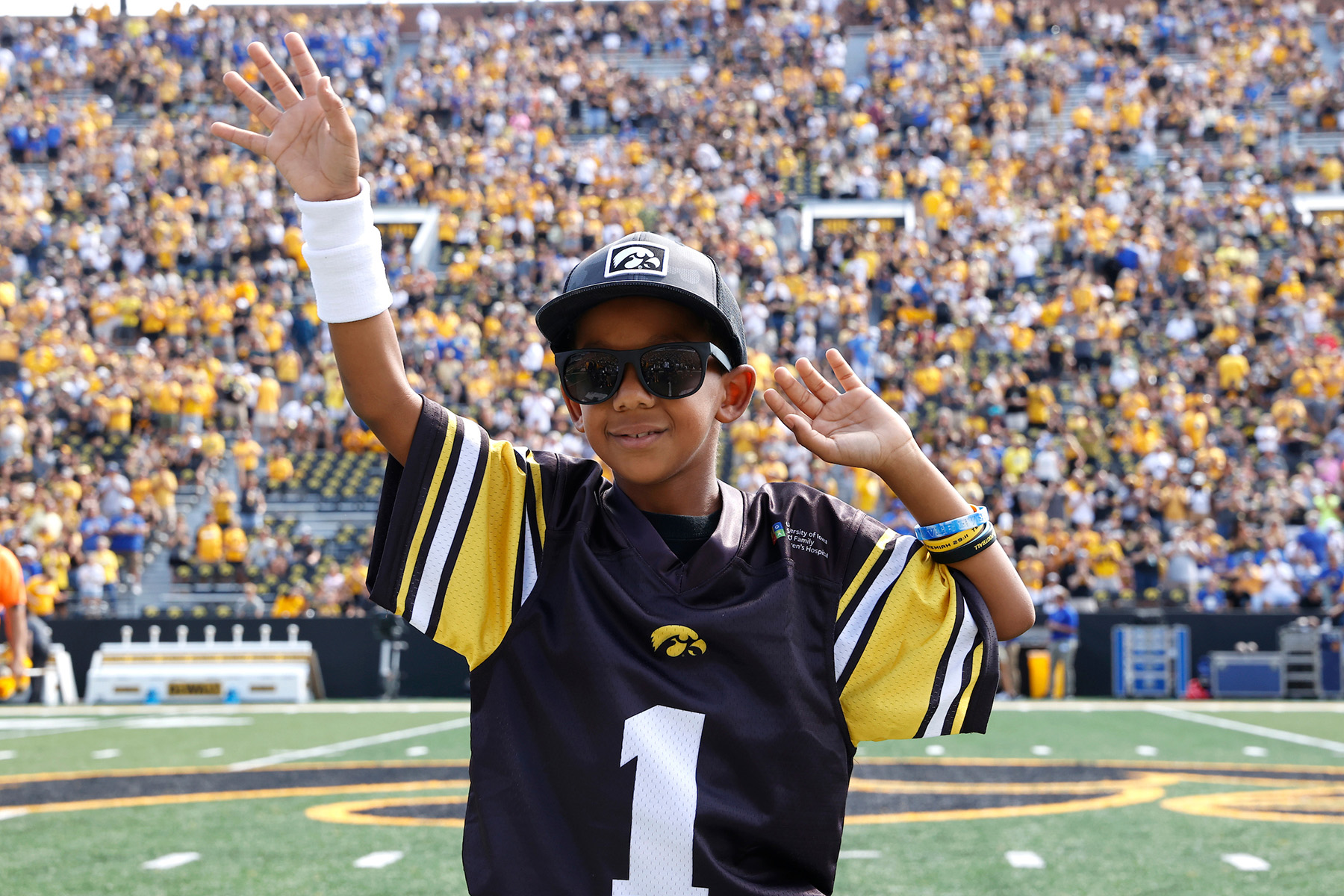 Eli started getting sick in 2019 and local doctors couldn't determine what was wrong. He had difficulty eating and walking and was in constant pain. He was referred to University of Iowa Stead Family Children's Hospital and was diagnosed with a rare bone disease, CRMO, or chronic recurrent multifocal osteomyelitis – a condition that causes bone pain due to inflammation and not an infection. He was treated for CRMO but didn't get any better, so his rheumatology care team started to dig deeper. They ordered another MRI and diagnosed Eli with Stage 4 neuroblastoma high risk, a cancer that develops from immature nerve cells typically in children 5 years old and younger. 
Eli received several rounds of chemotherapy, surgery to remove tumors, stem cell harvest and transplants, and other treatments. He has been in remission for two years.
Click here for Eli's full story.
Audrey Schneller, 7, Waukee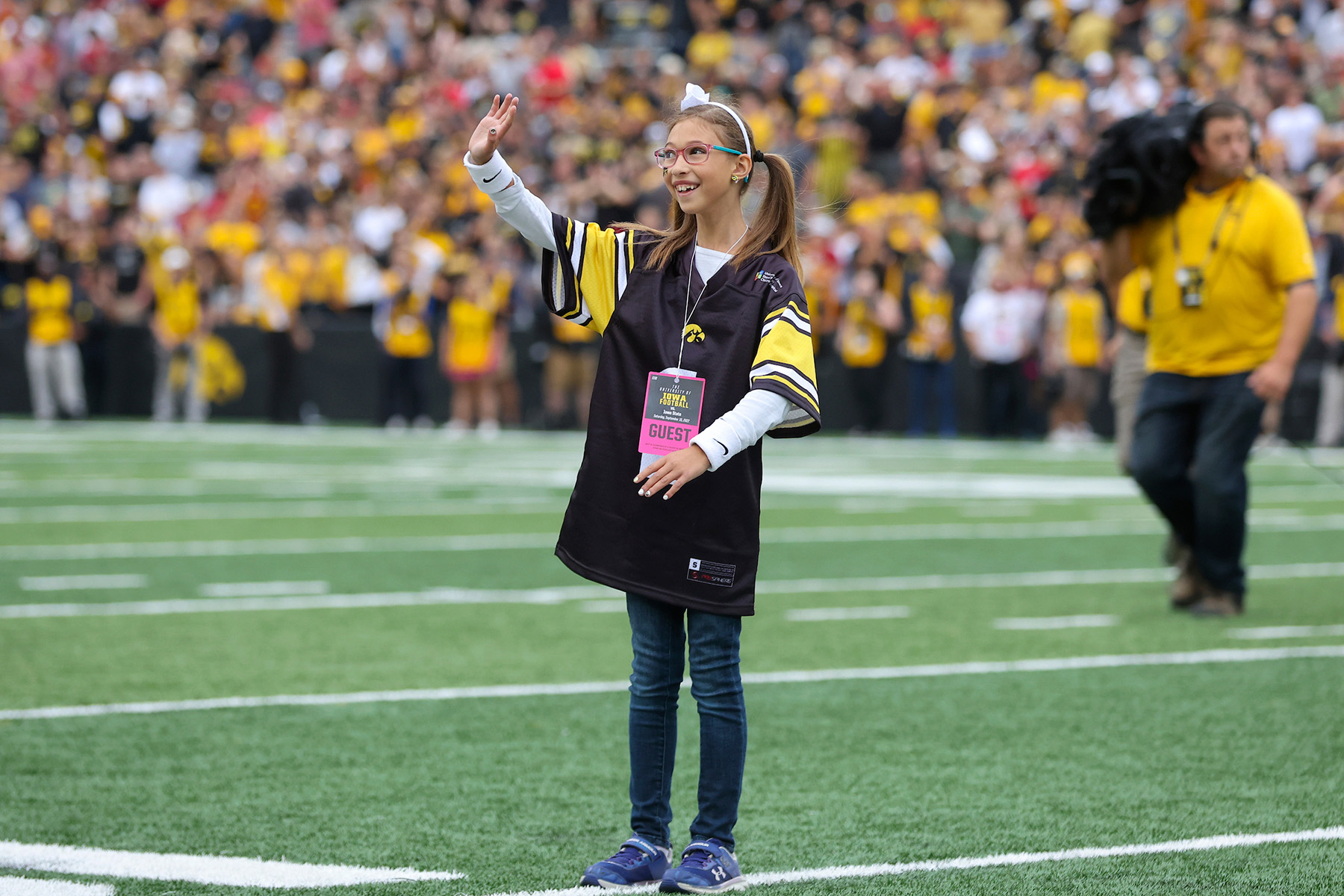 When Audrey was 6 weeks old her parents noticed her eyes beginning to "flutter," and she wasn't visually tracking things like babies her age should be doing. After her local pediatrician ruled out seizures and a possible mass on her brain, Audrey was referred to University of Iowa Stead Family Children's Hospital and pediatric ophthalmology, where she saw a specialist in genetic eye disorders. Doctors discovered she had folds in her retinas, causing her to have virtually no vision in her left eye and very little in her right eye. She was also born with microcephaly, or a small head, which could lead to developmental and learning delays.  
As she got older her vision began to improve, and she received a formal diagnosis for her condition: a mutation in the KIF11 gene, a very rare genetic condition. Audrey's particular mutation was just the 13th to be identified in this gene.
Click here to read Audrey's full story.
Eve Jimenez, 8, Davenport
Eve was a healthy 4-year-old when she suddenly became ill, unable to walk or speak and with weakness in her limbs. Her local hospital could not determine what was wrong with her, so she and her family were sent to University of Iowa Stead Family Children's Hospital. Eve was diagnosed with Acute Disseminated Encephalomyelitis, or ADEM, a rare disorder that causes swelling in the brain and spinal cord, and occasionally in the optic nerves.
In most cases, ADEM only occurs once, but four years after her first episode, Eve was life-flighted back to Iowa City with multi-phasic ADEM.
Click here to read Eve's full story.
Anjali Sahu, 6, Atkins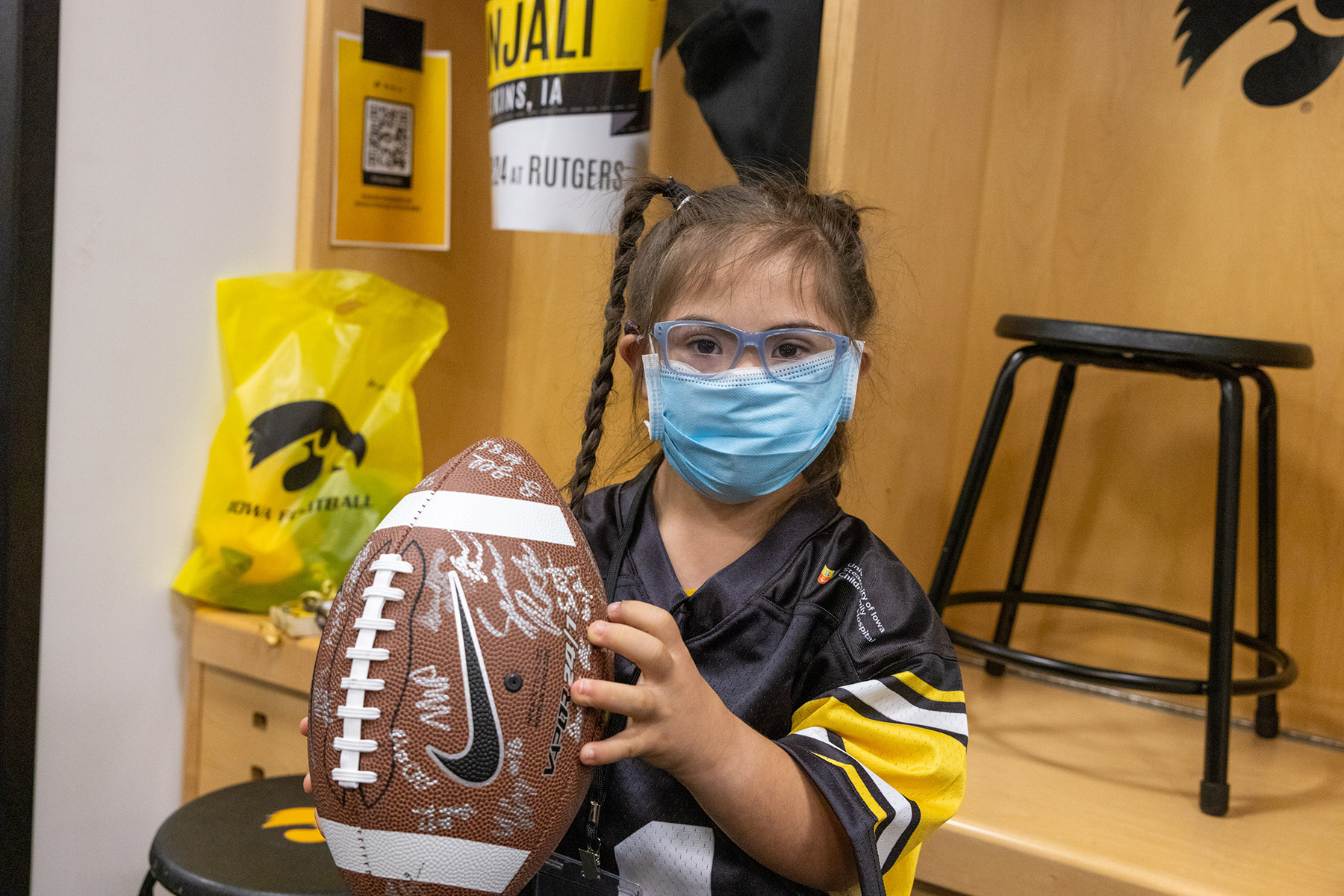 Anjali was diagnosed with Down Syndrome before she was born, but doctors at a local hospital knew there was more. While still in the local hospital she was throwing up and becoming smaller and weaker and doctors didn't know why. They sent her to University of Iowa Stead Family Children's Hospital. Anjali was diagnosed with duodenal webbing, or blockage in the upper part of the small intestine. 
Anjali had surgery to correct the webbing as an infant and has continued to see UI Stead Family Children's Hospital specialists from many different areas.
Click here for Anjali's full story.
Adam Arp, 15, Williamsburg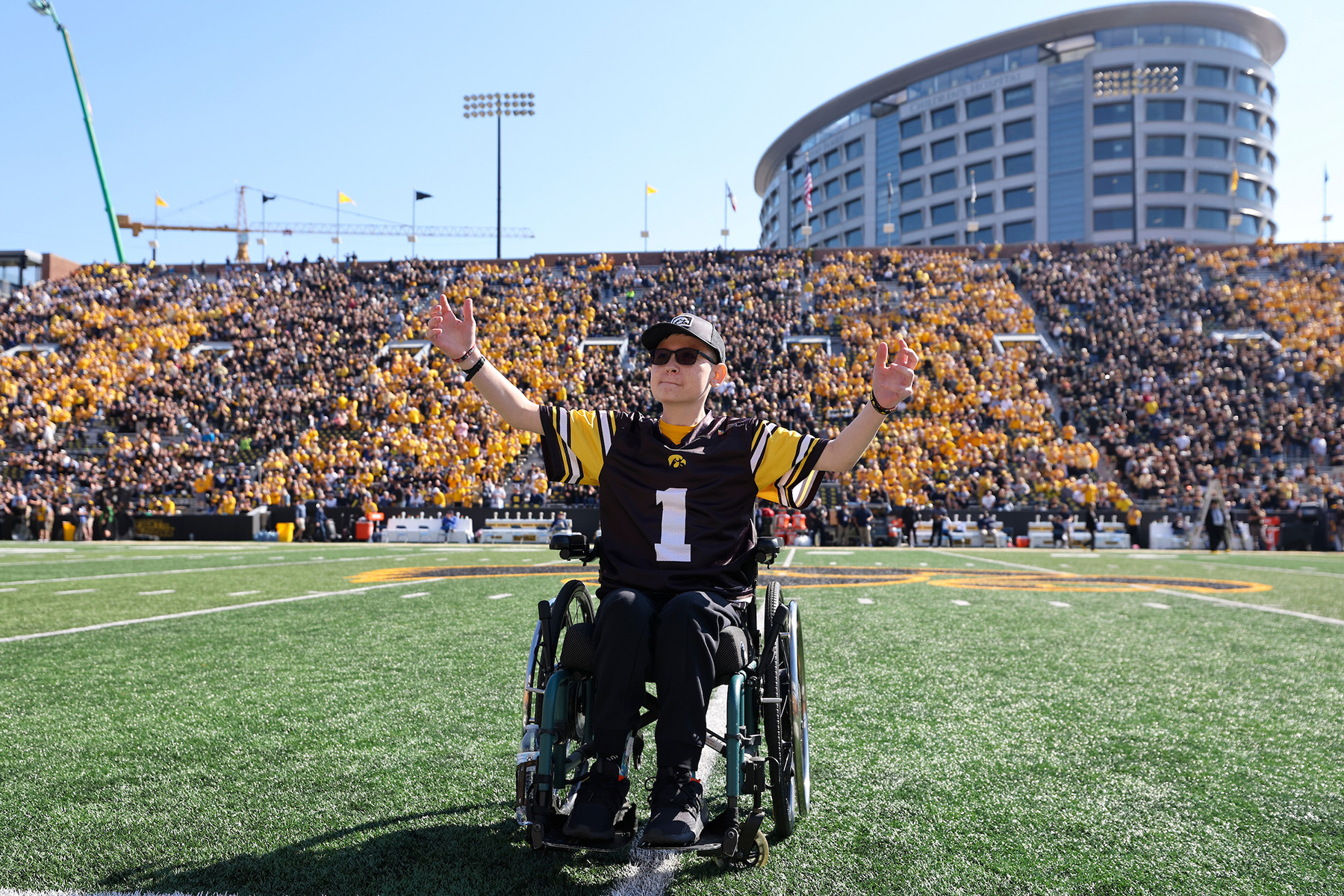 Adam's parents discovered when he was still in utero that Adam would be born with several birth defects and chronic conditions, including spina bifida, hydrocephalus (fluid on the brain), Chiari malformation (brain tissue extending into the spinal cord), and many others. He was laid on his stomach after birth because of the spina bifida, which causes the spinal column to form improperly and leave a section of the spinal cord exposed through an opening in the back.
When he was 9 hours old, Adam had his first surgery, to repair the spinal defect and to place a reservoir, or shunt, to collect the fluid from his brain. At 14 days old he had another surgery to adjust the shunt.
Click here for Adam's full story.
Cormac Faley, 12, Asbury
After a week of struggling with sporadic low-grade fever, nausea, and stomachache, Cormac was taken to a local doctor to have blood work done to determine the cause of his stubborn illness. Cormac was diagnosed with leukemia and sent to University of Iowa Stead Family Children's Hospital immediately. 
Cormac went through more than three years of chemotherapy and other cancer treatments and completed treatment two years ago.
Click here for Cormac's full story.
Gavin Miller, 13, Ogden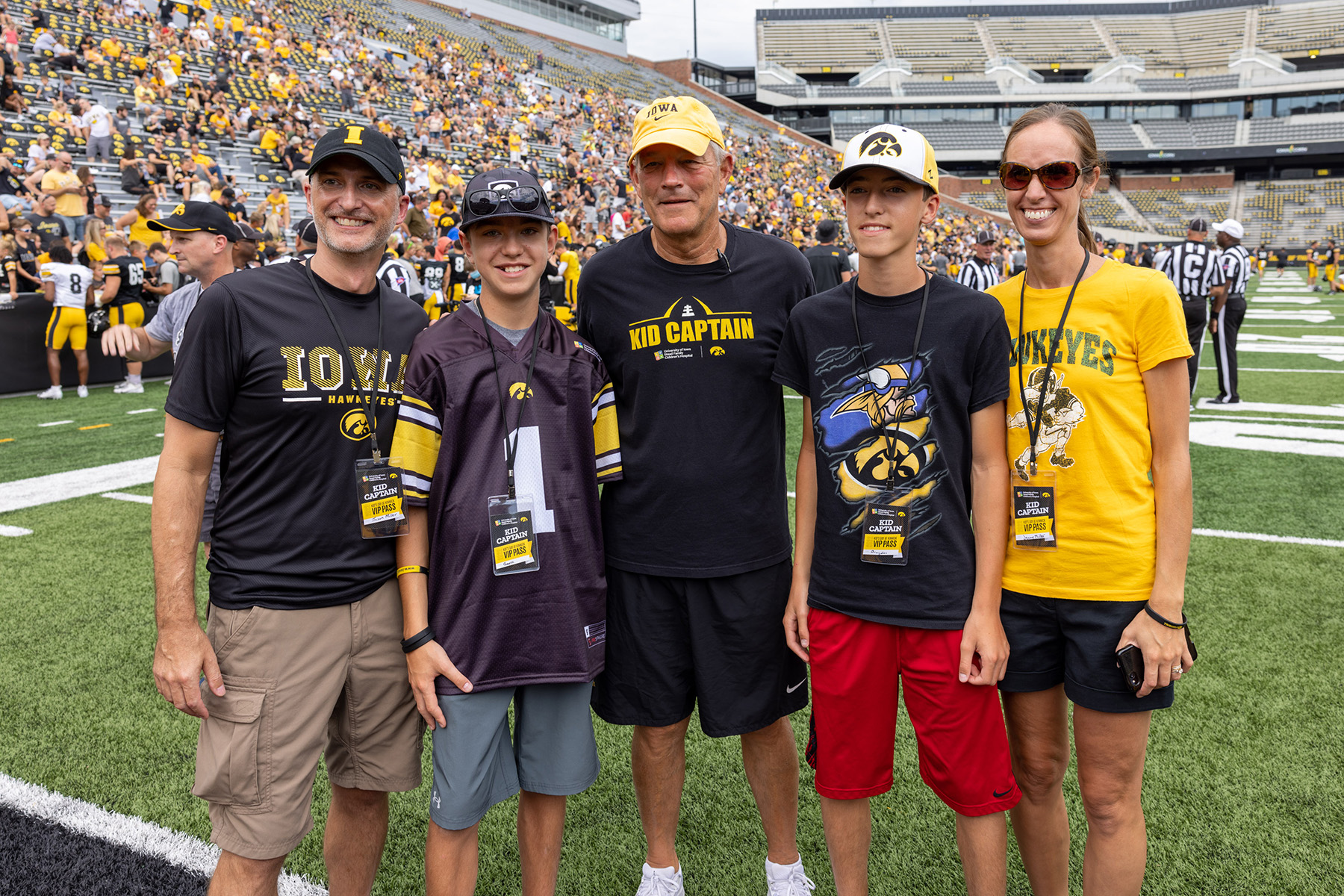 When Gavin's mom was still pregnant with him and his brother, doctors discovered Gavin wasn't releasing urine properly, prompting two shunts to be placed in utero to help drain his bladder. Ultimately both shunts failed. Because local doctors were unsure of the severity of Gavin's condition, his mom was referred to the high-risk maternal fetal medicine doctors at University of Iowa Hospitals & Clinics, and Gavin would be treated at UI Stead Family Children's Hospital. 
Gavin was born with severe kidney failure and underwent a living donor kidney transplant shortly after his first birthday. He's had close to a dozen surgeries and many stays in the children's hospital.
Click here for Gavin's full story.
Elyna Clements, 9, Camanche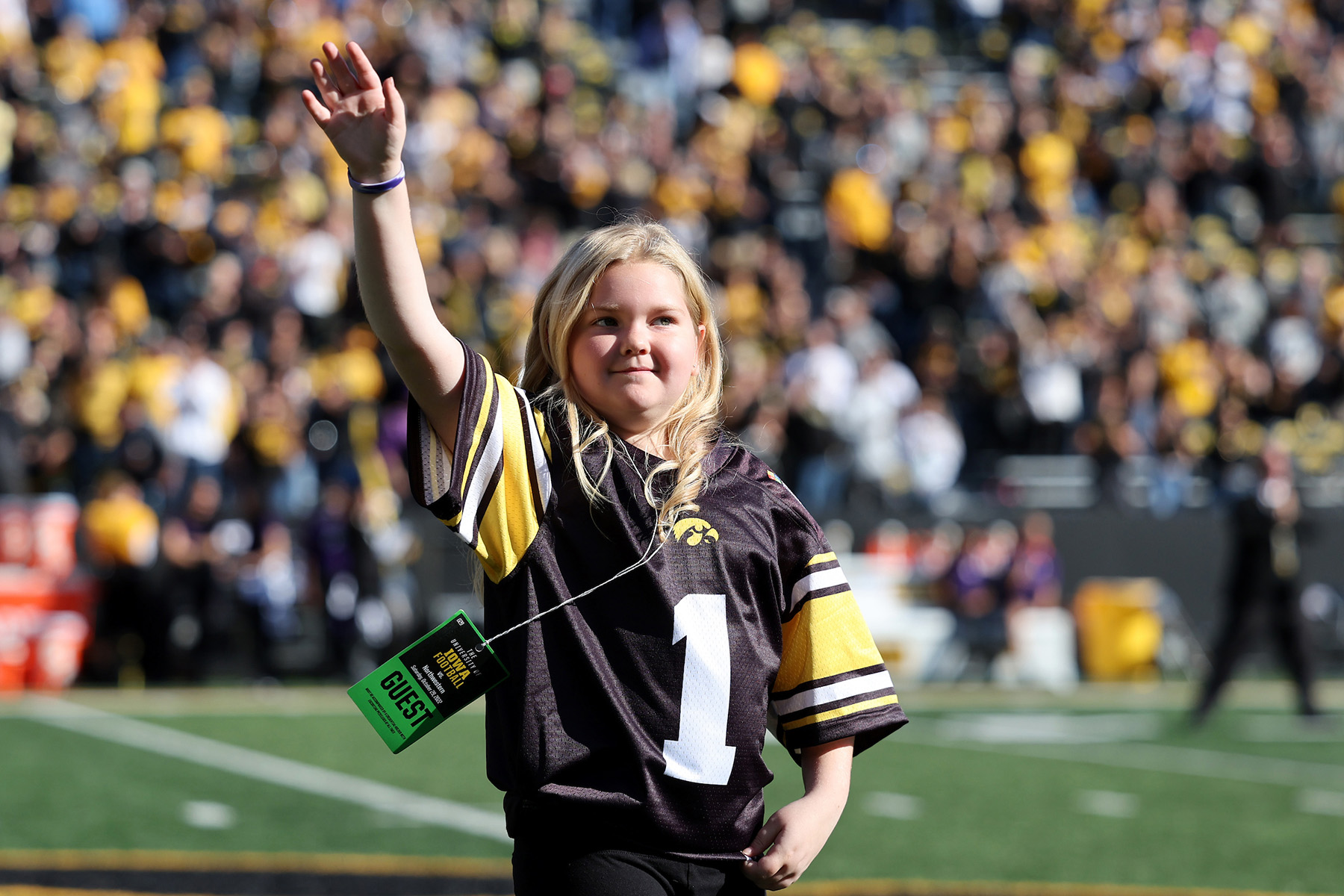 After having eye pain and headaches, a local optometrist discovered a possible mass behind Elyna's eye, confirmed by an MRI at a local hospital. She was immediately referred to University of Iowa Stead Family Children's Hospital, where doctors were waiting for her in the emergency room. That night she had surgery to insert a drain in her brain to reduce fluid pressure. Two days later she underwent a nine-hour surgery to have the rare brain tumor, a craniopharyngioma, removed. 
The tumor caused Elyna to lose vision in her right eye and to have no peripheral vision in her left eye. After surgery she also developed adrenal insufficiency and diabetes insipidus—a condition which causes a person to be very thirsty and to urinate often.
Click here for Elyna's full story.
Carver Meiners, 8, Polk City
Carver was diagnosed with transposition of the great arteries while still in his mother's womb. Transposition of the great arteries is a rare heart condition in which the heart's two main arteries are reversed, causing a lack of oxygen-rich blood to the body. He underwent a heart catheterization when he was a couple days old to help improve mixing of the blood in his heart to prepare him for open heart surgery. When he was 6 days old he underwent an arterial switch surgery to correct the blood flow to his body.   
He continues to see pediatric cardiologists to monitor his heart.
Click here for Carver's full story.
Tate Manahl, 8, Cedar Falls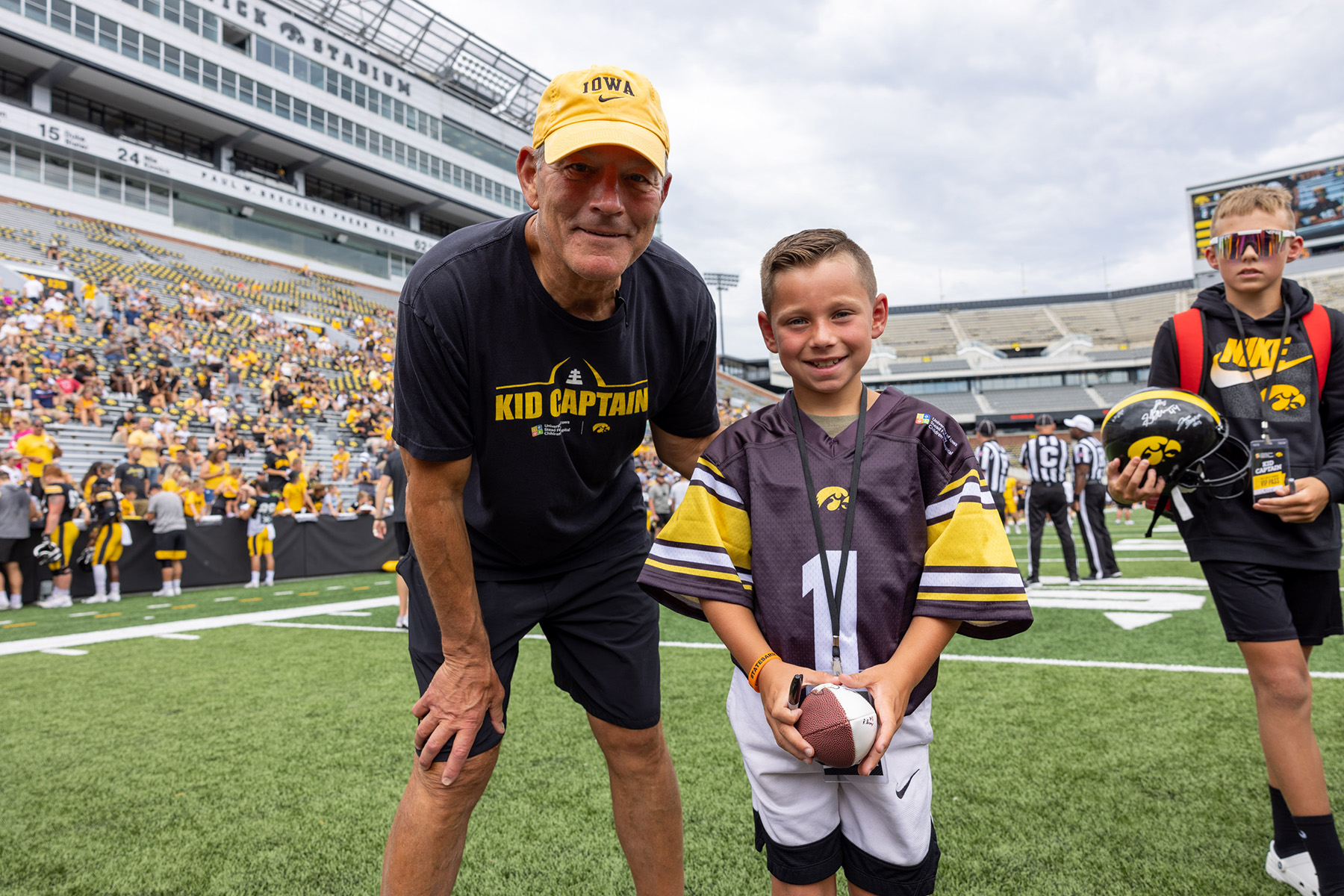 Having just returned home from running errands with his mom, then-3-year-old Tate was excited to see his dad out mowing the lawn. Without either of his parents seeing him, he ran out to his dad and stood directly behind the lawn mower, just as it was being put in reverse. The mower ran over Tate, covering his legs and lower abdomen and critically injuring the toddler. 
Tate was flown to University of Iowa Stead Family Children's Hospital where the first surgery was to repair and save his vital organs. He has had more than 30 surgeries in five years helping to save his legs and allow him to walk.
Click here for Tate's full story.
Veronica Sullivan, 7, Marion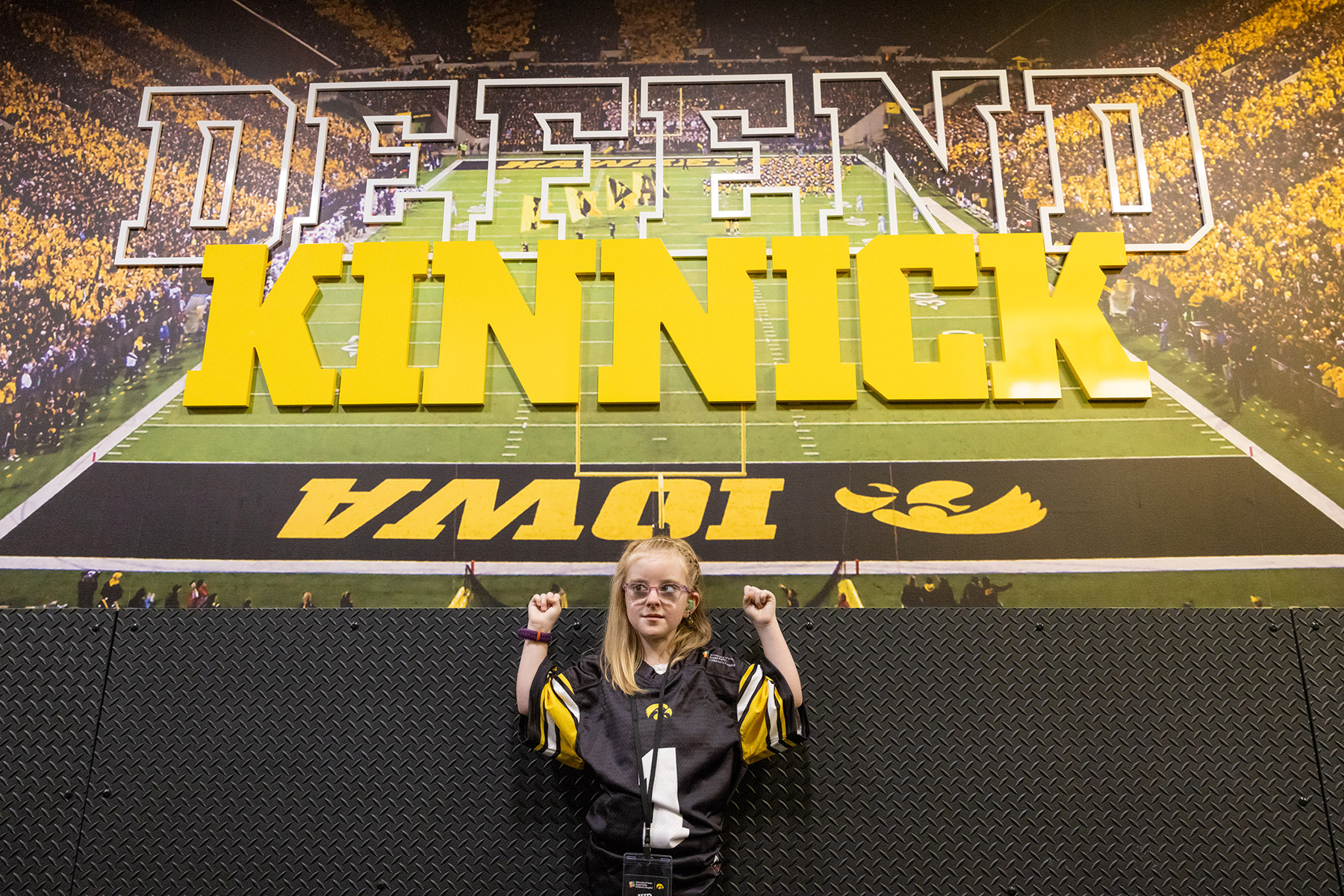 Veronica was a happy and healthy baby girl, with the exceptions of occasional ear infections. She suddenly became very ill when she was 16 months old; her parents thought it was a double ear infection and took her to a local urgent care clinic. She was treated for an ear infection and sent home. By the next night she was lethargic and limp in her mom's arms and was rushed to a local emergency room. When a series of CT scans, X-rays, blood draws, and a spinal tap failed to uncover a cause for Veronica's illness, she was referred to University of Iowa Stead Family Children's Hospital. 
Veronica underwent more tests and with the help of consultations with neurologists from across the country, she was diagnosed with transverse myelitis, an inflammation of the spinal cord. Through follow-up meetings with her genetics team, Veronica has also been diagnosed with KBG Syndrome, which may cause developmental abnormalities, and Vascular Ehlers Danlos Syndrome, which may weaken the aorta.
Click here for Veronica's full story.
Dylan McGivern, 10, Dysart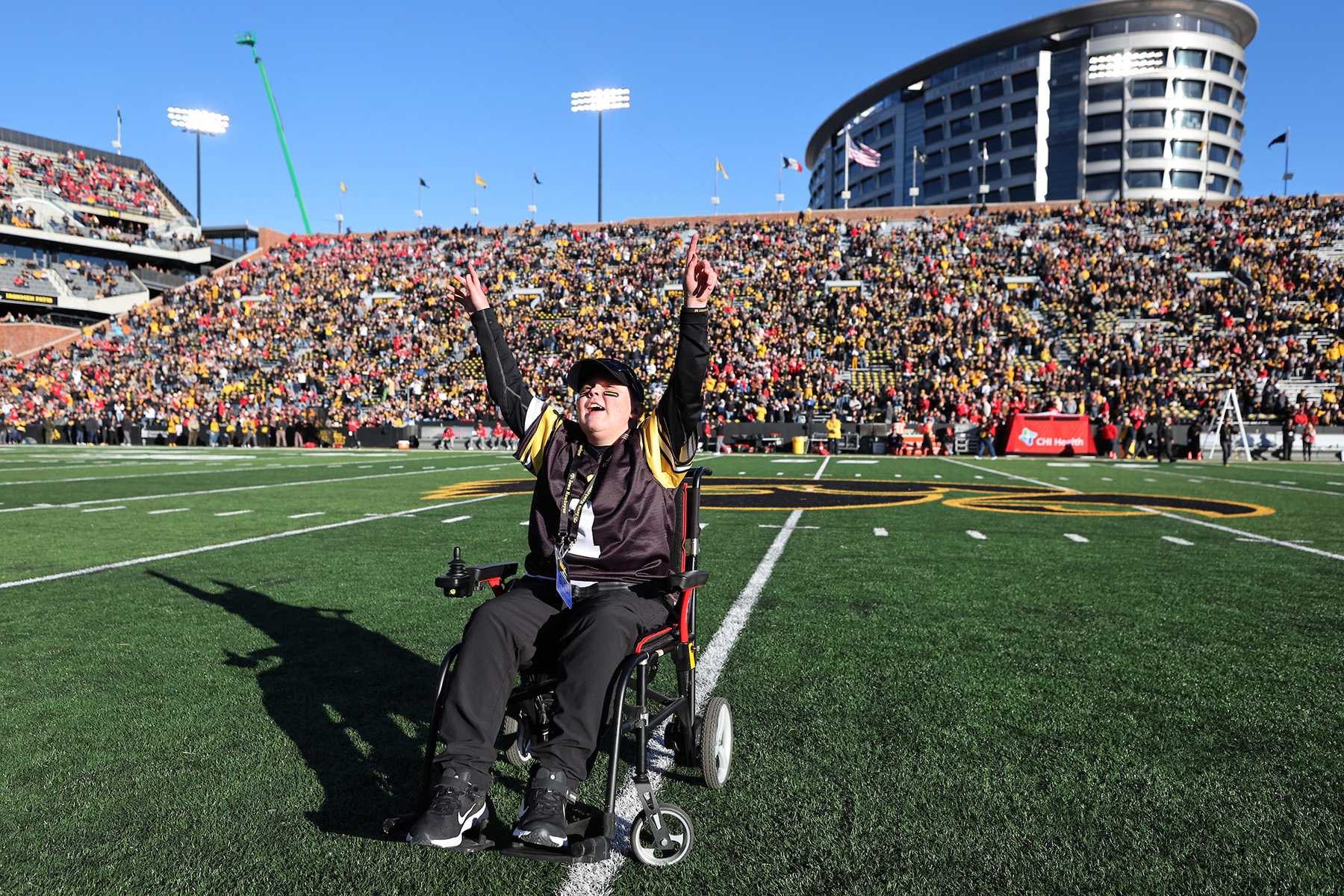 Dylan wasn't meeting developmental milestones for his age so his local pediatrician referred him to University of Iowa Stead Family Children's Hospital and the pediatric neuromuscular clinic. After the CK—creatine kinase—levels of both Dylan and his younger brother were higher than normal, both boys were diagnosed with Duchenne muscular dystrophy, a condition that causes progressive muscle degeneration. Dylan has always loved baseball and football, but because of his declining mobility he is no longer able to play. 
Dylan's family participates in clinical trials to aid in the research of Duchenne muscular dystrophy.