A continuum of care for children who need it most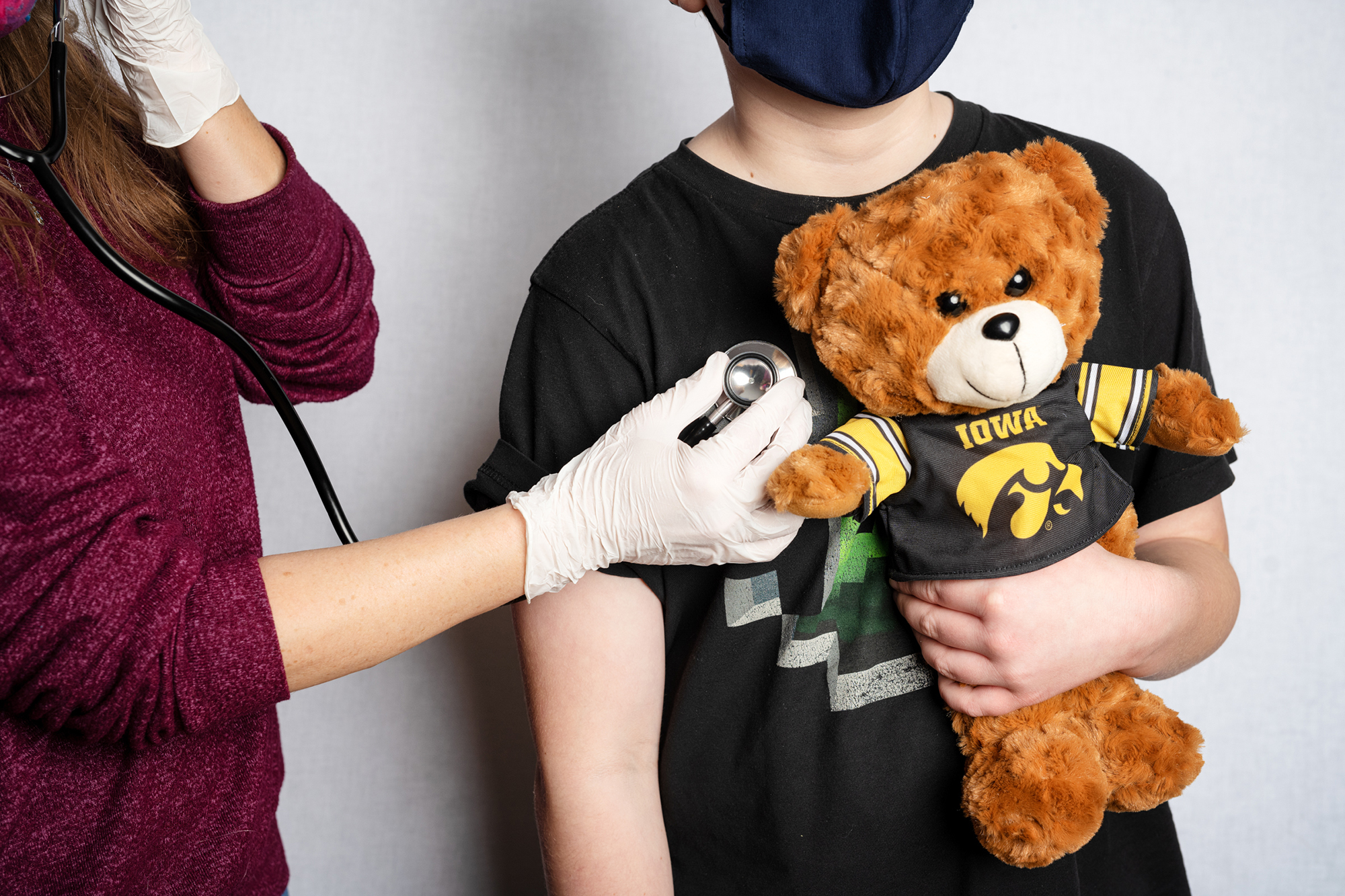 The University of Iowa operates more than a dozen Child Health Specialty Clinics across the state, serving thousands of Iowa children with special health care needs each year and connecting their families to essential resources.
When Jackie Schott gave birth to her son, Sully, at just 27 weeks' gestation, she knew he would require increased medical attention due to his prematurity. He spent his first three months in a neonatal intensive care unit.
What the Mason City, Iowa, resident didn't realize was just how much her son's health care needs would grow as he aged—and how crucial to her family a University of Iowa specialty clinic in the area would become.
"Before we left the hospital, the staff referred us to the University of Iowa's Child Health Specialty Clinic in Mason City, and soon we got a call from Loni, the clinic's family navigator, just to offer support," says Schott. "When we later started noticing a regression in Sully's speech, we called Loni and she suggested he be seen in the clinic right away. He was diagnosed with autism at 21 months, and Loni was there for us every step of the way. We knew we could always call her, even if just to cry, because she understood what we were going through."
Jackie and David Schott, of Mason City, pose in this submitted photo with their son, Sully. When Sully was diagnosed with autism at a young age, the Schotts utilized the services and support of the University of Iowa's Child Health Specialty Clinic in Mason City. Jackie now helps other families manage special needs diagnoses as a staff member at the clinic.
That connection was essential, says Schott, because Loni had experienced similar caregiving challenges. Schott, whose son is now 6 and enrolled in virtual kindergarten, says there were few, if any, regional support groups that she could have turned to for help.
One in five Iowa children have or are at risk of having special health care needs—from chronic conditions like asthma and diabetes to developmental or behavioral disorders like autism or attention deficit hyperactivity disorder to more complex health issues like spina bifida or cerebral palsy. But many families don't have convenient access to specialty care or to someone who can help them navigate needed resources.
Helping Iowa communities fill those gaps is a mission of the UI Division of Child and Community Health, part of the Roy J. and Lucille A. Carver College of Medicine and the Stead Family Department of Pediatrics. To do so, the division oversees the Child Health Specialty Clinics, a network of 13 regional centers and seven satellite locations that are staffed with public health professionals, clinical providers, and family navigators.
Strategically located across the state—from Creston to Decorah and Spencer to Ottumwa—the UI facilities provide direct care each year to thousands of Iowa children and their families, and also help administer the state's funding from the federal Title V Maternal and Child Health Block Grant Program.
Not only do families have access to UI experts through clinic referrals and telehealth visits, they often do not have to make a long drive to Iowa City. Division director Thomas Scholz calls the clinics a "hidden gem."
"Our clinics don't exist to compete with local providers, but rather to fill the gaps," says Scholz, noting that clinic staff regularly work with primary care providers, schools, and other partners in the communities they serve. "Through a wide range of services and programs, staff members help identify resources and offer assistance. For example, if a child in Spencer needs to see a pediatric neurologist, we can connect them with one at UI Hospitals & Clinics."
Some 128,000 children in Iowa have or are at risk of having a special health care need, from chronic conditions to developmental disorders to complex health issues. Through a network of 13 regional centers and seven satellite locations across the state, the University of Iowa Carver College of Medicine was able to serve more than 7,200 children and their families in 2019 in all 99 Iowa counties.
A pediatric cardiologist on the UI faculty since 1993, Scholz was tapped to lead the Child Health Specialty Clinics in 2015 after serving as interim director for several months. He says the role has given him a new appreciation for children's special health care needs in a rural state.
"I never thought that much about the effort it took for some families to see me in Iowa City. The challenges can be insurmountable," he says. "The clinics are positioned in locations across the state to help minimize barriers, especially transportation, and to increase access to mental health care."
The university opened the first such clinic in Ottumwa in 1977 and has since continued to expand services. Even before the pandemic, the clinics had increasingly used telehealth to provide care. In 2019, more than 1,600 telehealth visits were facilitated in psychiatry, a growing need within the state.
"There are so many mental health 'deserts' in Iowa," Scholz says. "Our goals include reaching more kids and families in more underserved areas of the state and expanding those services to provide more medical specialties."
One of the clinics' strengths, Scholz adds, is its team of 28 family navigators, who are parents or caregivers who know what it's like to manage the difficulties of a special needs diagnosis. Employed by the UI, they work with families to provide emotional support, connect them with community resources, and help them navigate health, educational, and social service systems. They might help a family find a speech therapist or secure respite care or apply for Medicare or even attend an individualized education program meeting at a child's school.
Specialty care, with a side of compassion
When a family is referred to one of the University of Iowa Child Health Specialty Clinics, a staff member called a family navigator contacts them to offer support. These team members receive training but they come to the job with personal experience—they, too, have faced the challenges of managing a special needs diagnosis. The UI program has been so successful that other states are looking to implement similar programs.
"I think of myself as a coach," says Theresa Rasch, a longtime family navigator in the Spencer clinic and mother of two adult children with special needs. "It can take a while for a parent to find their voice as they begin advocating for their child. They're just trying to stay above water, and I am thankful to be able to pull from my own experiences and help them. On some days, that might mean connecting them to a food pantry or finding financial assistance so they can put gas in the car. I always ask families what their greatest need is, because even though they may have marching orders from the clinic's nurse practitioner, it's hard to focus on that next step if there's no food in the fridge."
Jackie Schott, too, is using her experiences to help others. In 2019, she became a family navigator at the Child Health Specialty Clinic in Mason City, and she has worked with nearly 100 families.
"As a mother, I know how beneficial these services were to me. I could just be having a bad day and call Loni. Or I could call to say that my son had held my hand that day, and she would celebrate with me," Schott says. "You feel so alone when your child has special needs. Having a connection with someone who has been down a similar road is essential."