Iowa professor leaves mark on global film scene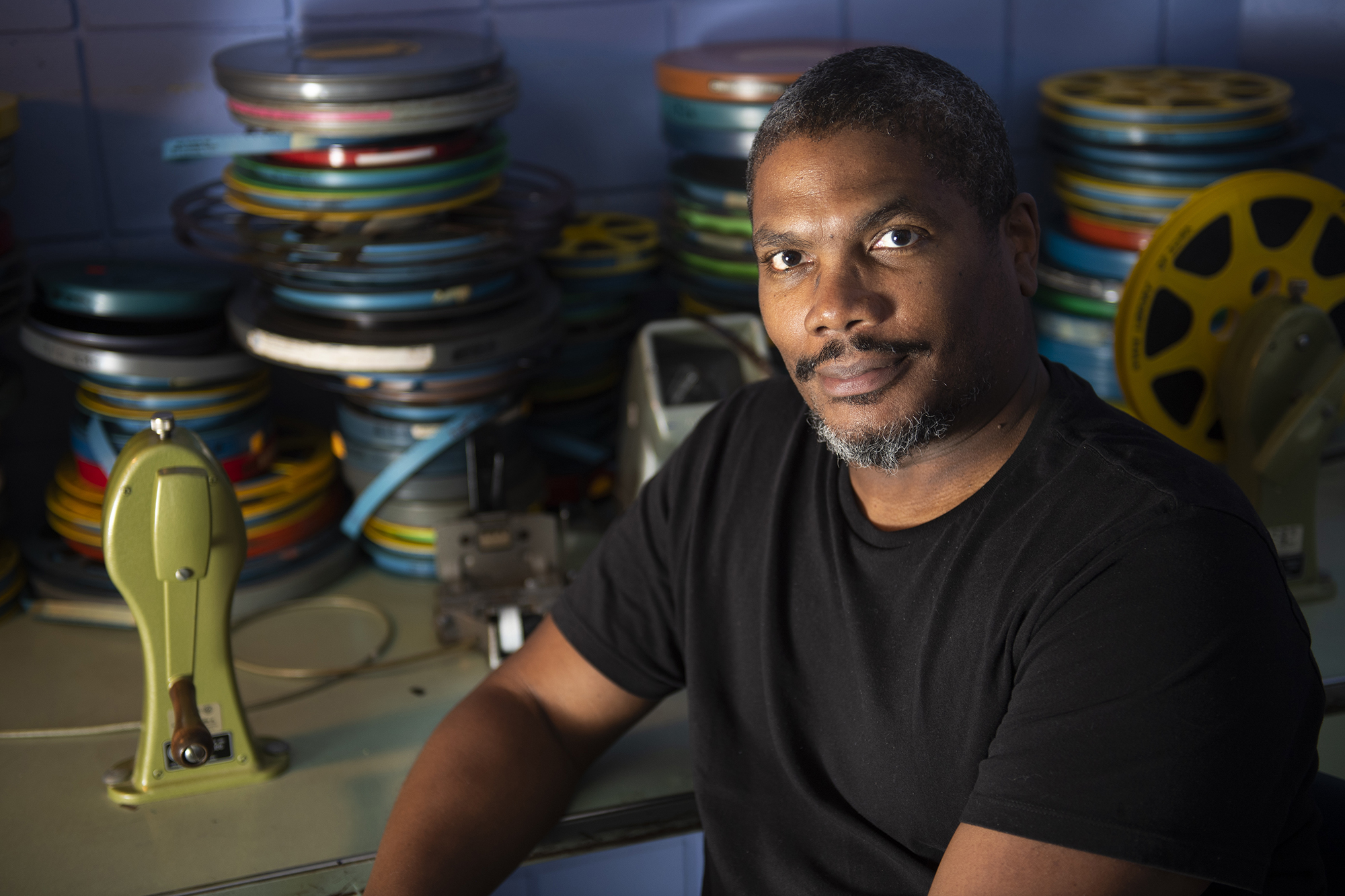 A thesis film made by Christopher Harris in 2000 is seeing a resurgence. The University of Iowa associate professor and his film, "still/here," were featured this summer in a retrospective of black filmmaking at the Locarno International Film Festival in Switzerland.
Oscar Micheaux, Ousmane Sembène, Jean Rouch, Charles Burnett, Spike Lee, Julie Dash. Among this list of prestigious filmmakers who have explored the complexity of black experience since the birth of cinema is a Hawkeye.
"When I saw the list of films and filmmakers, I was stunned," says Christopher Harris, University of Iowa associate professor and head of film and video production in the Department of Cinematic Arts. "It was people I had admired deeply for years. Some of the canonical films and filmmakers of cinema are on that list, and I'm right there with them. The analogy I gave somebody was, you have Warhol and Picasso and Pollock, the greats of 20th century painting, and then there's me, and I'm right there hanging on the wall with them. It was a real honor."
The films were screened in August as part of a retrospective at the Locarno International Film Festival in Switzerland. According to the festival, the Black Light Retrospective aimed to provide "an extensive overview of black filmmaking, beyond all borders." 
"The curator, Greg de Cuir Jr., said—and I'm paraphrasing—'This is a retrospective, not the retrospective,'" Harris says. "He wanted to put different types of films from different eras and regions of the globe in conversation with each other. He wanted to show the diversity and multiplicity of black cinema. There are black cinemas, not a black cinema."
The films spanned from 1919 (Micheaux's Within Our Gates) to 2000 (Harris' still/here). 
"It was an honor to be the summation of 20th century black cinema," Harris says. "It's the highest-profile screening I've ever been in."
Harris is no stranger to film festivals, having been featured in exhibitions and festivals around the world. But he more frequently shows his work at smaller festivals and programs that specialize in experimental films. Locarno is one of the longest-running film festivals in the world and welcomes thousands of film fans and industry professionals every year. It also features one of the world's largest outdoor cinemas, with room for 8,000. 
While in Switzerland, Harris also participated in a Black Light Retrospective Roundtable.
Shot in black and white on 16mm, still/here was Harris' thesis film for his Master of Fine Arts. According to the Locarno program entry for still/here, "Harris patiently studies the displacement and disarray in the urban landscape of North St. Louis. This avant-garde gem is slowly gaining the recognition it deserves."
"It happens from time to time that a film is rediscovered," Harris says. "What has changed is not the film, but there's a critical mass of black programmers, writers, curators, scholars, and critics working right now in venues like Locarno. Having people of color in spaces and places and venues where they haven't been in such numbers until relatively recently helps explain the resurgence of this film. I don't want to be over simplistic and say only black writers and scholars have paid attention, because that's not the case, but their presence has helped the film greatly."
Locarno won't be the last place people can see still/here. Harris will spend the end of August in Brazil participating in the Belo Horizonte International Short Film Festival, where still/here will be one of Harris' films to be discussed. Parts of the Black Light Retrospective from Locarno will tour Europe in 2020, and Harris says he would love to bring it to Iowa City. Future plans—perhaps for its 25th anniversary—also include a digital restoration of the film, putting it on Blu-ray, creating a companion book, and going on tour with it.

A filmmaker's winding journey
Harris didn't grow up wanting to become a filmmaker. In fact, when the St. Louis native started college, he planned to go into law.
"It wasn't because I knew what being a lawyer really meant, but I'm old enough to remember Perry Mason, and I thought it looked cool," Harris says of the popular TV series from the 1950s and '60s. "All he did as far as I knew was show up in court in a nice suit and argue. And I thought, 'I can do that.' I was 18 and naïve."
After changing majors nearly every semester, Harris signed up for a film class—which he admits he took because he thought it would be an easy A.
"But then the professor started talking, and I realized she was interpreting the film," Harris says. "The fact that you could interpret a film was fascinating to me—that it wasn't just entertainment, that it had meaning. I was hooked from that moment on."
Just as his path to film studies was winding, so was his journey to finding the type of filmmaking he would become known for.
"I first wanted to make commercial story films. Then I wanted to make independent low-budget narrative films. Then I fell in love with Jean-Luc Godard, and I wanted to be an international auteur," Harris says. "Then I discovered experimental film and realized you could make films like a studio artist, in that one person could be responsible for every aspect of a film. It's more like a painter, poet, composer, writer—someone who doesn't often require collaboration to produce a work." 
Harris' work doesn't follow the conventions of Hollywood movies. He often employs manually and chemically altered appropriated moving images, staged re-enactments of archival artifacts, and double projection, in which two images play out side by side. He also uses a technique known as in-camera editing, in which he shoots sequences in order in a single take, instead of editing various shots or takes into sequence later. 
"I'm imagining the film in real time and responding in the moment," Harris says of this technique. "It's a kind of interactive improvisation that goes on. It's exciting because you have to commit to the choice."
Reckless Eyeballing is one of Harris' best-known works and continues to be featured in film programs and taught in film classes. The 2004 film uses footage of actress Pam Grier, activist Angela Davis, and D.W. Griffith's film The Birth of a Nation (1915) to examine themes of sexual desire, racial identity, and film history. Harris says he thinks Reckless Eyeballing strikes a chord because it tackles questions of racialized identity that never go away. Film experts and historians also have a particular interest in the film.
"The Birth of a Nation was the first blockbuster film, as well as an infamous work of art that was a piece of race-baiting propaganda," Harris says. "When you go to film school, you either see that film or see other films by Griffith, so it's sort of at the core of film studies in American narrative cinema. I take on this colossus with a little 15-minute experimental film and kind of cut it down to size. I appropriate imagery from it and turn it back for my own purposes and turn it back on Griffith and his film. It's a film that explicitly references film history and American history as parallel streams that are embedded in each other."
"This is a place where I'm understood and embraced for who and what I am. I've been a misfit in other places, but the kind of filmmaking that is practiced and taught here is very open to artistic filmmakers who work in the way that I do."
head of film and video production in the University of Iowa Department of Cinematic Arts
Paula Amad, associate professor and department chair for cinematic arts, says Harris acknowledges history while also valiantly noting that it's not the end. 
"Chris goes back to the visual archive and excavates problematic history, then revives it and marks a way to go forward from the perspective of an African American artist," Amad says. "These are films that are not there to tell an easy story or to narrate a palatable history. They're there to really make you think about and explore cinema's fundamental relationship to American racial identity, pushing us to turn the medium inside out and see how to stretch its potential for new conversations about film and race."
Harris says he wants to make the audience uncomfortable. Even more than that, he wants to make himself uncomfortable. 
"If I'm uncomfortable watching something I've made, it's because there's something true to it, that it speaks to an uncomfortable truth," Harris says. "I don't want to make work that reaffirms a sense of complacency and comfort. It's easy to become complacent and comfortable. That's a place I never want to be, in my life, or in my work as a filmmaker."
No slowing down
Harris calls his current project his most ambitious yet—conceptually and technically. Speaking in Tongues will return to a similar style of filmmaking as Reckless Eyeballing, one that Harris says he hadn't used in a while because he didn't have access to an optical printer. The device consists of a film projector linked to a movie camera that allows filmmakers to re-photograph one or more strips of film and create optical effects using special lenses to enlarge, reduce, or distort images. Thanks to a grant from Creative Capital—a nonprofit that supports artists from all disciplines through project funding, mentorship, and workshops—Harris now has one. 
While it's been a bit of a slow start due to his busy schedule, Harris says he has begun researching and gathering footage for the film. He also recently hired a former student as an assistant and hopes to make good progress in the next year.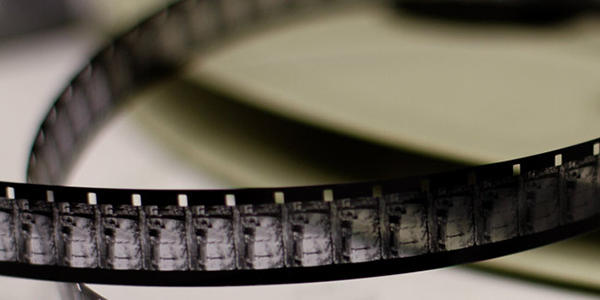 The University of Iowa Department of Cinematic Arts provides students with the critical tools necessary for the theoretical and historical analysis of cinema as well as the creative skills required for the production of film, video, and digital media.
Speaking in Tongues is inspired by Harris' favorite book, Ishmael Reed's Mumbo Jumbo. In the novel, which is set in the 1920s and blends fiction and history, a virus known as "Jes Grew" is causing people across the nation to dance, laugh, and love life. The virus is a personification of African American art, including blues, jazz, and writing. Meanwhile, an organization known as the Wallflower Order is trying to prevent the spread of the virus. Harris plans to use original footage interspersed with found footage from educational videos, documentaries, cartoons, Hollywood movies, and more to reference characters and events from the book.
Harris says an experience in the early '90s in New Orleans may have helped instigate the initial idea for the film. He and a friend were on a walk when they came upon a second line parade, which they joined for a few blocks. Harris says he had an out-of-body experience while dancing.
"It was a signature moment of my life. It was an epiphany. It was Saul on the road to Damascus," Harris says. "I was both deeply connected to my body and liberated from it all at once. I know what Jes Grew feels like, and I know what Reed was writing about. That's why I have faith and confidence to make this film. It's not just from a place that's intellectual, but also spiritual and psychological. I want this film to be a carrier of this virus."
While Harris may primarily use old-school film manipulation techniques, such as scratching, bleaching, and painting directly on a film strip, he doesn't eschew new technology. In fact, he teaches courses involving digital software that he says improve his skills alongside those of his students.
"I welcome it, as nerve-racking as it is sometimes," Harris says. "Whether I use them or not, knowing they're out there opens up other avenues for expression that I didn't have before. So, if I have an idea that can only be expressed through a certain digital method, now I can do it."
Harris urges his students to learn the principles of aesthetics and make them their own. 
"When you know that you can take these principles and put your own stamp on them, that's the goal," Harris says. "Not just to do what has been done before, but to use these tools to make something you've never seen before."
Harris is entering his third year at Iowa, and Amad says he brings an important perspective—both in his courses and work as a filmmaker—that draws upon the richness of the past and the future of the African American experience to the study and making of film.
Harris says it's been a great fit.
"This is a place where I'm understood and embraced for who and what I am," Harris says of the UI. "I've been a misfit in other places, but the kind of filmmaking that is practiced and taught here is very open to artistic filmmakers who work in the way that I do."
Produced by the UI Office of Strategic Communication
Tim Schoon and courtesy of Christopher Harris
Excerpts from still/here by Christopher Harris, 2001. Cinematography by Christopher Harris and Joel Wanek. Courtesy of Joel Wanek on Vimeo.