Athletics, UI REACH make a perfect team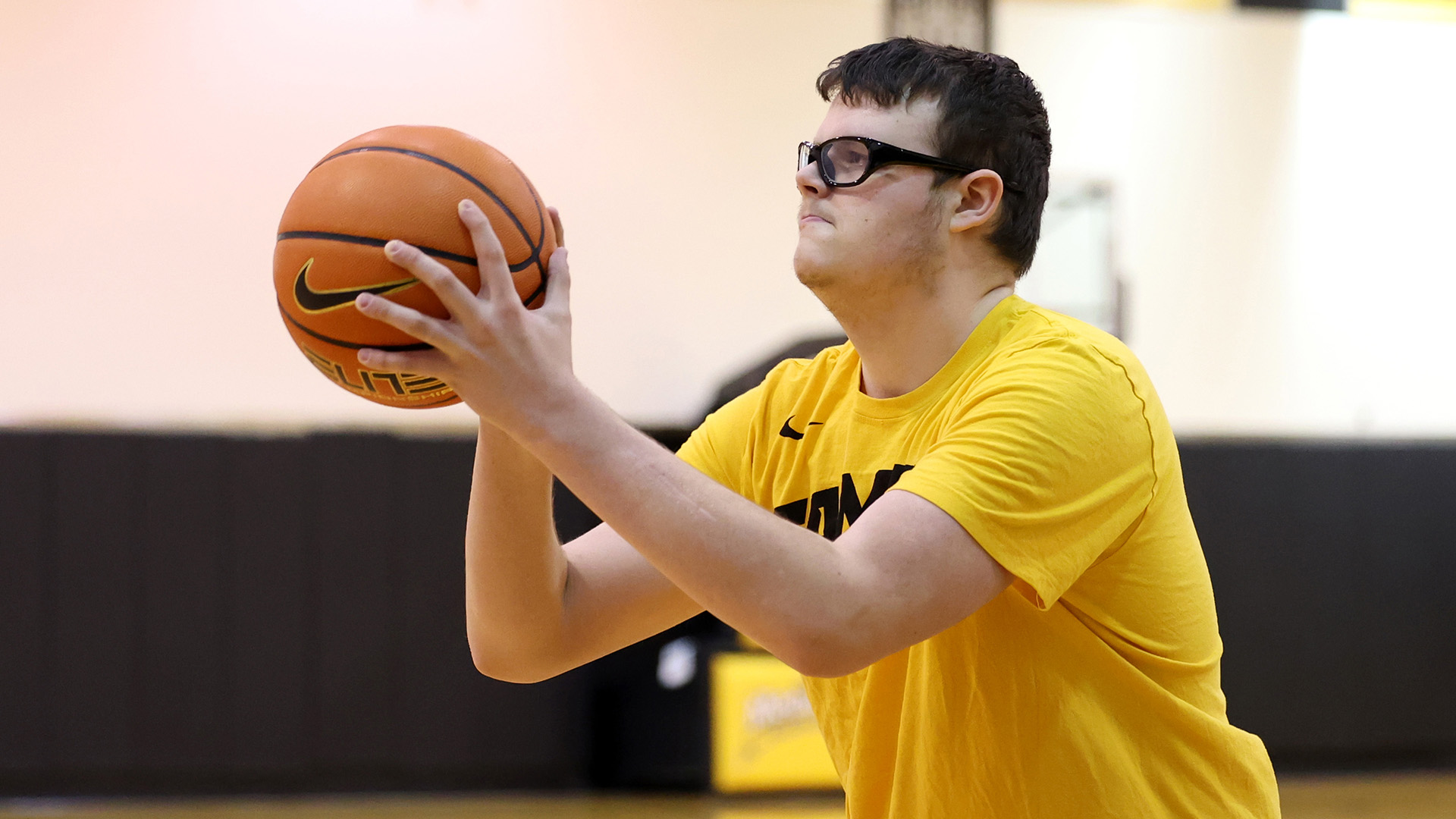 Cooper Reaves always wanted to be a Hawkeye. Thanks to UI REACH—a transition program for students with intellectual, cognitive, and learning disabilities—and a student manager internship with "Bluder's Bunch," that dream is a reality.
Brian Ray and Mei-Ling Shaw
Cooper Reaves grew up playing basketball and football, helping his dad coach his sister's basketball team, and watching his favorite teams.
Now, through the UI REACH program, Reaves is living out his passion for sports as the student manager for the Iowa Hawkeyes women's basketball team.
Reaves, from Center Point, Iowa, is part of UI REACH (Realizing Educational and Career Hopes), a comprehensive transition program for college-age students with intellectual, cognitive, and learning disabilities nested in the University of Iowa College of Education.
"I was interested in UI REACH because I wanted to have a traditional college experience, being able to work on my independence while living on my own," Reaves says. "Plus, I always wanted to be a Hawkeye."
More than one-third of all UI REACH students receive scholarship support, made possible thanks to generous donors. To support UI REACH students such as Cooper Reaves, visit givetoiowa.org/REACH23.
The UI REACH program offers an integrated college experience. REACH students take classes on academic skill building, career preparation, independent living, self-advocacy, and also take classes from the general UI course catalog. Students live on campus, experience social and athletic events, join student organizations, and gain valuable work experience through internships.
The University of Iowa is proud to support the UI REACH program as part of its rich legacy of diversity, equity, inclusion, and accessibility.
"At Iowa, our goal is to define diversity in the broadest sense. Diversity means including individuals with disabilities in our campuswide conversations and having policies that increase accessibility. We understand the UI REACH program provides a unique opportunity to learn about the importance of neurodiversity," says Liz Tovar, associate vice president of the Division of Diversity, Equity, and Inclusion.
Kylie Feuerbach, a player on the Iowa women's basketball team and an undergraduate student in the Tippie College of Business, from Sycamore, Illinois, has worked closely with Reaves while on the basketball team, and volunteers in UI REACH classes.
"The REACH classes that I've been able to attend have such a cool environment for many reasons. The main reason, though, is being able to see how all the student interact in different ways," says Feuerbach. "The classes that I have attended are typically organized in a way that allows you to talk and ask questions at any point. Not only that, but Jenny, UI REACH senior program specialist, makes sure the class is responding and communicating, which is something I love most about it."
Feuerbach says that it's valuable to have UI REACH students and traditional students working and learning together.
"Being in UI REACH classes, you really get to see how great UI REACH students are," Feuerbach says. "The University of Iowa does a very good job at really focusing on making sure that there is no separation between UI REACH students and traditional UI students. Having Cooper as one of our student managers has been such a great thing for everyone."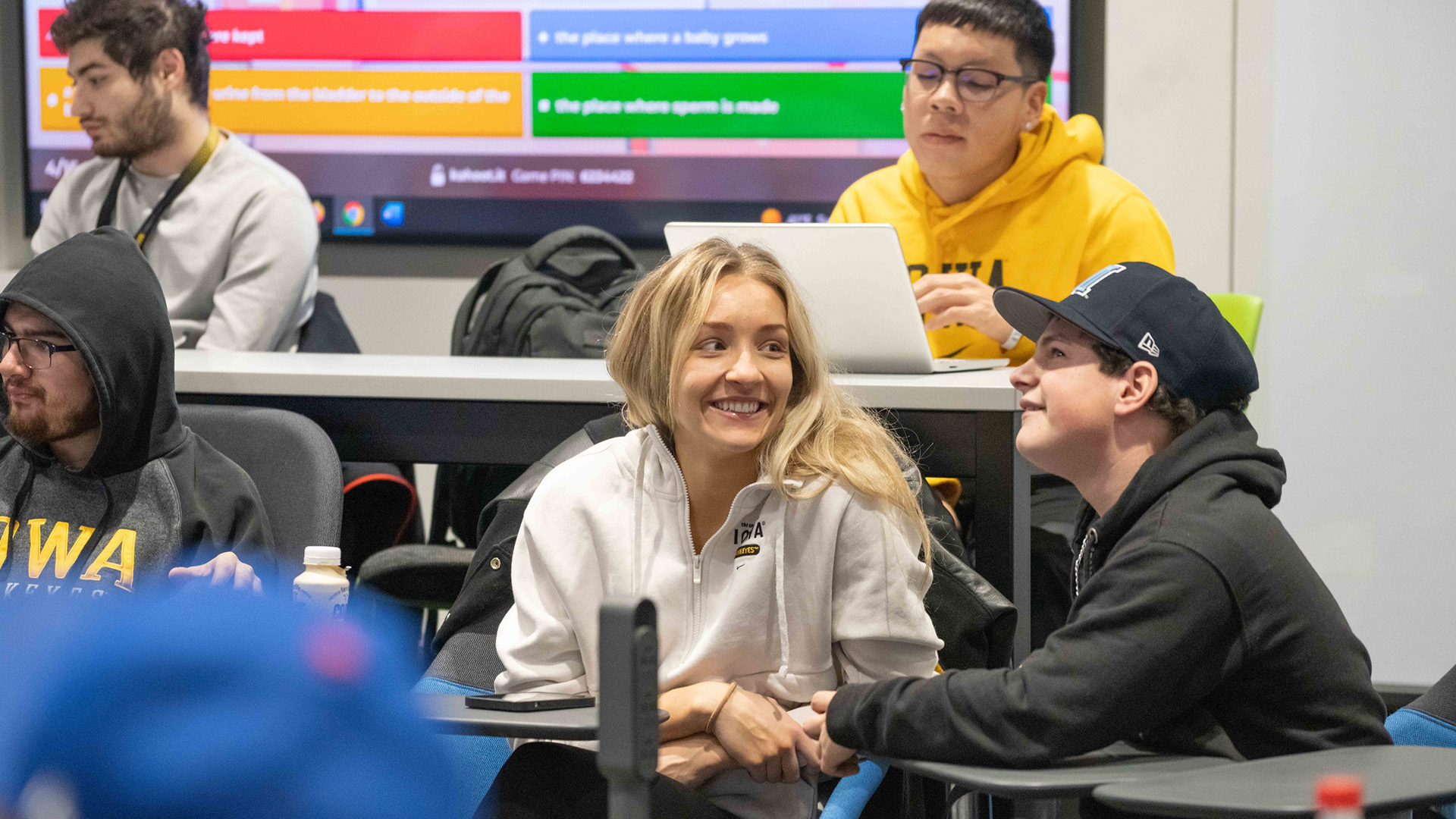 Tovar agrees with Feuerbach, saying learning with different populations helps all students grow.
"Individuals of all backgrounds can positively contribute to our community, regardless of their challenges. To grow, all students on our campus need to develop the skills to work with people who may be different from them," Tovar says. "These skills build a culture of including and respecting all students. Communicating across differences is a critical skill set benefiting students while at Iowa and throughout their careers."
Reaves also loves the experiences that attending a Big Ten university has given him, like going to athletic events and making new friends.
"One of my all-time favorite memories while at Iowa is the time we ran on the field when Iowa beat Penn State," says Reaves. "One of the best parts of the UI REACH program is meeting and hanging out with new people from different states or countries that have similar struggles as me and building a lifelong friendship."
In addition to educational opportunities, UI REACH partners with more than 80 campus and community organizations to give students internship experience.
After spending his first year attending all of the Iowa women's basketball home games, it made perfect sense for Reaves to do an internship as a student manager for the women's basketball team.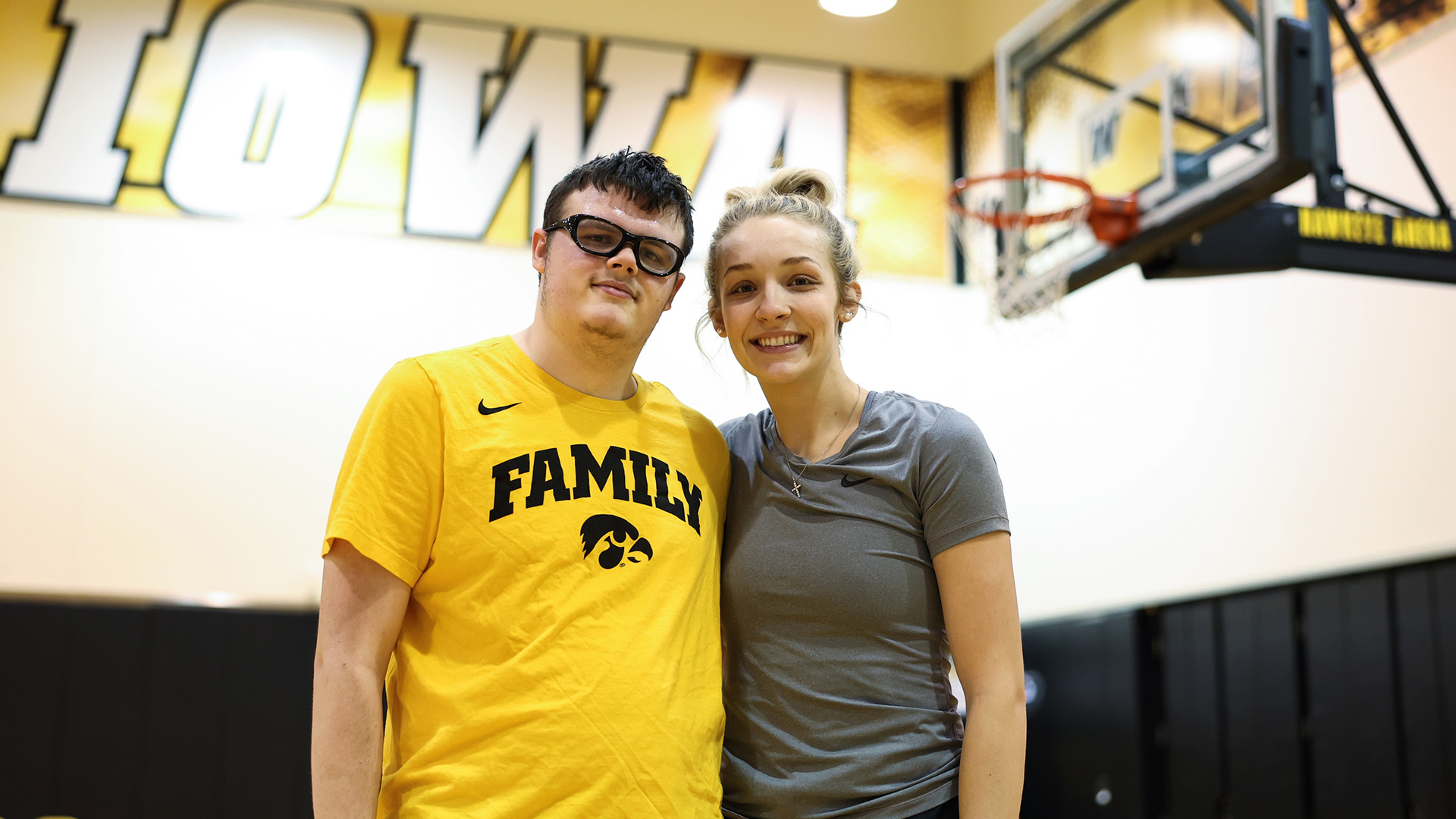 As a student manager, Reaves runs the game clock and shot clock during practices, helps with drills, and, most importantly, keeps the team energized.
"I've been told my main role is the hype guy," Reaves says. "I love this team, and I love to celebrate and pump them up."
Feuerbach says she and her teammates have had many fun practices with Reaves as their manager.
"One of my favorite things that Cooper does is after our free throws during practice. We must report our score out of 16 to Cooper, and if we get a perfect 16 out of 16, then he gets to announce it to Coach Bluder while in our team huddle," Feuerbach says. "He makes sure to spice it up in some sort of way every time. For example, instead of saying Taylor McCabe, he says 'McCabster.' Or instead of saying Molly, he says 'Machine Gun Molly,'" says Feuerbach. "It makes all of us laugh every single time. Along with that, you can't forget his dance moves. He pulls out some of the best moves there are on an everyday basis."
During his internship, Reaves has learned how to use the bus system to get to and from practice, how to manage his time, how to communicate effectively, and more.
"Most of all, I have learned a lot about coaching, and it helps to have the best to learn from," says Reaves.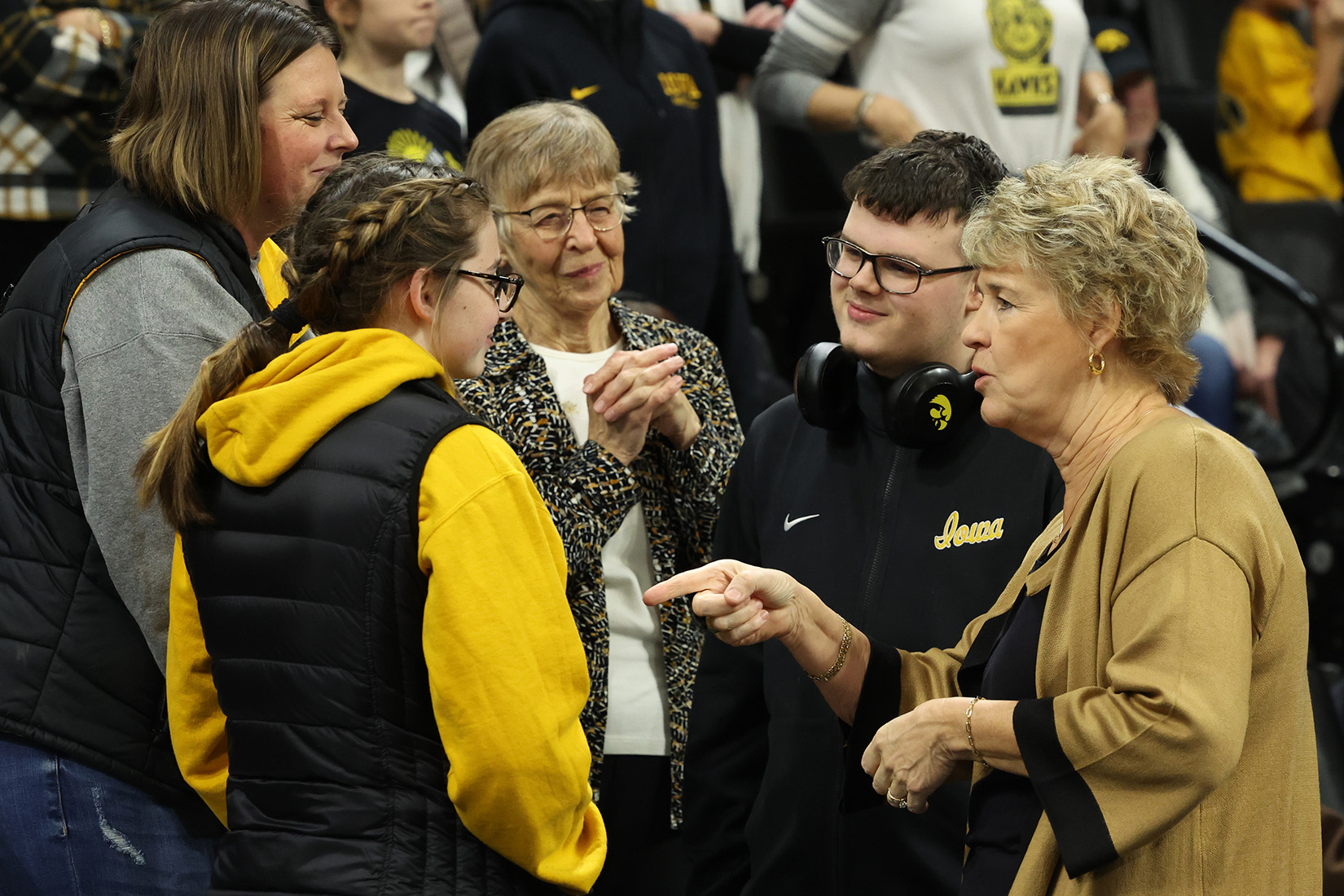 A year after graduation, 92% of UI REACH students are employed, three times the national employment rate for persons with disabilities. After he leaves the UI REACH program, Reaves would like to continue to learn more about coaching, and eventually pursue a career as a coach.
Reaves' advice to anyone in the UI REACH program? Enjoy it.
"Enjoy every moment. Always go out and explore Iowa City to make friends or join a club; you never know who you will meet or run into," Reaves says.