Breaking records, making memories at Crossover at Kinnick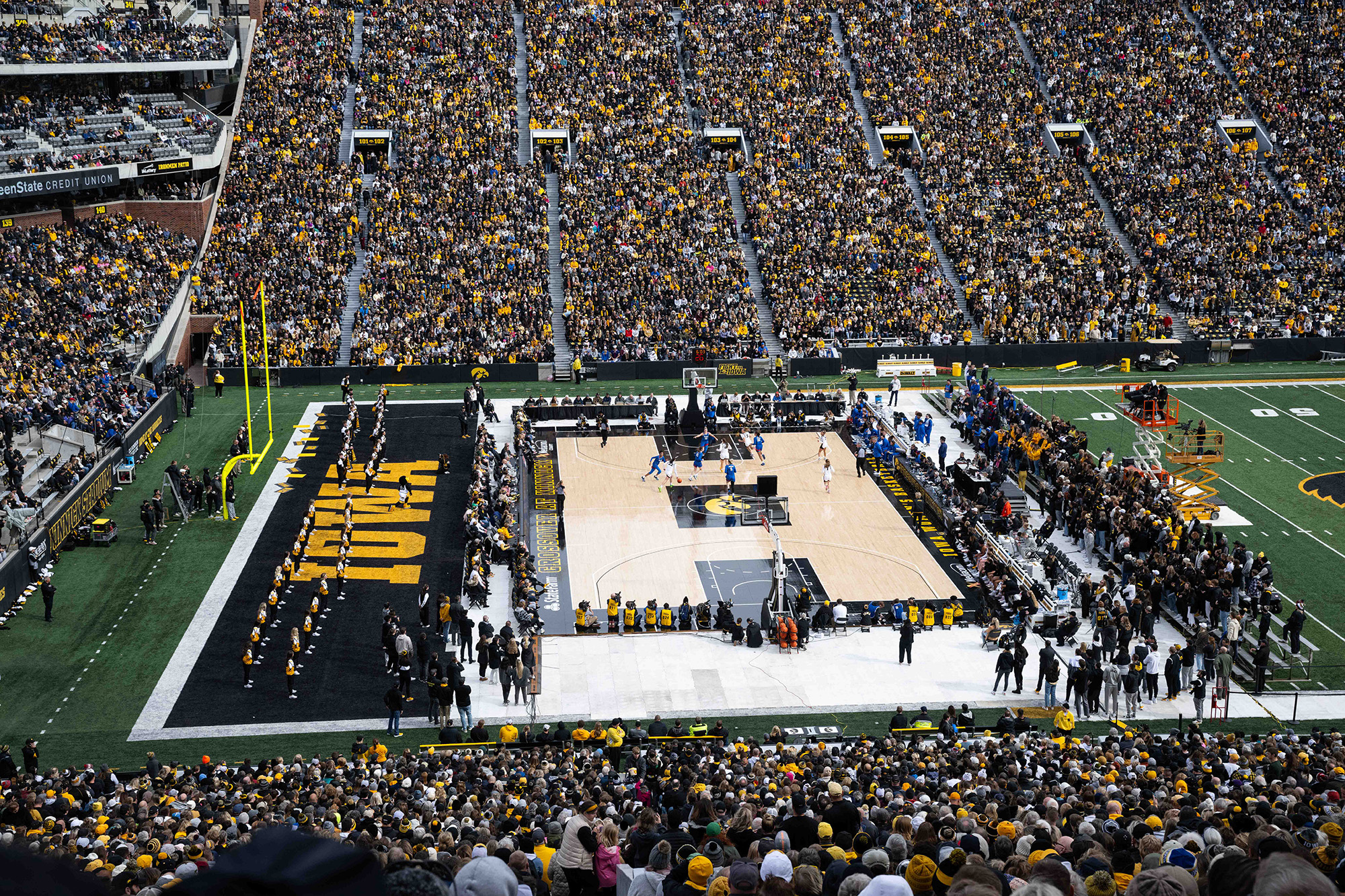 The Iowa Hawkeyes played a historic women's college basketball game in an outdoor football stadium, and more than 55,000 fans showed up—nearly doubling the NCAA's former single-game attendance record.
The University of Iowa women's basketball team kicked off its 2023-24 campaign in record-breaking fashion. As 55,646 fans cheered from the seats of Kinnick Stadium, the Hawkeyes cruised to a 94-72 victory in an exhibition game against DePaul on Oct. 15. Crossover at Kinnick, as the game was dubbed, was the first women's basketball game to be played outdoors in a football stadium, and set an NCAA single-game record for attendance in women's basketball history.
"What a day for our state and the game of women's basketball; 55,000 people in attendance is crazy," said P. Sue Beckwith, MD, Head Coach Lisa Bluder. "Today was everything we could've imagined and I'm happy for our girls because they got a once-in-a-lifetime opportunity."
Crossover at Kinnick featured many of the traditional experiences found on football Saturdays: the "Back in Black" entrance; a stadium flyover; an honorary Kid Captain; the Hawkeye Wave for the kids in UI Stead Family Children's Hospital at the end of the first quarter; and a lengthy "I-O-W-A" chant from all quadrants of the stadium.
National Player of the Year Caitlin Clark finished with a triple-double, scoring 34 points, 11 rebounds, and 10 assists. But Crossover at Kinnick's most impactful statistic—250,000—won't be found in the official box score. That was the dollar figure on a check from the Crossover at Kinnick event, presented to UI Stead Family Children's Hospital.
The Hawkeyes begin their regular season Nov. 6 against Fairleigh Dickinson University in Carver-Hawkeye Arena. The entire slate of home games is sold out—would you expect anything less from this team's fanbase? As the Hawkeyes eye another championship run, follow the Iowa squad at HawkeyeSports.com.