Crucial connections, immense impact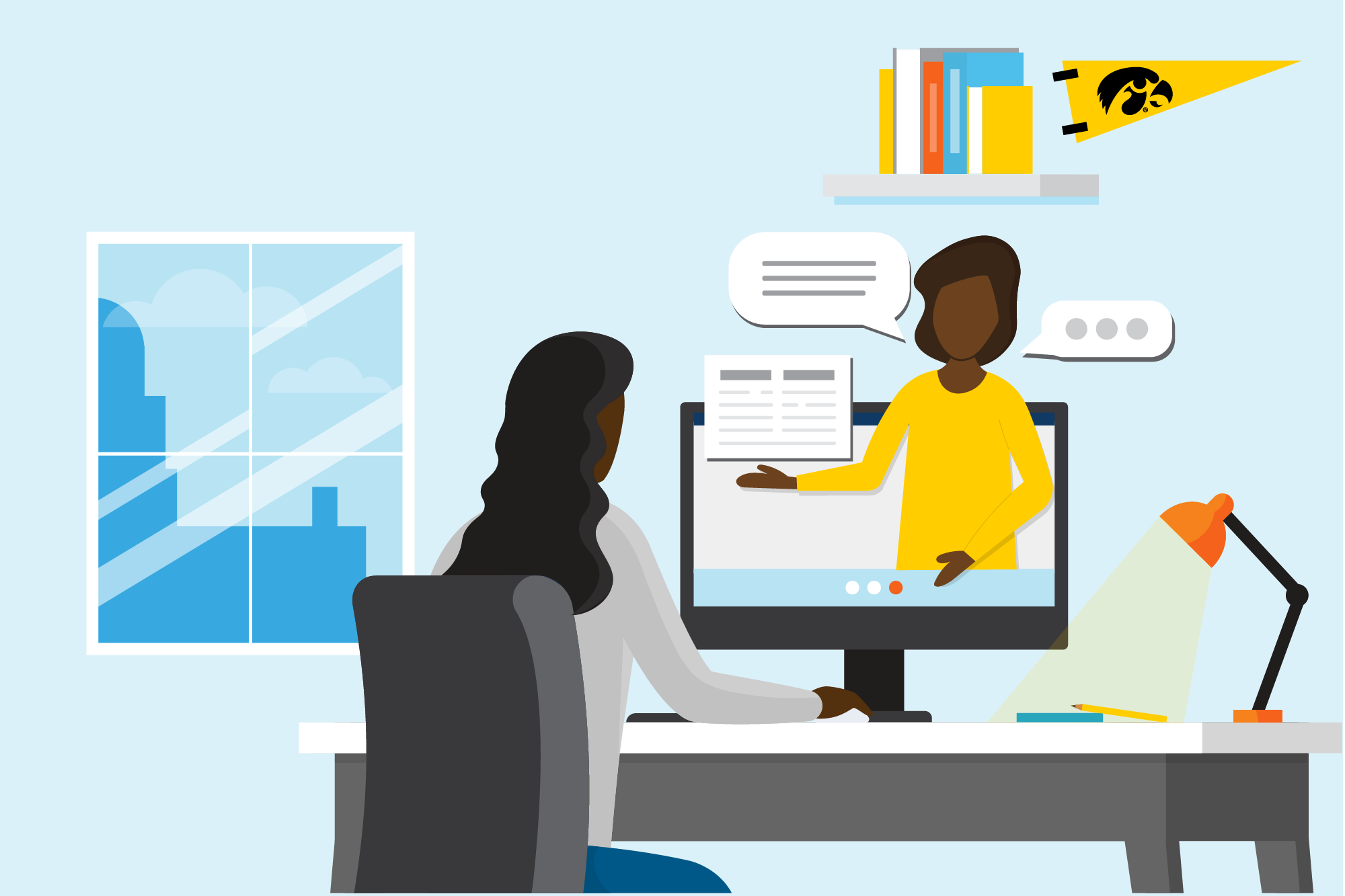 Black History Month at the University of Iowa is a time to celebrate love—be it familial, based in friendship, or otherwise. Four Iowa students share their stories about the mentors and student groups with whom they developed a special bond.
Lily Hester, Alexi Bolden, Samer Suleman, Adeline Barron
Lily Hester
I remember meeting her after I took the wrong bus.
I was in complete disarray as I was running late.
My leg was shaking, and I was trying not to make a fuss,
But all that panic was probably fate.
I saw her hand wave to me,
And she complimented my curly hair.
Any compliment fills me with glee,
But with hers, away went my despair.
We raved about hair products, while the rest of the bus was as quiet as a mouse.
A night that began with me in peril,
Ended, as she invited me to the Afro House.
I took the wrong bus, but I met Shirleena Terrell.
I knew that there were cultural houses for us.
I had seen them at the expos for student organizations,
But I didn't think that I was Black enough.
So, I spoke to her about my revelations.
University of Iowa student Lily Hester (left) and Shirleena Terrell (right), former coordinator of Iowa's Afro-American Cultural Center, pose with visual artist Tyanna Buie at a Black History Month event in 2020.
I was nervous that I would not belong.
I was hesitant to go,
But I was completely wrong.
She helped me grow.
I slowly began going.
And I started to feel new.
A new happiness was growing,
And I eventually joined BSU.
I went to almost every Black History Month event,
And we saw each other again and again.
I am grateful for the time spent,
And I'm glad we became friends.
I equate to where I am now to the night that we met,
And all the months after.
A new path for me was set.
One with memories and laughter.
I applied for a job at the Afro House.
I never thought I would,
But she pushed away my doubts,
And made me realize that I could.
I am now an assistant at the house that I love.
And Shirleena has moved away,
But I think about how she gave me that shove.
And made me want to stay.
I am wishing her nothing but the best.
I made a friend and getting a job was a plus,
But I never would've guessed
That my life would change one night on the wrong bus.
---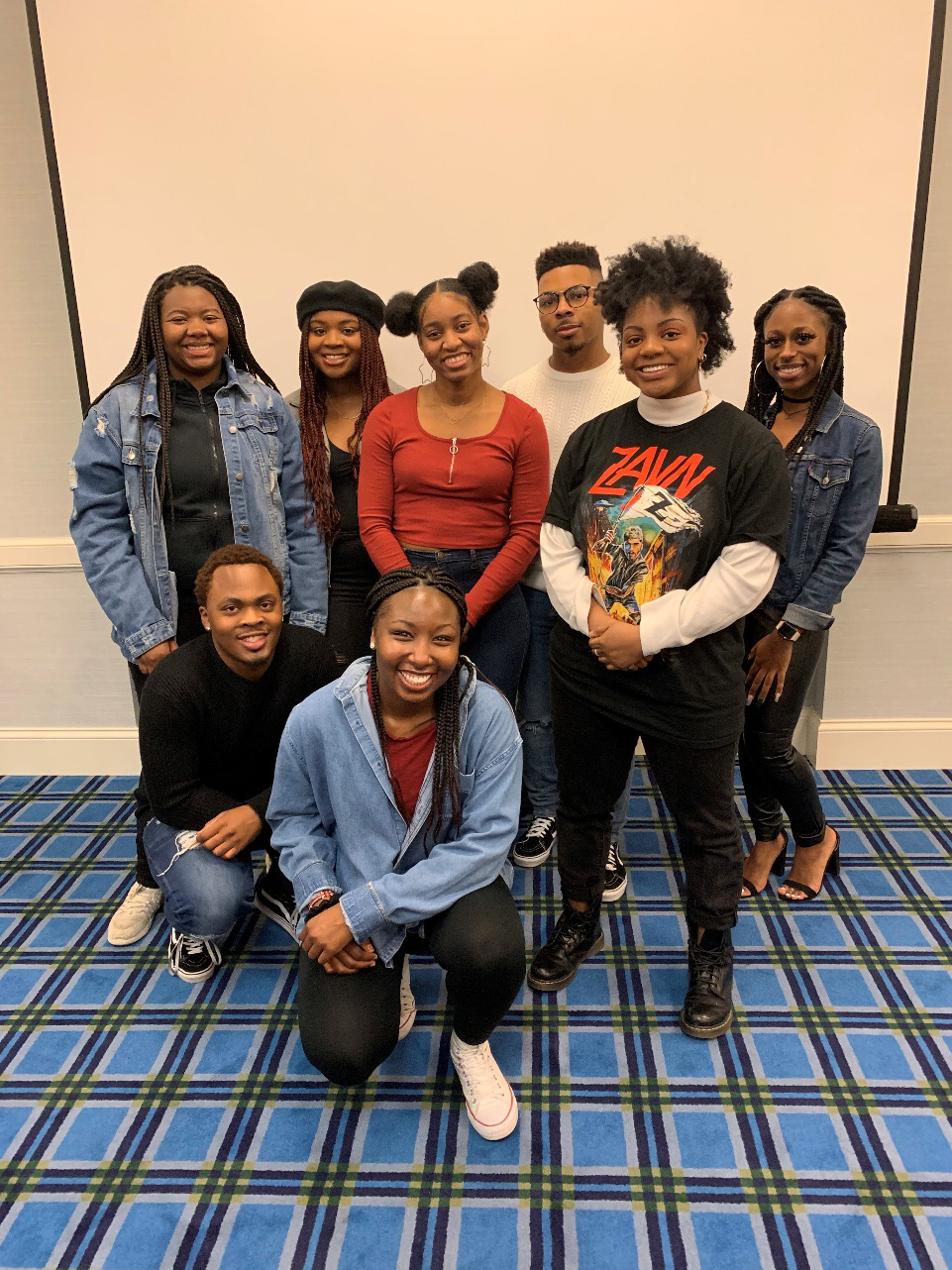 Alexi Bolden with fellow members of Black Student Union.
Alexi Bolden
One of my requirements for attending the University of Iowa was the presence of a Black Student Union. I remember how excited I was reading the organization's name in the orientation pamphlet, as it immediately solidified my choice of attending this school. During the first week of my freshman year, I reached out to the Black Student Union and ended up becoming a Freshman Representative on the executive board. Freshly on my own and trying to find the passions that ignited my soul, Black Student Union was the perfect place to nurture this sense of purpose.
I became secretary my sophomore year. I enjoyed being more hands on with communication and speaking with students and organizations that wanted to be more involved with us. I was able to build wonderful connections and friendships that supported me through my college career.
I was elected president my junior year. I was elated. This had been my dream since middle school and I finally achieved it. Being in the Black Student Union had surpassed any dream I had about it. This experience was enriching, exciting and provoked personal growth within me that allowed me to aid others in their growth. The sense of community and friendship that the Black Student Union provided is unmatched. I would not be the person I am today without the brilliant individuals who surrounded me.
Now, in the final semester of my senior year, I feel nothing but gratitude when I regard the Black Student Union. I pray that Black students coming into the University of Iowa find this sense of empowerment in the Black Student Union to grow in their purpose, as well.
---
Samer Suleman stays connected through Afro House Zoom events.
Samer Suleman
I can't exactly say that I entered the University of Iowa with a vision in mind of what organizations I wanted to join, but I kept an open mind and I floated between different things my freshman and sophomore years.
I joined African Student Association and attended a few meetings. I kept with the Black Student Union through the large group chat, Black Sparta. I've been in the loop about programs such as Walk It Out Cultural Fashion Show and Taste of Africa. My college experience has been influenced by a variety of professors, students, and organizations, too.
But if I had to identify what organization has had the most impact on me as a member of the university, I would definitely have to go with the Afro House.
When I spent my time floating from orgs to events, I felt no real sense of commitment to those spaces. Working at the Afro House, however, has given me that sense of commitment and then some through the tight bonds, easygoing environment, and incredible people that I've been able to surround myself with since I began work there in August 2020.
The Afro House has given me a strong virtual social network that I consistently look forward to meeting with each week during these antisocial days of the pandemic.
I'm very grateful for the positive impact that it has had on my college experience and I'm excited to continue making memories there until I graduate in 2022.
---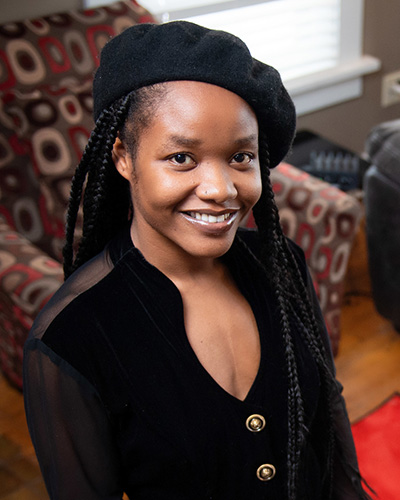 Adeline Barron (above) and her mentor, Shalisa Gladney.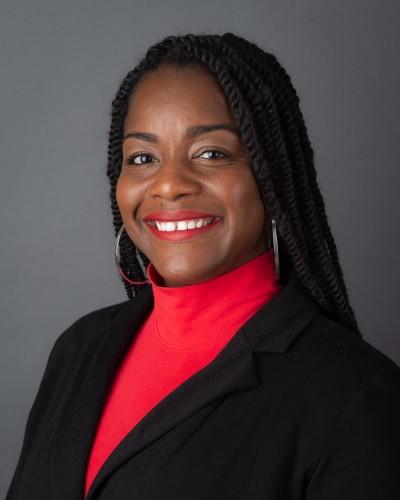 Adeline Barron
Lost Girl
Once upon a time, there was a girl who considered herself a nomad. Roaming and searching for her place, hoping the University of Iowa would be her home—so she transferred there.
And what a great choice she made, finding her place at the University of Iowa, though it was not easy.
The first few months she spent alone, except when she was in class. Where she was often the only Black person. Discouraged she made the wrong decision coming to Iowa, every night she cried to her mom about how alone she felt. Per usual, her mother comforted her and assured her she would find her place.
Fast forward to the fall of 2020 and the girl found her community in the Afro House. Through the Afro House she gained mentorship from Shalisa Gladney. Shalisa helped her through one of the hardest times of her life. Providing guidance and resources during a time the girl felt lost and alone.
Shalisa's love and support for the Black community at Iowa ignited the girl's dimming passion to support Black students and other marginalized students.