Innovation focuses on pandemic need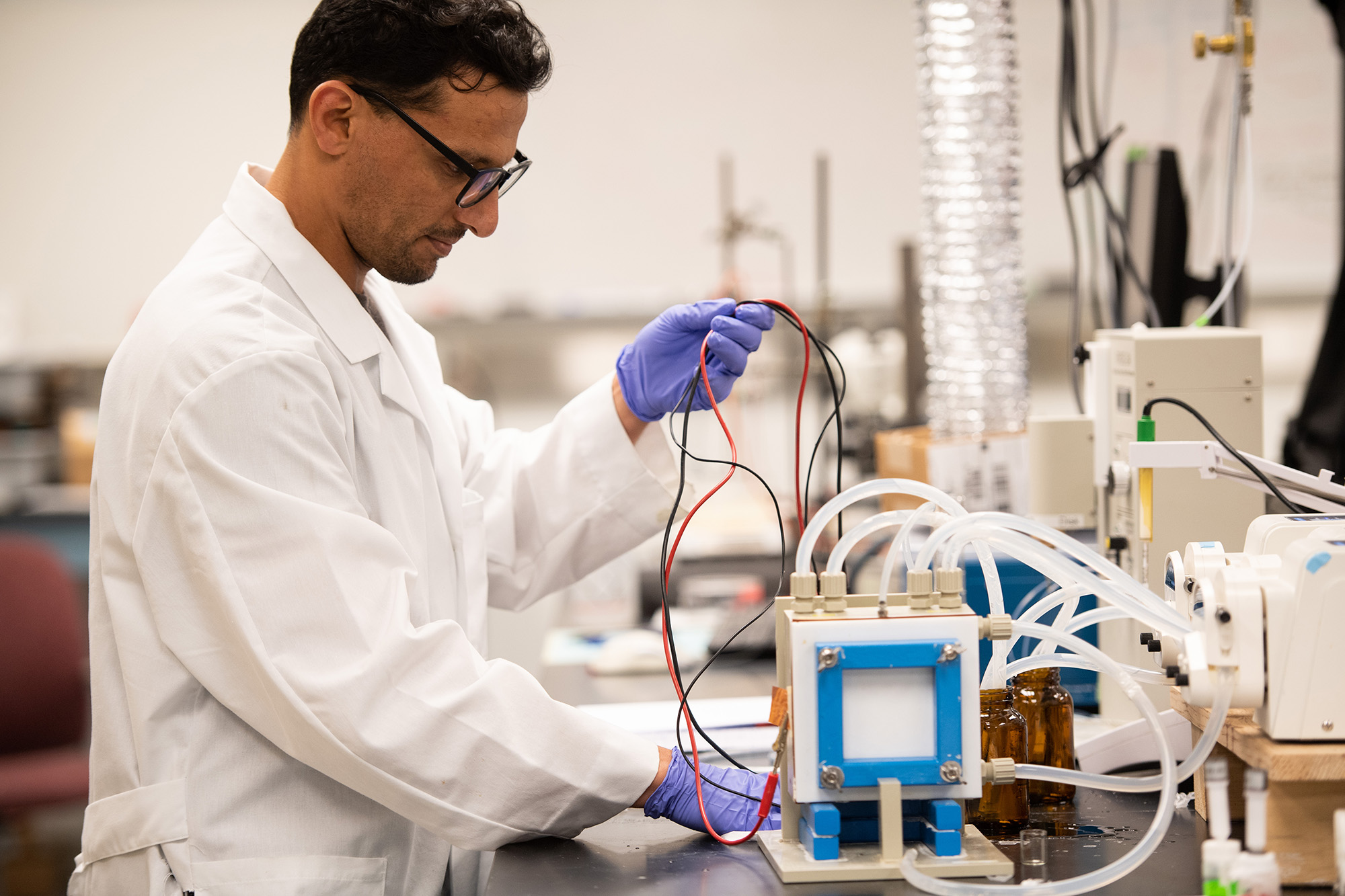 University of Iowa scientists are designing and testing a novel prototype of an oxygen concentrator. The Iowa proposal simplifies the design so the product is easier to produce and maintain, and could benefit hospitals in the U.S. and around the globe.
During the COVID-19 pandemic, hospitals around the globe have struggled to keep up with demand for oxygen, particularly during surges. The demand is driven by severe cases of COVID-19 that require supplying extra oxygen to patient's lungs.
In response, a team of University of Iowa scientists is developing a new type of oxygen concentrator. Led by Suresh M.L. Raghavan and Syed Mubeen, professors in the College of Engineering and affiliates with the Iowa Technology Institute, along with Aditya Badheka, clinical associate professor of pediatrics–critical care, the team is designing and testing a novel prototype that draws in ambient air and uses electrical and chemical processes to concentrate it into pure oxygen.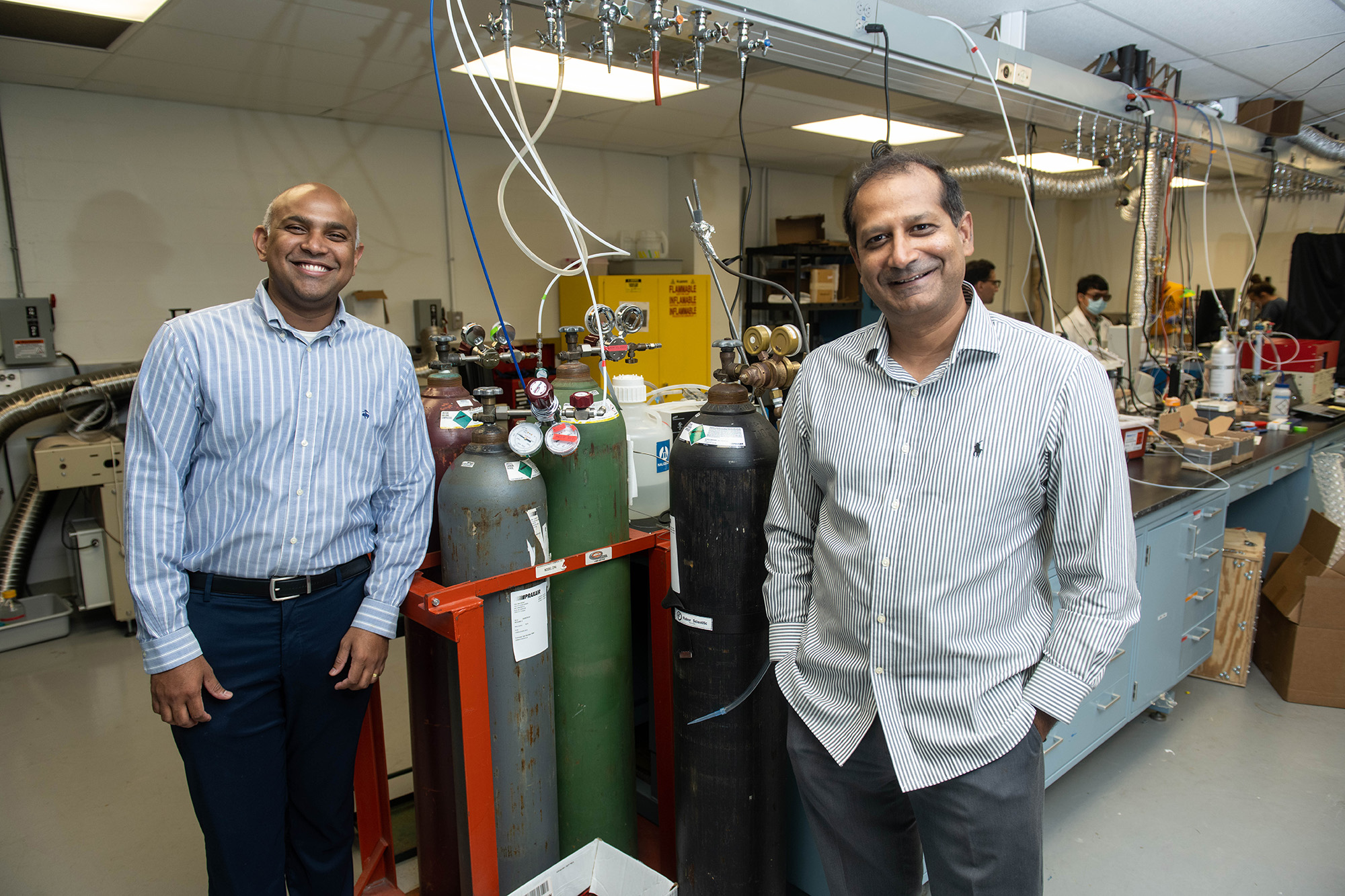 Iowa Technology Institute
­The Iowa Technology Institute, or ITI, is a world-class research hub founded in 1981 at the University of Iowa. Grounded in engineering and science, ITI cultivates collaboration across disciplines and sectors, invents advanced technologies, and conducts trailblazing basic and applied research in design, simulation, and experimentation that enables a safer and more productive future.
The National Institutes of Health awarded a two-year, $940,000 grant to conduct the research. 
The oxygen concentrators currently available "tend to be noisy with a lot of moving parts, less efficient, and costly," says Mubeen, associate professor of chemical and biochemical engineering and director of the Mubeen Research Group.
"The challenges in logistics of oxygen delivery faced during the pandemic have highlighted the need for simpler, more efficient individualized devices for oxygen therapy," says Raghavan, professor of biomedical engineering and director of the BioMechanics of Soft Tissues (BioMOST) Lab. "We want the public to know that engineers and doctors at our university are coming together to seek novel ways of tackling the unique challenges posed by the pandemic."  
During the pandemic, supply chain issues have contributed to oxygen shortages when manufacturers have been unable to get parts for production or storage. The Iowa team's proposal simplifies the design so the product is easier to produce and maintain.
Raghavan notes their design, if successful, would likely serve as a reinforcement when typical oxygen supplies are strained. The concentrator could also benefit developing nations, especially in areas where individualized oxygen concentrators are the primary tool for providing oxygen to patients.
The testing process will use specifications provided by the World Health Organization, including oxygen purity, running time, and power consumption, so the device can be used for oxygen therapy worldwide.
Iowa's multidisciplinary research team includes undergraduate and graduate student researchers and an industry consultant specializing in medical devices.
Developing and testing the prototype is expected to take two years.