Fact: UI Nonfiction Writing Program is a destination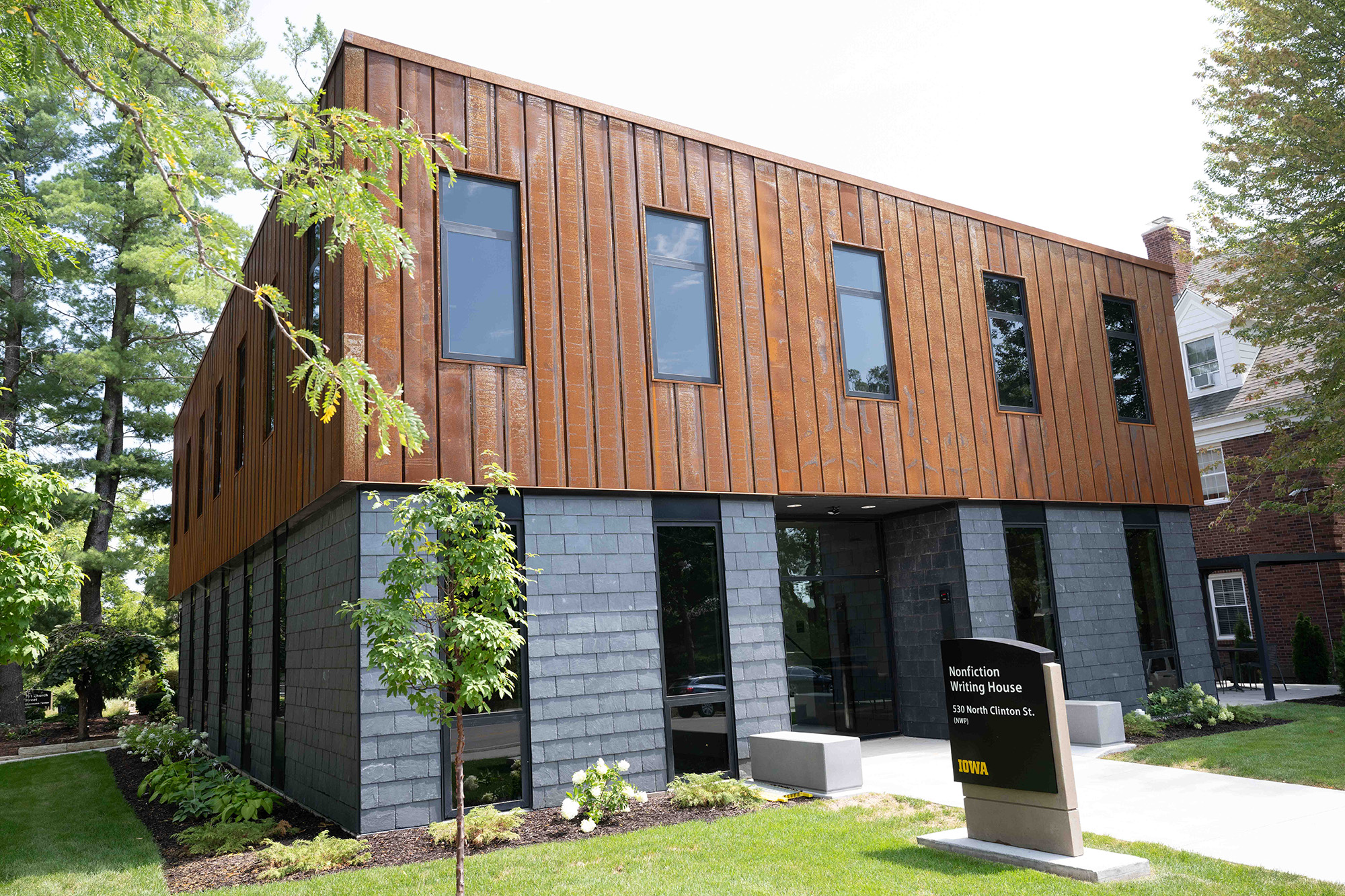 After decades of cultivating award-winning writers, the University of Iowa Nonfiction Writing Program has a place on campus to call its own.
Over the past century Iowa has become nearly synonymous with "The Writing University," as the prestige of the University of Iowa's writing programs has made the campus a destination for aspiring writers around the world.
The UI Nonfiction Writing Program is no exception. Founded in 1976, the program has long been included on lists of top MFA programs in the nation and is one of the most selective, accepting just 4% of applicants.
And now it literally is on the map: The Nonfiction Writing House, a newly constructed two-story, 4,800-square-foot facility on the corner of North Clinton and Church streets, opened in the fall of 2023. It includes classrooms, offices, a multimedia lab, a gathering space, and a library, and features a memorial garden honoring the program's late founder, Carl Klaus. With the building's proximity to the Iowa Writers' Workshop's Dey House and the International Writing Program's Shambaugh House, faculty members—and even UI President Barbara Wilson—are dubbing the neighborhood "writers' row."
Celebrate program's housewarming
A dedication ceremony for the new Nonfiction Writing House is at 3 p.m., Friday, Sept. 22, at 530 N. Clinton St. Speakers include UI president Barbara J. Wilson; Lynette Marshall, president and CEO of the Center for Advancement; Roland Racevskis, associate dean for the arts and humanities, College of Liberal Arts and Sciences; John D'Agata, director of the Nonfiction Writing Program; and MFA student Sarah Kahtry.
Although nonfiction writers thrived and produced quality work in the program's previous home in English-Philosophy Building, director John D'Agata says the new facility is an important symbol.
"This is a space where these writers, who frequently don't get the same kind of attention as poets or fiction writers, are the stars. It's something external that represents what they do," says D'Agata, who studied poetry and nonfiction at Iowa and earned an MFA in 1998. "And they're at a place—not just in the program, but at the university—that understands this work is unique and valuable, a place that treats them and their genre with respect."
The Nonfiction Writing Program, part of the Department of English in the UI College of Liberal Arts and Sciences, is a three-year MFA program that offers broad exposure to the genre of creative nonfiction through a variety of courses, workshops, and seminars. Courses include Forms of the Essay, Readings in Nonfiction, Radio Essays, Literary Journalism, Memoir, Travelogues, and A History of the Essay. The last is a required first-year course that follows the development of the essay from its beginnings in the fourth millennium B.C. and its evolution across the globe.
"The history course is practical and helps our students get teaching jobs, but it also helps them feel, perhaps for the first time, that what they're doing is important. It's a part of something larger than themselves," D'Agata says. "Nonfiction doesn't get a lot of play in American culture, but when students come to Iowa, they find that we're as excited about nonfiction as they are."
"Nonfiction doesn't get a lot of play in American culture, but when students come to Iowa, they find that we're as excited about nonfiction as they are."
director of the UI Nonfiction Writing Program
Inside the building, students examine and imagine the genre
Sarah Minor, assistant professor of English, calls the program a hub for writers interested in shaping nonfiction's future forms. Together, students and faculty celebrate, study, and continually redefine the genre.
"Our students are producing everything from gonzo journalism and graphic narrative to memoirs about living in Antarctica," says Minor, whose books have won the Noemi Press Prose Contest, the Big Other Award in Nonfiction, and the EP Digital Chapbook Contest. "The nonfiction they write often uses individual, lived experience to frame and introduce complex, collective questions. We ask them to read widely and voraciously, to take risks on the page, and to ask, again and again, how something true can also be deeply artful."
Iowa's nonfiction writers net awards
Faculty and graduates of the University of Iowa have won virtually every major literary award, from the Nobel Prize in Literature, to the Pulitzer Prize, to the National Book Award. Iowa also claims numerous MacArthur and Guggenheim fellows and seven U.S. Poets Laureate.
Here are just a few award winners affiliated with Iowa's Nonfiction Writing Program:
Jo Ann Beard (BFA '87, MA '94), author of The Boys of My Youth and past visiting faculty member: Guggenheim Fellow, Whiting Award
Eula Biss (MFA '06), author of Notes from No Man's Land: Graywolf Press Nonfiction Prize, Guggenheim Fellow, National Book Critics Circle Award, Pushcart Prize
Hannah Bonner (third-year MFA student): National Book Critics Circle Emerging Critics Fellow
John D'Agata (MFA '98), program director and author of The Lifespan of a Fact: Guggenheim Fellow, Lannan Foundation Fellow, Pushcart Prize
Hope Edelman (MA '92), author of Motherless Daughters: Pushcart Prize
Melissa Febos, faculty member and author of Girlhood: Guggenheim Fellow, National Book Critics Circle Award
Robin Hemley (MFA '82), author of Oblivion: An After Autobiography and former program director: Guggenheim Fellow, Pushcart Prize
Yiyun Li (MS '00, MFA '05, MFA '05), author of A Thousand Years of Good Prayers: Guardian First Book Award, Lannan Foundation Fellow, MacArthur Fellow, PEN/Hemingway Award, Whiting Award
Kristin Radtke (MFA '12), author of Seek You: A Journey Through American Loneliness: Whiting Award
The program, whose alumni have been named Guggenheim Fellows and Whiting Award winners, is one of only a few that offers full funding to its students. That caught the attention of aspiring Nigerian writer Fi Okupe. She didn't expect to find a graduate program dedicated solely to nonfiction, let alone one that fully funded its students. Iowa was the only school she applied to, and she says the confidence she has gained from just one year in the program has been invaluable.
"It has opened my eyes to the world of nonfiction and all that is possible within it, especially careerwise," says Okupe, now a second-year student in the program. "Not only am I doing stuff that is cool to me, but there's a whole group of people who think this is important work. That kind of perspective shift is so important, especially where I come from, where no one thinks nonfiction is a thing. It's a shift that causes you to take your work and your creativity more seriously. It awakens something within you."
In addition to pursuing her own writing, Okupe plans to teach creative nonfiction and help develop minority and marginalized voices within the genre. With assistance from D'Agata, she is raising funds to create a nonfiction prize for Nigerian women writers.
"What I hope to do, both long term and short term, is to prove that African women are writing personal narratives with the power to change," she says. "I've been inspired being in the Nonfiction Writing Program and seeing that this is a big deal. People back home need to know that personal narratives, even though they are not popular or as widely known, have power and prestige."
Inara Verzemnieks, who graduated from the Nonfiction Writing Program in 2013 and has served on its faculty since 2015, says program faculty teach students like Okupe the fundamentals of creative nonfiction while also encouraging them to use their interpretation of the genre to effect change.
"One of our students is writing about political prisoners in Russia and drawing attention to the very real human ramifications of state suppression, while another student is running around Nepal with tiger researchers and using the reintroduction of tigers in the wild as a framework for grappling with huge questions around climate change. Another is looking at the history of diving while also addressing social justice," says Verzemnieks, winner of a Pushcart Prize and the Rona Jaffe Writer's Award and a finalist for the Pulitzer Prize in feature writing. "Students here are doing incredible work at a literary level. This program allows them to produce work that, in their minds, is going to ignite and inspire their readers to think of the world in a way that is transformative."
For more than 75 years, the University of Iowa has been a leader in the writing arts, with more than 40 Pulitzer Prize winners, seven U.S. Poets Laureate, and countless award-winning playwrights, screenwriters, journalists, translators, novelists, and poets. The University of Iowa's writing programs shape the landscape of American literature.
Starting the next chapter
The mission for a new home for the program began in 2008, only to be thwarted by that year's campus flooding. In 2012, attention generated by D'Agata's book The Lifespan of a Fact—co-written by fact-checker Jim Fingal and adapted into a Broadway play starring Daniel Radcliffe—helped attract significant funding for the project, and a search ensued for a campus site. Once identified, construction began.
Although the space is new, Verzemnieks says the program's students will continue to generate the same exciting work inside: "There's nothing like this anywhere—and it's not engineered; it just happens. It's like the greatest adult summer camp for writing, but you get to do it for three solid years. It's pretty extraordinary."