Hawkeyes work better together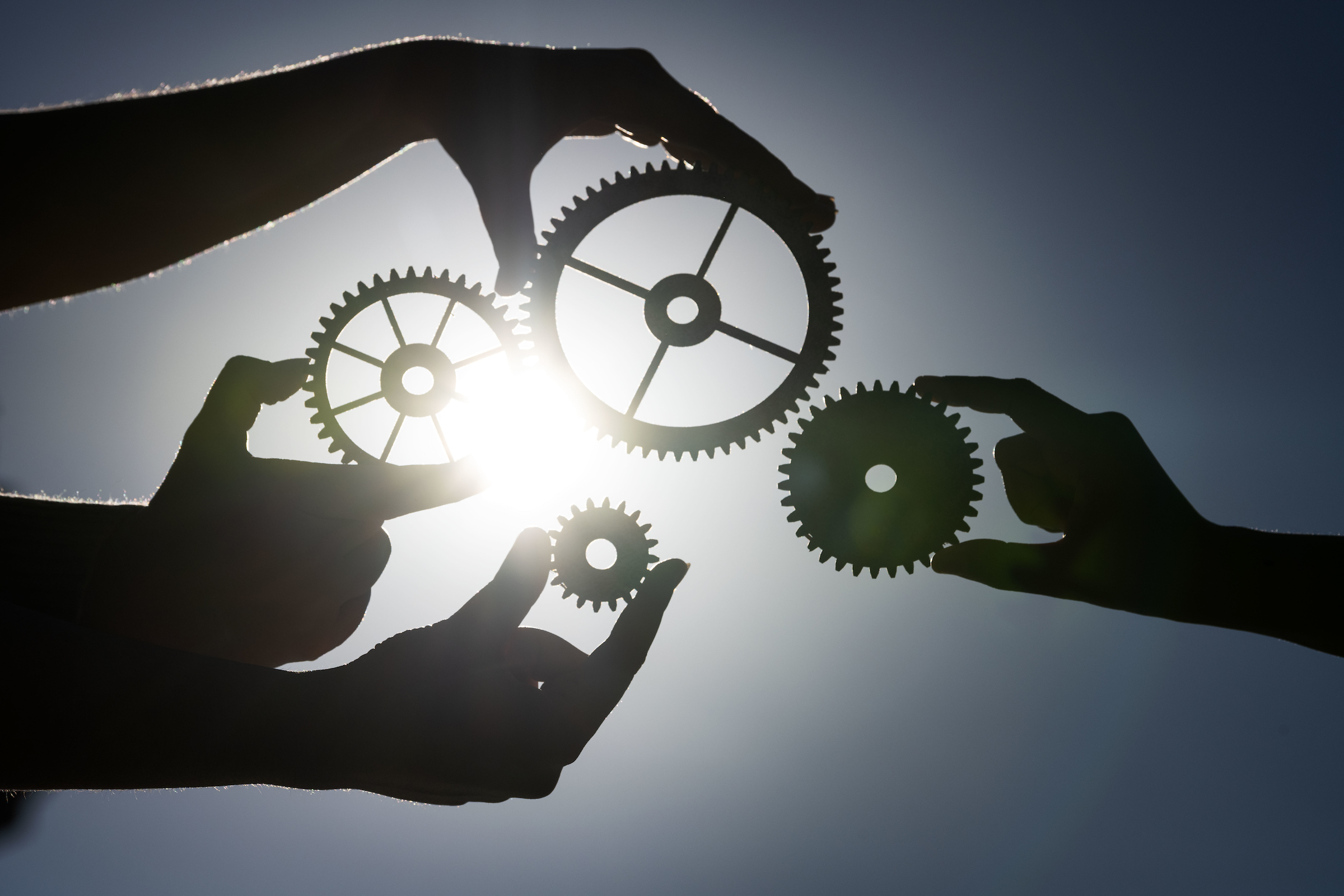 At Iowa, we believe great teams, not individuals, will find solutions to important issues. Our graduates collaborated with people across campus and in the community under challenging circumstances.
Justin Torner and Tim Schoon
"Better together" is more than just a bromide on a break room motivational poster. Rafts of research have shown over the years that people working in teams bring advantages over people working separately.
"At a very basic level, teamwork is important because of the opportunity to create synergy, which is a gain in performance over what individuals would accomplish if working alone," says Eean Crawford, teamwork researcher and assistant professor of management and entrepreneurship in the Tippie College of Business. "Importantly, that performance gain is attributable to the way group members interact, not just because groups have more people."
Crawford says employers fully realize this now, finding that well-constructed and well-managed teams improve customer satisfaction, product and service quality, speed and efficiency in product development, job satisfaction, and decision-making. He says the ability to work in a team is the No. 1 skill that hiring managers look for in new employees (tied with problem-solving).
"Teamwork is an important skill that is in high demand," says Crawford. "Without providing significant training and practice in group collaboration, our graduates would be unprepared to contribute effectively as they enter the workforce. That's why it's imperative that we maintain it as a central focus of our mission to help students apply creative and critical thinking to collaboratively solve complex, ambiguous problems."
These December Iowa graduates get it: They accomplished a task that made the university a better place by working with others and have post-December plans lined up. All of us together are better than one of us alone.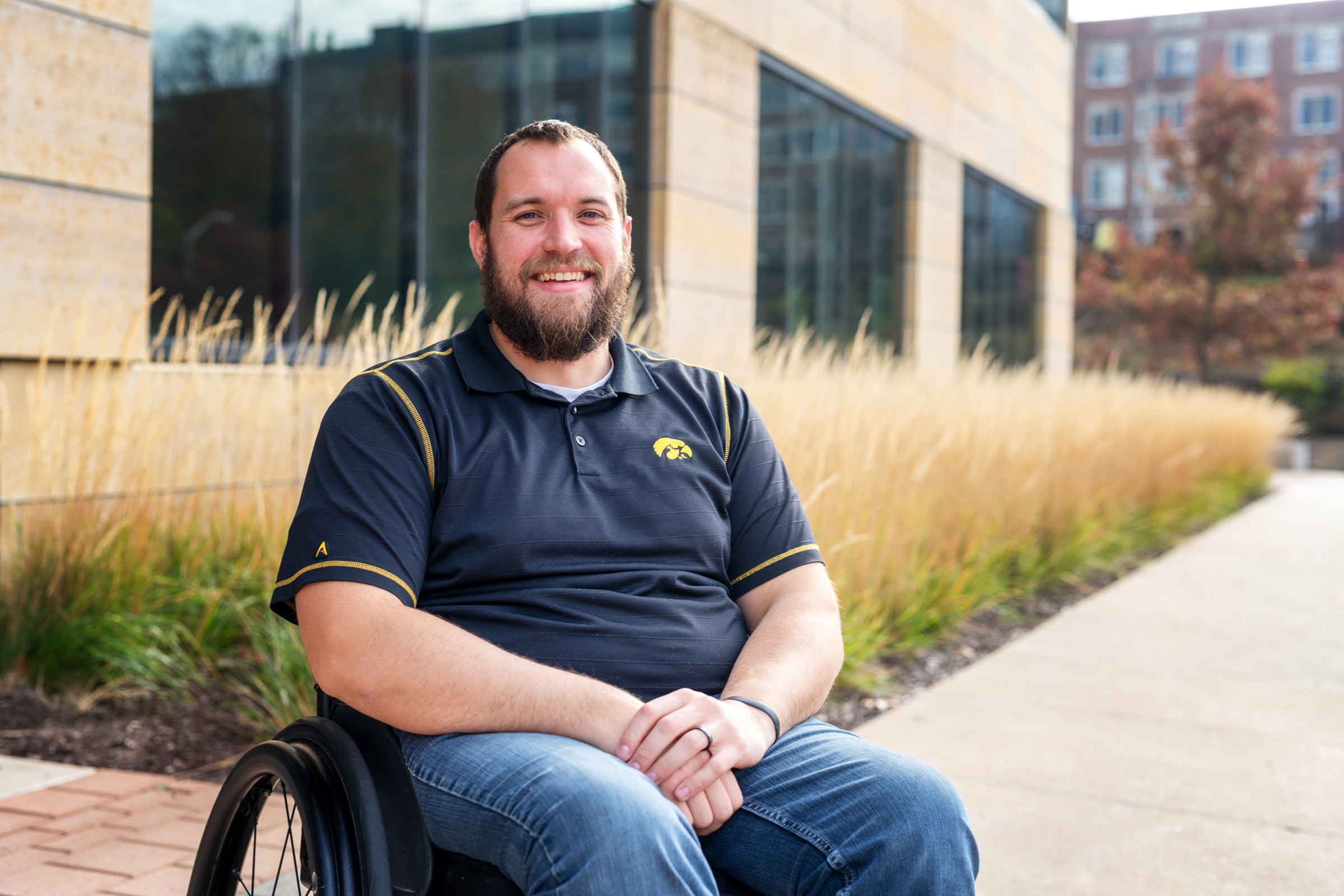 Drawing on expertise across campus in the name of public health
Eric Kontowicz wrote his doctoral dissertation thanks help from all over the University of Iowa campus.
The dissertation from the doctoral candidate in epidemiology in the College of Public Health looks at how climate change will affect influenza rates in animals and people, and in particular the impact that flooding has on flu infections in human populations.
"Floods are not good for our health in many ways, and I wanted to know if that makes us more susceptible to the flu," says Kontowicz, a Michigan native with a bachelor's degree from Michigan State University. "Especially in Iowa, with floods becoming more frequent, how does that influence flu infections?"
So Kontowicz set to work gathering data and finding experts from across campus to help him interpret all of it. He worked with his adviser, Professor of Epidemiology Christine Petersen, and faculty in the college's Department of Occupational and Environmental Health. With university help, he gathered flu test results from the State Hygienic Lab, stream gauge data from the United States Geological Survey, census data from the U.S. Department of the Census, and weather station data from the National Oceanic and Atmospheric Administration. He worked with experts in the Iowa Flood Center in IIHR—Hydroscience and Engineering and the Department of Geographical and Sustainable Sciences to learn more about flooding impacts and atmospheric data. Statisticians in the College of Public Health's Department of Biostatistics helped him build a model to make sense of it all.
"Collaboration is a wonderful thing," Kontowicz says.

His study found that populations exposed to flooded environments are at risk of experiencing a 1% rise in influenza diagnoses for each day they are flooded. He says that's likely because the flooding increases production of molds and allergens that can compromise the lungs' immune system.
"This is important to know because we can target resources to those areas where there was flooding to protect those populations who might be compromised," he says. "For instance, we can urge populations who have been in flooded areas to get their flu shots in the fall."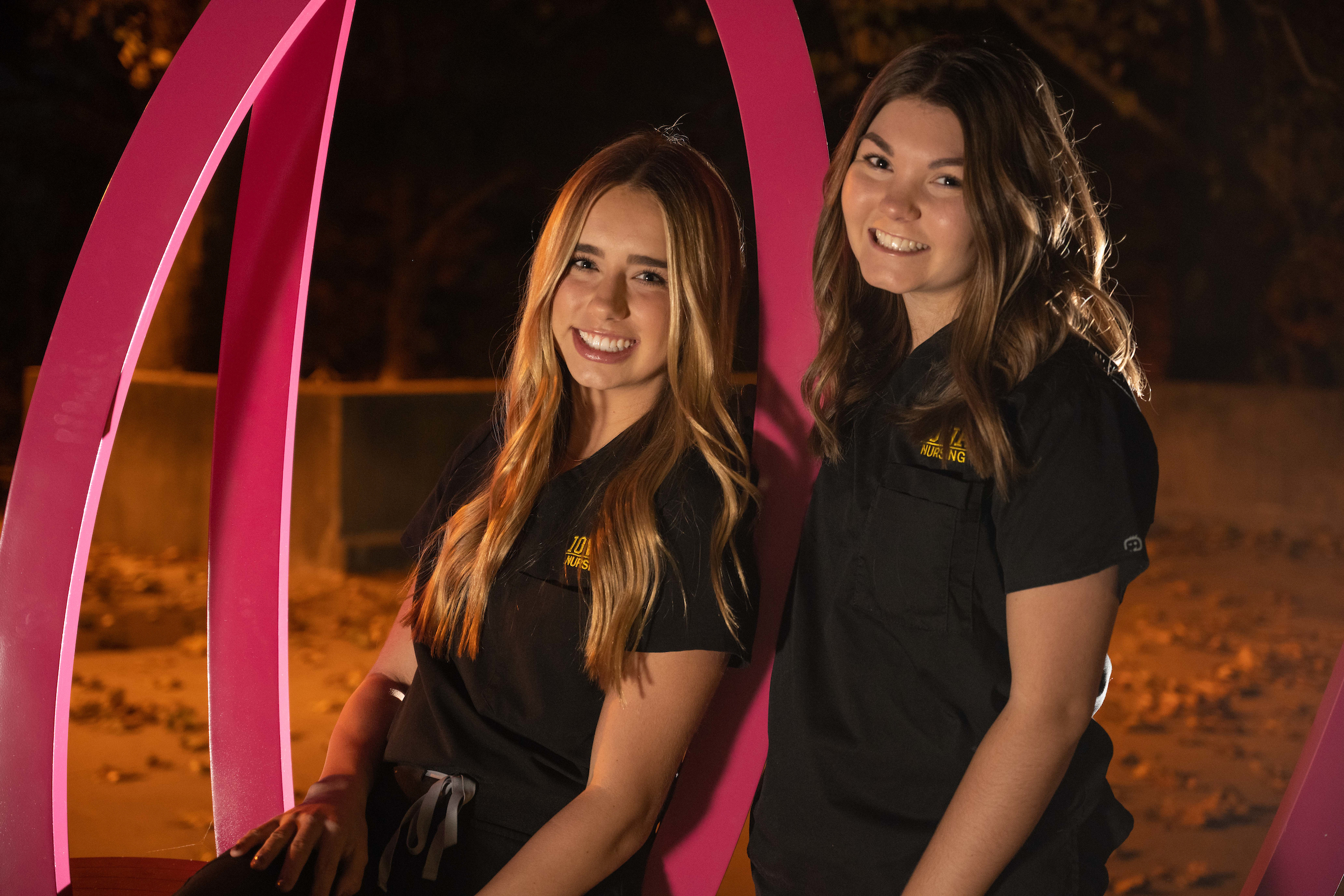 Nursing grads unite as advocates for K–12 mental health
Iowa is one of the worst states in the country when it comes to accessing mental health services, ranking among the bottom of all states in numerous mental health measures.
Iowa nursing students Grace Anderson and Hannah Ingle wanted to help change that with a proposal that would provide Iowa K–12 students three no-questions-asked mental health days off every school year.
"It would give kids a chance to take a break with a stress-reliever day and maybe schedule a visit with a health care provider," says Ingle, a Waukee native. "It would also increase communication with the school so educators would know to check in with those who are struggling."
Anderson and Ingle developed the proposal when they saw how many of their friends struggled with mental health issues, how few services are provided for them in Iowa, and the stigma still associated with reaching out for help. They worked on the proposal with Sen. Liz Mathis, an advocate for mental health initiatives, after the three were connected when a mutual acquaintance committed suicide.
They based their bill on similar laws in Utah and Oregon and with Mathis' help, introduced it during this year's legislative session. They lobbied legislators from both chambers, visiting many at the capitol and phoning and emailing others. The bill passed a committee in the House of Representatives but died when the COVID-19 pandemic abruptly ended the session prematurely.
Anderson says that while the bill did not become law, they were encouraged by the support they did get and hope it will be reintroduced during the next session. The experience was also a confidence-builder for the two of them.
"It shows that if you want something, go for it," says Anderson, of Naperville, Illinois. "We didn't think much about this at first. Then we took some first steps and took some more steps, and then we were talking with legislators. We never thought that was going to happen when we first started thinking about it."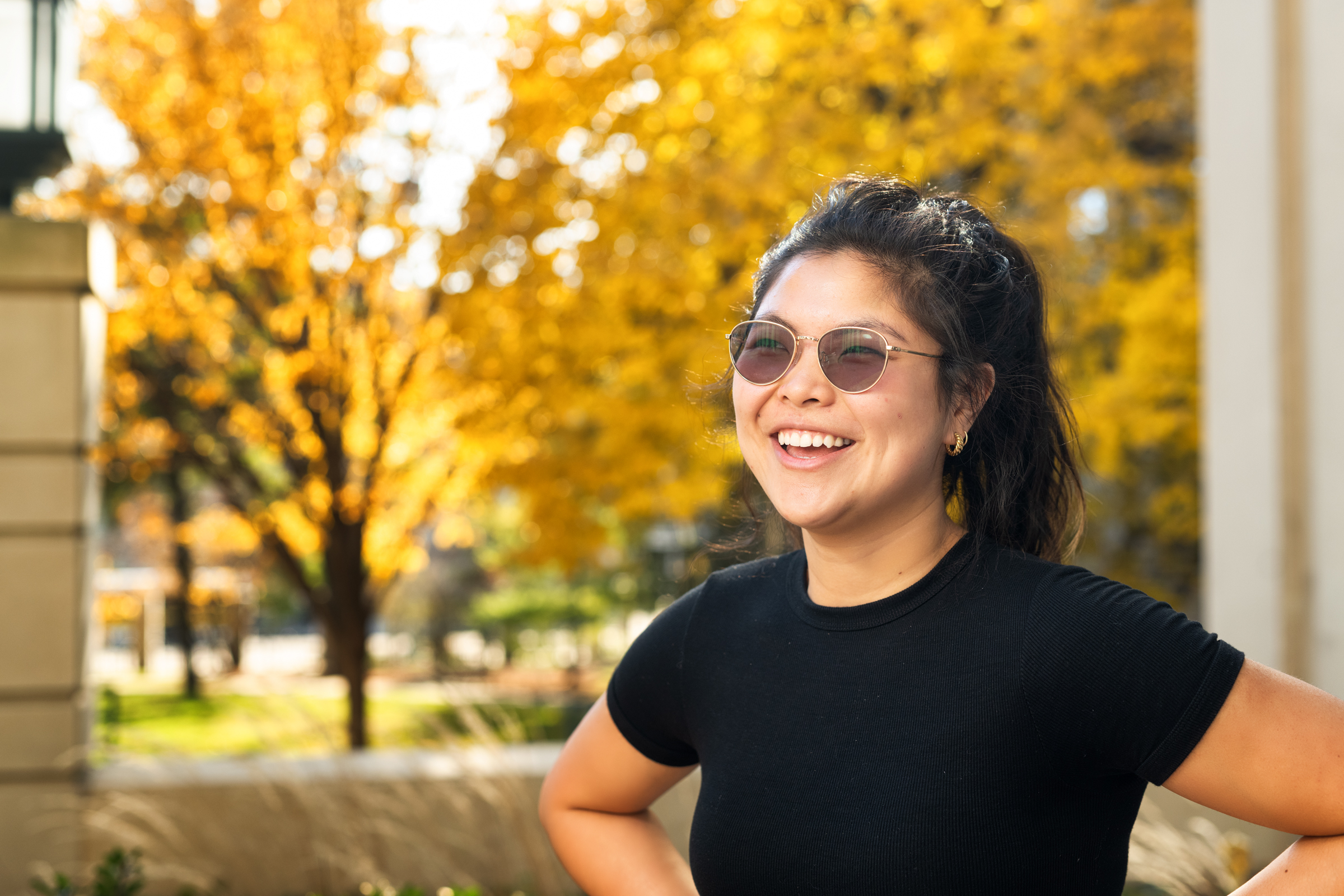 BizEdge mentoring cultivates a sense of belonging
Diana (Xue) Wang never felt like she fit it in growing up in Algona, a small town in north central Iowa with few Asian American residents.
"I didn't feel like I belonged," says Wang, whose parents immigrated to the United States from China. "I didn't feel like I could be myself. I felt like I just had to conform."
She worried she would feel similarly isolated when she came to Iowa, a place with more students than Algona has residents. Her concerns were heightened by the fact she was a first-generation student and had no one outside of her high school guidance counselor to help usher her through the maze of how a college functions. But she was pleased to find shortly after arriving that the university offered programs dedicated to building and strengthening diversity, equity, and inclusion across campus. She quickly became involved in BizEdge, the Tippie College of Business' mentoring program for students from underrepresented groups. She was connected with Brian Schultz, a student mentor from Puerto Rico, who helped make what was shaping up to be a difficult first year on campus considerably less so.
"In BizEdge, I feel like I have a community and I belong," says the accounting major. "It gave me answers to so many of my questions about where to go and how to figure things out."
Knowing firsthand how important community connection is for student success, Wang decided to become a guide herself. She now mentors first-year BizEdge members and also works with international students through the college's Tippie Buddies program in which her fluent Chinese is an asset.
"I see it as a friendship, where they can reach out to me anytime and talk about anything they want, whether it's an academic issue or not," she says. "Even if you just want to have lunch, I'm happy to talk and offer my support. I hope they feel proud of their identities and their diverse backgrounds."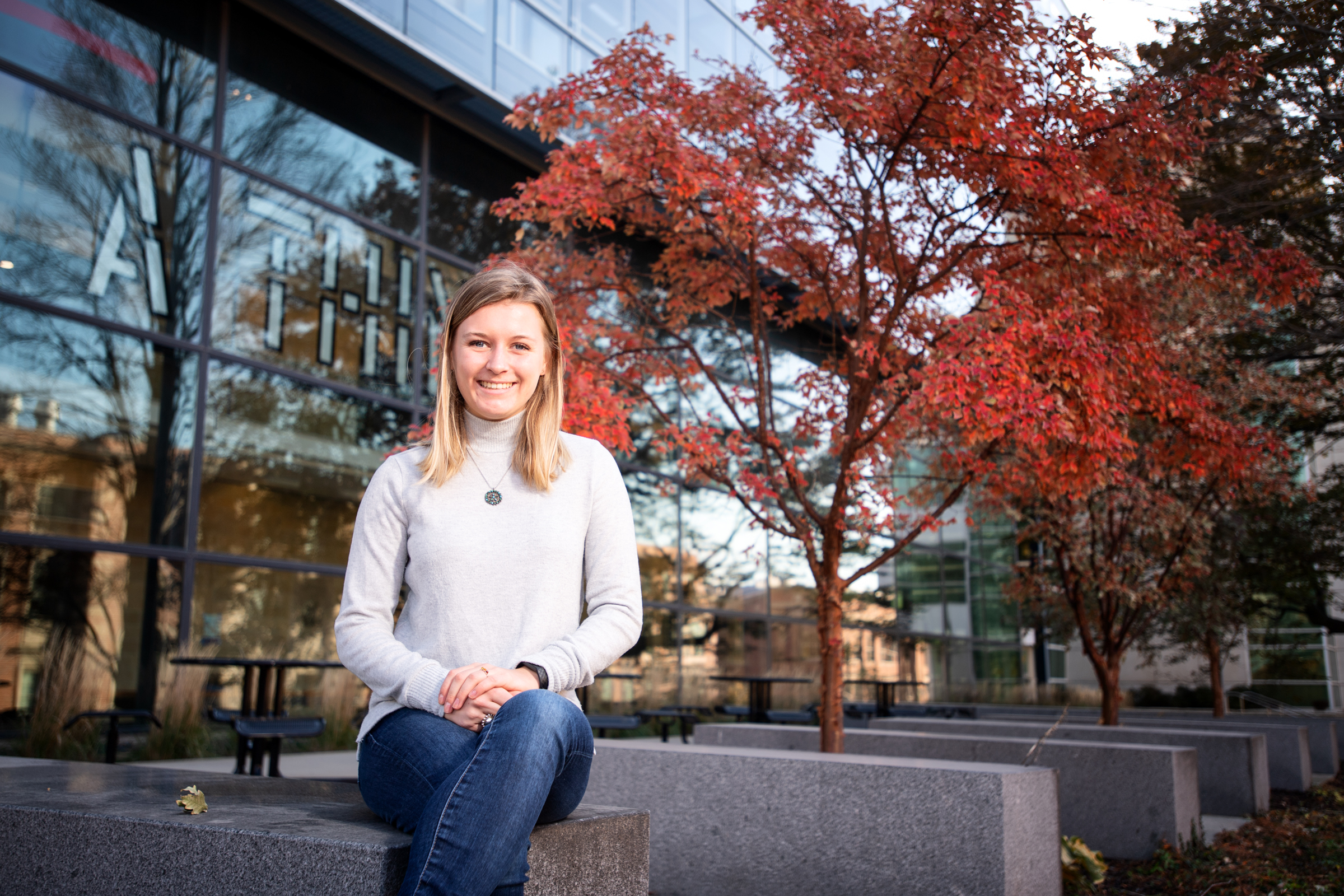 Revitalizing an honors society
When Renee Mittelberg became president of the Iowa chapter of the Phi Eta Sigma honors society, she saw nothing but untapped potential.
The national honors organization is open to any student who earns a GPA of 3.5 or above in the fall semester of their first year, and there's been a chapter on the Iowa campus since 1945. But Mittelberg says it hadn't been particularly active in years—except for an annual spring banquet to initiate new members, she says it was largely invisible as a student organization.
"It had become something you'd put on your résumé and that's about it," says Mittelberg, an engineering major from Cedar Rapids.
So when she became the group's president in 2018, her first task was to revitalize it. Working with her six-member leadership board, she put together a plan to make the organization a more vital part of campus life at Iowa.
"This leadership team thought we could make it something more," she says.
The group started holding blood drives on campus, sponsored twice-a-month social gatherings for members, and held professional development and networking activities. It became a part of the university's Honors Program and improved its communication by starting social media accounts and publishing a monthly newsletter. It established committees to plan new activities, started to more actively recruit new members, and put together retention plans to keep existing members involved.
"We were starting the organization from scratch, basically," says Mittelberg, who is still an active member.
The work begun under her leadership has paid off. Membership in Phi Eta Sigma has climbed to 75, and the group was honored with the Most Improved Student Organization award at the 2020 Hawkeye Leadership Awards.