Off to notable jobs, academic placements
December graduates from the University of Iowa parlayed their academic and research experiences into prominent jobs in industry or advances into graduate and postgraduate programs.
Justin Torner and Tim Schoon
A common thread for University of Iowa graduates is how their academic and research experiences enriched their knowledge and propelled them to jobs in industry or graduate and postgraduate programs.
Take Benton Purnell, for instance. The December graduate came to Iowa from the University of Maine, lured by the Iowa's nationally known research into sleep and seizures but also, importantly, by the culture of inclusion and camaraderie in the UI graduate neuroscience program.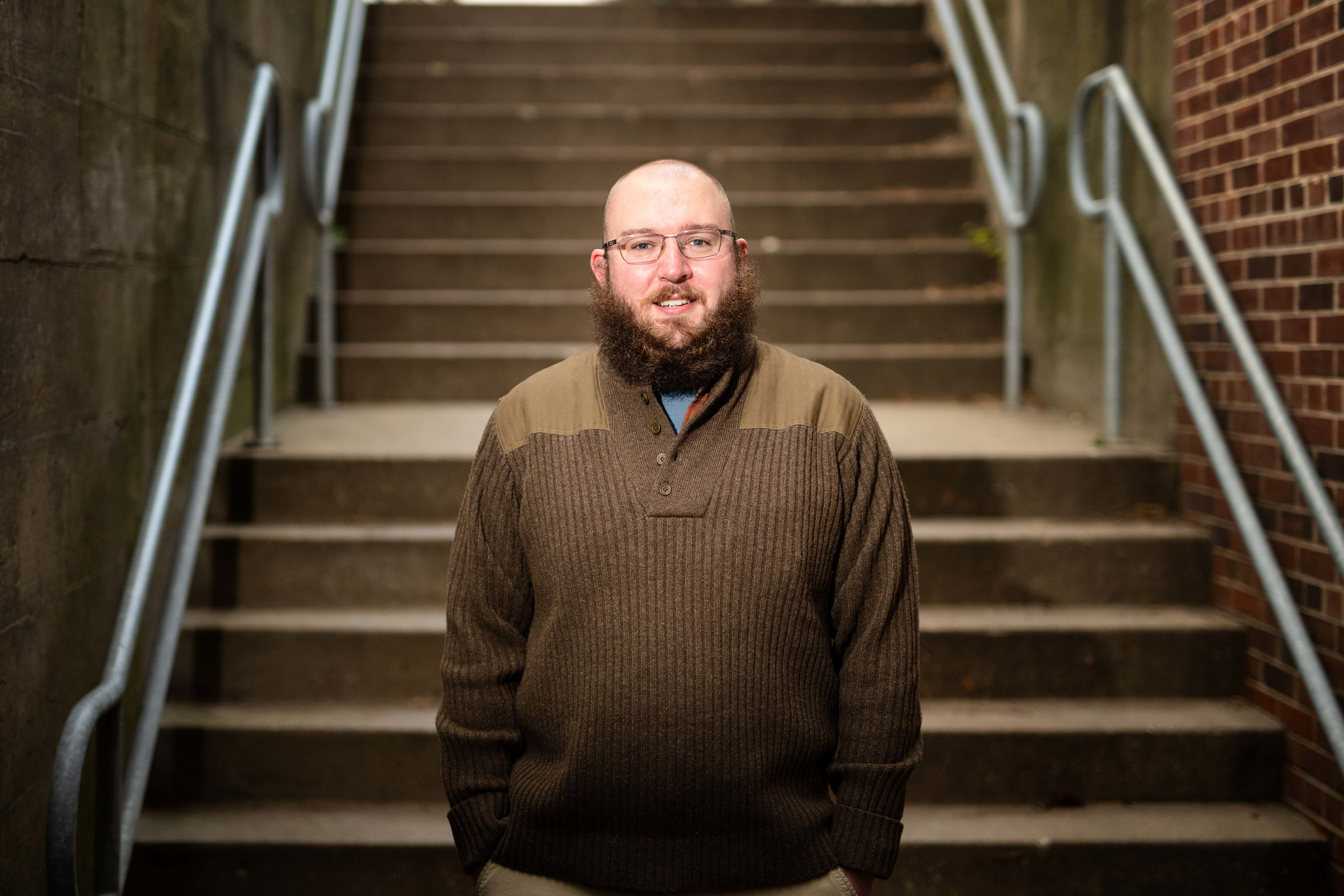 "When I interviewed at Iowa, I really thought the atmosphere and the vibe of the program was definitely something I was looking for," says Purnell, who earned a doctorate at Iowa in neuroscience. "I'm a firm believer that you can't go through five to seven years of graduate school in an atmosphere you're not happy with, and that is not conducive to long-term success. That's not something you can grit your teeth through, in my opinion."
Purnell joined the lab of Gordon Buchanan, associate professor in the Department of Neurology and member of the Pappajohn Biomedical Institute, to study a condition called sudden unexpected death in epilepsy (SUDEP), in which people with epilepsy mysteriously die from a seizure while asleep.
He will continue investigating SUDEP as a postdoctoral research fellow in neuroscience at Rutgers University, with the goal of becoming a university faculty researcher with his own lab.
Purnell credits Buchanan and the graduate program with taking the time to hone his non-research skills, such as understanding how to operate a lab, from outlining budgets to managing personnel.
"I think in addition to mentoring me very well in science, Gordon put a lot of emphasis in understanding what's on the other side of the curtain in the life of a career scientist: what it looks like, what the pitfalls are, how to select a future mentor," Purnell says. "From my very early days as a graduate student, Gordon spent a lot of time working with me and also cared about my well-being, cared about my happiness, cared about my long-term goals, and really catered his expectations in accordance with my long-term goals."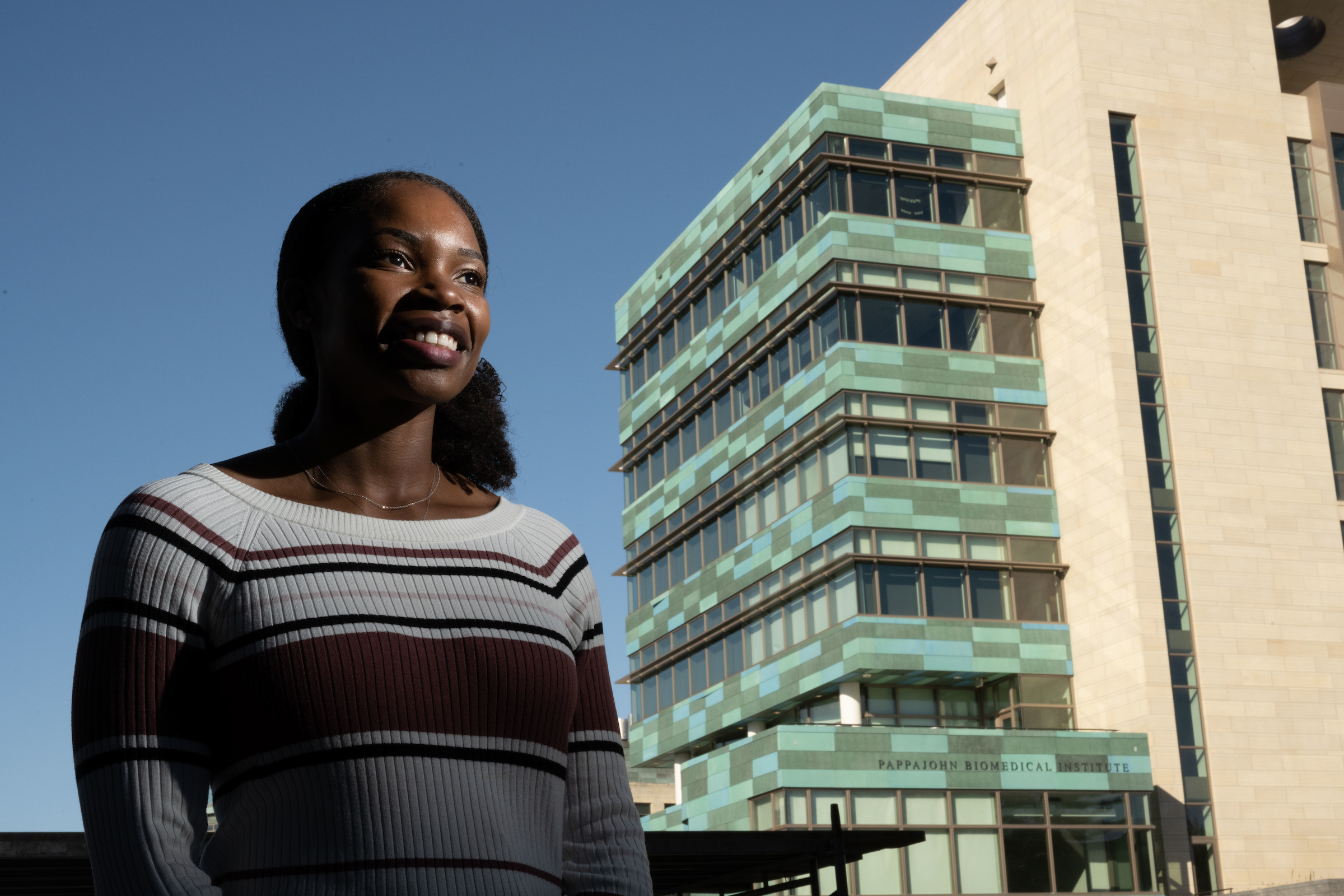 Collaborative research environment makes for perfect career prep
Sharon Jensen-Cody can point to a similar experience at Iowa, one that led to her being hired as a senior scientist in the cardiometabolic division at the American multinational pharmaceutical firm Merck & Co., Inc.
Like Purnell, Jensen-Cody came to Iowa from afar: The Los Angeles-area native graduated from the University of California, Santa Cruz, with a degree in molecular, cellular, and developmental biology. She had never heard of Iowa, she says, until Frederick Domann, professor and director of the UI Molecular and Cellular Biology Graduate Program, approached her during a poster session at the scientific conference Society for Advancement of Chicanos/Hispanics and Native Americans in Science. He urged her to apply.
After the conference, Domann kept in touch and convinced Jensen-Cody to interview at Iowa. She was sold almost immediately.
"It was refreshing to just come to a university where it didn't feel as intense as I thought graduate school would be," Jensen-Cody says. "As I was walking through the labs, most of the principal investigators' doors were open, and you could see them interacting with the graduate students, and the graduate students were interacting with each other. You could feel that collaborative feel, and that was the main thing that drew me here. I knew I was going to spend the next five or six years of my life here. I wanted to be sure it was welcoming, that I would get support and be treated with respect, not as a robot that's just doing experiments."
Jensen-Cody joined the Pappajohn Biomedical Institute lab of Matthew Potthoff, associate professor of neuroscience and pharmacology and director of the Interdisciplinary Graduate Program in Molecular Medicine. Her research focused on metabolic disorders triggered by obesity and diabetes; at Merck, she'll investigate nonalcoholic fatty liver disease and finding therapeutics to combat it.
She says the training she received at Iowa—in the lab and outside of it—prepared her for her career step.
"I feel like I've grown a lot as a scientist in the last five years because I've been able to stand on my own two feet and push my research somewhat independently," Jensen-Cody says. "I feel like the training here has really gotten me to the level where I feel I can go to a large company and contribute something."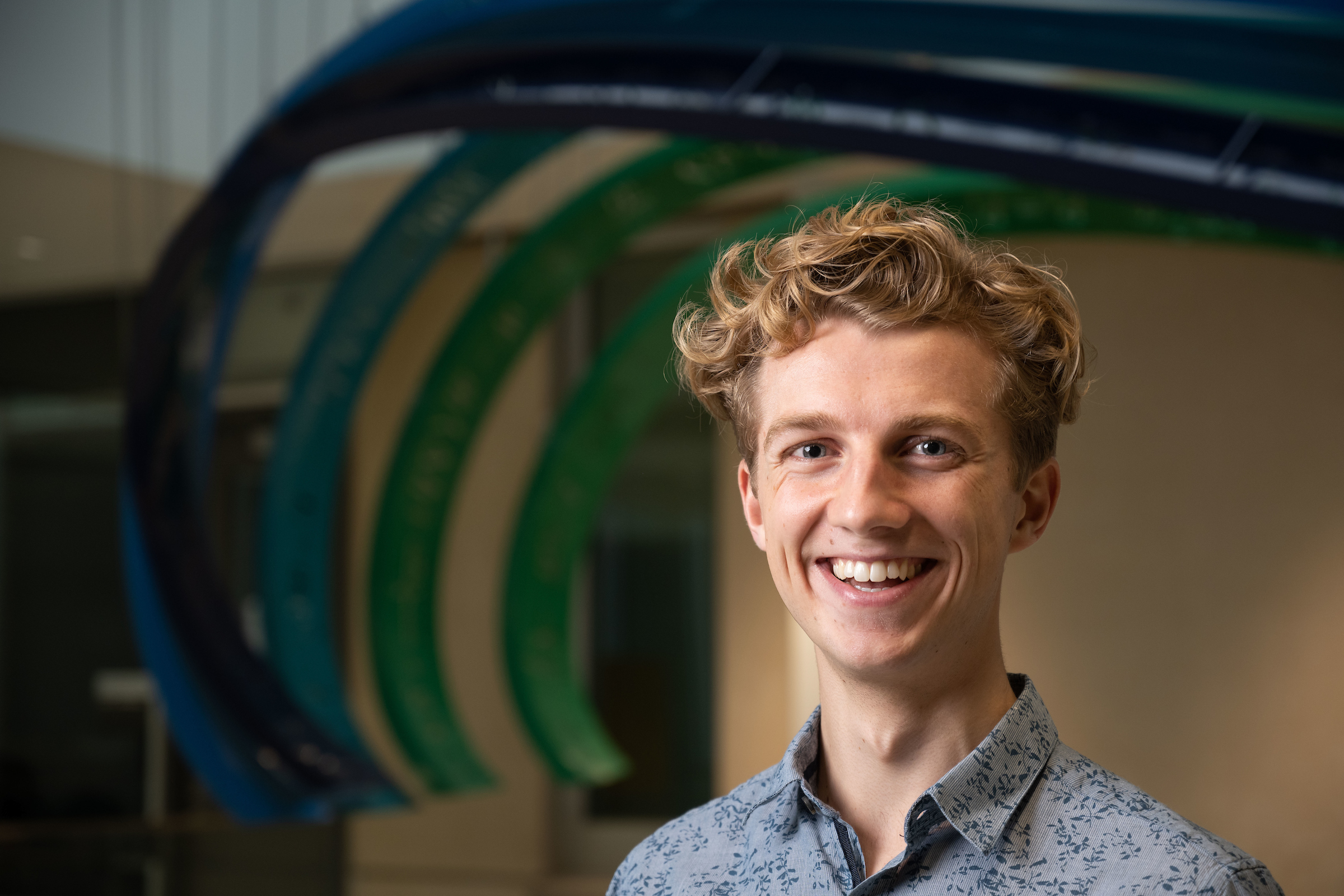 You can't work at SpaceX if you don't aim high
Loden Henning is another December graduate who landed a plum industry job: The Decorah, Iowa, native will work at aerospace manufacturer and launch provider SpaceX.
Henning applied for an internship with the company last summer "on a whim," and his application was accepted. "I was mind-blown that some kid from Iowa could work at a place like SpaceX," the fourth-year industrial engineering major says. "And I guess they liked me enough to keep me around full time!"
Henning graduates with a Bachelor of Science in Engineering and a minor in statistics. He also has been working for SpaceX part time as a systems engineer on the supply chain reliability team for the Starlink program, a satellite constellation that will provide internet access to underserved areas. He'll move to Seattle to work for the company full time in January.
Henning says Iowa prepared him well for his career step.
"Our College of Engineering is small, but we're still a Big Ten research institution, so that means there are a ton of opportunities with fewer students to compete for them than other schools might have," Henning says. "For example, I was able to be a teaching assistant and a research assistant in a lab, where I got to run a project while there was no graduate student available."
Henning worked in the Graphical Representation of Knowledge (GROK) Lab, where he examined how effective educational games are for teaching collegiate engineering concepts. He helped create a game that teaches MySQL, a database query language, and tested its effectiveness on cohorts of about 50 students.
Henning urges current and future students to capitalize on all the resources Iowa offers.
"My biggest takeaway from Iowa is to shoot your shot," Henning says. "I never would have thought getting into SpaceX was realistic, but luckily I wasn't applying from ground zero. I had taken advantage of all the opportunities that came my way at Iowa. Even if it's tiny, I really feel like all opportunities snowball into bigger and better things."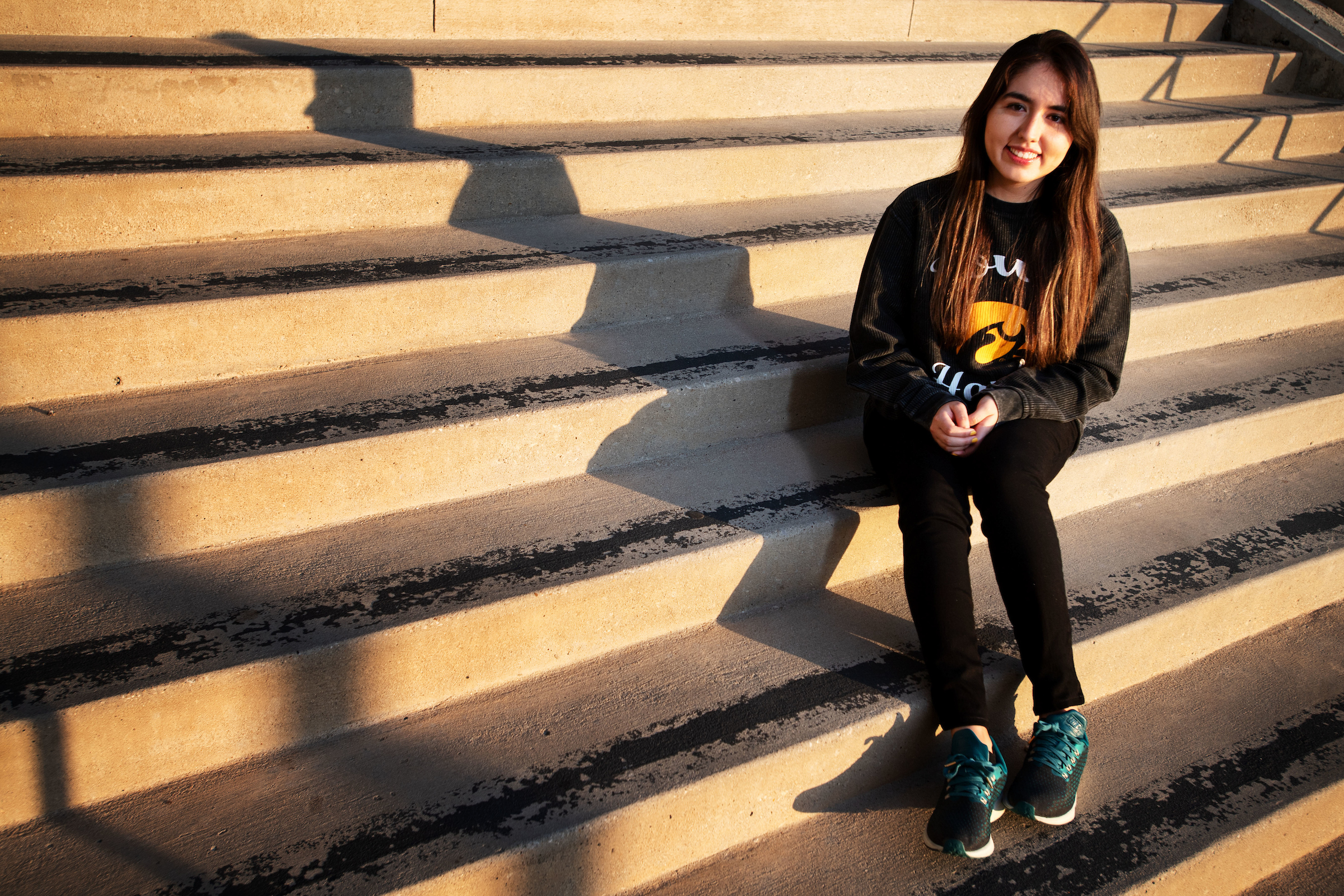 Passion discovered? Check. Next step: Staying to pursue a PhD
Juliana Danesi Ruiz discovered a passion for robotics in the College of Engineering.
Danesi Ruiz came to Iowa from Sao Paulo, Brazil, where she learned about the university almost by chance at a college fair at her school. She knew wanted to be in the engineering program, but not much beyond that. That changed when she took a robotics class taught by Phillip Deierling, lecturer in the Department of Mechanical Engineering.
Of the Hawkeyes who graduated in the 2018–19 academic year:
96% found a job, continued their education, or are not seeking employment
Their median salary is $50,000
23% chose to continue their education
These are our latest stats and they come from a survey of graduates completed six to seven months after graduation. More about Hawkeye grads and student outcomes is available at the Pomerantz Career Center. 
"I was able to gain insights into the robotics fundamentals, the Internet of Things, and Industry 4.0, which are concepts I have used in my internship and research," Danesi Ruiz says.
She joined Deierling's lab, where she has been working to improve the lab component for the robotics class.
"What I feel is most interesting is seeing how a robot can do as much as a human," she says. "Robots have a lot of potential to grow into even smarter machines, and I want to be part of that."
Danesi Ruiz graduates with a Bachelor of Science in mechanical engineering and minors in computer science and mathematics, and will stay at Iowa to pursue a doctoral degree. She credits Iowa with opening her eyes to academic and career opportunities.
"If you had asked me four years ago, I would have had no idea that I would be starting my PhD, but all the research experience that Iowa provides to you is exceptional, and every student should take advantage of it."