Finding and fighting a boy's deadly brain infection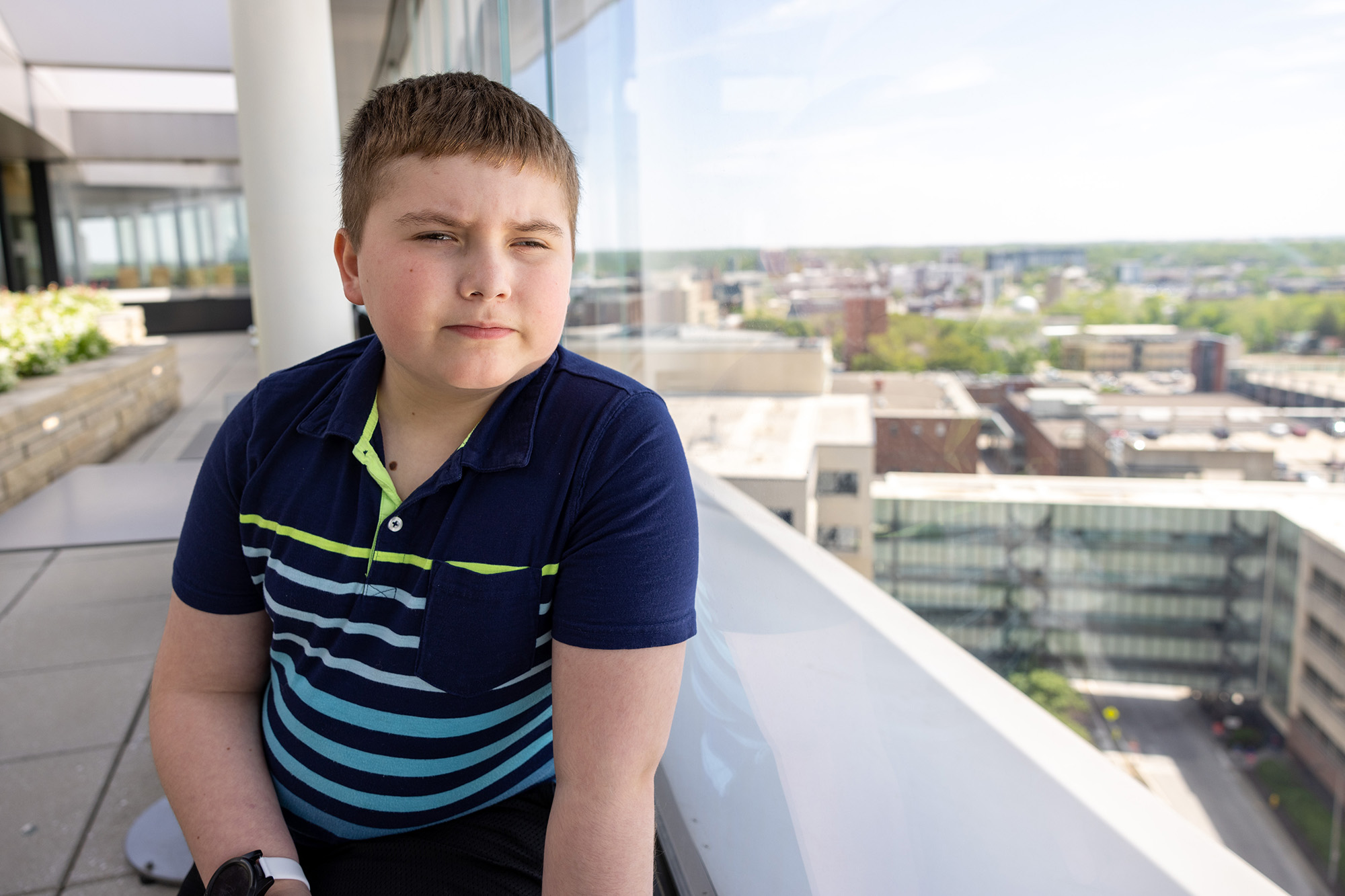 The expertise—and persistence—of pediatric neurosurgeon Brian Dlouhy and the UI Stead Family Children's Hospital team helped 11-year-old Liam Lause recover from a life-threatening brain abscess.
Liz Martin and Jesse Wallace
"If we don't do anything, he's going to die. If we do something and he dies anyway, at least we can say we tried."
That was the plea Joe Lause of Des Moines, Iowa, made to pediatric neurosurgeons at University of Iowa Stead Family Children's Hospital as his 11-year-old son Liam lay near death from an abscess that attacked his brainstem, seemingly out of nowhere.
The family's doctors in Des Moines turned to UI Stead Family Children's Hospital to try to save his life.
"Our [Des Moines] doctors knew they couldn't treat it where they were, so they started calling around to see if anyone would be willing to try," recalls Jana Lause, Liam's mom.
Brian Dlouhy was willing to try. And because he was, and because of Dlouhy and his team's expertise with pediatric neurosurgery, Liam Lause was able to return to school, play basketball with his friends, and earn a perfect score on a math test.
"I wanted to do everything I could do to help this boy," says Dlouhy, MD, a pediatric neurosurgeon at UI Stead Family Children's Hospital. "All I can say is I trusted my gut. I know people can recover from infections well, even really bad infections, and I thought that could happen here. And it did."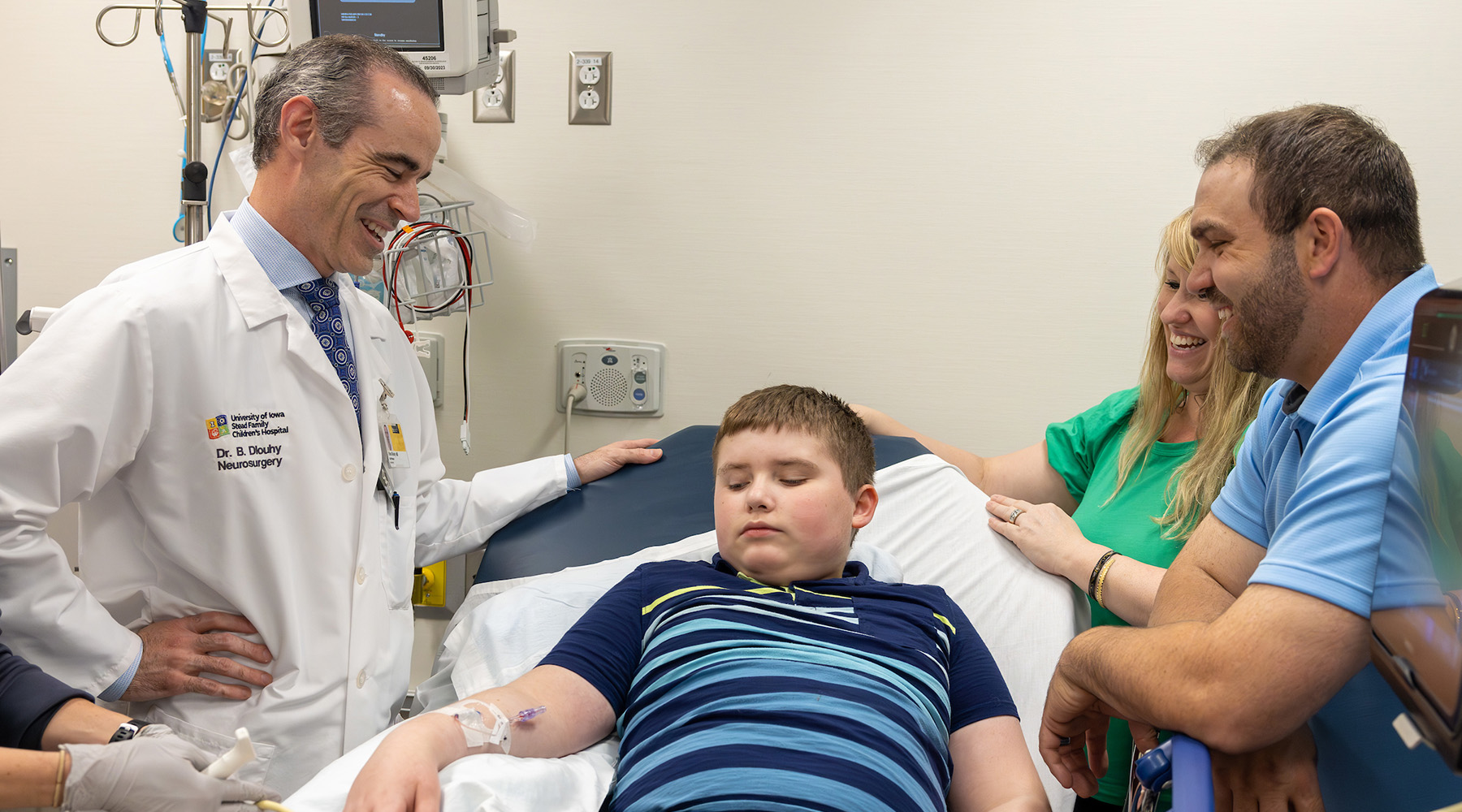 "It's the most impressive recovery I've seen. Neurologically speaking, I would say this boy was 'dead.' And now he's alive and almost back to his normal self in a relatively short amount of time. That's how impressive this is."
UI pediatric neurosurgeon, speaking about Des Moines boy Liam Lause
'When the nightmare started'
On a mild December Thursday night in 2022, Liam was playing basketball in the family's driveway, "just being a normal 11-year-old boy," Jana Lause says. The next day he started complaining of a headache, followed by chills and a loss of appetite.
"That's when we went to the doctor, and they started running all the tests, and we were sent to the emergency department," Joe Lause says. "For us, that's when the nightmare started."
Doctors in Des Moines were perplexed: There was no fever or sign of infection, and nothing abnormal was showing up in his lab results. A CT scan suggested a small mass, and the Lauses were told their son likely had an extremely aggressive and fatal cancerous brain tumor.
By the following Tuesday, Liam had no detectable brain activity and was transported by air ambulance from a Des Moines hospital to UI Stead Family Children's Hospital, where he was being kept alive by a ventilator and other machines.
"When he arrived, we looked at his images, and we didn't think it looked like a typical tumor," Dlouhy says, "and it looked like there was blood in it that might have been bleeding into his brainstem. That made us think of a vascular lesion, but that raised a lot of questions, too."
Recognized leaders in pediatric neurosurgery
University of Iowa Stead Family Children's Hospital is home to one of the most experienced and comprehensive pediatric neurosurgery programs in the nation and the only nationally ranked program in Iowa.
Neurological problems in children who need surgery can be very different from those in adults. That's why it's important to rely on the expertise of pediatric neurosurgeons who are specially trained to treat infants, children, and adolescents.
The lesion, he said, could have been caused by an infection or an injury, except that Liam had had neither.
"He never had a history of sinus infections, there was no injury, no history of a bacterial infection whatsoever," Dlouhy says. "We were thinking, 'How could this be so isolated?' Then we started wondering if it could be an abscess."
No other alternative
Dlouhy and his team needed more images; working on a bleeding lesion in the brain could cause more bleeding in the brainstem, which could have killed Liam. 
But there was another problem: Before Dlouhy could get more images of the mass, Liam's condition declined rapidly. 
"We got him here and he was stabilized, but when I went to see him the next day, he was so much worse," he says. "We knew at that point this was our shot—we needed to get a biopsy." 
There was a serious risk in going for a biopsy: The procedure could cause a hemorrhage within the brainstem, which would be fatal. 
"There was a possibility that this could make things worse, but there was no other alternative," Dlouhy says. 
The procedure was risky: A hole was drilled into Liam's skull, and a needle went in through the cerebellum and followed a path to the abscess. 
Jana Lause says Dlouhy told her that "one wrong move would end Liam's survival functions." 
"The level of skill for those surgeries has to be the highest caliber," she says.
Unanswered questions, then a turning point
The biopsy produced a thick, bloody substance that Dlouhy recognized immediately as an infection, but the source was still unknown. The pathology report showed the infection was bacterial, not a tumor.
Identifying the lesion as a bacterial infection was an important step, Dlouhy says, but Liam wasn't out of the woods just yet. The infection had grown and was the size of his brainstem.
"We didn't know how much of his brain was going to make it through this," Dlouhy says.
A few days after the biopsy, the infection started to grow again, despite anibiotics. This time, Dlouhy and the team went in more aggressively and suctioned out the remaining infection. It was a turning point: Dlouhy put in a permanent shunt to drain fluid from his brain, and slowly Liam began to recover.
A grateful family
Although he was no longer critically ill, Liam spent the next several weeks at UI Stead Family Children's Hospital and then at a Des Moines rehabilitation facility. He had to relearn how to walk, talk, and eat.
But he was alive.
"I was brought up to never cry," Joe Lause says, "to never show emotion. But during all of this, I cried more than I have my entire life. That emotional rollercoaster was the worst time of my life. But where we are now, it's incredible."
Jana Lause says the family is grateful to Dlouhy and the UI Stead Family Children's Hospital team for their expertise—and for giving the family hope.
"Dr. Dlouhy told us flat out he never thought the outcome would be as good as it has been. This is a point of pride for him and for the hospital," she says.
Dlouhy admits it wasn't the procedure by itself that was remarkable. 
"This wasn't a technically challenging surgery," he says. "There was a risk, yes, but there are more risky procedures that I've done." 
He says what happened after the surgery is what makes this one of his most memorable cases. 
"It's the most impressive recovery I've seen," says Dlouhy. "Neurologically speaking, I would say this boy was 'dead.' And now he's alive and almost back to his normal self in a relatively short amount of time. That's how impressive this is." 
"Dr. Dlouhy came in during one of our follow-up appointments—we weren't scheduled to see him, but he wanted to see Liam," Jana Lause says. "At that point you saw a man sitting in the chair, not a neurosurgeon. You saw a man with a smile on his face, looking at Liam, like, 'Yeah, I did that.' And you know just how incredible it really was."