Taking the reins with confidence and compassion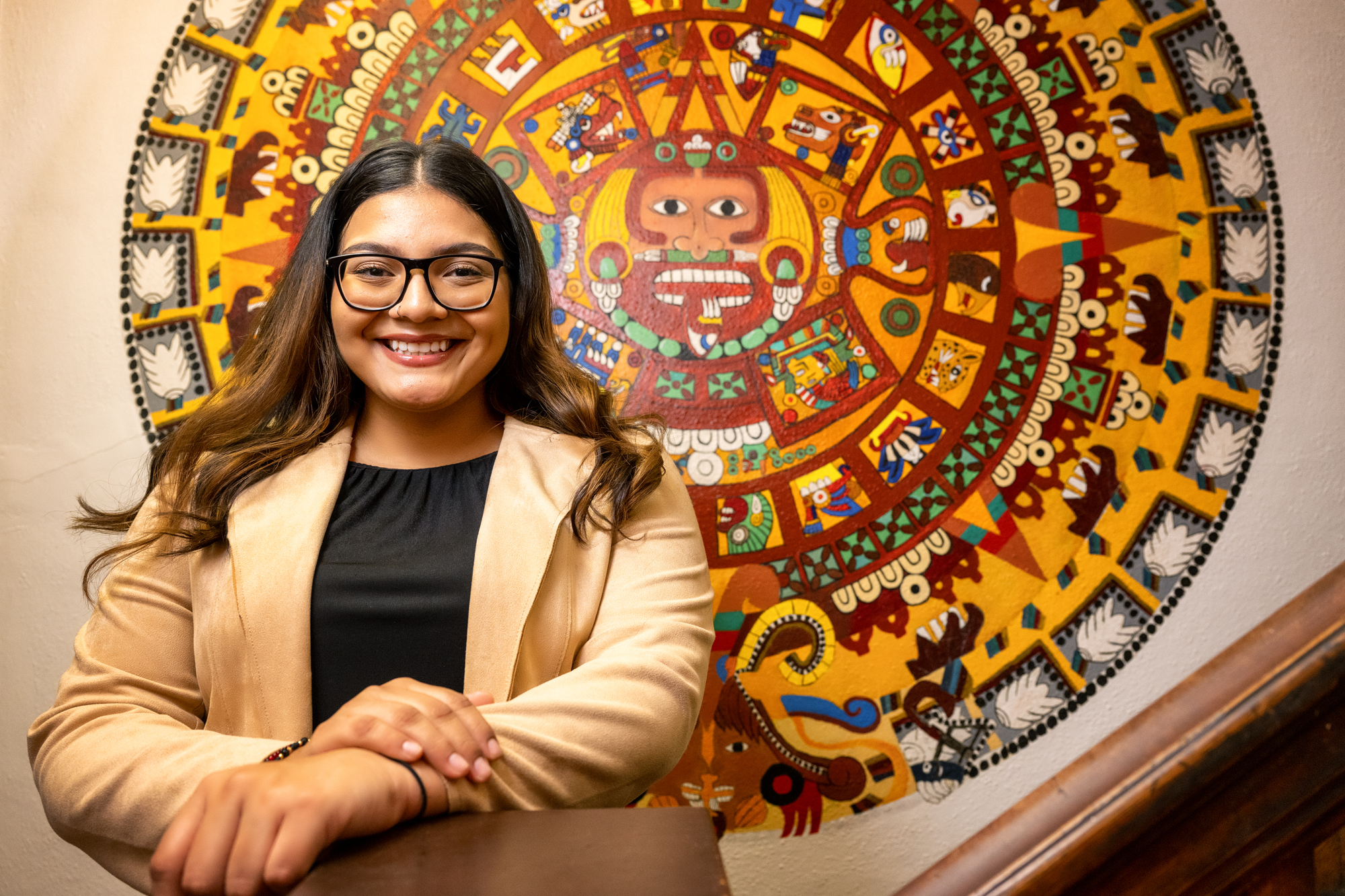 At the University of Iowa, Guadalupe De La Rosa found an environment where she could push herself to be a leader, take part in the crucial cycle of mentorship, and better embrace her cultural background.
During her high school days in Washington, Iowa, Guadalupe De La Rosa loved to be involved, but never quite felt comfortable taking on leadership roles.
Her time at the University of Iowa provides quite the contrast: The third-year Hawkeye is president of Iowa's Lambda Theta Nu Sorority Inc. chapter, and she helps develop programming at the university's Latino Native American Cultural Center (LNACC).
"My leadership skills have blossomed since I came to Iowa," says De La Rosa, who is pursuing a degree from the UI College of Public Health with a minor in Latina/o/x studies. "I have so many mentors who have helped me—at the sorority, at the cultural center, in the College of Public Health. The opportunities I've had here at Iowa have helped me grow as a person."
Latinx Heritage Month: A time for celebration and education
During Latinx Heritage Month, Guadalupe De La Rosa wants people to be able to celebrate their culture with their community, but also to show other University of Iowa students what it means to be Latino/a/x/e.
"That's definitely something I try to promote, that this celebration is not just for Latinx students—it's for everyone at this university," De La Rosa says. "Please come. Please engage. Learn about our culture, eat the yummy food, get to know about our roots.
"The Latinx community is the biggest minority group at the University of Iowa, with nearly 2,500 students. We want to show who we are, what we do, and welcome everyone."
Iowa's strengths in areas such as public health and social work were the initial draws for De La Rosa, who as a high school student volunteered for the local public health department. De La Rosa also felt Iowa would provide an environment where her Latina heritage would have greater representation and where she could learn more about her culture.
After coming to Iowa, she learned a bit more about fraternity and sorority life—an area she hadn't really identified as an interest. More specifically, De La Rosa discovered the Multicultural Greek Council and the existence of two Latina-based sororities—the aforementioned Lambda Theta Nu being the one she joined. The sorority focuses on academic excellence, community service, and meeting the needs of Latina and multicultural women in higher education.
"Our current membership is all Latinas, but we are open to any and all," De La Rosa says.
During her first year, De La Rosa served as the chapter's sunshine chair, where she acknowledged the accomplishments of her sorority siblings. The following year, she led the sorority's community service effort, capping her term in the spring of 2022 by planning the Latina Youth Leadership Conference, a daylong event that welcomed youths from area schools.
UI leaders such as Maria Bruno, executive director for belonging and inclusion; Lina-Maria Murillo, assistant professor of gender, women's and sexuality studies; and Danielle Martinez, director of student retention, shared their stories with the visiting students, who also got a firsthand look at the Iowa campus and enjoyed lunch at Catlett Residence Hall.
"We wanted to give the youth attendees an answer to the question, 'What is college?'" De La Rosa says of the summit, which was fully in-person for the first time since 2019. "I know as a high school student, college seemed a bit scary, right? Back then, I didn't fully understand things like majors and minors. I wanted to provide a cool experience that would showcase the value of higher education."
This year, as Iowa's Lambda Theta Nu president, De La Rosa prioritizes mentoring her sorority siblings.
"I tell my girls all the time, 'I'm here to help you with whatever you need, even if it has nothing to do with sorority life,'" De La Rosa says. "Being president is not something that makes me better than anyone. We're on a level playing field, and I'm a resource for my sisters. That's how I view my leadership role, and that's the kind of community we want within our organization."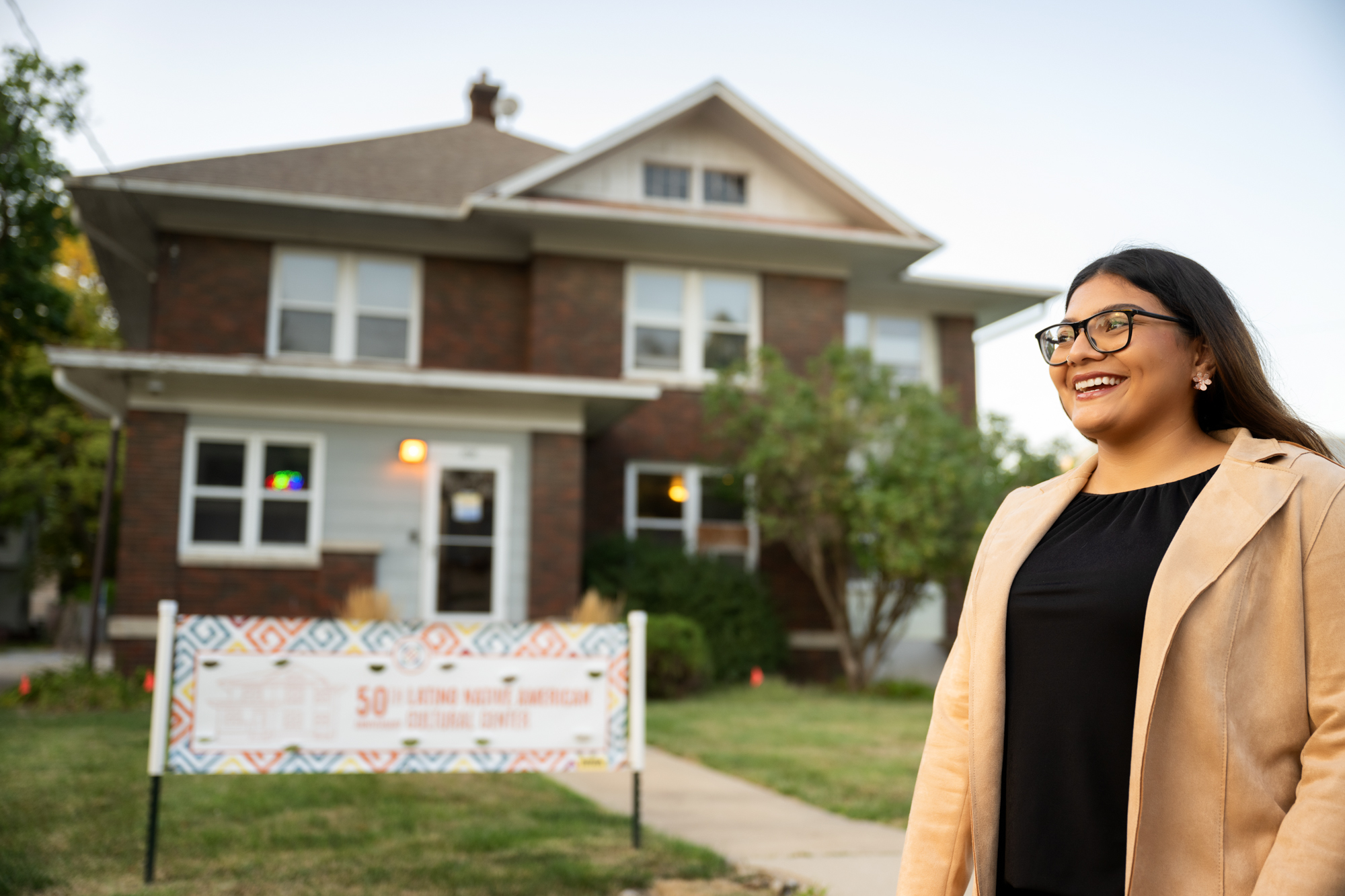 "After I got to the University of Iowa, I gained the confidence to embrace my culture. Here, I learned that my culture is beautiful! Everyone's culture makes each of us so unique—why would you want to be like everyone else?" 
University of Iowa undergraduate student
Mentoring means everything
Guadalupe De La Rosa credits her numerous mentors for her success at the University of Iowa. Whenever she has questions about sorority business, she knows she can go to campus advisor Gabriela Rivera or reach out to Lambda Theta Nu alums and get quick text responses. Elizabeth Lara, DEI manager in the College of Public Health, helps De La Rosa process things such as degree audits and four-year plans.
And De La Rosa says LNACC coordinator Isabela Flores constantly encourages personal growth and provides resources to help her and other LNACC staff pursue their goals. "I feel supported through her—that's why I love my job so much," De La Rosa says.
Flores says the mentorship she receives from others keeps her well and present for the people she mentors.
"Without the guidance and support from faculty members, professional staff members, peers, and other students or community members, I am not sure how sustained I would be right now," Flores says. "I deeply encourage others to find a way to make connections, formally or informally, in whatever way you're most comfortable. This can be a monthly email with one another, a visit to office hours, intentional networking, or conversations with people. Find your community, and find the people who are helping people."
This selfless approach comes as no surprise to Gabriela Rivera, associate director of diversity, equity, and inclusion in the UI Tippie College of Business, who serves as Lambda Theta Nu's advisor.
"From the beginning of our interactions, Guadalupe showed initiative and a desire to make a difference. I am impressed with her sense of identity and leadership," Rivera says. "As a Latinx woman on a majority white campus, she has developed a strong sense of identity and strong connections with students, faculty, and staff. She works tirelessly to share her experiences and give other students a welcoming introduction to campus and the community."
De La Rosa will tell you that she did not always allow herself to celebrate her heritage. Although she was raised in a home that spoke English and Spanish, she avoided speaking the latter outside the home. In high school, she was OK with being known by a nickname, Lupita, rather than her given first name. Such is the power, or pressure, of wanting to fit in while going through high school.
But now?
"After I got to the University of Iowa, I gained the confidence to embrace my culture," says De La Rosa, who now proudly uses her full first name. "Here, I learned that my culture is beautiful! Everyone's culture makes each of us so unique—why would you want to be like everyone else? It took me a really long time to figure that out."
This newfound confidence prompted De La Rosa to apply for a programming assistant role at the LNACC, which has a stated goal "to develop and foster a sense of belonging where students can authentically engage with their personal, academic, cultural, emotional, and spiritual identities in a safe, trusting, loving, non-competitive, non-judgmental, yet challenging space." She started in the fall of 2021, as the center was transitioning back to in-person gatherings after more than a year of facility closures and virtual events.
"I learned so much that first year—how to plan events, yes, but also how to create a sense of belonging, to foster community," De La Rosa says. "That's why I'm back for another year. I want to continue to build community."
LNACC coordinator Isabela Flores says De La Rosa has provided a sense of revitalization to the community and culture that make up the LNACC.
The combined undergraduate-to-graduate program provides an opportunity for students interested in public health to earn both their undergraduate and graduate degrees in five years. Save time, save money, prepare for the future, and establish a competitive edge.
"Guadalupe has been an integral part of a culture shift here at the LNACC, as well as within the larger Latinx/a/o community," Flores says. "Guadalupe brings care, concern, ideation, and love to our community. Moreover, she brings a genuine desire to leave this space and this community better than she's received it—one of my favorite attributes."
De La Rosa is eyeing advanced degrees in community and behavioral health; applying to the College of Public Health's Undergrad to Grad program is a potential next step. Eventually, she would like to use her public health training to address health equity issues often faced by underrepresented populations, either with a nonprofit organization or a government entity.
"Wherever I end up, I definitely want to work in local health education," De La Rosa says. "I want to be a resource on reproductive care. I want to work with schools, with the youth. I want to break down language barriers and provide a greater sense of trust. Representation matters in this field."