Hawkeye lands role as a top storyteller for the NFL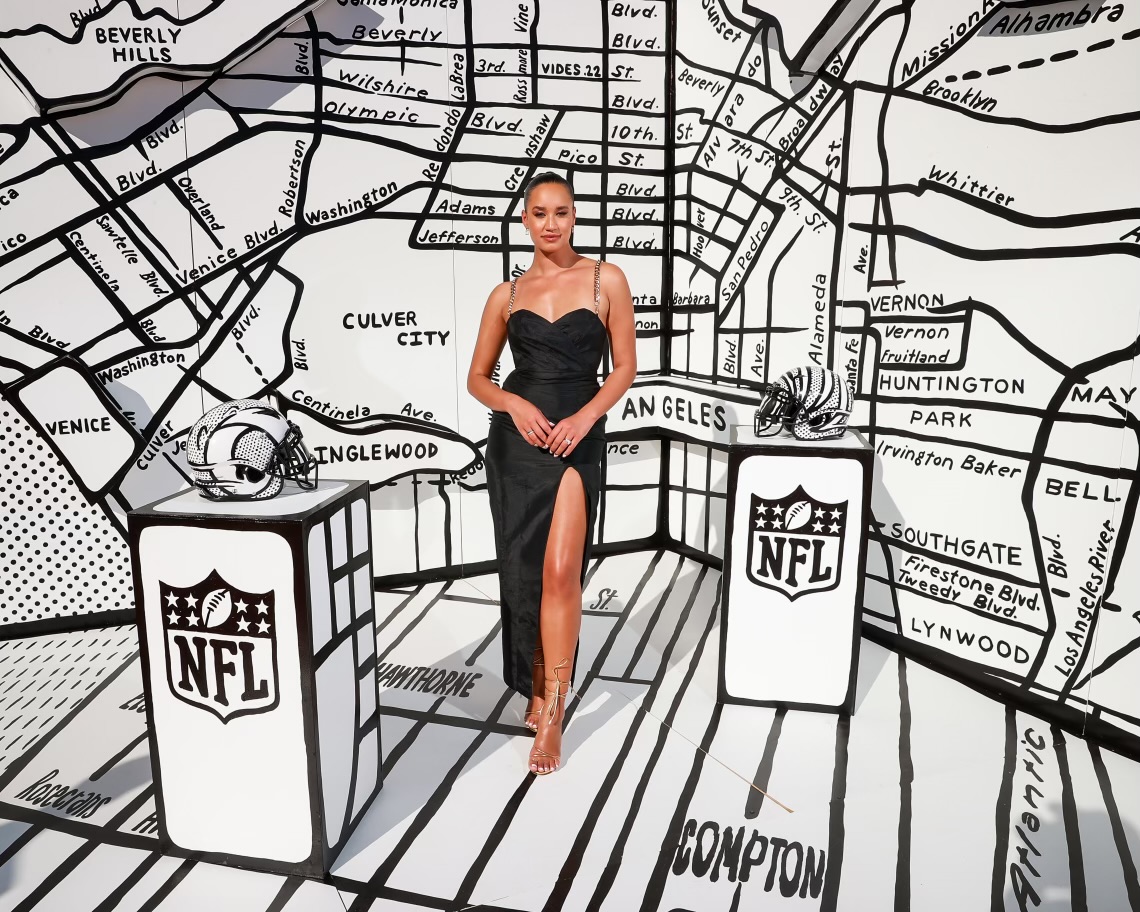 Kimmi Chex says she shot for the stars and landed on them. The popular NFL on-air personality and analyst says what she learned at the University of Iowa helped get her there.
NFL Photo and Justin Torner
Every time Kimmi Chex analyzes the day's news with her NFL Total Access colleagues, interviews an NFL player, or hosts an event such as the NFL Draft, she says she leans on lessons she learned at the University of Iowa.
"Much of what I do in my day-to-day job, and I'm sure what I'll continue to do in the future, is rooted in my time at Iowa," Chex says. "Every single day, I remember those classes and the foundational knowledge I gained from Day One at Iowa. And now, I use the exact words that I once was taught to do my job and do it well, and to hopefully tell stories in a way that people resonate with and feel good about."
Kimberly Chexnayder White, professionally known as Kimmi Chex, graduated from Iowa with honors in 2018 with a BA in journalism and mass communication and a certificate in critical cultural competence. Since leaving campus, the on-air personality and analyst for the National Football League is among the youngest ever to sign a national television contract with the league and has been named to Forbes' 30 Under 30 list in sports, The Athletic's NFL 40 Under 40, and Front Office Sports' Rising 25.
Chex never planned to go to the University of Iowa: "Iowa found me."
After winning an art competition her sophomore year of high school, the University of Iowa offered the Kansas City, Missouri, native a full scholarship to a weeklong summer art program on campus.
"I fell in love with Iowa City, but I wanted to see what campus looked like when there were students around, so we came back to visit that fall, and within seconds I was sold," Chex says.
Chex says she always knew that she wanted to be a journalist, to tell stories and to give voice to others.
But she wasn't sure which path within journalism she wanted to follow: politics or sports.
"I knew that the Iowa caucuses would be happening while I was a student, and I knew that Iowa had an amazing Big Ten sports program, so regardless of what I wanted to do, Iowa was the place to do it," Chex says. "And being an international hub for writing was the amazing little cherry on top. Iowa really checked every single box and was the best decision ever."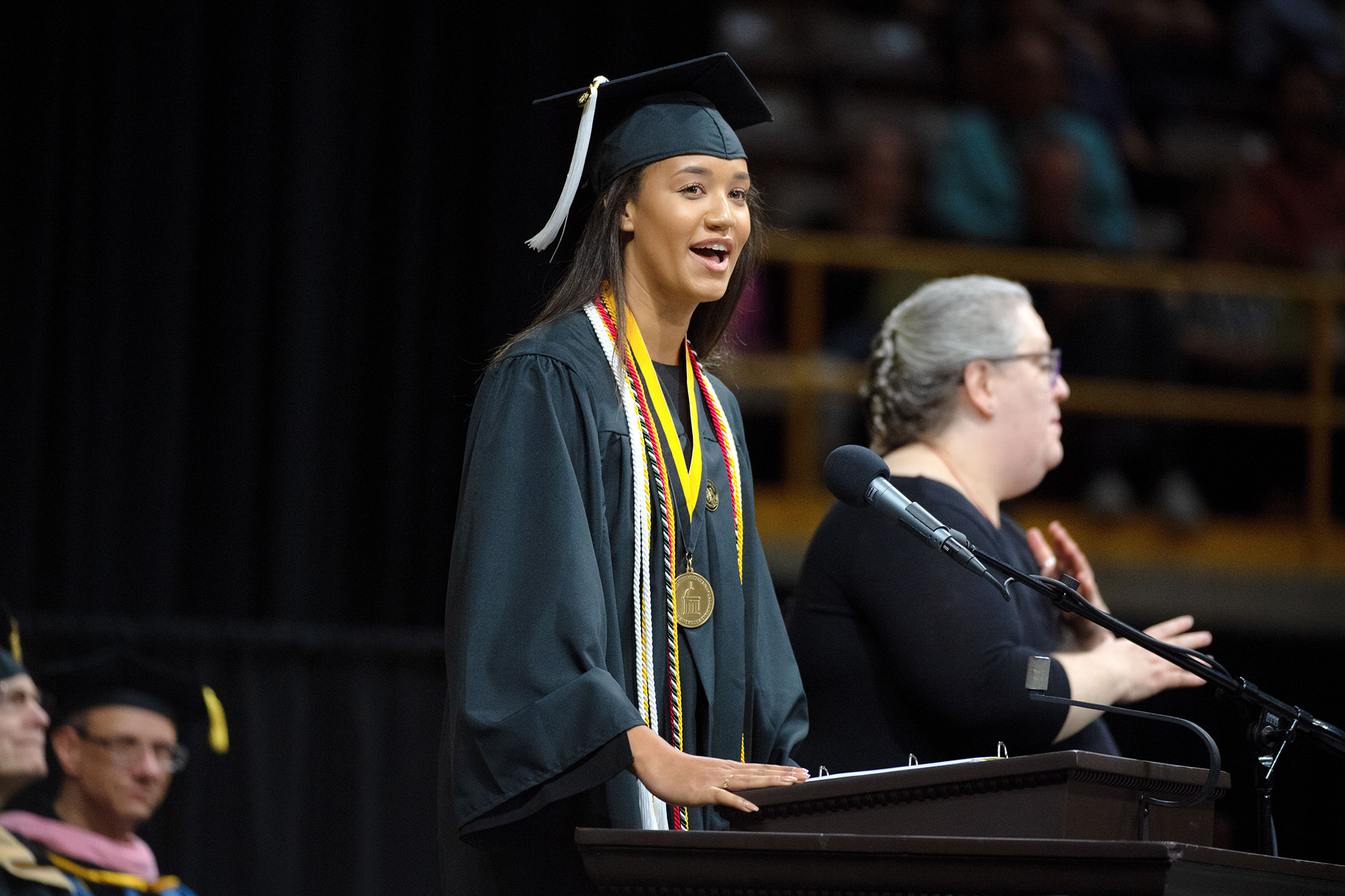 It was her work with the Iowa football program that solidified what she wanted to do professionally after college. While working in the Office of Admissions, Chex learned of the need for Students to Assist Recruitment (STAR) volunteers on Saturdays. Working with football recruits led to being offered a student assistant position with the Iowa football office.
Chex produced social media and video content for the team and became a face and voice for the stories the program shared.
Chex says she's proud of what she and her colleagues created, with one of her favorites being a series called Between the Tigerhawks.
"We wanted to give voice and face to the athletes, but without the helmets and without the name on the back of their jersey," Chex says. "So we did street magic downtown with Aaron Mends and a clay pigeon challenge at Bo Bower's family farm. We had a few geniuses who could solve Rubik's Cubes, so we attempted to do that together. We knew that these young athletes were heroes to a lot of people in the state, but we wanted to make sure that they were heroes not just because of what they did on the football field, but because of who they were as well."
"I knew that the Iowa caucuses would be happening while I was a student, and I knew that Iowa had an amazing Big Ten sports program, so regardless of what I wanted to do, Iowa was the place to do it. And being an international hub for writing was the amazing little cherry on top. Iowa really checked every single box and was the best decision ever."
2018 University of Iowa graduate and co-host of "NFL Total Access"
She credits the writing and communications classes she took at Iowa—and in particular a rhetoric class she took her first year—for helping her get where she is today.
"Those classes taught me how to use punchy language so that when I blind emailed someone for a coffee chat to pick their brain at the NFL, they were enticed to want to meet with me because I was so intentional with my words," Chex says. "Those emails then turned into writing scripts for our show, which turned into the way that I communicate with our national audience every single day."
Chex's senior year at Iowa was bookended by being named Homecoming queen in the fall and giving an address at the College of Liberal Arts and Sciences' commencement that spring.
Meanwhile, toward the beginning of her final semester, she learned she had been accepted into the NFL's Junior Rotational Program, where she worked in departments including international media and business development, fan-centric database marketing, event revenue and strategy, and fantasy football content. 
Journalism at Iowa: Make media that matters
The University of Iowa School of Journalism and Mass Communication prepares students for dynamic careers in many traditional and new fields—working in media industries, or in other industries but within communications, and as entrepreneurs. The school has produced thousands of distinguished graduates; some have gone on to win Pulitzer Prizes, Peabody Awards, and Emmy Awards.
"That started a whirlwind of learning absolutely everything you could imagine about the NFL," Chex says. "We have the world's attention, and definitely this country's attention, in such a unique and beautiful way, and I got hands-on experience in what goes on behind the scenes."
She says she advocated for herself and took advantage of every opportunity that came her way. That included a producer who knew she had done on-air work during college encouraging her to produce an update on her phone.
"That turned into, 'Why don't you fill in once on this digital show?' Which turned into, 'Why don't you be on air with us full time and sign a contract?'" Chex says. "It was just kind of this beautiful right time, right place, as well as working intentionally to leverage the connections I had made and focusing on the end goal of wanting to be a storyteller."
In September 2023, Chex was named co-host of the NFL Network flagship show NFL Total Access. Chex also can be seen on NFL Network programs such as NFL GameDay Morning and NFL Fantasy Live, as well as coverage of events such as the Super Bowl, the NFL Scouting Combine, and the NFL Draft. 
"I owe so much of my current success and previous success and, I'm sure, future success to the connections I made here at Iowa and the people who saw the magic in me and wanted to put that forward and to give opportunities and give voice to all the things I was interested in," Chex says.
Chex says she wants today's students to know that their dreams are attainable—and sooner than they may think.
"My number one piece of advice is that you can shoot for the stars right away and land on that star. It doesn't have to be just a dream that happens 20 years down the line. It can be your reality the second you graduate," Chex says. "So, shoot for the stars. Because guess what? You can land on the moon, and it can be the most amazing journey in the world. I feel so fortunate that that has been my journey. And I'm excited to see more students go for that opportunity and land on the stars."