Hawks fly over Kinnick. Literally.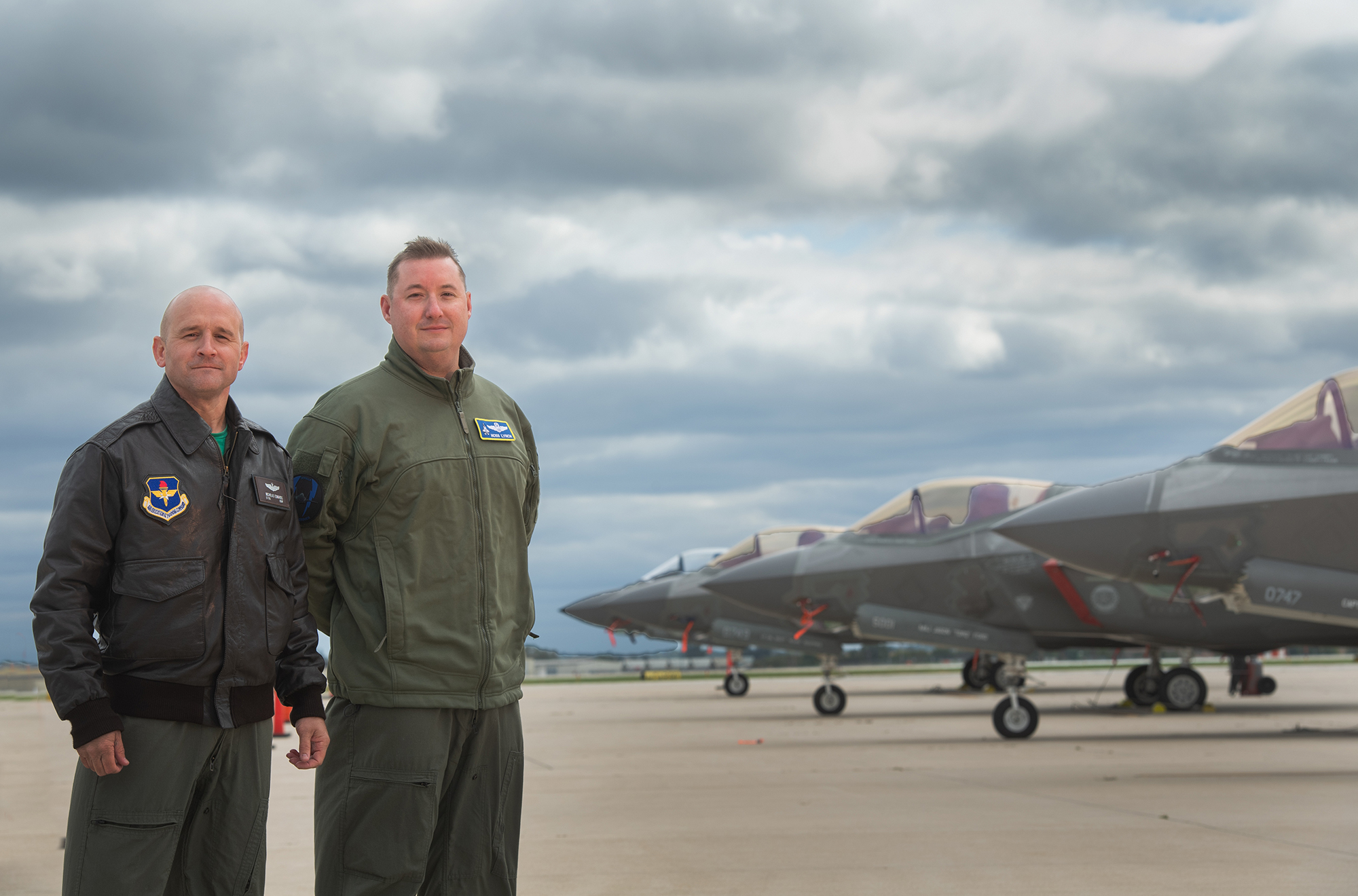 Two University of Iowa alumni, Lt. Col. Nicholas Edwards and Lt. Col. Michael Lynch, were at the controls of the Air Force jets that flew over Kinnick Stadium before the football game against Penn State. The moment that thrilled 70,000 fans in the stands was incredibly meaningful to the two Hawkeyes in the air.
Michael Lynch and Nicholas Edwards watched a lot of Hawkeye football games in Kinnick Stadium as students. Not until this year, though, did they see their beloved stadium from 1,000 feet up, going 350 miles per hour.
Lt. Col. "Hoss" Lynch and Lt. Col. "Miles" Edwards were two of the U.S. Air Force pilots who guided their F-35A fighters over Kinnick as part of the flyover prior to the Oct. 12 game against Penn State. They met at Iowa in ROTC classes 20 years ago, and now fly for the same unit, the 33rd Fighter Wing, at Eglin Air Force Base. 
"This was an absolute dream for me," says Edwards. "Some of my favorite moments in life happened at Iowa, so to be able to fly over the stadium and see it from the air before a game is a dream come true."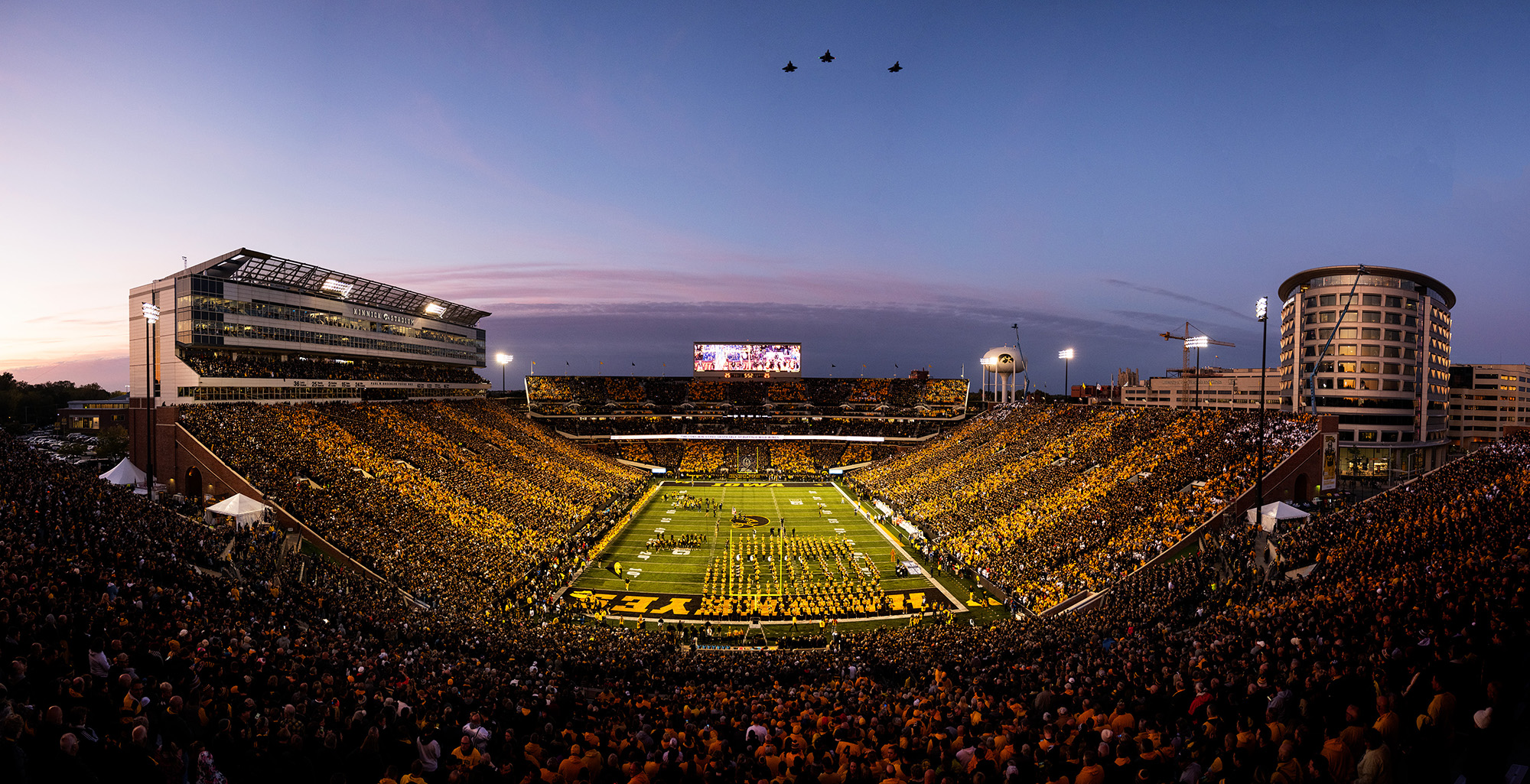 "What's kept me in the Air Force all these years has been the people, and that started with the people in the ROTC program, who were so helpful and guided me in the right direction."
Lt. Col. Michael "Hoss" Lynch
U.S. Air Force pilot and University of Iowa alumnus
Both pilots say their time at the University of Iowa was a consequential period in their lives and flying over Kinnick has special meaning, especially since they were doing it with a fellow Hawkeye.
"I've been in the Air Force almost 19 years and that's when you start to reflect on what you've done, and to be able to be in a flyover at Kinnick with a good friend is an amazing experience," says Lynch.
Lynch's passion for the Hawkeyes started with his first tailgate as a first-year student, despite some trying times on the gridiron. He went to every home game and a few road games, too, even as the team went 4-18 his last two years before he graduated in 2000. 
Edwards was luckier. A 2002 graduate, his first two years saw the same 4-18 record as Lynch. But he also got to watch the team win a Big Ten championship and play in the Orange Bowl his senior year. His passion is so strong he gave his son the middle name Kinnick. 
The University of Iowa Air Force ROTC Detachment 255 trains, develops, and prepares cadets for their role in the United States Air Force. Our cadets are encouraged to participate in the community and the university, while honing their leadership potential. The skills that you will acquire here will last you a lifetime.
Both have traveled the world with the Air Force after graduating from the UI ROTC program—Lynch with a BA in economics, Edwards a BA in mathematics ("Math was the only thing I was good at," he says). They've been stationed in Korea, Japan, Iraq, and bases in several states. Edwards flew an F-16, Lynch an F-15, until they transitioned to the F-35. Both are stationed at Eglin as training pilots now, teaching others to fly the Air Force's most advanced fighter.
Edwards, who grew up in Missouri and Durant, Iowa, knew he wanted to fly jets ever since he was a boy, when his parents took him to air shows and encouraged him to become a pilot if that's what fascinated him. Lynch, a Southern California native, knew he wanted to serve in the Air Force but wasn't sure in what capacity. His experience as a UI ROTC cadet helped him decide.
"What's kept me in the Air Force all these years has been the people, and that started with the people in the ROTC program, who were so helpful and guided me in the right direction," he says. 
Their posting at Eglin is the first time they've been together since their ROTC days. They enthusiastically applied for the Kinnick flyover when they saw the opportunity posted during the summer, and were thrilled to be selected. They made sure to wear Tigerhawk badges on the sleeves of their flight suits when in the cockpit that night.
"You don't find better people than you do in the Hawkeye State," Lynch says.